554 Views
500 Square Foot Apartment Floor Plans (With Drawings)
July 4th, 2021 5:26 PM
Share
We're committed to finding, researching, and recommending the best products. We earn commissions from purchases you make using links in our articles. Learn more here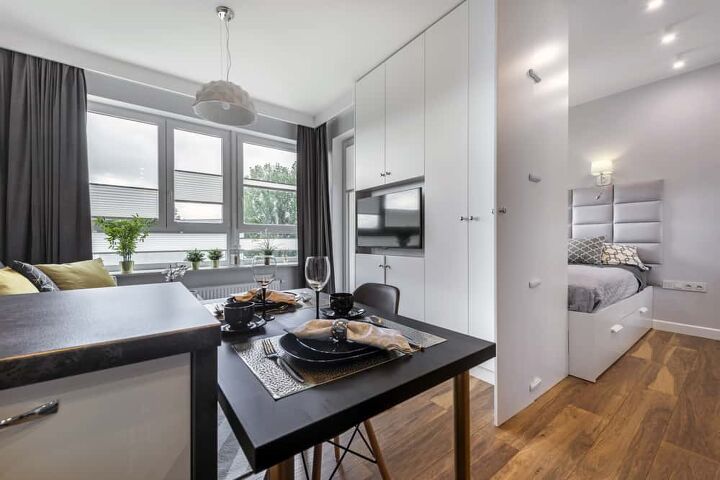 The size of living spaces in the United States varies greatly depending on where you live and your budget. Of course, you might consider having more space ideal so that you can fit all of your things easily. However, perhaps you welcome the challenge of making a small space work for you.
Whether by choice or necessity, living in a small space comes with some pros and cons. The average size of a studio apartment in the US is about 500 square feet. It's definitely doable, but it requires some creative thinking and simple living.
In most 500 square foot apartments, the majority of the space goes toward the living and sleeping areas. Then, there's typically a small space for a kitchen, a bathroom, and some storage space. While most apartments have set floor plans, you still have some control over your space plan (or furniture layout).
Making a 500 Square Foot Apartment Work for You
Cramming your entire life into 500 square feet can seem daunting, but it can also be pretty freeing. First, having limited space basically forces you to declutter, purging anything you don't absolutely need or love. Getting rid of unnecessary items goes a long way to making a 500 square foot apartment work for you.
It's also essential to assess how you go about your day-to-day life. This will help you determine the best way to utilize your available space. Of course, you'll likely have fixed kitchen and bathroom areas. However, the area designated for living, dining, and sleeping is a pretty blank canvas.
You can use furniture and screens to create different zones, use a Murphy bed, or a fold-down dining table. Double-duty furniture is also a wise idea, such as a sofa sleeper for guests and a storage ottoman coffee table.
When choosing a 500 square foot apartment, think about what is most important to you. For example, if you love to cook, opt for a setup with a large kitchen area and a smaller living area. If you're more the take-out or pizza type, you might prefer a tiny kitchen to get a bigger living space.
500 Square Foot Apartment Layout Ideas
Depending on where you look for an apartment, you'll have several layouts to choose from. However, most are pretty standard, while a few get quite creative with the use of space. Always carefully consider your must-haves and dealbreakers before making your final choice.
For example, do you have to have a washer and dryer in the unit? Do you need an actual closet or can you create storage with shelving and furniture? Remember, creativity can go a long way in making a space work, but you will still have some limits to consider.
Get Flexible with Furniture
For example, in this unit in Washington D.C., the living, sleeping, and dining areas share one large, open space. The kitchen provides an additional eating area with the use of a countertop bar and stools. For separation between the sleeping and living areas, the resident simply uses a sofa.
One thing to remember is in a studio; you can end up feeling like you're sleeping in your dining room. As this picture points out clearly, the bed is right next to the dining table.
However, you can move furniture. So, if you don't want to fall asleep next to the dinner table, you could move the bed closer to the window. Then, in the alcove where the bed was, you could install a fold-down desk for a workspace.
Or, if you entertain a lot, it could become a dry-bar area. These are just a few of many examples of how you can make a studio work for your lifestyle.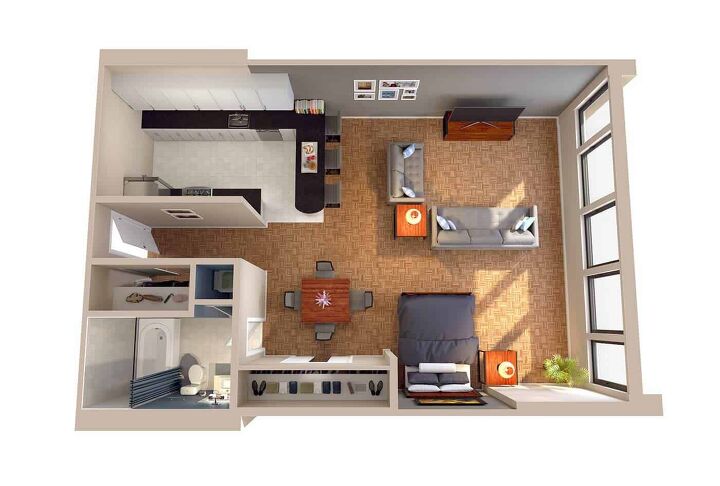 Just the Basics in a 500 Square Foot Apartment
Some layouts have the entry leading straight into the bedroom, which can arguably feel a little strange. However, it's part of the territory when you live in 500 square feet. But that doesn't mean you can't get creative.
If you opt for a studio like the one below, you have all the essentials, with little room to spare. However, if you don't like the idea of walking into a bedroom, it's a simple matter of choosing different furniture. In this example, instead of a bed, you could go with a high-quality sofa sleeper.
True, you'd have to be okay with unfolding it every night and folding it up every morning. But when you come home, you would feel like you were walking into a proper living room.
This particular studio also doesn't have a large eating area. One solution would be to mount the television onto the wall and install a swing-out table underneath. You could fold it out when you have guests over for dinner and put it away when not in use.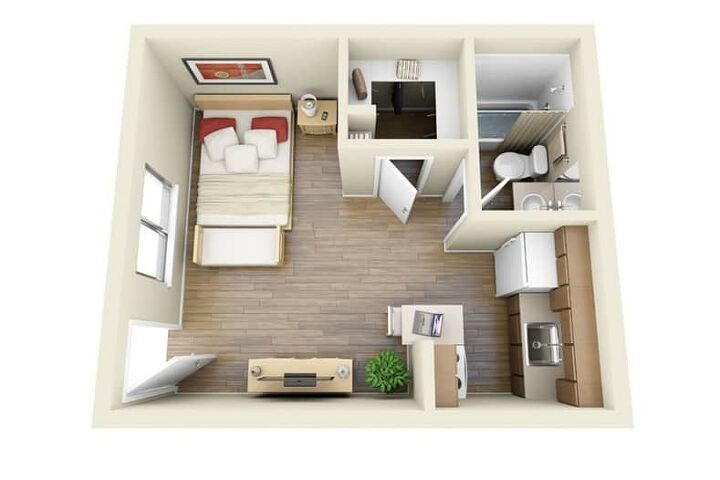 A Unique Footprint
Some 500 square foot apartments get creative from the very beginning with their overall footprint. Take this example below, with a unique angled design. It helps maximize the space while also allowing quite a bit of separation from the kitchen and sleeping areas.
You enter into the kitchen, continue into a small living area, then turn the corner into the bedroom. For this plan, if you prefer a more hidden bed, this is an excellent opportunity for a Murphy bed.
There are even some Murphy bed designs that feature a fixed desk on the underside. This furniture choice offers a great solution. It would simply extend your living area by day, then convert to a bedroom at night.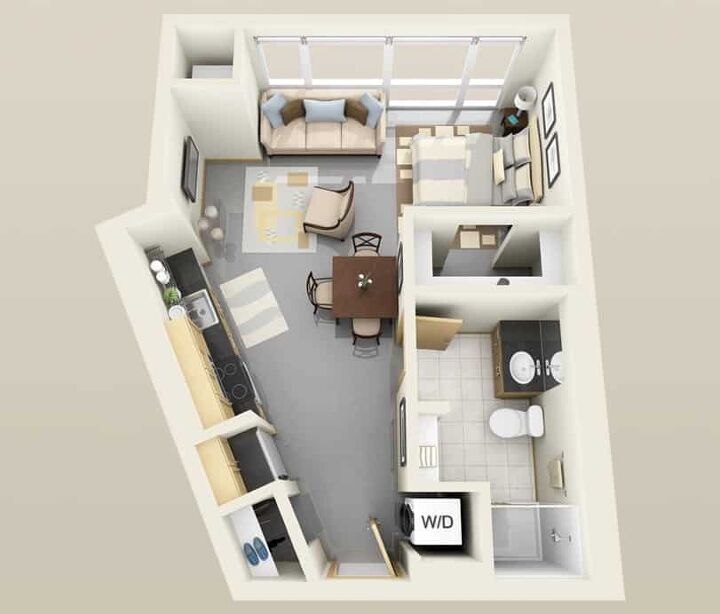 Almost a One-Bedroom Apartment
In some studios, you can get very close to feeling like you have a one-bedroom apartment. Usually, this illusion comes from the addition of a dividing wall, but there are no doors.
In this example, the sleeping area stays separate from the living and kitchen area with a curved wall. This layout could also work well if it were in reverse, walking into the living and kitchen area. Then, the sleeping area and bathroom could be in the rear of the apartment.
Before making a final choice on your studio, carefully consider how you feel when entering the space. Remember, you can't relocate the kitchen and bathroom.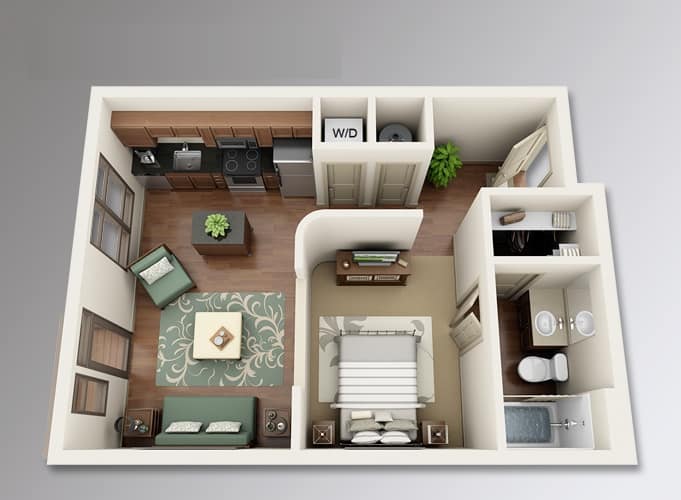 Extra Living Space Outside
Some studios offer a bit more space with the addition of a patio or balcony, typically off of the living area. If you live in a city with nice weather, this is a great way to extend your living space. You can also add an extra eating area on the patio to enjoy some al fresco dining.
The patio/balcony area in the example below measures 60 square feet, which is like having an additional small room. Depending on the restrictions in place, you might even be able to screen in the area with a temporary enclosure. Check with the management office before making any changes, though.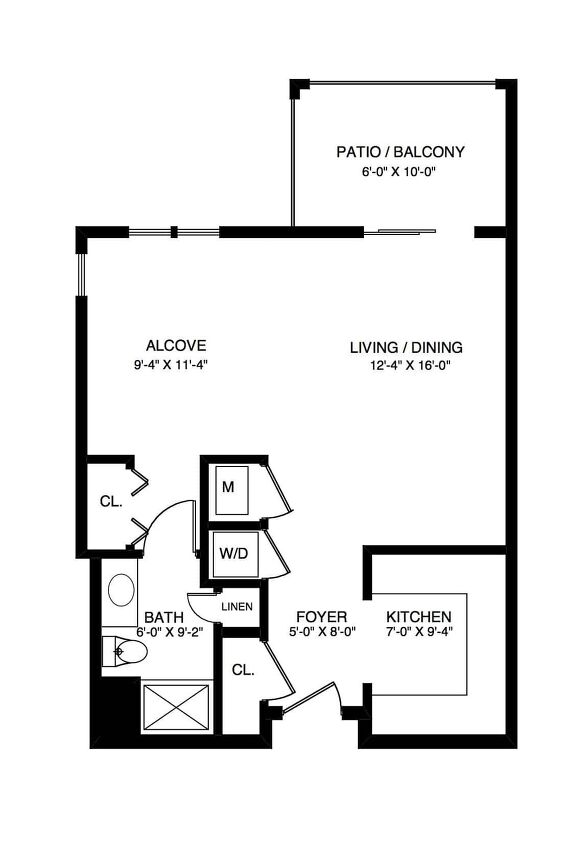 Extra Considerations When Living in 500 Square Feet
You may not have the capacity for a washer and dryer in your unit. Although many studios offer them, make sure if they don't, you're ready to make frequent trips to the local laundromat. Or, the complex might offer a laundry facility for your use. 
Bathrooms in studios are usually small to allow for as much room as possible in the rest of the living space. Therefore, many studios may only feature a shower. However, you can also find many with a shower/tub combo. 
If you entertain often or host guests from out of town, think carefully if 500 square feet is right for you. Of course, depending on your budget, you might not have a lot of choice, but it's worth remembering. You can always opt for a futon or sofa sleeper or break out some air mattresses.
Don't buy bulky furniture and go with pieces that have multiple functions.
Maximize your vertical space, think floor-to-ceiling shelves, etc. 
Only keep what you absolutely need and love. If you have special (large) items that you can't part with, you might want to consider renting a storage unit. Plus, purge often.
---
Related Questions
How much does a 500 square foot apartment cost?
Of course, what you pay for rent for a 500 square foot apartment depends on several factors. The most significant determinant is location. Following location are amenities, if the unit has a washer and dryer, and if there's included parking.However, here are a few average rent prices for studios in various cities. Places like San Francisco, New York, and Boston have some of the highest rent prices for small apartments. You could pay between $1,200 up to $3,000 in Boston. And New York and San Francisco would cost you between $1,800 to $4,000. Conversely, you could rent a 500 square foot apartment for around $600 in El Paso, Texas, or Detroit, Michigan.  
What are the pros and cons of living in 500 square feet of space?
The cons of a studio are somewhat obvious. Things like hosting larger gatherings, having overnight guests, and even a dinner party become difficult. You have limited space, which means you can only have limited stuff. When you live in 500 square feet, it's also important to tidy up and clean often. This is because even a small mess can feel overwhelming when you're in a small space. You might also need to sacrifice some privacy if you live with a roomie.On the flip side, living in a studio often means saving money as rent and utilities are usually cheaper.  It's also easier and faster to clean a smaller space, and you won't accumulate so much clutter. Living in 500 square feet can also help you simplify your life, which can lead to a more relaxed sensibility. 

Stacy Randall
Stacy Randall is a wife, mother, and freelance writer from NOLA that has always had a love for DIY projects, home organization, and making spaces beautiful. Together with her husband, she has been spending the last several years lovingly renovating her grandparent's former home, making it their own and learning a lot about life along the way.
More by Stacy Randall
Published April 7th, 2021 3:20 PM