433 Views
What Are The Pros And Cons of Living in Columbia, SC?
April 22nd, 2021 1:31 PM
Share
We're committed to finding, researching, and recommending the best products. We earn commissions from purchases you make using links in our articles. Learn more here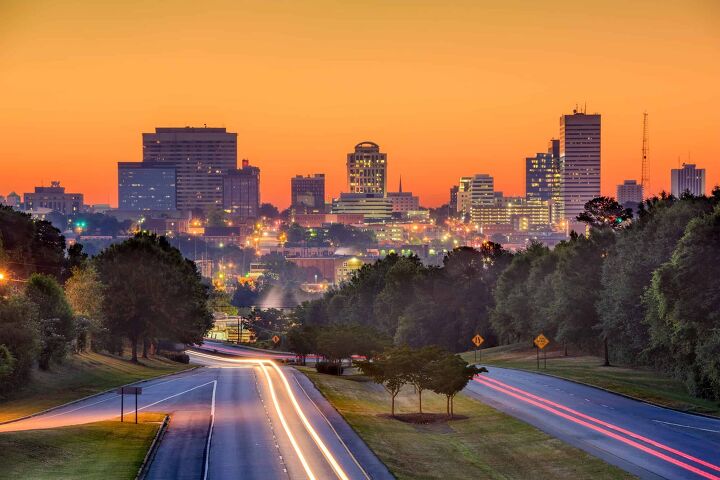 Columbia, South Carolina, is a town that bridges its traditional Southern roots with a young and modern urban feel. Known as River City, Cola, or Soda Town, it has no connection to soft drinks other than its nicknames.
US News ranked this burgeoning metropolis as the 67th best place in the United States to live. Columbia is great for university students and millennials while still being home to traditional Southern values. However, some people may dislike the hot and stormy summers and the deep-fried Southern cuisine.
Living in this thriving Southern city might not be for everyone. Here are some things to consider:
Do You Need to Hire Movers?
Get free, zero-commitment quotes from pro contractors near you.
Pros:
Southern hospitality: friendly people and good food at every turn
Warm winters and a mostly temperate climate
Relatively low cost of living and housing
Strong employment opportunities in universities, military, and small businesses
Plenty of outdoor activities to enjoy nearby
Cons:
Higher than average lifestyle expenses (including groceries and utilities)
Hurricane season that brings potentially hazardous storms
Southern food, while delicious, can take a toll on your waistline
Hotter than average summer temperatures
Geography
Columbia was one of the first planned cities in America. It sits at the center of South Carolina and serves as the state capital.
Vacation hotspot Hilton Head Island is a mere 2.5-hour drive. Charleston and Myrtle Beach are less than 3 hours away. Plus, it's just over an hour to Augusta, GA, and a little over 3 hours to Atlanta.
The city sits at the confluence of the Saluda, Broad, and Congaree rivers. This positioning allows for lots of water recreation opportunities and beautiful urban vistas.
Population
The population of Columbia is 808,377. On top of that, it's a rapidly growing city with a median age of 33. Why so young?
Students attending USC, the University of South Carolina, comprise much of the city's population. In addition, millennials are well represented in the city, attracted to the growing metropolis.
Traditionally, Columbia has been part of America's Bible Belt. This politically conservative area of the country tends to hold very strong religious ties and beliefs. Often, in contrast to that statistic, Columbia residents are also more educated than the average American. More than 15% have graduate or advanced degrees. This number is much higher than the national average of 7%.
Statistically, families in the area are small. The average family has only three members or less.
Climate And Weather
The landscape of Columbia is full of Oak, Pecan, and Magnolia trees. This signature southern foliage flourishes in the warm climate. Average annual temperatures fluctuate between 75 and 53 degrees Fahrenheit.
The area receives approximately 45 inches of rain a year. Columbia is also susceptible to hurricanes, though it's not inland enough to not bear the brunt of the storms.
Cost Of Living
Columbia has a relatively low cost of living as compared to other cities of the same size. The cost of living is 4% lower than the national average. The average annual salary is $43,840, above the national average of about $40,000.
The median home purchase price is just over $144,000, while the median monthly rent is $889. These prices make housing costs 11% lower than the national average. However, groceries and utility costs are slightly higher than other metro area averages.
Housing in the Columbia area is a hot ticket item, both for new construction and historic homes. Median home prices jumped an impressive 16.5% in 2018. Much of the population growth results from young people interested in this growing industrial hub.
Getting Around
Traffic in Columbia is mild compared to other cities in the region. This is good news because locals travel mostly by car. Alternatively, there is a bus system, The Comet, that serves the Greater Columbia area.
Bicycles and mopeds are other common modes of transportation in this college town. Also, pedestrian travel is popular: about 5% of residents walk to work or school.
Columbia Metropolitan Airport is the area's regional hub. American, Delta, and United Airlines serve the airport, and other long-distance travel options include the Greyhound bus and Amtrak trains.
Industry
It often feels like the town of Columbia exists to serve USC, the University of South Carolina. However, it's a symbiotic relationship, as the university is also among the town's top employers. A recent Forbes survey ranked Columbia in the top 100 of America's best places for business and careers.
The military is another large employer. The US Army's Fort Jackson base is the largest entry training base in the country. Secondly, McEntire Joint National Guard Station also brings military families to the area.
Aside from these large entities, locally-owned shops are another source of employment. Small boutiques, bars, and restaurants in areas like 5 Points are an essential part of Columbia's economic engine.
Attractions
The natural area surrounding the city of Columbia provides a healthy contrast to urban life. There are 600 acres of parkland in the metro area, including nearby Congaree National Park.
Riverbanks Zoo and Gardens is famous for its conservation efforts and educational programs. In addition, nearby wooded trails lead to hidden treasures, and the Saluda River is excellent for canoeing and kayaking.
Furthermore, history is alive and well in Columbia. You can visit the Museum of Reconstruction at Woodrow Wilson's childhood home. This institution offers history lessons under the context of an early political landscape.
Of course, the schools are a huge draw to the area. Besides USC's sprawling campus, Columbia College and other small institutions attract undergrads and graduate students alike.
Culture And Entertainment
Traditionally, Columbia is known as a southern city with a modern twist. Consequently, Southern hospitality and rich Southern food are everywhere, interspersed with skyscrapers and cocktail bars.
The Columbia Museum of Art, Koger Center for the Arts, and the Township Auditorium provide a vibrant art scene. Big-name performers play the theatre, and local artists fill the galleries and music venues.
Sports
Again, sports is an area where USC dominates the local conversation. Their Gamecocks football and basketball teams draw a substantial audience from students and locals alike.
Moreover, the Class A minor league baseball team, the Columbia Fireflies, showcases up-and-coming players headed for the New York Mets. Also, the soccer team SC United Bantams entertains local fans of the "other" football.
Annual Events
In keeping with Columbia's religious affiliations, the Holy Trinity Greek Orthodox Church hosts one of the city's biggest annual celebrations. Many people attend this popular Greek Festival, including those beyond their faith.
Additionally, newcomers have made way for annual events of their own. There has been a robust LGBT Pride celebration every June for the past two decades.
The Indie Grits Labs Film Festival showcases independent films. Then in March, the Soda City Suds Week features local craft beers.
And what is a southern city without a food festival? The Rosewood Crawfish Festival is a summer institution, featuring plenty of Louisiana crawfish and live music.
Living in South Carolina
As one of the 13 original colonies, you can expect the entire state of South Carolina, Columbia included, to be rich in history. A little under two hours from Columbia is South Carolina's oldest city – Charleston. This city is bursting at the seams with history, dating back to well before the American Civil War. Here you'll find everything from those quintessential cobblestone streets to iron gates guarding estates.
In addition to history, the state of South Carolina is full of outdoor adventures, breathtaking views, plenty of job opportunities, a remarkable cultural scene, and more. While the state does have a number of positive outlooks, there are some deal breakers to consider such as hurricane season and the nearly 100,000 alligators that call South Carolina home.
All in all, whether it's Columbia, or another city in the Palmetto state, you'll get to relish in southern hospitality and charm, while also enjoying a relatively low cost of living.
---
Related Questions
What Are The Best Neighborhoods In Columbia?
The Vista, located on the banks of Congaree River, is an area of urban renewal. It features old converted textile mills that are now hip shopping, nightlife, and entertainment venues.Lexington is a suburb just 10 miles west of downtown. It marries South Carolina's rural past with its cosmopolitan present. The Lexington School District is the biggest employer in the area, demonstrating the dedication to the area's education system.If you want to be right in the hustle and bustle of it all, downtown is for you. This historic location is the heart of museums, performance venues, and culture. Consequently, this area also boasts the highest rent in the city at $1756 a month.
Are There Any Signature South Carolina Dishes?
Believe it or not, South Carolina has an official snack. What is it? Boiled peanuts; this southern classic is both salty and nutritious.Another local specialty is a surprising yellow barbecue sauce. This Yellow Gold, or Columbia Gold, has a mustard base with cane sugar instead of a ketchup or vinegar base. People slather this tasty addition on ribs and pork just like regular barbecue sauce.
Do You Need to Hire Movers?
Get free, zero-commitment quotes from pro contractors near you.
Are You Game For The Gamecocks?
Columbia, South Carolina, is a lot more than an overgrown college town. A growing metropolis with traditional southern roots, Columbia offers the best of both worlds. See you at the next USC football game!

Stacy Randall
Stacy Randall is a wife, mother, and freelance writer from NOLA that has always had a love for DIY projects, home organization, and making spaces beautiful. Together with her husband, she has been spending the last several years lovingly renovating her grandparent's former home, making it their own and learning a lot about life along the way.
More by Stacy Randall
Published September 7th, 2020 8:44 AM