381 Views
Kobalt Vs. Craftsman Tool Chest: Which One Is Better?
October 20th, 2021 12:38 PM
Share
We're committed to finding, researching, and recommending the best products. We earn commissions from purchases you make using links in our articles. Learn more here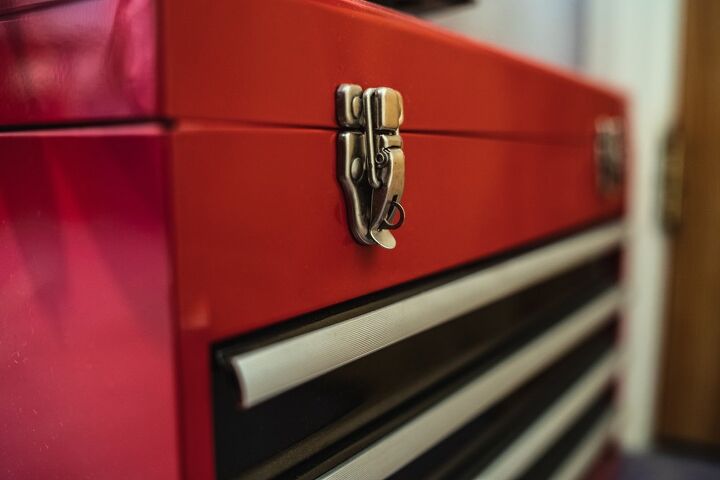 A tool chest can be great for DIYers just getting their start or those who have been around for a minute. Not only do these chests provide storage space, but they come with tool sets that can come in handy in just about any situation.
Kobalt and Craftsman are two of the most recognizable names in the tool industry. Both have earned a reputation for making quality tools, but who makes the superior tool chest? If you want a more high-end feel, Kobalt is the way to go. But if you want something more affordable, Craftsman may be the better of the two.
Do You Need Garage Organizers Installed?
Get free, zero-commitment quotes from pro contractors near you.
A Quick Overview of Tool Chests
What even is a tool chest? Is it the same thing as a toolbox? Well, sort of but not really. A toolbox is just a place to store your tools. A tool chest is also capable of storage but many come with pre-assembled tool kits.
Depending on the manufacturer and model, you can find screwdrivers, wrenches, bits, and a litany of other things within one of these tool chests. It can make for a great starting point for those new to DIY or a great replacement for older tools for someone who has more established DIY skills.
What to Like About Kobalt
There is a lot to like about Kobalt's tool chest offerings. The comprehensive 227-piece tool kit covers everything from screwdrivers to sockets and a lot of stuff in between. But let's take a deeper look at all that the Kobalt model has to offer compared to the competition.
Better Organization and Storage
One of the best things about the Kobalt tool chest is that it has a 3-drawer, blow-mold. That means keeping tools stored more efficiently than ever before. After all, throwing tools into a tool chest is the quickest way to losing those tools.
The improved organization means being able to find tools quicker. It also means more convenient storage and even easier transportation. For handymen out there, having a portable tool chest can be hugely important.
Lifetime Guarantee
Though Kobalt makes a quality tool and tool chest, things can go wrong from time to time. Knowing that you are covered by Kobalt's lifetime guarantee can be a huge peace of mind factor. That means getting your tool chest replaced for free should something happen.
Not every manufacturer offers lifetime guarantees. It is part of what makes Kobalt one of the premier brands on the market.
Interchangeable Drivers
Perhaps one of the coolest features about Kobalt tool chests is that they have interchangeable drivers. When you need to switch between drivers, things can get messy quickly with the different needed options for a particular task.
But the interchangeable feature means that you can use different sized bits without the need for cluttering your space. Making the switch in a pinch can save you a lot of time and even more hassle along the way.
Construction
If there is one area where there is a clear difference between the two products, it is in overall quality and construction. Simply put the Kobalt line of tool chests are built in a sturdier, high-quality fashion that Craftsman can't touch.
Each of the sockets, for instance, are constructed of chrome vanadium steel. That means improved strength and durability as well as a professional-grade finish that shines. Going with Kobalt means getting a high-quality, durably-constructed tool chest.
What to Not Like About Kobalt
This section will be short because there really is only one issue when it comes to purchasing Kobalt tool chests. That would be the price. Kobalt tool chests are substantially more expensive than their Craftsman counterparts.
That is in part because you are paying for a superior quality. If you want a tool chest that has a high-quality finish and will stand up to the wear and tear of daily use, you can't go wrong with a Kobalt tool chest.
Think of purchasing a Kobalt tool chest as an investment. Not only are you getting a wide array of tools to use, but you are investing in a higher-quality tool chest. These chests are built to last over the long run and through heavy-duty usage. It will be a good, long time before you have to worry about replacing your Kobalt tool chest versus some of the other competitors out there.
What to Like About Craftsman
Craftsman, on the other hand, delivers a 300+ tool chest that offers a ton of options and versatility to any DIYer. We will go more in-depth about what to like about this chest, though the biggest thing to note is that it is a great value for the money. Let's get into it.
More Hand Tools Than Kobalt
If you are looking at simply adding to your repertoire of tools, Craftsman may be the better choice. Craftsman tool chests come with larger offerings in terms of tool kits, including more hand tools. Great for those just getting started.
Not only that, but the hand tools are both easy to use and of a high quality. While they may not be of the quality and durability of Kobalt, they are nothing to scoff at. You could do a lot worse in terms of quality than Craftsman.
Durable Construction
While you will see us say that Kobalt has a better overall quality, there is nothing to complain about in terms of the construction quality of Craftsman tool chests. With an alloy steel construction, you can be sure that both the chest and tools will stand up over time.
One of the most important features to any tool or chest is durability. There is a good chance that it is going to get banged around over its lifetime and being able to hold up to those nicks, dings, and bumps is crucial.
Three-Drawer Setup and Portability
Similar to the Kobalt setup, there is a three-drawer setup within the tool chest. That means better storage capability to handle the increased size of the tool kit. Besides, what good is storage space if you can't find what you are looking for?
A surprising aspect to the Craftsman tool chest is that it is very portable. For handymen that need to have their tool chests on them wherever they go, moving the Craftsman tool chest is pretty easy even when alone.
Latching System
The latching system is another strong point for Craftsman. Security is important whether you store your tool chest at home or at a shop. The latching system keeps the drawers in check, keeping them from slipping open during movement.
The latter is important because tools can become damaged during transport when drawers just suddenly fly open. With a Craftsman tool chest, you can rest assured that your tools will stay where they belong.
What Not to Like About Craftsman
While Craftsman makes a quality tool chest, there are a couple of imperfections facing it. One is the overall build quality compared to Kobalt. The other is the overall weight of the chest when it is fully loaded.
Quality Compared to Kobalt
The simple fact of the matter is that Craftsman cannot hold up to Kobalt in terms of quality. While that does not mean that Craftsman makes a bad or inferior product, it does mean that it cannot hold up to the same standards of quality.
Of course, that quality comes at an elevated cost so there is a tradeoff. But if you want to save some money and still get a quality tool chest, you couldn't go wrong with a Craftsman tool chest.
Weight When Loaded
Aside from quality, the other major difference between the two is the weight. Even when fully loaded, Kobalt tool chests maintain a relatively light load. The same cannot be said for the Craftsman offerings.
When fully loaded, Craftsman chests can get to be quite heavy. If you need to move a fully-loaded chest, it might not be something that you can do on your own. If you don't have help in the immediate vicinity, that can present some problems as far as transportation.
Do You Need Garage Organizers Installed?
Get free, zero-commitment quotes from pro contractors near you.
Which is the Better Option?
There is a lot to like about both offerings. They each offer a huge array of tools with their tool chests. Whether you are just starting out or a seasoned DIYer who needs to update their tools, you could not go wrong with either option.
Kobalt is the superior option in terms of quality and versatility. The only downside is that you are paying a premium to get that quality. But if you are willing to pay more, consider it investing in some pretty great tools.
That said, you really could not go wrong with the Craftsman option. Craftsman tool chests are better for those working within a specific budget. There are even more tools within the Craftsman tool chest, allowing for a greater versatility in uses.
Ultimately, with price ignored, Kobalt is the better choice though Craftsman is not far behind. You could do no wrong by going with either one of these options.

Ryan Womeldorf
Ryan Womeldorf has more than a decade of experience writing. He loves to blog about construction, plumbing, and other home topics. Ryan also loves hockey and a lifelong Buffalo sports fan.
More by Ryan Womeldorf
Published July 18th, 2021 8:13 PM