433 Views
Craftsman Vs. Husky Tool Chest: Which One Is Better?
September 7th, 2021 4:36 PM
Share
We're committed to finding, researching, and recommending the best products. We earn commissions from purchases you make using links in our articles. Learn more here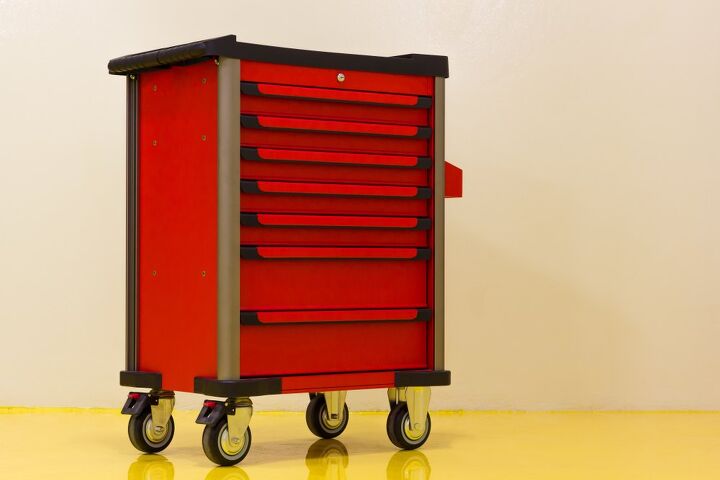 Part of being an effective DIYer means having the right tools. And having the right tools means keeping them properly stored when they are not in use. A toolbox can provide organized, easy access to those tools while also keeping them protected.
Two of the most prominent names in the tool industry are Craftsman and Husky. Choosing the right toolbox, especially when it comes down to these two brands, can be difficult. But which is the better choice? The simple fact is that it is too close to call. Both are affordable, mid-level brands that make quality toolboxes and would make an excellent addition to any home workshop.
Do You Need Garage Organizers Installed?
Get free, zero-commitment quotes from pro contractors near you.
Features of the Craftsman Tool Chest
Obviously, the features can vary depending on which model that you get. But with Craftsman, you can expect ball-bearing drawer slides as well as an internal key locking system. That alone can make for a worthy toolbox.
There are six drawers as well as a heavy-duty outer casing that can hold up to wear and tear well. Not only that, it offers up to 450 pounds in storage space. Not only that, but there are recessed aluminum handles for a more secure grip.
Features of the Husky Tool Chest
Husky's toolbox, meanwhile, is really about the same. This one has soft-close drawers so you can avoid the heavy slamming of some other toolboxes. Husky also features a reachable power source for a little bit of extra flexibility with power tools.
Despite its litany of features and durability, Husky's tool chests are lightweight in nature. Perfect for moving it from place to place, whether that be in a DIY garage setting or in a more professional atmosphere.
Husky Pros and Cons
There are quite a few things to like about Husky's offering of toolboxes. Most of their toolboxes have a chrome finish that make for superior handling while also improving the overall durability of their products.
But what else can you expect out of Husky toolboxes? Here are more than a few pros (and a few cons) to consider.
Pros: Compact and Lightweight
While security and durability are important features of any toolbox, so too is the ability to move it. By being both compact and lightweight, Husky's toolboxes are a favorite among DIYers. Having access to all of your tools without having to struggle to move your toolbox can be a major benefit.
All while not sacrificing durability. The stainless steel handles hold up better over time, allowing for a more secure grip in the process. With Husky, you get a durable, visually pleasing toolbox that should hold up over time.
Pros: Comes with a Toolkit
Many tool chests out there will come with some sort of toolkit included. What that toolkit includes depends on the type of chest and the manufacturer. Husky includes a hex key set, for instance, that would make for a fine addition to any set.
There are a variety of other potential kits that could be included with your tool chest depending on the model. For DIYers starting completely anew, having any additional tools to start is a huge benefit in the long run.
Pros: Fast Release Option
One of the cooler things about Husky tool chests is that they have a fast-release option. The fast-release option means that you can work with a variety of pieces without having to slow down. For those who work quickly, it can be a huge asset.
The quick-release option also does not lessen the overall security of the tool chest. In industrial settings, being able to access your tools quickly is a must.
Cons: Not A Lot of Room
While Husky delivers in visual appeal and durability, it can come up lacking overall space. Those that come with a wider array of tools can often times leave little to no additional storage within. While it is great to have all these additional tools, a little bit of extra space can't be overlooked.
With the additional tools, the tighter fit can make it difficult to locate the tool that you want quickly. For those who like to quickly transition tools, it can be frustrating to have to sift through your tools to find the one you want.
Cons: Narrow Drawers
Depending on which model of Husky tool chest that you get, you may have a plethora of drawers to use. And while there is a good number of them for your storage needs, there is one problem. Those drawers tend to be on the narrow side.
If you are storing mostly hand tools in your Husky tool chest, then you should be just fine. But attempting to store certain power tools will lead to a tight fit if they fit at all. That facilitates the need for a separate tool chest for power tools.
Craftsman Pros and Cons
Much like Husky, Craftsman makes a varied array of products. They too have a solid reputation within the tool industry, finding themselves as one of the most well-known, trusted brands on the market today.
Also like Husky, their line of tool chests offer a lot of things to like (and a few to not like so much). Let's take a look at the different pros and cons of Craftsman tool chests.
Pros: Plenty of Room
The top and bottom of the typical Craftsman chest gives you quite a bit of space. Even better, there are compartments within so that you can sort out the different types of tools that you have. All for improved organization within.
Not only that, you can organize how you see fit. Keep the tools that are most important to you at the forefront so that you can access them easily.
Pros: Secure Locking System
Part of having a tool chest means keeping your tools secure. That is precisely what you get with Craftsman's tool chests. The internal locking system keeps your tools safe, especially from younger children who may want to play handyman.
Whether you are keeping your chest at work or in your garage, you can rest easy knowing that it is secure from unwanted hands.
Pros: Great Value
Perhaps the best thing about Craftsman tool chests is that they are great for the price. The Craftsman 6 Tool Chest, for instance, can be bought for under $200. Handling your storage needs with a durable tool chest can be done on a budget.
For those who are just starting out as DIYers, finding a durable yet affordable chest can make a huge difference. Confidently store your tools without having to break the bank.
Pros: Excellent Build Quality
The main material used for Craftsman tool chests is aluminum. That means having greater durability and improved handling of drawers. The excellent build quality also means that it will stand up to the wear and tear of daily use.
Best of all is that these tool chests will hold up even when you add more tools into the mix. You can comfortably and confidently store whatever you need in your Craftsman tool chest with confidence. Combined with the price point, it is easy to see why Craftsman is such a popular option in DIY circles. You can get years and years out of your tool chest before it ultimately needs to be replaced.
Cons: Drawer Access
The lid on Craftsman tool chests are quite durable and high-quality. But they can also make it kind of difficult to open the drawers within. Like, you can only unlock those drawers when the lid to your tool chest is open.
While that isn't a major con, it can add an additional step for retrieving a tool. When you want to access a tool quickly, that extra step can be a major point of frustration.
Cons: Quality of the Key Lock
While the key lock feature mentioned above is certainly handy for keeping your tools out of the hands of those who should not be in your tool chest, it isn't perfect. It can actually be quite fragile in terms of overall construction quality.
Don't be surprised if you wind up replacing the key lock a few times over the life of your tool chest. It can wear down fairly quickly, especially in homes that have children. While the rest of the chest is quite durable and sturdy, the key lock can present some frustration.
Do You Need Garage Organizers Installed?
Get free, zero-commitment quotes from pro contractors near you.
So, Which is the Better Choice?
Now that we know a lot more about the two options, which one is the better choice? At first blush, both are very similar products in terms of features and overall quality. In a pinch, you could do no wrong with either one.
That said, the slight edge goes to Craftsman. Their locking system results in superior security and the additional room compared to Husky can make a difference. Still, you couldn't go wrong by selecting either option.
Husky is better when it comes to providing helpful tool kits for DIYers in their chests. But those kits can make for a lack of space, which can ultimately defeat the purpose of getting a chest in the first place.

Ryan Womeldorf
Ryan Womeldorf has more than a decade of experience writing. He loves to blog about construction, plumbing, and other home topics. Ryan also loves hockey and a lifelong Buffalo sports fan.
More by Ryan Womeldorf
Published July 14th, 2021 5:18 PM