125 Views
Kobalt Vs. Ryobi Tools: Which Brand Is Better?
January 24th, 2022 11:51 AM
Share
We're committed to finding, researching, and recommending the best products. We earn commissions from purchases you make using links in our articles. Learn more here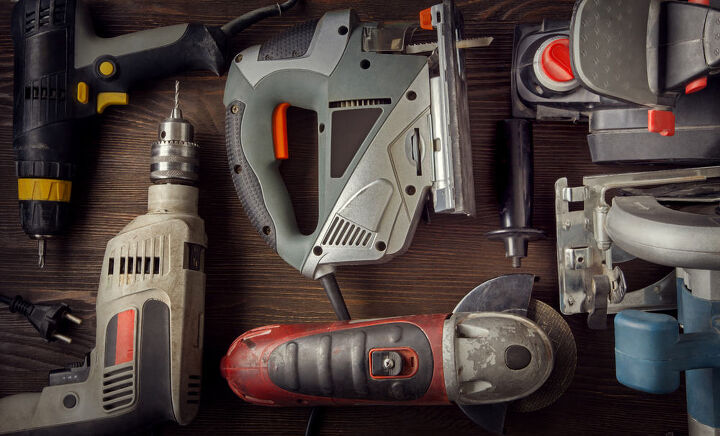 When it comes to DIY fandoms, there are very few things that can be as divisive as tool brands. People are always talking about who makes the best tools, why they love them, and disparaging those who don't. Lately, one major debate has caught up the DIY world. That debate relates to two major tool brands: Kobalt and Ryobi, and which happens to be the better one.
Though Kobalt is quickly gaining a strong following among DIY workers, Ryobi's higher quality, wider range of tools, and excellent warranty makes it the better overall brand. With that said, each tool should be taken on a case by case basis and both have admirable traits.
If you had to pick one of these two brands, you're going to be up for a major challenge. Both Kobalt and Ryobi are excellent DIY-level tool brands that still have a fair amount of professional users as well. This guide will help you understand both brands' merits and why we felt like Ryobi is the better pick.
Kobalt And Ryobi: A Quick Introduction
Both Kobalt and Ryobi are brands that are manufactured primarily in areas like Hong Kong as well as plants in the United States. They both also happen to be brands that are considered to be durable, but not professional level durable by many insiders. Even so, they're both reliable brands that are meant to create tools for simple projects.
So far, so similar, right? Well, not quite. The main company profile differences between the two can be summed up as follows:
Kobalt is a relatively new store-exclusive brand with a smaller portfolio size. It's worth noting that hardware store Lowe's owes the Kobalt brand. You can only buy Kobalt in Lowe's. Ryobi can be bought in multiple store chains.
Meanwhile, Ryobi is more established and is considered a standalone company based out of Japan. Unlike Kobalt, which is only started up in 1998, Ryobi has roots dating back to 1943. This makes it a huge gain for people who want to buy from a company that's established.
Ryobi is headquartered in Japan and Kobalt is headquartered in the United States. This is a huge perk to people who want to buy American products since Lowe's employs around 10,000 employees stateside.
Kobalt vs. Ryobi: Which Has Better Quality?
Without a doubt, the biggest factor that makes people pick one brand over another is quality. When it comes to quality, both Kobalt and Ryobi are seen as entry-level brands. So, if you were hoping to get an affordable yet reasonably reliable tool, both tend to be good picks. However, there is a slight difference.
Kobalt's tools are primarily made by Chervon, a Chinese manufacturer that does white label products. In other words, while it's a good brand, there's not as much evidence that you're getting much in terms of quality control. It's still a new company and will need to have several years before we can give them the green light.
Ryobi, on the other hand, are all made in-house with over 60 years of experience backing their designs. Ryobi, while entry-level in brand reputation, still has its fair share of professional users. With that said, it's not exactly Milwaukee-level quality but it can be a great bargain buy.
An Important Note About Quality
It's important to emphasize that both Kobalt and Ryobi are considered to be DIY brands. This means that they are not really meant to be used every day on a professional level. Many people who are professional construction workers and lawncare crews still use these brands, but there will always be people who insist on having a more "high grade" brand of tool.
Both brands are great if you're looking for an affordable tool that can handle most basic jobs. If you're looking for bigger jobs and extreme use, you need to splurge on something a little pricier, like Rigid or DeWalt.
Which Has A Wider Range Of Tools?
It's important to note that Kobalt and Ryobi have extremely different tool varieties. Both have everything from miter saws, to power drills, to lawnmowers, to blowers and lights. However, there are a couple of major differences that pushed us more to the Ryobi side of things. Here's what you need to know…
Miter Saws
In terms of miter saws, Kobalt definitely wins. Ryobi currently only offers up two different 18V saws, while Kobalt has a total of six specialty miters that you can buy. Most of us only need one miter saw, though, so it may be a bit redundant.
Lawncare Equipment
Ryobi has three different genres of mowers you can choose (self-propelled, motored, and ridable) while Kobalt only sticks to two genres. Kobalt makes up for it in terms of the sheer number of mower models they offer. So, on the mower front, it's kind of a draw.
However, Ryobi wins because they offer up blowers, cutters, as well as other tools that can help you keep your front yard in order. Kobalt, while they offer a valiant attempt, doesn't have nearly the amount of tools Ryobi offers.
Power Tools
Kobalt currently has over 40 cordless tools, including a single 18V cordless drill as well as a nice portfolio of jigsaws and screwdrivers. They also have lights, blowers, foggers, and all the other good combo kits that you would expect a basic tool range to have. Overall, it's not bad.
Ryobi, however, has hundreds of tools in its portfolio. Drills, gardening equipment, blowers, hammers…it's all there. Their 18V ONE+ line, as well as their 40V line, both are regarded as some of the more well-stocked beginner-level catalogs out there. This is what made Ryobi blow Kobalt out of the water.
Which Has Better Warranties?
There are few things that are as important as seeing a company that stands behind their work. That's why we need to take a close look at each company's warranty policy.
Kobalt
Kobalt's warranty system is pretty great, no lie. Handheld tools have a 5-year tool and 3-year battery limited warranty, while their accessories are warrantied up to one year. The warranty, though, tends to be fairly limited in what it will cover and they can be a little strict on how that warranty is enforced.
Kobalt needs to see proof of purchase, and won't cover damage from neglect, misuse, or improper alterations. It also won't cover the cost of replacement parts…and I don't need to tell you that those costs can add up quickly.
Ryobi
Ryobi is slightly simpler when it comes to their warranty policies, though the warranty doesn't last as long. Most of Ryobi's tools will come with a 3-year limited warranty across the board. If you have a defective or broken part within 90 days of your Ryobi tool's purchase, you can call up the company and have them fix or replace the break for you for free.
Overall, it's a fairly even tie between Kobalt and Ryobi when it comes to warranties. The reason why we are siding with Ryobi is their 90-day guarantee, which is rather generous when you think about it.
Kobalt vs. Ryobi: Which Should You Pick?
Honestly, you can't go wrong with either company. They both warrant applause for the way they make tools, their excellent portfolios, and for being decent enough to hold up some seriously nice warranties. However, if you ask us, it's going to be a while before Kobalt can catch up to a name as trusted as Ryobi.
Ryobi has got a sterling reputation that's been forged over the course of half a century. It has a larger catalog of products as well as a 90-day fixing guarantee. So, if you're a fan of peace of mind, it's best to stick to Ryobi. As far as the two brands go, it seems to be the more reliable of the two.
---
Related Questions
Is Kobalt as good as DeWalt?
For a tool brand that is owned by a hardware store, Kobalt really impresses in terms of quality and affordability. Regular tool users often find themselves impressed with the affordable batteries they can pick up at Lowe's, as well as the reasonable warranties the company offers.However, when it comes to sheer reliability and staying power, DeWalt is a clear winner. DeWalt tools are also designed with more speeds and features, making them the better choice for professionals who need to have versatile equipment. It's worth the higher price tag if you use your tools daily.
Are Kobalt tools made in the United States?
It all depends on the tool. Kobalt does, in fact, have factories that are based in the United States. Many of their ratchets, wrenches, and power tools were made by Danaher. You might recognize the Danaher name as the official factory manufacturer of Craftsman tools.To find out if a particular Kobalt tool is made in the USA, it's best to call their customer service line. With that said, Kobalt is owned by Lowe's, which employs roughly 10,000 Americans every year. So it's still supporting American industry.
Are Ryobi tools made in the United States?
Though Ryobi is a Japan-based company, they do have a factory in Shelbyville, Indiana. Some of their tools are manufactured (or at least assembled) in the United States. However, they also are made in several other countries, including Japan, China, and several other nations.It is worth pointing out that Ryobi may have a single facility in the United States, but the vast majority of their tools are still made in China. This does not seem to be changing anytime soon, either.

Ossiana Tepfenhart
Ossiana Tepfenhart is an expert writer, focusing on interior design and general home tips. Writing is her life, and it's what she does best. Her interests include art and real estate investments.
More by Ossiana Tepfenhart
Published March 12th, 2021 8:03 PM