71 Views
The Top 12 Kitchenware Brands
July 20th, 2021 2:15 PM
Share
We're committed to finding, researching, and recommending the best products. We earn commissions from purchases you make using links in our articles. Learn more here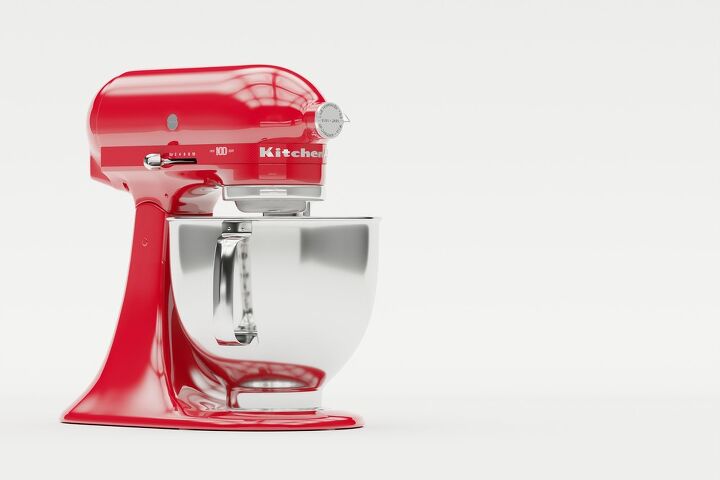 As a kitchen wizard, I'm a huge fan of shopping for kitchenware. Most of the time, it's window-shopping since I would want to have a larger kitchen before I go broke on cookware. There are literally thousands of kitchenware brands that are out there. You might be wondering which ones are the most reliable and which ones are making waves. As a fan of all things cooking, these are the ones I suggest.
The world of kitchenware is always evolving. If you want to get a good set of kitchen supplies, check out these upscale brands below:
Le Creuset
KitchenAid
Oster
Cuisinart
De Buyer
Caraway
Farberware
Our Place
Great Jones
Meyer
Yamada Cookware
Milo Cookware
Wondering why these cookware companies are so popular, and why I swear by them? Well, let's talk about it. I have plenty to say about each one.
What Are The Best Kitchenware Brands For Foodies?
Kitchenware is one of those things that you cannot cut corners on. Getting kitchenware from a faulty company means that you will probably have to replace them several times faster than you would good gear. It's an investment. If you want to see my picks, check out these below.
1. Le Creuset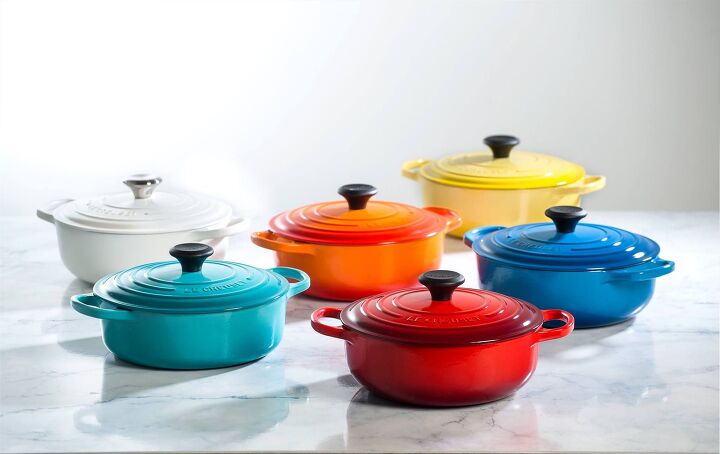 France-based Le Creuset is one of the biggest names in kitchenware globally, and owning their gear is a legitimate status symbol. Known for their cast iron pots, bakeware, and Dutch ovens, you can usually tell a Le Creuset by the beautiful glaze that they have on the outside of their bowls. Honestly, seeing their displays is a highlight of mine whenever I window shop at Williams-Sonoma.
Their cast iron kitchenware is designed to be capable of lasting a lifetime, even if it sees a ton of wear and tear. They're mostly dishwasher-safe (Hallelujah!) and can be a perfect item for a wedding registry. Of course, they cost a serious penny. But, you definitely get what you pay for with Le Creuset.
2. KitchenAid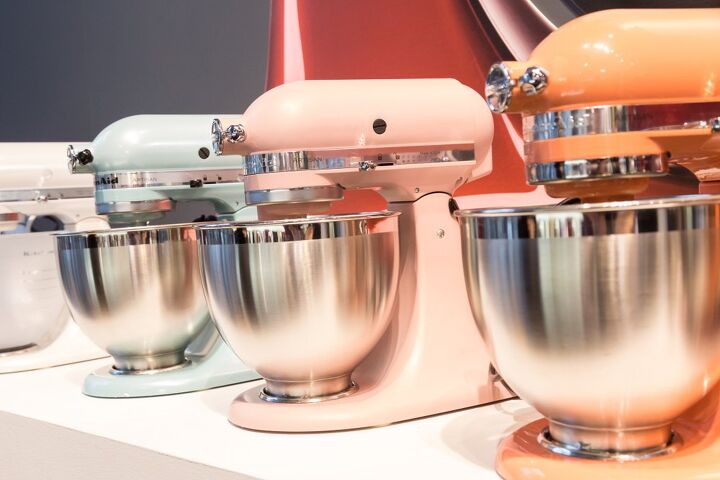 So, KitchenAid is kind of a source of contention among people in the cooking world. Their industrial-grade products are amazing. Their home products can be pretty hit or miss, but are hits for the most part. KitchenAid is not a "pot and pan" company as much as it is a kitchen appliance company. They're famous for good blenders, mixers, bread machines, and similar goods.
Much like Le Creuset, KitchenAid has a lot of tools that are just as pretty as they are useful. With that said, this company does offer some good warranties with their wares. Between the elegance, the durability, and the tech that they offer up in their machinery, it's easy to see why people like me are diehard fans.
3. Oster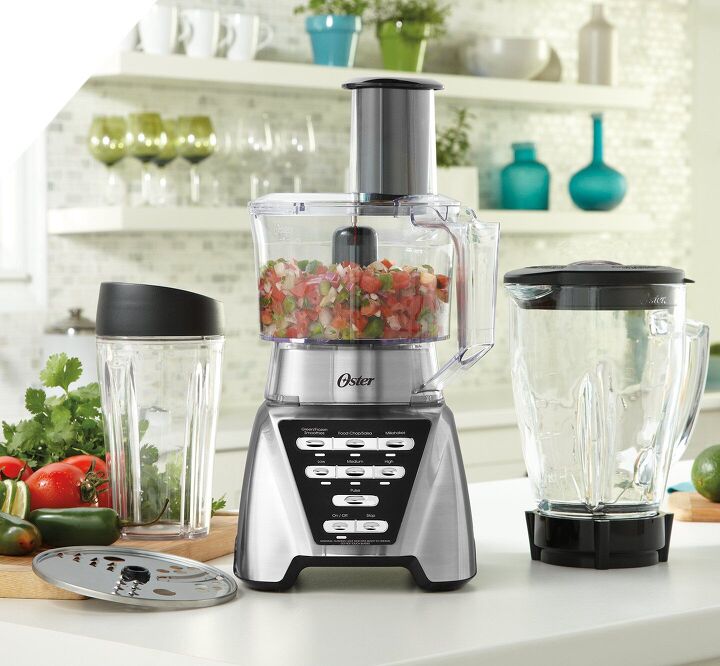 Most people tend to overlook this brand, but they really shouldn't. Back in the day, Oster was known as a major trailblazer in the world of culinary work. In fact, there are still some groups out there who swear by models like the Osterizer—an old blender and food processor that could put most today to shame. (You can pry mine from my cold, dead hands.)
The thing I like most about Oster's line of appliances is that they just don't break. They don't! And they are affordable, which is kind of amazing when you consider how crazy the prices can be for some of the stuff on the market. It's not unusual to see people using Oster equipment that is 10, 20, or even 40 years old. That is a serious statement to its quality.
4. Cuisinart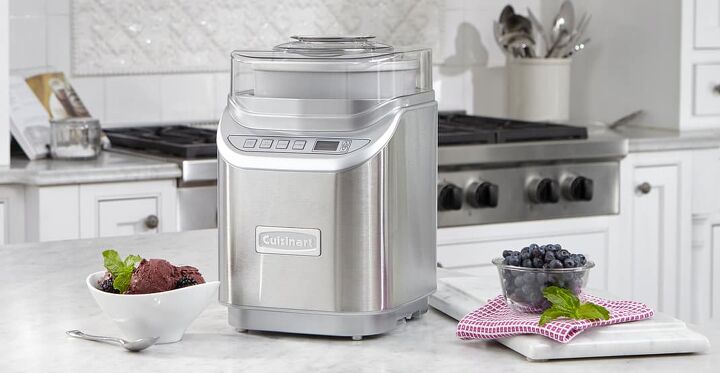 I feel a little weird doing a list featuring KitchenAid without including its top competitor, Cuisinart. Cuisinart is another major name that's famous for its appliances and knives. If you are interested in knives, check out our guides about the best Japanese Knife Brands and German Knife Brands. This is a great brand for things like mixers and toasters. However, I want to point out that they tend to go big on trendy, highly specialized goods like ice cream makers and air fryers.
Honestly, they have a strong following because they tend to make good things. If you are looking for cookware that doesn't scratch, their premium line is great. Personally, I really happen to like the look of their chafing dishes. That's just old world elegance. With that said, most people tend to fall in love with their stuff the longer they use it.
5. De Buyer

With names like Le Creuset, you're kind of expected to know that they are top names. De Buyer is a more obscure name, but that doesn't mean that it's bad. Rather, it's an elite series that is almost exclusively found in millionaire homes and professional chef settings. All of their items are made with copper or high-grade carbon steel.
I would go so far as to say that De Buyer is one of those companies that deserves to be heralded as a gold standard in cookware. With that said, the price tag alone can be a reason to call this a status symbol. You can expect a De Buyer set to cost several thousand dollars for a set. But, that's to be expected from French cookware.
6. Caraway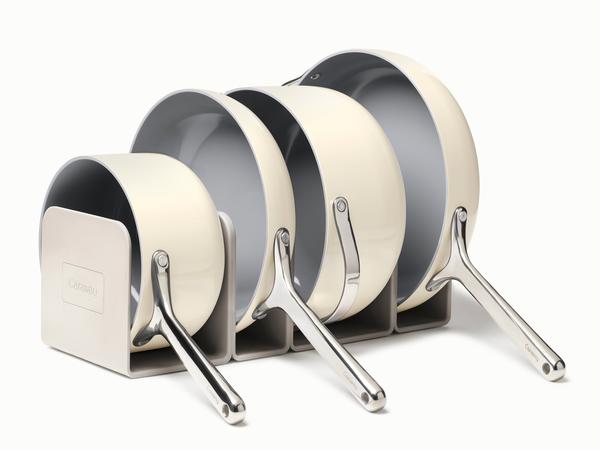 Though we've dropped a bunch of big pricey companies so far, I want to emphasize that you don't have to splurge out to get some decent cookware. If you want to save a bundle and also get that same classic luxury feel, then you can take a look at a brand like Caraway. They make amazing pots and pans complete with their own carrying case.
Most of the time that you find these types of pans, you'll notice that they have a delightfully retro feel. They're durable, ceramic-backed, and pretty. That alone makes them a favorite among people who want to have a lightly elegant, pretty-in-pastel type of kitchen. The fact that their pots and pans also come with gorgeous storage options makes it better.
7. Farberware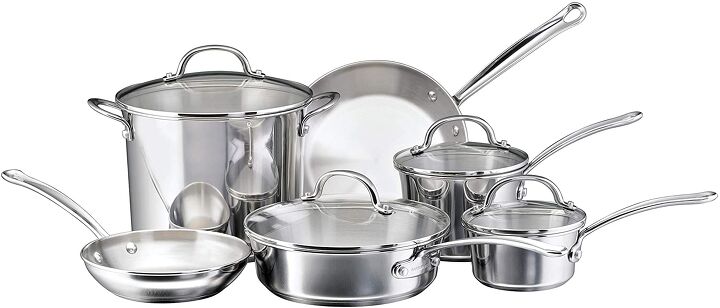 Farberware is one of the more old-school options on this list, but that doesn't mean it can't keep up with the newer kids on the block. The company has been around for decades and is pretty popular for people who want to get affordable but versatile kitchen appliances. The award-winning company is mostly known for their air fryers, blenders, and cookware sets.
This company is a good one if you want to have cookware that lasts and lasts. Some of their series have a millennium guarantee on them. So, it's kinda hard to beat that. While it may not have the same bougie veneer as something from Le Creuset, not one person will ever turn up their nose at a Farberware setup.
8. Our Place

I didn't want to keep to all the old names that everyone knows in this article, simply because that's kind of unfair. I mean, new companies should be given the same love, right? One of the newer ones I've noticed is Our Place. The company specializes in ceramic cookware that is meant to be multipurpose.
So far, the reviews are amazingly positive. Their most popular pan can work as a saucepan, wok, frying pan, pot, and also comes with a neat little spoon rest. People who want to have an aesthetic kitchen will want to check out their work. The colors they offer are absolutely stellar, and every item looks like it belongs in a magazine.
9. Great Jones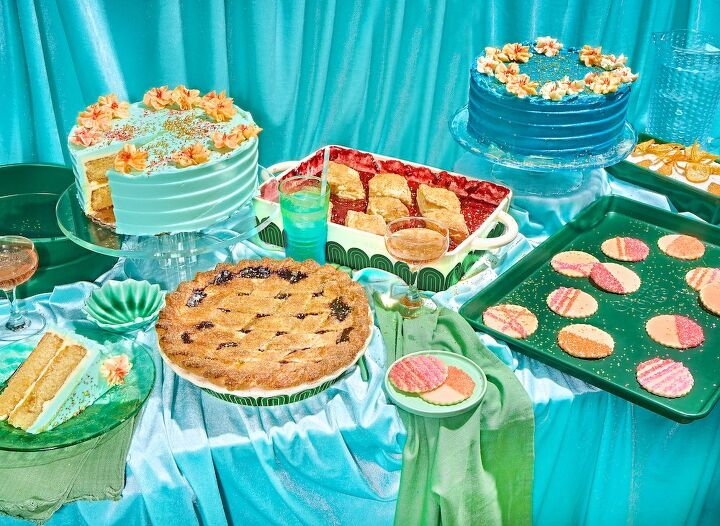 Speaking of aesthetic kitchens, you might want to take a look at a startup by the name of Great Jones. This company was raised to create nonstick bakeware and goods that are high quality, affordable, and aesthetically pleasing. The startup is amazing in terms of quality, not to mention gorgeous.
If you need basic cookware, they have a decent number of pots and pans. Recently, they also expanded into bakeware. Personally, I'm a huge fan of that beautiful retro 70s look. Since its creation in 2018, Great Jones gained a massive online fandom and witnessed its span of offerings expand. Expect to see some good stuff happen with this company in the future.
10. Meyer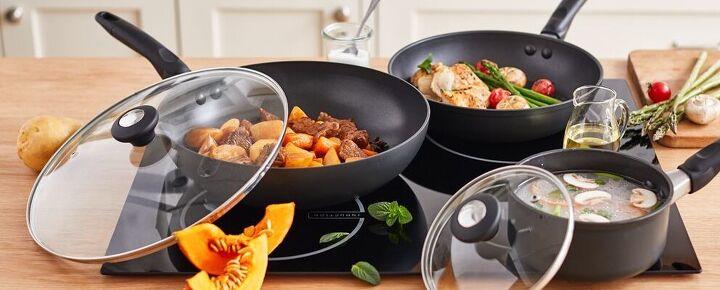 Meyer is a name that you want to remember. This luxury name in kitchenware is a "deep cut" as far as naming top brands of kitchenware, but I can't help including it on this list. Obscure as it may be, Meyer's quality levels are incredible. They were the first company to incorporate high-low circles in their pan bottoms and also boast the name to the first non-stick hard anodized cookware.
If you want to have sleek, effortless innovation, then you need to check out Meyer. The brand is excellent for people who need to see innovation in their stuff. While it's not a brand that has that old school quirky-cute look that others on this list have, they tend to boast a really nice, sleek look that matches well with most decorations.
11. Yamada Cookware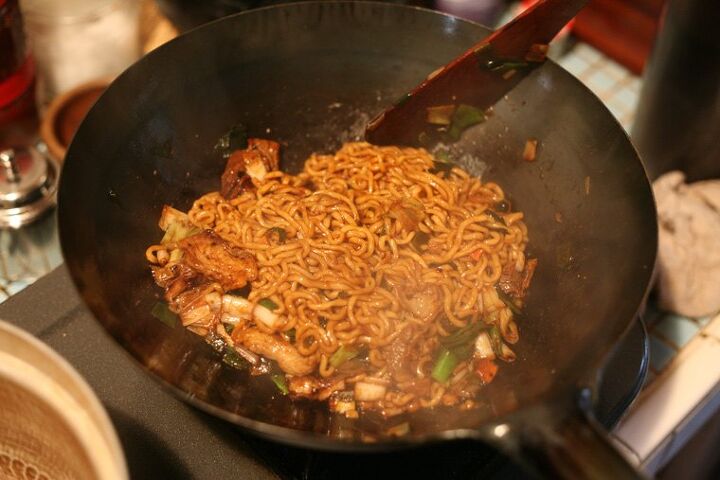 Let's be honest. Most of the culinary companies that we see stateside tend to focus on Western cooking—and that's to be expected. Unfortunately, that tends to be pretty bad for people who need to get their Asian food on at home. If you want to go for an authentic Asian company that makes amazing goods geared towards real Asian cooking, check out Yamada.
Yamada Cookware is one of the top kitchenware companies to come out of Japan, and that's saying something. Japan is famous for being extremely quality-oriented. While their woks are the most popular thing on their site, the truth is that you can't go wrong with any of the gear that this brand offers.
12. Milo Cookware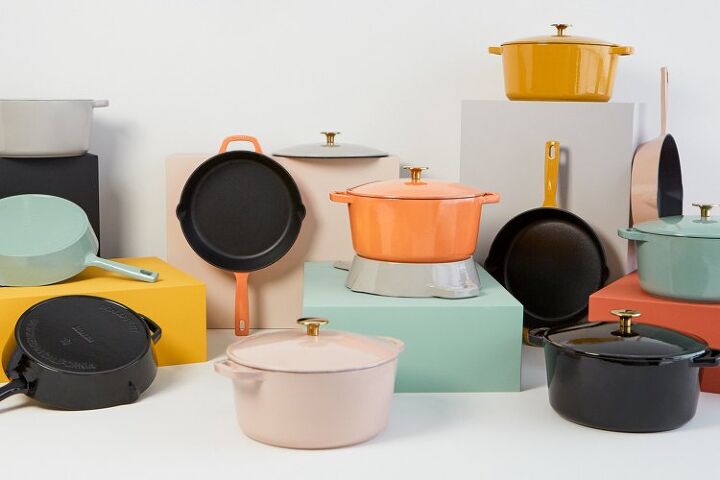 Milo is a subsidiary of Kana, a high-end kitchen company group that's known for great parchment paper. Though they are still fairly new, the company's dedication to making sleek and elegant cookware that's remarkably affordable. Their goods all offer up even heating, easy cleaning, and a stylish modern look to them.
Like others on this list, Milo is meant to be a mix between form and function. If you want to see your home's setup get a more elegant look, adding a Dutch oven or pan from this brand will do the trick. It's a brand that really prides itself on making sure that it looks good in the kitchen.
---
Related Questions
Why do chefs prefer stainless steel cookware?
Stainless steel is the top material preferred by chefs for one reason: it's almost impossible to destroy but still delivers even heating. In a typical kitchen, pans and pots often get dropped all the time. Having stainless steel is an affordable way to make sure that your cookware won't break.Though it's super durable, stainless steel generally offers up a reliably even level of heat distribution and can even help prevent food sticking. This helps ensure that chefs will be able to keep their food properly heated without having to worry about constant stirring or burnt parts.
What kind of cookware does chef Gordon Ramsay use?
According to the 'Masterclass' series made by Ramsay himself, the cookware that he prefers to use is nonstick ScanPan pots and pans. Though he may be a huge fan of ScanPan, don't let that stop you from trying another brand if you so choose. Every professsional chef has their own cookware that they swear by.Ramsay claims that his love of ScanPan is because of their nonstick cooking power, which makes a lot of recipe prep a cinch to do.
What kind of cookware does Jamie Oliver use?
Celebrity chef Jamie Oliver tends to be a fan of Tefal, a kitchenware company famous for its thermospot technology. Unlike Ramsay, who swears by nonstick, Oliver prefers Tefal because of its easy to clean and easy-to-use technology. With that said, he is also famous for his love of cast iron grills and copper pans.The overall trend with Jamie Oliver's preference in pots and pans is simple: he likes durability, ease of use, and excellent control over the heat. As long as he has that, he's a happy camper.
Related Articles

Ossiana Tepfenhart
Ossiana Tepfenhart is an expert writer, focusing on interior design and general home tips. Writing is her life, and it's what she does best. Her interests include art and real estate investments.
More by Ossiana Tepfenhart
Published July 4th, 2021 12:08 PM