267 Views
Is It Cheaper to Build Your Own Cabinets? (Making Vs. Buying)
November 2nd, 2021 12:55 PM
Share
Building cabinets is not that difficult of a process for homeowners and can be exciting. If you're looking to save money and spend a little bit of your time, then its easy to get started making your own. But what if you don't have those skills? Follow along as we explore the difference in cost between building and buying cabinets.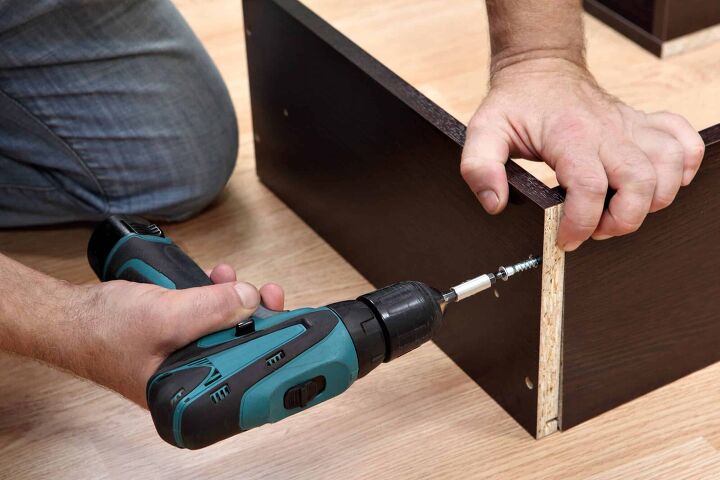 Getting new cabinets can be exciting, and nerve-racking. Cabinets are not cheap, but there may be some options for both buying, and building, that can save you a little bit of time and money.
If you have the skills to build a set of cabinets, then building them would save you money, because your labor will be valued at $0 per hour. Buying cabinets is the best option for anyone who does not have the skills or time to build them.
It all comes down to how much your time is worth to you. If you have the tools, and skillsets to build custom cabinets, then you would benefit from building your own set. Woodworking can even be enjoyable, for those who have the skills and know-how.
Building cabinets takes a considerable amount of time and effort. You will need to schedule 1-2 weeks, for building a set of kitchen cabinets. This does not count the time it will take to paint, or stain them.
We are going to look at some of the options for building cabinets, and for buying them, to find out which one might be right for you.
Do You Need to Hire Cabinet Installers?
Get free, zero-commitment quotes from pro contractors near you.
Is Making Your Own Cabinets Really Cheaper?
This depends on the tools you have, and the level of skill that you possess. If you are great at woodworking, then you can save money by making your own cabinets. If you are new to cabinet construction, you are going to have a hard time building a high-quality set of cabinets.
However, there are options if you have some carpentry skills. Such as building the boxes and frames, and buying drawers, faces, and doors pre-built, and installing them yourself. The hardest part for me is getting the drawer tracks in just the right position.
You must also consider the space you have for building them. Building cabinets is something that will take a workshop, or an area big enough to lay them out, build them, and store them for a few days, or even weeks while you work.
Either way, you are going to save some money, by doing part of the work yourself. If you have no experience at all, then buying them already built, and having someone install them is going to be your only option.
Tips for Buying Cabinets
Buying cabinets can be a hard process if you have no idea how much they cost, or what type of cabinetry you are looking for. Consider these tips, if buying cabinets is your best option.
First, figure out what type of cabinets you want. Once you know what you want, it will be easier to find what you are looking for, at the right price.
You are going to pay more for custom cabinets. Chances are, if you have a small budget, you will have to buy a set of cabinets that are already built. Custom cabinets cost more.
You will save money by buying from big box stores. You can always employ a cabinet builder, but to save money, you may want to find pre-built cabinets, at one of the larger hardware stores.
Cheaper is not always better. Regardless of where you buy your cabinets, cheaper usually means less quality. Make sure you look at cabinets, that will hold up well over time, for the price.
If you have some carpentry skills, you will be able to save money by buying a full set of cabinets and installing them yourself. If you have no skills, make sure to add in installation costs to your budget.
Making Vs Buying Cabinets
There a few differences between making, and building cabinets. Let's look at the pros and cons of each, so we can see what makes one, or the other, the best choice.
| | |
| --- | --- |
| Building Pros | Building Cons |
| You will save money by building your own set of cabinets, by saving on labor. Woodwork can be a rewarding experience. | You will need to have the time. Building cabinets can take 1-2 weeks, depending on the size of the set. |
| There are more options for customization when you build your own cabinets. You choose the wood and the style. | To build a set of cabinets, you will need to have the right space. Keep in mind they may have to be there for a week or two. |
| You won't have to worry about having a crew in your home for the installation since you will be doing it yourself. | If you are staining, painting, or clear coating your cabinets, you will need to have a well-ventilated area to finish them. |
| You have more options and control over colors, types of wood, hardware, and more. Most cabinets you buy come pre-built. | It will take more time to come up with a design, and build cabinets than it would to just buy them and have them installed. |
If you have the time to build your own cabinets, then you will get more bang for your buck. You will be able to choose exactly what you want. Buying them cheaply, you will have to pick from a pre-built selection.
Types of Cabinets
There are many styles, and types of cabinets, that you can build or choose from. Most of the differences are in the types of wood, and the finishing. Here are the most common types:
Solid wood cabinets
Stainless steel cabinets
Plywood cabinets
Medium Density Fiberboard (MDF) cabinets
Depending on the type of look you are going for, you are going to want to choose from one of these types of cabinets. Solid wood cabinets are the most widely used. Popular cabinets such as stainless steel can cost a lot more.
MDF is a great material if you are looking for a modern design. Wood cabinets are traditional, but MDF gives a perfectly smooth surface, with no grain. This looks great when you are going for a clean looking design.
Costs for Making Cabinets VS Buying Cabinets
Now let's get down to the costs for making cabinets vs buying them. You know now that building them can be cheaper, but how much cheaper? The costs for building, and buying, will depend on what materials you intend to use.
| | |
| --- | --- |
| Building Costs | Buying Costs |
| A small basic solid wood kitchen set costs around $800 for materials. | When buying a small, basic set of kitchen cabinets, the cost will be around $12,000. |
| The large, solid wood set of kitchen cabinets, will cost around $1800 in materials. | A large set of kitchen cabinets will run up to $30,000 depending on the materials used. |
Keep in mind, that the labor for building cabinets, accounts for 75% of the total price. This is why building them can be less expensive. However, you must be able to complete your project on your own, or with free help, to save money. Otherwise, you could be better off buying them.
Make or Buy Cabinet Doors
One way you can save time if you are building your cabinets is by buying the drawers, fronts, and cabinet doors pre-built. This way you will just be building the box, and installing the hardware.
You will need to make sure the material you are using to build the box, matches the material for the doors. If you are building solid wood oak boxes, make sure to get oak cabinet doors. If you are using MDF, make sure to purchase MDF doors.
Building cabinet doors is an art. Which is why it takes experience, and skills, to get that part of the job done. Even the finishing process (paint or stain) requires the right skillsets.
Tips for Saving Money
Here are a few tips for saving money, when building, or buying cabinets. Keep in mind that you may not be able to afford every option.
If you are looking for a simple design, then buying the cabinets could be the right option for you. You will save time, and money, by getting a cheap simple set.
Stick with your budget. If you cannot afford using a certain type of material, then shop within your means. Going overboard with options will cost you.
Ask friends with skills to help you. You will save money if you have friends with the right skillsets, and tools, to help get the job done.
Get prices from more than one source. Look around for the best prices. Kitchen cabinets can vary in price, depending on who you purchase them from.
Do You Need to Hire Cabinet Installers?
Get free, zero-commitment quotes from pro contractors near you.
---
Related Questions
Is it cheaper to paint or replace cabinets?
It would be cheaper to paint cabinets than it would be to replace them. A large set of kitchen cabinets can cost upwards of $30,000, while a repaint can be done for around $5,000 if you are paying someone to do it. If you are painting them yourself, you will pay considerably less.
Is it hard to build your own cabinets?
You must have the skills, knowledge, and tools to build your own set of cabinets. Cabinet building requires special techniques, that are different from regular carpentry. It could be considered hard, and not for beginners.
Related Guides
Chad Kilpatrick
I'm a writer that is passionate about home improvements, remodeling, and renovating. I enjoy learning new skills and techniques and sharing them with others.
More by Chad Kilpatrick
Published August 9th, 2020 11:45 PM