156 Views
How To Push Back A Retaining Wall (Step-by-Step Guide)
October 14th, 2021 4:25 PM
Share
We're committed to finding, researching, and recommending the best products. We earn commissions from purchases you make using links in our articles. Learn more here
Many homeowners have retaining walls, and it is common to need to push them back for one reason or another. It is an easy process but it takes some time, but you can do it if you remove the sod, existing retaining wall, and prepare the ground. Whether it be the materials or tools for the job, let's take a look at how you can move a retaining wall back.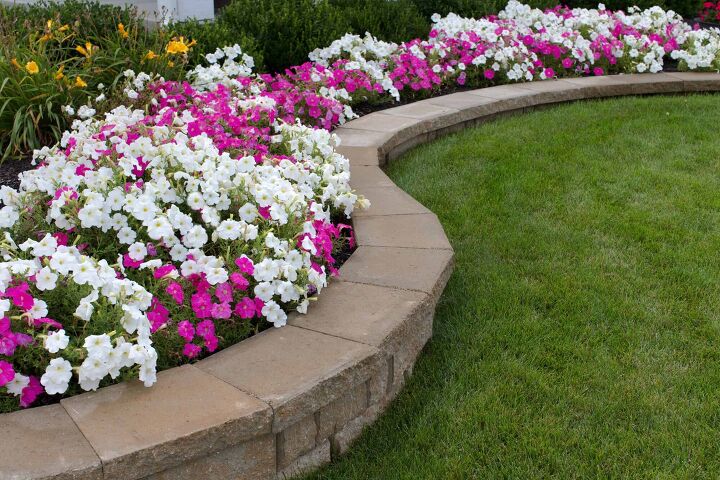 That old retaining wall may have been beautiful when they first made it. In fact, it was probably necessary to protect your yard from erosion or dangerous slopes. However, if you need more room in your yard and you have this big retaining wall in the way, what can you do?
Cut down the surrounding trees and plants, remove the sod, and remove the retaining wall and dirt behind it. Save the rocks and stones that you remove and prepare the site for your new retaining wall. Remove the dirt and debris with a Bobcat and stack the bricks or stones to build a new wall.
Do You Need Retaining Wall Installers?
Get free, zero-commitment quotes from pro contractors near you.
Option One: Pushing Back the Wall
To actually push the wall back and make more space in your yard, you may need an engineer or architect. At the very least, you will need to talk to an inspector about the possibility of this idea before starting. Here are the steps you (or a professional you hire) would have to do to push back that retaining wall.
Step One: Removing the Flora
Although it depends on the angle and depth of the wall and what it is made of, you can start by removing all of the plants and trees from the space that you want to get rid of. Go a bit further than what you are considering.
Step Two: Getting Rid of the Sod
Rent a sod cutter to get rid of all the grass and lawn from the entry and all of the areas that you will be removing. Put this soil and grass to the side in the shade, if you can. Cut a vertical cut into the wall at the spots you want to be removed. Cut all of the bed walls that needs to be removed and place it to the side.
Step Three: Decorate Your New Space
Whether you want to build a garden, waterfall, steps, or a walkway, you should be able to do it with the space provided. You can also make other cuts in the wall to get more space to play.
Option Two: Removing the Retaining Wall
The better choice here would probably be to remove the retaining wall completely. That is if it is not holding back the gates of Hell or 200 tons of dirt. What you need to know first is that since retaining walls are typically built to last forever, they are hard to remove. But it can be done.
Step One: Check for Building Codes
In some cities, you have to get an inspection and permit before removing or altering any wall over four feet tall. And if the wall seems unstable, you may want to consider hiring a professional.
Step Two: Get the Site Ready
Remove anything important that can be removed and cover what cannot. This includes plants, trees, furniture, patios, and electrical outlets. Whatever you do not want to be damaged by dirt or heavy machinery needs to be removed.
Step Three: Start Removing
Standing behind the wall so the dirt and stones do not fall on you, choose one end of the wall and start removing the blocks or stones. This step really depends on what your wall is made of. If you have a concrete wall or train ties, you may be looking at getting a bobcat or another piece of heavy machinery.
Step Four: Removing the Wall Caps
If you have wall caps on your retaining wall, remove them with a chisel and hammer to get through the adhesive. Then you should be able to pry the caps right off of there. Dump what you are not reusing into a dumpster and what you want to reuse on a tarp. Keep removing the wall material from the top down and setting the rocks or bricks to the side.
Step Five: For Concrete Walls
For those with a concrete retaining wall, make sure there are no power lines running in it before trying to remove it. Use a jackhammer or sledgehammer to make deep cracks along the top until you can break the pieces off and move them out of the way. If the pieces are too large to move, you will have to use the sledgehammer or jackhammer to break them up.
Step Six: Continue Removal
Keep on removing the wall and putting the debris and rebar into the dumpster. Try to save the rocks or bricks that are in good shape. You can reuse them, sell them, or give them away.
Step Seven: Replacing the Wall
Use the saved rocks, wood, bricks, or new material to build your new wall when you get it to where you want it.
Step Eight: Removing the Dirt
Use a bobcat or other machinery to remove the dirt and debris from the area until the wall is as far back as you want it to be. Get rid of the dirt and debris by having it hauled away or hauling it away yourself.
If You Cannot Remove the Wall or Push it Back
If these two options are not feasible, consider building onto the retaining wall. Flatten out the base of the wall and make a raised patio or water feature. Or you can place some decorative rock and a patio set on a flattened area. Just make sure the wall is able to support whatever project you are planning. This may take a visit from a city inspector or another expert.
Do You Need Retaining Wall Installers?
Get free, zero-commitment quotes from pro contractors near you.
---
Related Questions
What Are the Different Types of Retaining Walls?
There are four types of retaining walls that you can find in residential yards. Most are there to protect the yard and house from erosion while others are there for decorative purposes. Still, others are made to build up a sloped yard to make more space. Here are the main types of walls.
| | |
| --- | --- |
| Types of Walls | Basic Uses |
| Gravity Retaining Walls | The most common and basic, this one uses its weight to hold the dirt back. They are usually made with stone, pavers, or bricks. Some require a trench while others need a concrete base. |
| Sheet Piling Retaining Walls | This is a space-saving wall made of vinyl, wood, or steel driven right into the soil. It only works for smaller walls and soft soil. |
| Reinforced Retaining Walls | With steel bars running through concrete, this is the strongest type of wall. It is usually attached to a foundation that goes underneath the soil. |
| Anchored Retaining Walls | The anchored retaining wall adds strength to any type of wall by having anchors that support the front of the wall. The anchors are driven into the dirt behind them and attached with strips or cables. |
What Are the Different Types of Wall Materials?
There are many types of materials for retaining walls. You can use wood, rocks, concrete, train ties, or even metal. They each have their own pros and cons depending on what your retaining wall is holding back.
A concrete block is available in many different styles and shapes and can be used in most situations.
Natural stone like river rock is a nice creative wall but can be time-consuming and not sturdy enough for many retaining walls.
Wood or timber walls are the nicest and easiest to use. You can use wood 2x4s, 2x6s, etc. or different sizes of planks or timber.
Whatever material you use, you will likely have to fill in the extra space with gravel and dirt and you may need landscaping fabric as well. Plan it out before starting your project and talk to others who have done this type of thing before.

Patricia Oelze
I am a DIYer who loves writing about anything home-related. When I am not writing, you can find me studying for my PhD in Psychology, photographing nature, and swimming at the lake with my grandkids.
More by Patricia Oelze
Published September 5th, 2020 1:18 PM