515 Views
How To Remove A Nest Thermostat From A Wall (Step-by-Step Guide)
October 15th, 2021 12:09 PM
Share
We're committed to finding, researching, and recommending the best products. We earn commissions from purchases you make using links in our articles. Learn more here
Nest thermostats have taken the world by storm due to their performance and easy installation. Removing one from the wall is easier than it looks as long as you shut it down safely before you remove it from the base. Whether it be powering your Nest down or removing the display and base, let's take a look at how you can remove a Nest thermostat.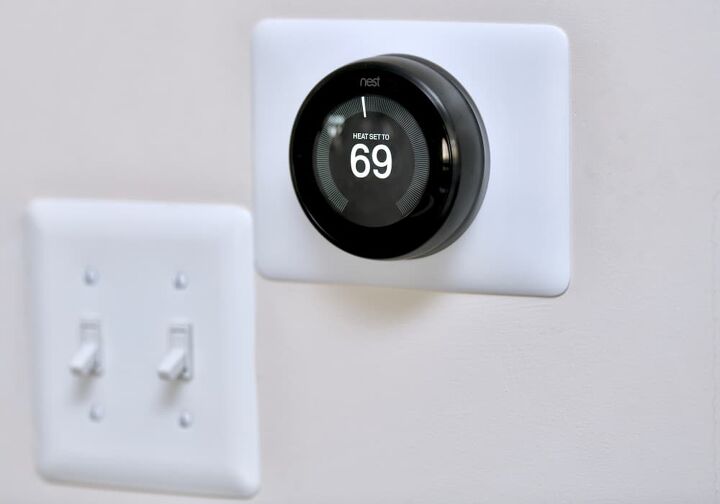 Smart thermostats such as the items in the Nest brand are becoming fixtures in more homes. It's easy to understand why that's happening given how convenient and user-friendly those thermostats are.
Once you've gotten used to having a Nest thermostat, you may not want to return to the more conventional options. You'll want to keep it even if you're moving or renovating your home. The good news is that you can reuse your Nest thermostat as long as you remove it properly first.
To remove your Nest thermostat, you will have to reset it and then shut it down by flipping the appropriate breaker. You can then pull the thermostat out from its base and check if the wires are indeed turned off. Work on removing the Nest's base and trim plates next by unscrewing both of them from the wall.
Removing a Nest thermostat from your wall can be a surprisingly complicated undertaking. Make that job easier by taking note of all the tips and relevant information included in this article.
Do You Need Thermostat Installation or Replacement Services?
Get free, zero-commitment quotes from pro contractors near you.
How to Reset Your Nest Thermostat
Before you even get started on removing the Nest thermostat, you will first have to perform a factory reset. Thankfully, this process is very simple and you should be able to pull it off even if you aren't tech-savvy.
Step 1: Open Up the Settings
Begin by bringing up the main menu of your Nest thermostat. Once you're there, scroll over to the Settings submenu and click on it.
Step 2: Initiate the Factory Reset
While in the Settings submenu, go all the way to the right until you find the option to reset the thermostat. Just keep swiping until you see it. Upon finding the reset button, press it and choose to reset "all settings." You'll be prompted for confirmation so go ahead and provide that.
The thermostat will now instruct you to move a dial all the way to the right. Follow that prompt again and press "Ok" when the thermostat asks for further confirmation.
At that point, you can still cancel the factory reset. Since we're looking to remove the thermostat though, just let those seconds tick away.
Step 3: Wait for the Factory Reset to Finish
You will now have to wait for the factory reset to complete. The process typically only takes about a few minutes. You'll know the factory reset is done when the thermostat prompts you to select a language of operation.
Why Is Resetting the Nest Thermostat Necessary?
Resetting the Nest thermostat prior to removal is necessary because it may be rendered useless otherwise. You don't want it searching for a Wi-Fi network that no longer exists in your new home. On top of that, the Nest thermostat may not be usable if you're planning to re-gift it without a factory reset.
Re-wiring may also become necessary if you're planning to renovate your home. You'll also have to set up your Nest thermostat again before it can become compatible with the new wiring.
How to Remove the Nest Thermostat
Now that you've managed to successfully reset your Nest thermostat, you can proceed to removal. This can be a confusing process so make sure you follow the steps correctly in order to avoid any mishaps.
Step 1: Shut Off the Power to the Nest Thermostat Completely
This is the one step you cannot afford to forget if you're looking to remove the Nest thermostat. Failing to turn off the power to the thermostat before removal can cause serious injury.
Go to your home's breaker box and look for the circuit breaker that's connected to your thermostat. Make sure that you shut off that circuit breaker.
If you're unsure which breaker leads to your thermostat or if there are other connections, don't hesitate to call an electrician. Paying a relatively small fee is preferable to suffering an unnecessary accident.
Step 2: Prepare the Necessary Tools
You will only need three items to remove your Nest thermostat. The items include a screwdriver, masking tape, and a non-contact voltage tester. You may also look into wearing some gloves, but you don't need to if you shut the power off correctly.
Step 3: Pull Out the Nest Thermostat
Grab on to the Nest thermostat now and start pulling it out. What you're pulling out is the unit itself and not the plate surrounding it. Apply a little bit of force to remove the thermostat and expose the wires underneath.
Step 4: Test the Wires
Removing the Nest interface will give you access to the wires powering it up. You should now take this opportunity to test those wires for any voltage.
Grab your non-contact voltage tester and use its probe to get readings from the exposed wires. Hopefully, the readings will indicate that the correct circuit breaker was indeed shut down.
If you're still getting voltage readings, go back to your breaker box and look for the right breaker again. Again, don't shy away from calling an electrician if you want to be certain about which breaker to turn off.
Step 5: Get the Wires Out of the Way
Now that you're sure that the wires cannot electrocute you, you start clearing them out of the way. Push down on the thermostat's terminal tab and start pulling out the wires.
You'll notice that the wires are all grouped together into a cable. Grab hold of that cable and pull it out of the wall slightly. Use your masking tape to stick the cable to the wall so it won't interfere with your work.
Step 6: Detach the Plates
You can now work on removing the plates that help connect the Nest thermostat to the wall. It's possible that your thermostat only relies on a base plate, but others do also have a trim plate. Regardless of which plates are used, you need to remove all of them with your screwdriver.
Step 7: Store the Components
If you're planning to reuse your Nest thermostat, remember to keep all of its components in a sealed container. The small pieces are easy to lose so just keep everything in one container in the meantime.
Do You Need to Remove Your Thermostat from Your Nest Account?
The next thing you'll have to do will depend on what you have in mind for the Nest thermostat. Homeowners who are looking to just reuse their Nest thermostat in the future can store it until the time to reinstall.
For the homeowners who are looking to replace and re-gift their old Nest thermostat, account removal will be necessary. Don't worry because removing an old Nest thermostat from your account is as easy as resetting it.
Simply open up your Nest app, go to the Settings menu, and look for the thermostat you removed. Click on your old thermostat, hit the remove button, and confirm that action.
---
Related Questions
Why Is the Nest Thermostat Not Working?
After finishing with renovation and reinstalling the Nest thermostat, you may turn it on only to find that it's not working. Don't be alarmed because that specific issue can be fixed.The issue is probably due to the Nest thermostat not receiving enough power. Nest thermostats are capable of operating even without plenty of power available. Most of the time, they will be able to function properly as long as you wired them incorrectly.As long as the thermostat is able to draw power from your home's heating and cooling wires, it can keep working. If you noticed that the thermostat is not working, check on those connections and see if they were made properly.It's possible that the Nest thermostat will still fail to work after the right connections have been made. That could be because the heating and cooling wires are not delivering enough power. In that case, you'll have to connect a C-wire to supply the amount of power the thermostat requires. The thermostat's compatibility checker will tell you if a C-wire connection is needed to power the device up.
Can the Nest Thermostat Be Charged Manually?
You may need to power up your Nest thermostat in certain situations even if your wiring is not completely fixed yet. So, is it possible to turn on your thermostat without relying on the wires? Yes, turning on the Nest thermostat is possible without the required wiring if you charge it manually.Remove the thermostat interface from the wall and check on its back. You should see a USB port there. Use that port to charge the Nest thermostat manually.The appearance of a blinking red light will let you know that the thermostat is charging. The thermostat will take about two hours to charge fully if its battery was completely drained.
Do You Need Thermostat Installation or Replacement Services?
Get free, zero-commitment quotes from pro contractors near you.
Why Is the Nest Thermostat Not Connecting to the Wi-Fi Network?
Upon reinstallation, the Nest thermostat may not connect to the new Wi-Fi network completely. In all likelihood, the issue is related to the network itself.
Check the settings of the Wi-Fi network and see if it has any restrictions that could be blocking the thermostat. Remove those restrictions and try to connect the Nest thermostat again.
Related Guides

Upgraded Home Team
We are a team of passionate homeowners, home improvement pros, and DIY enthusiasts who enjoy sharing home improvement, housekeeping, decorating, and more with other homeowners! Whether you're looking for a step-by-step guide on fixing an appliance or the cost of installing a fence, we've here to help.
More by Upgraded Home Team
Published January 20th, 2021 11:32 AM