19 Views
How To Mix And Match Pillows On A Sofa
August 2nd, 2022 11:36 AM
Share
We're committed to finding, researching, and recommending the best products. We earn commissions from purchases you make using links in our articles. Learn more here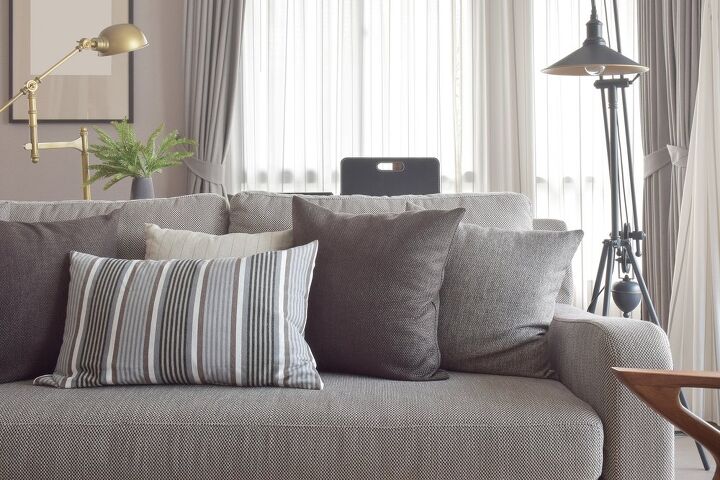 A sofa is typically the largest piece of furniture in your living room or sitting area. It makes sense to want it to look good since its size often makes it a central focal point in the room. It's important to know how to mix and match pillows on a sofa so it looks intentional and beautiful. Otherwise, it can look messy or like an afterthought.
When styling pillows on your sofa, choose various sizes and work with three different colors. Limit the number of pillows on your couch to an amount that makes it easy to sit comfortably. If you have a loveseat in the same space, use pillows with similar colors and patterns, but they don't have to match precisely.
You don't want your couch to look messy or uninviting, and you want to avoid using too many pillows. Otherwise, sitting is challenging, and you'll likely end up with more throw pillows on the floor than on the sofa. To avoid these problems, read on to find the best tips for mixing and matching pillows on a sofa.
Do Sofa Pillows Have To Match?
All of your sofa pillows don't have to match each other or the couch fabric. Although, it's visually appealing to choose a couple of pillows that match each other to create some visual symmetry.
When you buy a sofa, it's common for a couple of throw pillows to come with your new couch. These pillows often match the same fabric as the sofa's upholstery. But sometimes, they'll be in a coordinating color or feature a pattern.
You don't have to use these pillows. Or, at the very least, you can choose some additional options to add to the mix. Your pillows should have similar colors or coordinating patterns, but they certainly don't all have to be the same.
Mix Up Colors
Choose three colors for your sofa pillows that you pull from other areas in the room. For example, you might get your color inspiration from your wall color, rug, and curtains. Let these three colors dictate what pillows you choose for your couch.
The pillows don't have to be exactly the same, as long as they share a common color story. It also helps everything in the room stay cohesive.
Mix And Match Patterns And Textures
Play around with pattern combinations too. For example, you might choose one solid, one stripe, and one geometric. You could put your solid and striped pillows on either end of the sofa with a wow-factor geometric design in the center.
Mixing textures is also a great way to add visual interest while maintaining a cohesive look. Consider textures like wool, linen, fur, etc. You can also play around with some pillows with unique accents like buttons or tassels.
Should The Pillows On A Sofa Match The Ones On The Loveseat?
If you have a loveseat in the same room, your pillows don't all have to be the same. But, you should try to tie them together with similar colors, patterns, and textures.
How Many Pillows Should You Have On Your Sofa?
The size of your couch plays a significant role in how many pillows you should have on your couch. It also will affect how you mix and match pillows on your sofa.
For an average couch, three to five pillows should suffice, depending on the pillow size. If you have an oversize sofa or sectional, you'll likely use more pillows. It's best to make sure no matter how many pillows you place on your couch, you can still sit comfortably.
Using an even number tends to look more traditional, while an odd number looks a bit artsier. If you have six pillows, consider choosing three different pillows, and then get a matching pillow for each. If only using four pillows, select two different styles and a twin for each, etc. The idea is to create a symmetrical look on each side of your couch.
When using odd numbers, you could do the same with a unique, complementary pillow. Place this pillow in the center to tie everything together.
Should Sofa Throw Pillows Be The Same Size?
Like with the style and color of your sofa pillows, they don't have to be the same size or even the same shape. Consider the overall scale of your sofa and how the pillows look in proportion with the furniture's size.
Also, consider the size of the pattern on your pillows. Choose varying styles, with some that have tighter patterns and others with larger prints. You might also opt to try different shapes and fills.
A pillow with a fuller look will look different from one with less fill that looks more soft and squishy. You can use combinations of different types to create the style you're going for.
Play Around When You Mix And Match Pillows On A Sofa
When in doubt, the return policy at the home store is your friend. Buy a bunch of pillows that you adore and think will look great on your sofa. Then go home and start playing.
Try out various combinations and see which ones make you smile. Then, return anything you decide not to keep. You don't have to stick to any one hard and fast rule about throw pillows.
Go with what you love and what speaks to your sense of style. In the end, you need to love the space you're in, and that means breaking design rules sometimes.
Summary
There's no one rule regarding how to mix and match pillows on a sofa. Ultimately, choosing three colors and patterns and styling them in different combinations works well. You can choose different sizes and textures, as long as they share a similar color story.
Odd numbers tend to present an artsier vibe, while an even number of pillows looks more traditional. Using 3 to 5 pillows is usually enough for an average couch, but oversized and sectional styles might need 5 to 8.
Don't be afraid to experiment and try some different looks. Grab up a bunch of options at the home store and play around with various combinations. Keep the ones you love, and return the rest.

Stacy Randall
Stacy Randall is a wife, mother, and freelance writer from NOLA that has always had a love for DIY projects, home organization, and making spaces beautiful. Together with her husband, she has been spending the last several years lovingly renovating her grandparent's former home, making it their own and learning a lot about life along the way.
More by Stacy Randall
Published August 2nd, 2022 11:36 AM