81 Views
How to Connect a Porch Roof to a House
April 23rd, 2021 5:15 AM
Share
We're committed to finding, researching, and recommending the best products. We earn commissions from purchases you make using links in our articles. Learn more here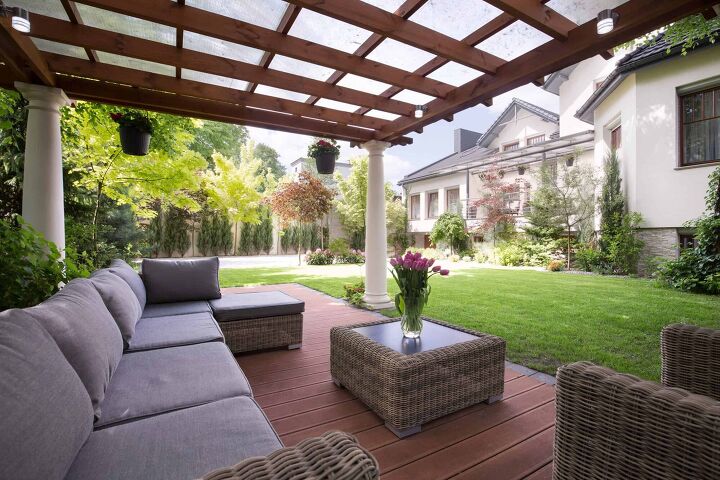 Adding a roof to your porch is a fabulous idea! It creates a space where you can enjoy the great outdoors during any season. Although, you may be uncertain about how to connect your porch roof to your house. It's a lot easier than it sounds. Don't let the size of the project overwhelm you.
You connect the porch roof to the house by attaching the roof ledger to the siding of your home. Of course, the area of siding will depend on if your house is one story or two stories. The idea is to allow the house to support that half of the porch roof. In turn, you need to make sure you have two supports standing in the opposite corners.
Connecting your porch roof can be some hefty work! It would be a good idea to have a couple of people assist you with his job. However, it's pretty straightforward. You just need to have the right information to make the project go smoothly.
Do You Need a Deck or Porch Contractor?
Get free, zero-commitment quotes from pro contractors near you.
Where is the Best Place to Attach the Roof Ledger of Your Porch to the House?
Where you attach your roof ledger depends on how many stories you have in your home.
If your home is only one story, attach it just below where the house's roof hangs over the outside wall, the "eave." Doing so will provide the appropriate support for the roof of your porch.
If your home is two stories, attach the roof to a rim joist. You can find the rim joist between both stories of your home. Rim joist is just another word for the architectural framing in this spot. This particular spot is ideal because it provides the most substantial support for your roof.
Now, if you live in a manufactured home, the process is a bit different. To attach the roof to a manufactured home, you need to find the studs on the outside wall. Once you find the studs, you will set the roof onto them and secure it.
Step One: Installing the Porch Roof Ledger
The details may be a bit different for different types of houses. However, overall, the process is the same.
First, you need to install the ledger to your porch roof. The ledger is what will stabilize the roof to the house. Check the siding of your home. If it is not flat, then you need to remove a portion of the siding where you're connecting the ledger.
If you have a mobile home, you need to attach the ledger to the studs. Once it is attached to the studs, screw it down into the outside wall. The roof should be relatively lightweight, as the walls are a lighter material.
A quick note: If your siding is beveled or slanted, you can use a piece of siding to create a flat surface. You do this by inverting the portion and attaching it to the exterior.
Although, if your siding is relatively flat, you can screw the ledger into it. Take care to make sure it's tightly fastened. Except, you should have enough room to put some flashing over your ledger. Flashing keeps water from getting in and rotting out the wood.
Attaching a porch roof is much like attaching a pergola that to your house!
Step Two: Ensure the Roof Has the Correct Supports
When you fasten your roof to the house, that side is supported. However, you need to balance out the support to keep the roof from caving in. The support is especially important during the rainy seasons.
It wouldn't hurt to have one support for each corner. Although, if that's not something you want to do, that's okay! You can get by with just two additional supports, one in each of the opposite corners from the house. If your porch is more extensive, it would be wise to add one in the middle. Having a pillar in the middle can add some character to your outside recreation area!
Step Three: Flashing for Your Roof
Great job! You've got the structure built, and you're ready to go. Now, you just need to include the flashing. This is an essential step if you don't want to find yourself replacing the roof so soon!
Be sure to go through each area where there is exposed wood and cover it with flashing. You should also tuck it down behind the siding as well. This will protect it from the elements and ensure your structures are not damaged.
Connecting Your Roof to a Home With Brick Exterior
You do not want to connect anything to the brick itself. Brick is not exactly load-bearing, which can cause a whole onslaught of issues. Rather than attaching it to the brick, you want to connect it to the interior wall. To do this, you will need a building permit.
To apply for the permit, you will need a drawing of how you plan to secure the fasteners for your porch roof. Based on this alone, they will either approve or deny this particular project.
You need to make sure that the area you want to connect will adequately support your roof. You will need to bolt the ledger into the framing of the home behind the brick. This is especially tricky if you do not have high-quality bricks on the outside of your home.
Attaching the roof in this situation should be done by a contractor or another licensed professional. Making a mistake in this situation can seriously injure or kill someone when the roof collapses.
If you do not want to hire a professional, it may be a good idea not to attach the roof to the house. In this case, you will need to make sure you have enough support for a lone standing roof.
A Few Extra Tips for Success
Your roofing for the porch should match the roof of your house. It will look amazing when all is said and done.
Temporarily nail in the ledger to ensure your roof is at the correct level. You don't want to screw it in permanently, only to find that it's wrong.
Be sure when you are cutting the wood, you do not cut behind the sheathing. Accidentally cutting the sheathing can cause the wood to split.
Use additional washers behind the ledger to hold it in place more securely.
Install a drip edge for your porch roof. A drip edge helps excess water to drip off your roof rather than running your structure.
Have extra building materials available. You don't need a lot. At least if you mess up, at least you'll have some available to fix it!
You can connect the porch roof in 3 spots if you want to. More connectors allow maximum security, although it's not necessary. If you live in an area with a lot of snow, this may be a good idea just in case!
A Job Well Done
Congratulations! Now you can enjoy your porch in all sorts of weather. You can even walk out of your house without getting rained on, or blasted with the sunshine! Just remember to check your roof bi-annually for damage, or separation.
Do You Need a Deck or Porch Contractor?
Get free, zero-commitment quotes from pro contractors near you.
---
Related Questions
Do I Need a Permit For a Porch Roof?
You may need a permit for a porch roof. It depends on the grade-level of your porch. If it is any higher than 30 inches above grade, you may need a permit. The best piece of advice is to check with your local building administrators for information.Each state has separate laws surrounding building permits. Also, each county has a set of bylaws. It's always a good idea to check into any information if you're unsure. This will help bypass potential issues down the road.
What Happens if You Build a Porch Without a Permit?
If you build a porch without a permit, you may owe a fine. Besides, they will remove your porch, and charge you property taxes. Building without consent is no joke! Rather than deal with the consequences, it's better just to get one.
How Much Does it Cost to Build a Porch Roof?
The cost to construct a porch roof all depends on the materials you want to use. Usually, for materials, you are looking at $2,800 to $4,400 for a decent roof. However, there are always cheaper alternatives. However, those alternatives do not always mean the best stability for your structure.Always make sure the materials you use are ideal for the job you need them for! Especially if it's a roofing job.
Does adding a covered porch increase the value of a home?
For the majority of the country, adding a porch onto your home can have an average return on investment of up to 84%. Both the cost of the porch and its return will vary slightly based on the region, as some areas are more ideal for outdoor living than others.For example, adding a covered porch to a home in a cold climate like Minnesota will generally have a lower return that one in Florida or North Carolina.

Heather Robbins
Heather is a passionate writer who loves anything DIY. Growing up, she learned everything from home repairs to design, and wants to share her tips with you. When she's not writing, she's usually hiking or searching for her next DIY project.
More by Heather Robbins
Published July 27th, 2020 7:36 PM