445 Views
How To Adjust Old Cabinet Door Hinges (Do This!)
November 11th, 2021 10:36 PM
Share
Adjusting cabinet door hinges is generally easy, but the project gets more difficult if you have old cabinets. The door may be sagging or uneven, and you'll need to adjust the hinges with a screwdriver. Whether it be finding the right bit or preparing the hinges, let's take a look at how you can adjust old cabinet door hinges.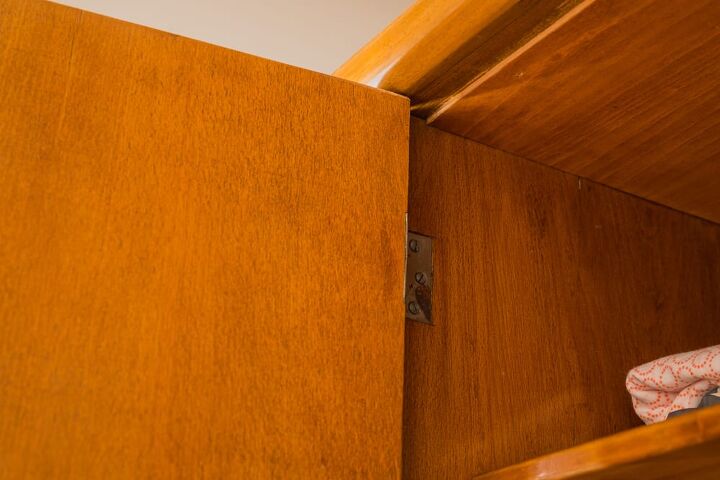 If you're a homeowner, it's bound to happen to you at some point. Whether your home is a creaky old Victorian or a squeaky-clean loft, the universal truth is that your cabinet doors will eventually become loose and sag. They may even refuse to close all the way.
Cabinet doors are usually made of natural materials such as wood, which makes them susceptible to stressors like humidity or extra weight. With use and over time, these stressors can cause your cabinet doors to become uneven. It's normal for old cabinet door hinges to need attention every couple of months, depending on use.
Adjusting old cabinet door hinges requires a screwdriver. Adjust the screws by turning them clockwise to tighten, or counterclockwise to loosen. Check the doors again to see if they are aligned and have the correct tension. Continue adjusting the screws until you are satisfied with the end result.
Do You Need Handyman Services?
Get free, zero-commitment quotes from pro contractors near you.
Adjusting Old Cabinet Door Hinges
There are many reasons that cabinet doors need to be replaced or adjusted. Regardless of the problem, fixing your cabinet door is quick and painless. All you will need is a Phillips screwdriver and a bit of patience.
Why Won't My Cabinet Door Close All the Way?
If your cabinet door bounces back when pushed closed, the cabinet door is binding with the hinge end of the cabinet. Essentially, the cabinet door is screwed on too tightly and the hinge is pinching the cabinet door to the cabinet.
Why Are My Cabinet Doors Sagging?
Sagging cabinet doors could be due to several reasons. Stripped holes or loose screws could be to blame. Sagging doors could also be a sign that your cabinet door is too heavy.
Step One: Identify the Problem
Open and close the cabinet door. Often you will be able to see immediately if the cabinet door is sagging or uneven. But it may take a closer look to see if the cabinet door won't close or isn't flush. Once you have identified the problem, you will be able to determine your best course of action.
Step Two: Tighten and Adjust
To tighten a screw, turn your screwdriver clockwise. To loosen, turn counter-clockwise. Using small movements, turn just ⅛" in the cabinet door hinge at a time.
Step Three: Check for Proper Alignment and Tension
Close the doors. Make sure the cabinet doors are flush with each other and the cabinet frame. Open the doors. Check the pressure on the hinges and ensure that they do not pinch when in use.
Step Four: Continue Adjusting Screws as Needed
If anything was remiss in the last step, continue adjusting your cabinet door hinges. Use small movements. You may have to close and open the cabinet door several times before you are satisfied with the end result.
Common Cabinet Door Problems and Solutions
Cabinet Doors Sit Unevenly or Sag
If your cabinet doors are sagging, causing them to sit unevenly, make sure that the cabinet doors are not too heavy for the existing hardware. If the cabinet door is too heavy, consider replacing it with a lighter door or consider upgrading to more heavy-duty hardware. You can also add an extra set of hinges to the cabinet door to help relieve the strain on the current hardware.
Open the cabinet door that is sagging and check the top hinge. If the top hinge is loose, hold the open cabinet door up at the desired angle. Turn the screwdriver clockwise to tighten the hinge. Use only ¼ turns as you slowly move the cabinet door into place. Close the door to check the alignment.
Cabinet Doors Are Too Loud
Squeaky hinges are a sign of friction. If your cabinet door hinges are old, they may require a lubricant such as WD-40 or oil. Try loosening screws by turning your screwdriver counter-clockwise.
For those that are ready for an upgrade, soft-close hinges will ease your cabinet doors closed slowly. Soft-close hinges are considerably more expensive than adjustable hinges and are repaired by lubricating and soaking rather than hardware adjustments.
Cabinet Door Won't Close All the Way
Open your cabinet door. Find the adjusting screw farthest from you and turn counter-clockwise with your screwdriver. You'll be able to see the hinge loosening and lifting the cabinet door away from the cabinet. Do this for the top and bottom hinge as needed. Once the hinge is no longer binding, the door will be able to shut properly.
Cabinet Doors Overlap
Fix the problem by adjusting the hinges on each of the cabinet doors. Open the cabinet doors and check for two screws on each hinge. Find the screw closest to the cabinet door on each and turn counterclockwise to loosen. Once the hinge is loose, you'll be able to move it horizontally to adjust. Swing doors closed to make sure the doors line up.
The Holes Are Stripped
If you attempt to tighten a screw and it doesn't seem to catch or hold, or the screw is spinning in place, it could be due to a stripped hole. You can solve this problem by moving up to a bigger screw. If you were using #6, try #8.
Additional Considerations
Types of Hinges
The most common type of cabinet door hinge is the fully adjustable hinge. The fully adjustable hinge used to be found mostly on European or frameless cabinets but is now standard in new homes. You can tell if your hinge is fully adjustable if you have two more screws in addition to your mounting screws.
Fully adjustable hinges are found on the inside of cabinet doors. The fully adjustable hinge offers three-directional adjustments for a quick and easy fix: horizontal adjustment, vertical adjustment, and depth adjustment.
Conversely, surface-mount hinges can be located on the outside of the cabinet. These outdated cabinet door hinges are found in older-style homes and have little to no adjustment capability. Elongated screw holes allow for minor vertical adjustments, but major repairs will require you to move the hinges.
The Right Tools
To adjust old cabinet door hinges, all you need is a Phillips screwdriver. Phillips screwdrivers are the most recognizable and have the familiar "+" tip. Using a power drill is not recommended, as the power can strip the hole and the screw head.
Typical cabinet door hinges call for #6 x ⅝" flat head hinge screws. These are usually included with the hinge but can be purchased separately if needed.
When to Replace Old Cabinet Door Hardware
Although cabinet door hinges require regular adjustments, you should know when it's time to replace the hardware completely. If the holes are stripped, it might be easier to replace the hardware than mend the hole. If the cabinet doors are too heavy, it could be time to upgrade to a cabinet door hinge that can handle more weight.
Alternative Solutions for Common Cabinet Woes
Cabinet Doors That Won't Close
If your cabinet doors have a habit of popping open, keep them closed with a magnet catch. A magnet catch is installed on the cabinet and lines up with the strike on the cabinet door. The magnetic pull between the catch and the strike helps to keep the cabinet door closed.
A magnet is not a permanent solution for a cabinet door and should only be used until you can find a more lasting solution.
Stripped Holes
If you're dealing with a stripped hole and a bigger screw isn't an available option, make your own wood filler. Start by dipping 5 wooden toothpicks into wood glue and fit them snugly into the hole. Add more if needed. Break the toothpicks off flush with the surface. After drying, replace the screw.
If your cabinet door hinge has ripped out of the cabinet completely, you can purchase ½" hardware plugs at your local home store.
Banging Cabinet Doors
If soft-close hinges are not an available option, you can add dampers to your existing cabinets. Dampers attach to your cabinet via screws and connect quietly with the leaf of the cabinet door using a spacer, a soft plastic padding.
Peel-and-stick bumpers are even easier to install. Bumpers are small and made of materials such as plastic or felt. Bumpers are designed to absorb the shock. Place the bumper where the cabinet door meets the cabinet on both the top and bottom.
---
Related Questions
How do I know if the holes are stripped?
If your screw spins freely when you tighten it, the hole is stripped. Stripped holes could be a result of heavy cabinet doors pulling or poorly fitted hardware.
What is a soft-close hinge?
A soft-close hinge has a hydraulic system that is activated when you close the cabinet door. The hydraulics ease the cabinet door shut slowly to avoid slamming. Soft-closing hinges are often fixed with lubricant instead of screw adjustments.
Do You Need Handyman Services?
Get free, zero-commitment quotes from pro contractors near you.
Our Final Take
Anyone can learn how to adjust old cabinet door hinges. All it takes is a screwdriver and a few minutes of your time! Sometimes the problem has an obvious solution, but other times it will require trial and error.
Once you've identified the problem, it's just a matter of tightening and adjusting as needed. Close and open the cabinet throughout the process, checking the alignment and hold. It's normal for old cabinet door hinges that see heavy daily use to need regular repair every few months.
Related Guides

Upgraded Home Team
We are a team of passionate homeowners, home improvement pros, and DIY enthusiasts who enjoy sharing home improvement, housekeeping, decorating, and more with other homeowners! Whether you're looking for a step-by-step guide on fixing an appliance or the cost of installing a fence, we've here to help.
More by Upgraded Home Team
Published January 1st, 2021 6:00 PM