165 Views
How Long Does It Take To Replace An Electrical Panel?
November 18th, 2021 3:33 PM
Share
We're committed to finding, researching, and recommending the best products. We earn commissions from purchases you make using links in our articles. Learn more here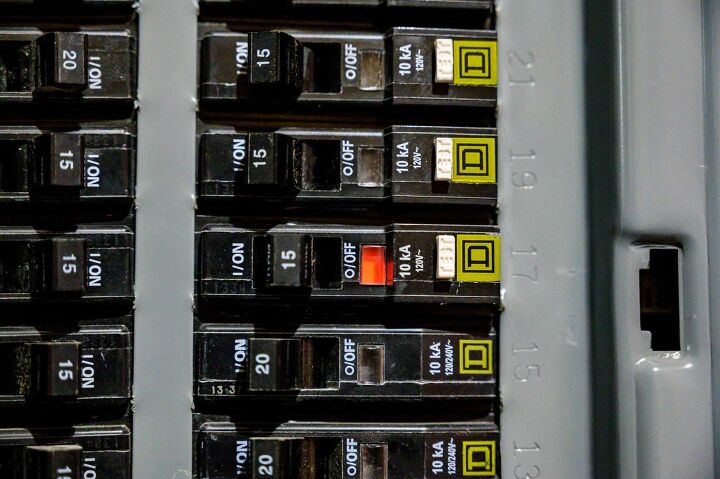 It's a no-brainer as a homeowner to know that things will need to be replaced and upgraded over time. While people know to get new appliances or furniture, they often forget about things like an electrical panel.
Replacing an electrical panel takes 4 to 10 hours for a two-man crew, but installing multiple panels can double the time. The average time to replace an electrical pane is 6 hours and the cost ranges from $850 to $2,500. You should not replace an electrical panel yourself; an electrician can complete the task in one day.
If you're unsure about whether or not you should replace the electrical panel on your circuit breaker, you're in the right place. We'll discuss all things about the task, including realistic price points.
Do You Need to Hire an Electrician?
Get free, zero-commitment quotes from electricians near you.
Reasons to Replace an Electrical Panel
The biggest plus for replacing an electrical panel in your home is to prevent electrical fires. You want every appliance working at peak efficiency, plus it adds value to your home. So, how do you know if it's time for a replacement?
Here are some things to consider that can mean it might be time for an upgrade.
The home you're residing in is more than 20 years old.
You've done remodeling or have added new appliances or electronics to your house. 
Your home uses a lot of power strips. 
Additional people have moved in under your roof. (More people = more electric use)
The electrical panel feels warm.
You've experienced consistent flickering or dimming of lights. 
There are black marks around outlet holes.
A breaker trips when you plug in an appliance or while it's running.
Ask yourself whether or not your home operates from a fuse box. 
You can audibly hear a buzzing or crackling sound coming from outlets.
Replacing is a must if there's any smell associated with the electrical panel.
Benefits of Replacing an Electrical Panel
One of the biggest benefits of getting a new electrical panel is that it can bring more power to your home. You won't have to worry about a weak microwave or blowing a fuse by having too many lights on. I like to think this allows your home's electrical system to respond as it's designed to.
Another major benefit is how much safer your house will be. You won't have to worry as much about a fire starting due to an old panel. While electrical fires are something to always be aware of, it gets rid of one of the key causes.
On top of that, you'll be able to run appliances safely as well. Gone are the days of getting a shock as you plug in your can opener. You don't have to worry about strange crackling sounds or smells coming from any outlets.
Disadvantages of Replacing an Electrical Panel
There are only two disadvantages when it comes to replacing your electrical panel. Neither is too much of a concern, and the pros definitely outweigh the cons. The first negative thing about tackling this job is the mess and inconvenience of the project.
If you hire a professional, the mess will be taken care of for you. It's inconvenient to try to schedule a time that works for you, but it's less inconvenient than doing it yourself. Plus, you don't even have to be there the entire time they're working.
The other more obvious negative that comes with replacing your is the initial cost. Instead of ranting on about how much it could affect your wallet, let's take a deeper look at the cost of putting in a new electrical panel.
Cost of Getting a New Electrical Panel
Electrical panels come with an incredibly wide range of prices. It could cost you as low as $40 or as much as $1,250. On average, homeowners will spend around $160, depending on things like the amperage and type of panel.
There are some instances where your power company will be required to install a new meter. This can cost an extra $200 to $500, especially if a new power supply needs to be added. There's no denying that the electrical panel is a costly repair for many people.
If you just need to lower an electrical panel, it can cost between $800 and $2,500. The further you want to move it, the more it will cost you. This gets even spendier if you have to rewire your house or add any circuits.
New Electrical Panel Unit Cost
| | |
| --- | --- |
| Amperage | Average Cost |
| 100 | $115 |
| 125 | $130 |
| 150 | $225 |
| 200 | $350 |
| 400 | $625 |
It's not uncommon for a new panel to actually cost less than an upgrade. This is because there won't be any drywall to open or wires to update. Everything is much more convenient when buying a new unit, besides the higher price tag.
Cost Range Per Amp
| | |
| --- | --- |
| Amperage | Cost Range |
| 100 | $25 – $199 |
| 125 | $25 – $233 |
| 150 | $85 – $360 |
| 200 | $75 – $870 |
| 400 | $480 – $765 |
Best Options
Now that you know what you can expect to pay, whether replacing or buying new, it's time to look at the options. There are things you'll want to consider, including the warranty that it comes with. Here are the five most popular options when it comes to electrical panels.
| | | | |
| --- | --- | --- | --- |
| Brand | Warranty | Model | Cost |
| Square D | Lifetime | Homeline | $110 |
| General Electric | One year | Midwest | $1,180 |
| Leviton | Ten years | LP420-3B | $270 |
| Eaton | Ten years | BR | $300 |
| Siemens | Lifetime | PL Series | $260 |
Inspections and Permits
If you're determined to do the job yourself, there's a major thing you need to know. Never replace an electrical panel without the proper permit. If you're caught doing so, it can come with a hefty fine.
The inspection process that comes after putting in a new unit will put you at ease if you follow the law. It can cost more, but at the end of the day, you'll know you did everything correctly. You also won't have to worry about the extra cost of a fine.
Getting an inspection done is essential. It will take away any worry that wires were attached incorrectly or that something was put in the wrong place. When you're dealing with something as important as the electricity in your home, it's best to take all safety measures seriously.
Should You DIY?
I'm the first person who will tell you to do something yourself rather than hire a professional. It's often cheaper, less time-consuming, plus you often learn a new skill. When it comes to putting in a new electric panel, I think it's best to hire an electrician.
Depending on where you live, there may be a building code in place that requires this to be done by a licensed professional. Here are some of the reasons why you'll want to skip doing this yourself.
Professionals know how to install wiring correctly, making your home safer and less likely to catch on fire. 
If you hire a licensed electrician, they have connections on getting parts and materials for a lower cost than the everyday person can.
They have a ton of experience and can get the job done safely and quickly. 
Electricians are up to date on the codes and procedures that go with putting in a new unit. 
If something goes wrong on the job, the electrician's insurance will cover the damage. If you choose to do it yourself, that's coming out of your pocket. 
They go through extensive training and are educated on everything that comes with replacing an electrical panel. 
You won't have to spend money on pricey tools and hardware to get the job done.
Do You Need to Hire an Electrician?
Get free, zero-commitment quotes from electricians near you.
Related Questions
When should I replace my electrical panel?
Replacing your electrical panel should be done during two different times: if it's damaged or every two decades. You could stretch it out as long as 30 years, just make sure the panel isn't outdated.
Can an electrical panel go bad?
Yes, electrical panels naturally go bad as your house ages. Like anything else in your home, over the years, it will slowly stop working. If you've recently moved into an older house, it's a good idea to check the electrical panel to make sure it's up to date.
How long does it take to replace a circuit breaker?
If you need to replace a circuit breaker, it should take no more than eight hours. With a two-man crew replacing a circuit breaker can take as little as six hours to get the job done.

Kirstin Harrington
Kirstin is a passionate writer who loves helping people learn new things when it comes to home improvement. When she's not behind a keyboard, she enjoys DIY projects, crafts, spending time with her pets, and making videos. She hopes that with all she writes, someone is finding a solution to their home improvement needs.
More by Kirstin Harrington
Published September 22nd, 2020 4:20 PM