602 Views
Fourplex Floor Plans (with Real Examples)
September 1st, 2021 3:43 PM
Share
We're committed to finding, researching, and recommending the best products. We earn commissions from purchases you make using links in our articles. Learn more here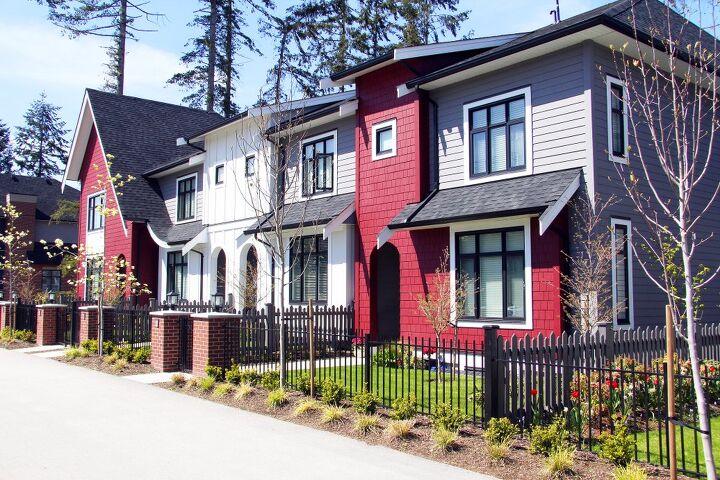 While one lot conventionally holds one house, what's to say it's not capable of sustaining more? Multifamily housing allows for more than one group of residents to inhabit a single piece of land. Architects can split that property up any number of ways, with a maximum of four units per plot.
A fourplex, otherwise known as a quadplex, houses four distinct families in four separate units on a single lot. Every unit in the fourplex can possess a unique floorplan, but they all fall under one unifying roof. Potential landlords hoping to inhabit one of their rented residences pair perfectly with this style of housing.
Designing four separate units demands significant attention to detail. Your goal is to provide a plausible living space to every eventual tenant, without favoring one unit over another.
Pros and Cons of a Fourplex
Every fourplex blueprint comes with its own set of drawbacks and benefits. However, there are universal advantages and obstacles to owning any housing complex you ought to know ahead of time.
Potential Downsides of a Fourplex
Building four residential units means nothing without occupants to inhabit them. Without a full house in all four seasons, your rental income could fail to cover the overall mortgage. Finding consistent, long-standing tenants is key to your fourplex's success.
No one will want to rent these units if you do not maintain them. All flaws in need of fixing now fall on your shoulders. Upkeep is a steep responsibility – and, at times, a hefty expense.
More concerns can plague you than maintenance alone. As the lifespan of each unit's appliances dwindle away, so too do their market values.
Before you begin building, ask yourself: can your neighborhood handle a housing complex? Many areas do not possess the zoning permits needed for this sort of construction. Obtain any required permits before you start your project, or else it may meet a premature end.
From a tenant's perspective, fourplexes provide a fraction of the space that a full-fledged home would. This could dissuade potential tenants or create discomfort in present renters. You, too, will sacrifice personal space should you choose to reside in one of the four units.
Potential Upsides of a Fourplex
Should you secure three to four persistent tenants, that rental income will increase your bank account considerably. This averts any nerves you would ordinarily have about affording your mortgage payment.
The allure of multifamily housing lies in its loan capacity. Fourplexes fall just under the jurisdiction of residential – not commercial – loans, according to the Federal Housing Administration. These loans will save each inhabitant a pretty penny.
Any first-time buyers benefit all the more from this format. Residential loans not only cost less in the long run but also allow for affordable down payments upfront.
Potential Layouts for a Fourplex
Planning the perfect layout for your fourplex can make or break a tenant's interest. Not to mention, you might find yourself loving or loathing the space yourself. With four units to fit in one lot, there are essential factors to consider before construction starts.
Apartment-Style Fourplexes
While these four units may appear identical at first blush, don't be deceived. The outermost units benefit from an expanded space while the innermost units maintain a cozier atmosphere.
This style benefits properties whose tenants differ in family size. Landlords can allot the outermost units to families with multiple children or people who also care for their elderly relatives. Meanwhile, the middle units can go to tenants who have no additional people in their care.
No matter how many people squeeze inside, this model limits all families to a single floor. This allows access to all rooms from the central area but requires careful planning to avoid a cramped sensation.
All of the amenities remain the same between models, with one notable exception. The external units possess a primary bedroom and bathroom to house additional inhabitants.
Each tenant shares an entryway with their neighbor, but no rooms or entrances overlap. The open space between the porches allows landlords to plant a garden all their tenants can appreciate.
Exits provide a pivotal difference between internal and external tenants. Hallways lead to the outermost units' back doors, while the inner units place their exterior exits in a secondary bedroom.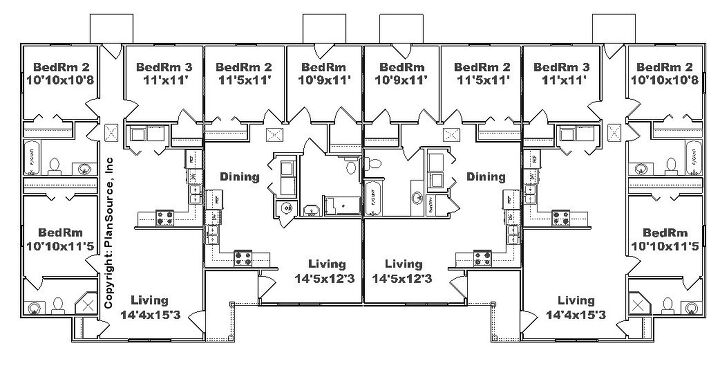 Identical Fourplex Models
Line these units up side-by-side, and you will find no distinction between them. Every one of them remains synonymous with their neighbors. This allows for the landlord to provide outdoor uniformity while their tenants have individual creativity indoors.
Lower Floor
Unlike any other model, this blueprint plans for tenant-specific garages. The inconsistency of street parking and the expense of including driveways make this an invaluable inclusion. For those without cars, consider transforming this into a tool shop or a storage unit.
Once out of the garage, guests will find themselves in a kitchen that overlooks a space for living and dining. The open, wall-less nature of these rooms allows for a continuous flow between them. Not to mention, guests in one room can interact freely with those in either of the other two without inhibition.
The only downside? This lower level lacks any individual spaces or private areas beyond a lone powder room. Consider decorating the long hallway leading to the stairs with art to spruce up an otherwise empty expanse.
Upper Floor
The second story contains all three bedrooms available to potential inhabitants. The secondary bedrooms at the back of the property have easy access to the nearby laundry room. However, they do share a bathroom.
Tenants will relish the chance to escape to their primary bedroom after a long day's work. Few buyers could resist this room's allure with a walk-in closet and a bathroom exclusive to them.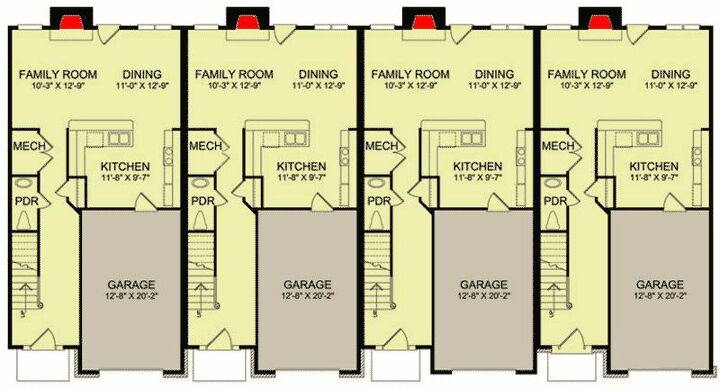 Mirrored Fourplex Models
While the former model retained the same dimensions for every room, that doesn't necessitate identical layouts too. You have the freedom to experiment with the format of whatever rooms you choose. One simple way to diversify your property is to have each unit mirror the one adjacent to it.
Lower Floor
Besides the staircase beyond the entry door, tenants have the entire expanse of the house to decorate openly. The great room and kitchen merge into one massive, communal space. This provides quick access to the powder and laundry rooms as well.
One benefit you cannot overlook with this iteration? The addition of a personal patio. This unique inclusion can entice prospective tenants by providing them with a backyard space all their own.
All that's left is to look upstairs.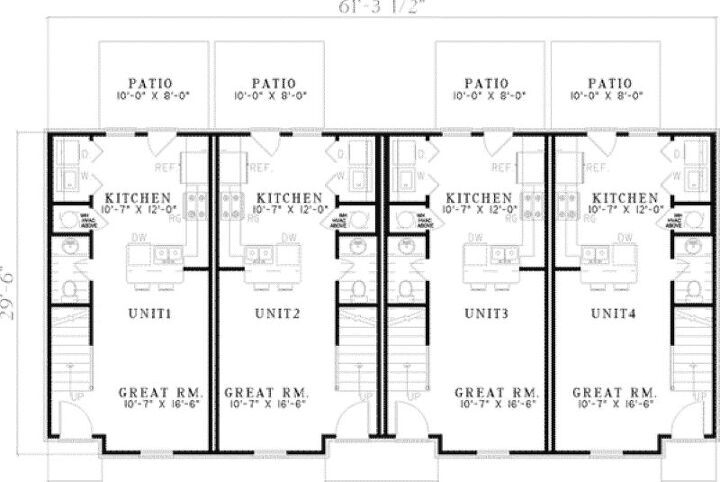 Upper Floor
As with the previous model, bedrooms occupy the upper levels. However, with this format, you can fit two bedrooms of relatively equal size instead of squeezing three in one space. The backside bedroom exchanges a smaller room for a larger closet and vice versa for the frontmost bedroom.
While these two cohabitants have to share a bathroom, neither has to share a closet. An additional linen closet sits at the top of the steps in case a tenant needs extra storage.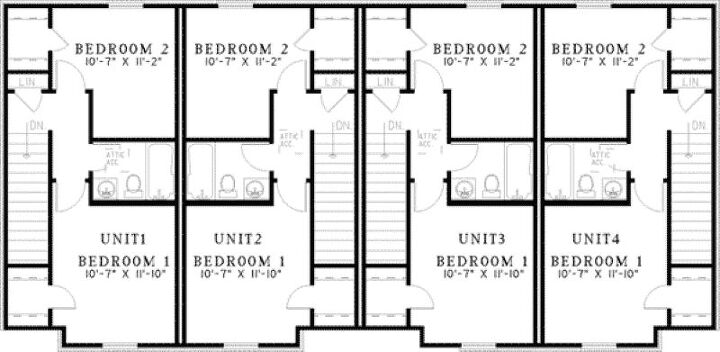 ---
Related Questions
What is the difference between a duplex, triplex, and a fourplex?
All of these terms fall under the umbrella of housing complexes. A housing complex, or "plex," for short, contains multiple units people can rent within a single lot. Unlike apartment complexes, which can contain multiple units, these plexes only include two to four units maximum.The difference between these three types of plexes comes from the number of units available. A duplex is one lot with two units, a triplex has three units, and a fourplex has four units.This difference in quantity also affects the size of each unit. Because a duplex only splits a lot in two, each half has more space than if that land were quartered.Do note that because lot size is not universal, dimensions may change from property to property. These are generalizations based on the average data available.
How much does a fourplex cost?
The cost of a fourplex can differ drastically depending on its location and size, amongst other factors. However, there are national averages to examine that can shed more light on each aspect of construction.A multifamily home costs between $64,500 to $86,000 to build on average. However, that price per unit skyrockets from $258,000 to $336,000 for a fourplex.Once the initial construction ends, you cannot forget about maintenance fees. Management fees for multifamily properties can range anywhere between 4 to 12 percent of the overall rent. It's best to factor those into the budget before building this property.The cost of affording rent for a fourplex, however, is impossible to calculate. Each landlord sets their own rent, which can fluctuate not only by state but by the properties involved. Keep an eye on the housing market to find an affordable price.

Stacy Randall
Stacy Randall is a wife, mother, and freelance writer from NOLA that has always had a love for DIY projects, home organization, and making spaces beautiful. Together with her husband, she has been spending the last several years lovingly renovating her grandparent's former home, making it their own and learning a lot about life along the way.
More by Stacy Randall
Published September 1st, 2021 3:43 PM