1.2K Views
6 Unit Apartment Building Plans (with Real Examples)
September 4th, 2021 7:18 PM
Share
We're committed to finding, researching, and recommending the best products. We earn commissions from purchases you make using links in our articles. Learn more here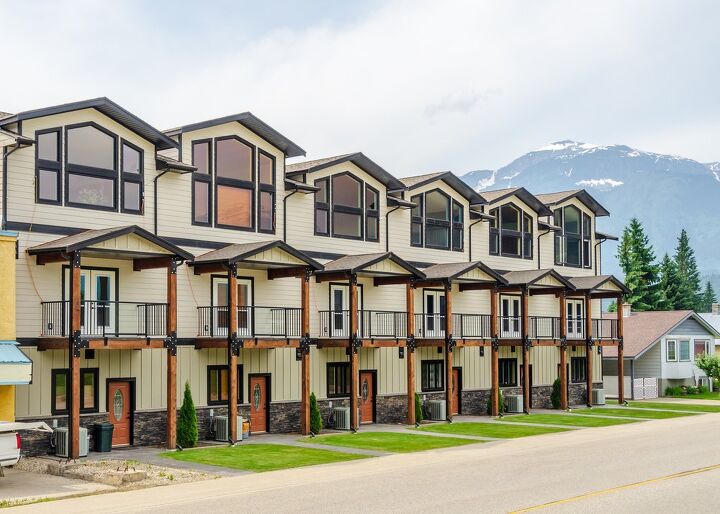 Investing in an apartment building is one fantastic way to build up your financial portfolio. You can live in one of the units, manage the property yourself, and collect rent to pay off the mortgage. Depending on your resources, you could decide to invest in a duplex, a triplex, or even a 6-unit building.
A typical 6 unit apartment building can be three stories tall, with two units per floor. Another design standard is the 6 unit townhouse row that is simply one unit right beside the other. Some 6 unit apartment buildings may also be two stories tall, with three units on each floor.
Residing in a multi-unit apartment building comes with its own set of pros and cons. Getting along with your fellow apartment dwellers is a must and should be a top priority. Remember that you will be sharing walls, and your floor may be someone's ceiling, so kindness and consideration are essential.
Three-Story 6 Unit Apartment Building Plan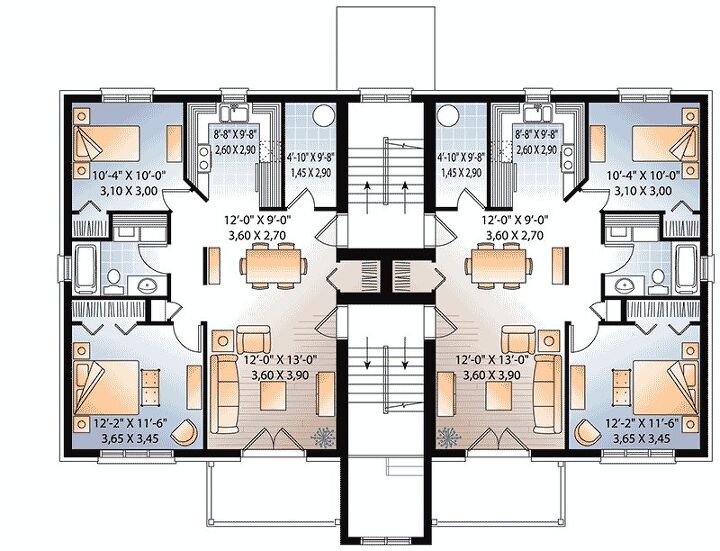 This 6 unit apartment building is a modern take on apartment living with big picture windows and an eclectic facade. Three stories high, this building houses two units per floor with balconies for units on the upper floors. There are no elevators, and the only access to the upper floors are two stairwells right by the main entrance.
Each unit comprises two bedrooms, each measuring 12 x 11 feet and 10 x 10 feet. An open concept living and dining area take up half the square footage of the entire unit. These spaces measure 12 x 9 feet for the dining area and 12 x 13 feet for the living area.
A full toilet and bath and a small yet complete kitchen take up the rest of the space in this cozy unit. A utility room beside the kitchen could serve as a laundry room when outfitted with the proper hookups. Altogether, each unit provides 900 square feet of living space.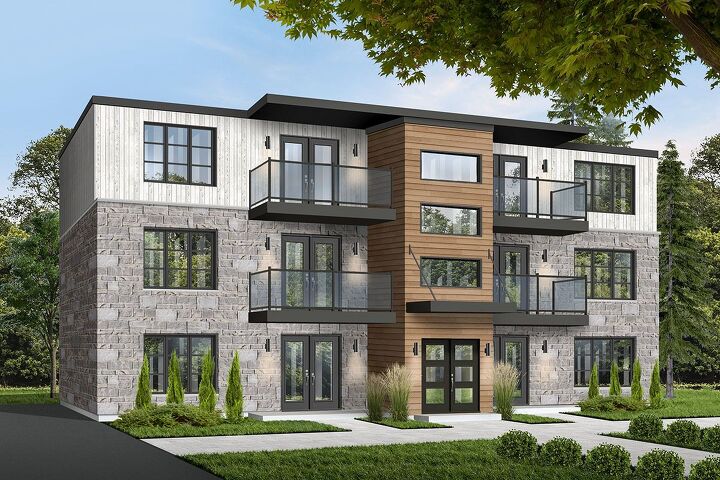 The building exterior sends off truly modernistic vibes with its play on different building materials. The artful marriage of wood, stone, steel, and glass somehow work brilliantly together in the interplay of subdued neutral tones.
Two-Story 6 Unit Apartment Building Plan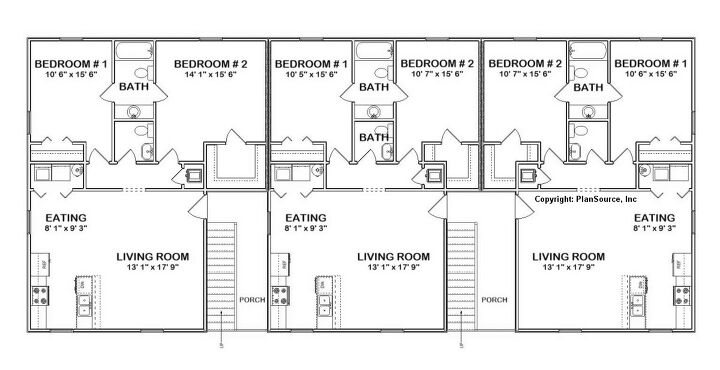 This two-story, 6 unit apartment building showcases three apartment units per floor with two stairwells in-between the units. Each apartment has two bedrooms, 1 ½ baths, and a spacious living area. This apartment building plan is typical in many urban cities across the country and remains popular through the years.
The master bedroom measures 14 x 15 feet, with the secondary bedroom at 10.5 x 15.5 feet. The living area is the most prominent space in the apartment at 13 x 17.5 feet. A dining area measures 8 x 9 feet, the 1 ½ baths and a small kitchen make up the rest.
Altogether, each unit provides 980 square feet of living space. Many apartment buildings of this nature serve as adequate residences for small 2-3 person families. A tiny porch area beside each stairwell is perfect for housing mailboxes for each apartment unit.
6 Unit Townhouse Row Building Plan

The 6 unit townhouse row building plan is reminiscent of the brownstones typical in well-heeled areas in northeastern cities in the country. Townhouse row-style apartments are usually bigger than two or three story apartment buildings with the same number of units. With two floors of living space, townhouse apartment units are a roomier option for families of more than two people.
Apartment units in townhouse-row-style buildings typically have 3 bedrooms, 2 ½ baths, and even a walk-in closet or two. The master bedroom measures 12 x 16 feet, with the other bedrooms around 11 x 11 feet each, on average. The downstairs area comprises the living, dining, kitchen, and laundry rooms.
The main floor gives you approximately 700 square feet of living space and 650 square feet for the upper floor. Most main floors have an open layout with a powder room up front and a fireplace in the back. Some units offer decking towards the back of the unit, adding a bonus usable outdoor living area.
Pros and Cons of Apartment Living
Many people do not get excited over the prospect of living in a multi-unit apartment building. The thought of sharing a wall with a total stranger and everyone knowing your business is frightful to many individuals. Not getting along with the girl next door would make merely walking down a shared hallway a dreadful ordeal.
But there are also tremendous advantages to this type of communal living. Friendships can blossom between neighbors, and you can keep an eye out for each other and each other's property. Apartment living is also easier on the budget, and parking is almost always included in the deal.
Five Advantages of Apartment Living
No Maintenance Woes
Reputable landlords pride themselves on maintaining a clean and functioning building with proper heating, cooling, and security systems in place. They also have good relationships with responsible contractors who can quickly come out for an urgent repair request.
No Weeding, Mowing, or Watering
Most apartment units will not have a lawn for you to mow or flower beds to water. You won't have to worry about purchasing a lawnmower and looking for space to stow it when not in use. However, if you thrive on gardening and enjoy planting, this residential option may not be for you.
Fun in the Pool
As an added incentive, a lot of apartment buildings offer pool facilities. And as a resident, you have complete access minus the worry of cleaning and maintaining that comes with pool ownership. Just take a dip when the weather gets hot, bask in a lounge chair, and worry not.
A Sense of Community
Today's society sadly presents the slow vanishing of community, but this is not the case with apartment living. Being in close quarters with people forces you to be sociable and make friends. As a result, you will experience a feeling of belonging and knowing that someone's got your back while you have theirs.
Watchful Eyes Everywhere
Most apartment buildings provide 24/7 surveillance all around the property. This security measure is extended when neighbors also keep an eye out for each other. A watchful neighbor is more observant in catching events out of the ordinary than any video camera.
5 Disadvantages of Apartment Living
Limited Space
Let's face it; apartments are mostly small dwelling places that do not leave you much room to spread out. There are zero possibilities of adding to the back room or constructing an outdoor living area. You either need to get creative, or you move out and look for a stand-alone house.
Parking Issues
Parking may become a hassle if and when you decide you need more than one vehicle. Another unfortunately common parking problem is when a neighbor takes your parking spot or just barely passed driving school. Parking is one primary reason apartment dwellers eventually become house dwellers.
Interior Decor Limitations
Most, if not all, apartment buildings will not allow you to repaint their white walls. And if you go ahead and do it anyway, you need to paint it back to white before leaving. Or say bye-bye to your security deposit.
Pet Restrictions
Many of us are animal lovers, but most landlords are not. Apartment buildings often have very specific pet restrictions concerning dog breeds and the size and weight of your pets. If you are a multi-pet household, a multi-unit apartment may not work for you and your fur babies.
Watchful Eyes Everywhere
Having observant neighbors who look out for you is a good thing. But nosy neighbors who do nothing but watch you all day can be nerve-wracking. Nosy and noisy neighbors can make apartment living a dreadful experience, especially in a shared structure.
---
Related Questions
How do I choose an apartment for myself and my family?
Aside from the more obvious factors like location, budget, and size, there are vital things to look out for when choosing an apartment.  If possible, always see the unit with your very eyes instead of relying on photoshopped pictures online.  Talk to the neighbors if you can, and get a feel of the neighborhood. Check if the area is safe and secure.  Look at the building facade and take note of cleanliness and structural integrity. Scope out the building all the way from the parking garage to the rain gutters and dumpsters in the back. Remember, you are searching for a home where you can be safe, secure, and happy.
Should I rent or buy?
Ahhh, the age-old question; to rent or to buy.  The answer depends on your family's needs and your plans, long or short term.  If you find yourself in a city you and your family love, you might consider purchasing a home.  You can buy an apartment unit instead of renting one, keeping apartment living limitations in mind.  Owning an apartment unit can turn into a worthy investment and may become an income-generating asset for your family.
Summing It Up
Apartment living is not for everybody. If you thrive on interactions with people and don't care for lawn work, apartment living may be for you. Purchasing an apartment to shore up your investment portfolio can also be a sound decision.
Whether a single-family structure or an apartment unit in a multiplex, we all need a place to call home.

Stacy Randall
Stacy Randall is a wife, mother, and freelance writer from NOLA that has always had a love for DIY projects, home organization, and making spaces beautiful. Together with her husband, she has been spending the last several years lovingly renovating her grandparent's former home, making it their own and learning a lot about life along the way.
More by Stacy Randall
Published September 4th, 2021 7:18 PM