227 Views
House Plans for Shallow Lots (with Real Examples)
October 23rd, 2021 3:02 PM
Share
We're committed to finding, researching, and recommending the best products. We earn commissions from purchases you make using links in our articles. Learn more here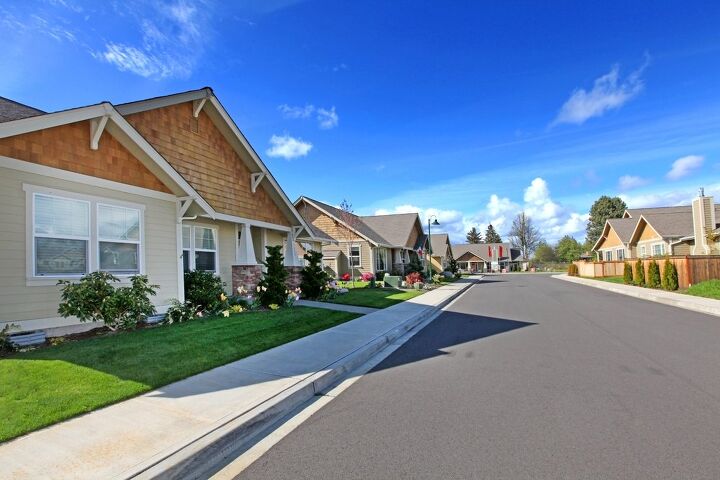 The average size of a home has grown about 24% larger over the last ten years. However, the average lot size has decreased by 10%. If you want to build your dream without breaking the bank, use this as a guide to utilize a shallow lot.
The size of a shallow lot varies from place to place, but most have similar size requirements for houses. Most house plans for shallow lots have a width of 50 feet and a depth of 40 feet or less. Typically the maximum depth of a home on a shallow lot is 40 feet.
What Is a Shallow Lot House Plan?
In recent years, shallow lot house plans have become increasingly popular in the home building industry. This is because shallow lots give a homeowner the ability to build an attractive house on a smaller lot.
A shallow lot is often wide but not deep. When purchasing a shallow lot, the homeowner should choose a house plan that has a depth of 40 feet or less. This type of lot can accommodate house plans that have rear or side entry garages, as well.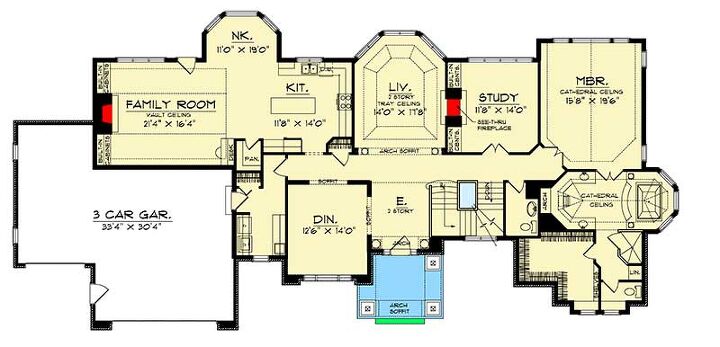 Characteristics of a Shallow Lot House Plan
Shallow lot house plans are designed to be spacious and have an open floor plan. When your house is shallow, you want to make the most of the narrow depth. An open floor plan between the kitchen, living room, and dining area is common and encourages family gatherings.
Other highlights are vaulted ceilings in the living room and bedrooms. You'll often find two bedrooms on the upper level of the floor plan. The master suite is typically on the opposite side of the layout; a laundry room is also a bonus.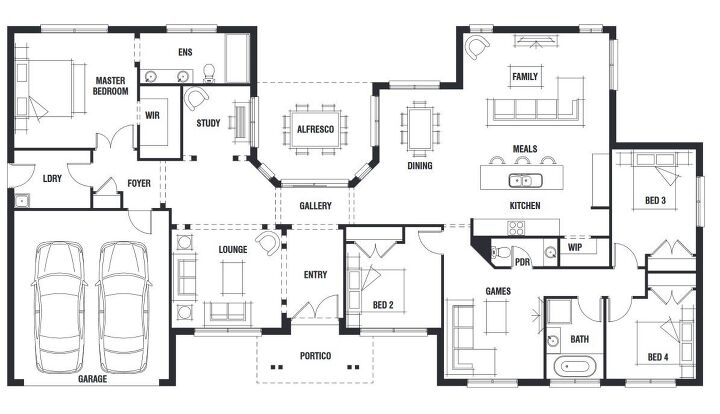 Source: " Wide Shallow Lot House Plan"
Utilizing an extra bedroom as an office space is also common, as well as large kitchen pantries and sundecks. If you like to be outdoors, sliding doors in the living room can open to the rear patio. This can give easy access for outside entertaining.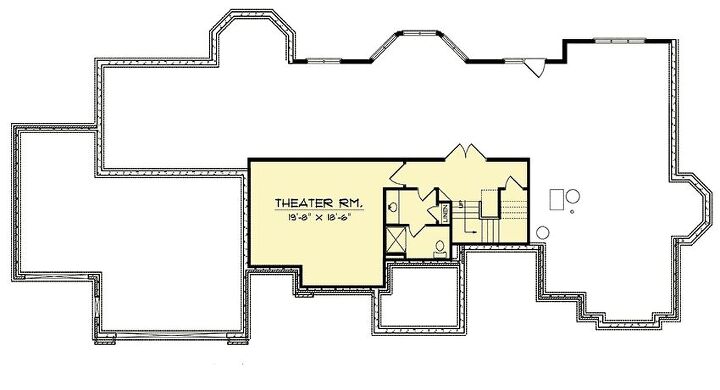 Source: " Plan 89480AH Shallow Lot Pleaser" by Architectural Designs (Lower Level)
A shallow lot can feature multiple levels in order to make the most out of the space. In this plan, the lower level features a theater room. The second floor has three additional bedrooms and two bathrooms.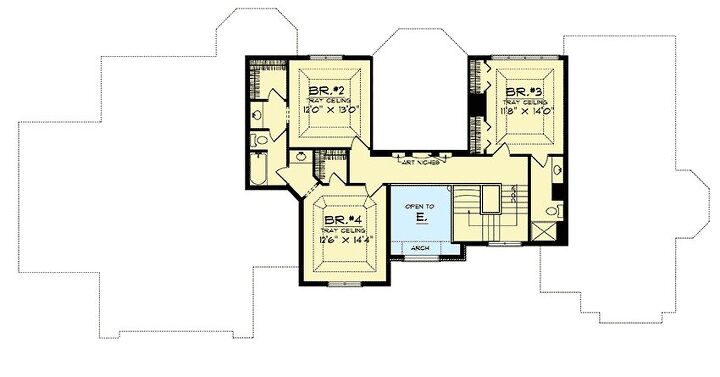 Types of Shallow Lot House Plans
A shallow lot house plan is typically about 50 feet wide and 40 feet deep to accommodate a shallow lot. Ranch-style house plans work well on these lots because they can make full use of the space. House plans with side entry garages are also easily accommodated with shallow lots.
24-Foot Wide Shallow Lot House Plan
A 24-foot wide shallow lot house plan is great for small, urban lots, compact footprints, and is sufficient for most families. A lot of this size can hold a 2,063 square foot two-story house. The house typically has three bedrooms, two and a half bathrooms, and two garages.
Usually, the main floor has an open kitchen, dining room, and living room in the front of the home. In the rear, you can find the garage, mudroom, and laundry room. The main floor also houses the office, den, or toy room.
The upper floor is where you can find a master suite with a walk-in closet and en-suite bathroom. Typically there are two additional bedrooms with a bath on the upper floor, as well.
33-Foot Wide Shallow Lot House Plan
A 33-foot wide shallow lot house plan can pack a lot of square footage into a compact area. This size lot is best for house plans with an enclosed or fenced front courtyard, designed with city-living in mind. If you don't prefer downtown, this long and skinny sized lot can easily accommodate the ideal ranch-style house.
This lot can accommodate a 2,064 square foot, two-story home with four bedrooms, three baths, and two garages. The house's interior makes use of every square inch of space by incorporating an office nook and laundry room. If you want to make use of unused garage space, the garage can easily double your square footage.
35-Foot Wide Shallow Lot House Plan
A two-story, 2,064 square foot home with four bedrooms and three bathrooms can fit on a 35-foot wide shallow lot. It can accommodate a classic or traditional house plan while minimizing wasted space and keeping an efficient floor plan.
To maximize your space with this type of house plan, turn an extra bedroom into a study or den. You can also put walk-in closets in your master suite bathroom. Balcony access from a master suite can also give you room to relax and enjoy the view.
What Is a Narrow Lot?
A narrow lot is similar to a shallow lot in that the lot can only accommodate a house plan with certain dimensions. Narrow lots can accommodate bungalows, cottages, and modern designs, but the size of a narrow lot varies from place to place. Most narrow lot house plans have a width of 50 feet or less.
How to Build on a Shallow and Narrow Lot
Building on a shallow or narrow lot may be less appealing at first because of limited building possibilities. This is actually not the case; these narrow lots are quite popular in our increasingly minimalistic economy. You can get a larger house on a smaller lot by maximizing space when you have a shallow and narrow lot.
To build a house on a shallow and narrow lot, test your creativity and follow these tips.
Build Vertically
Typically shallow and narrow lots are typically 50 feet wide and 40 feet deep or less. When you have a shallow lot, most people build their houses horizontally. However, if your lot is shallow and narrow, it can take up more space than necessary.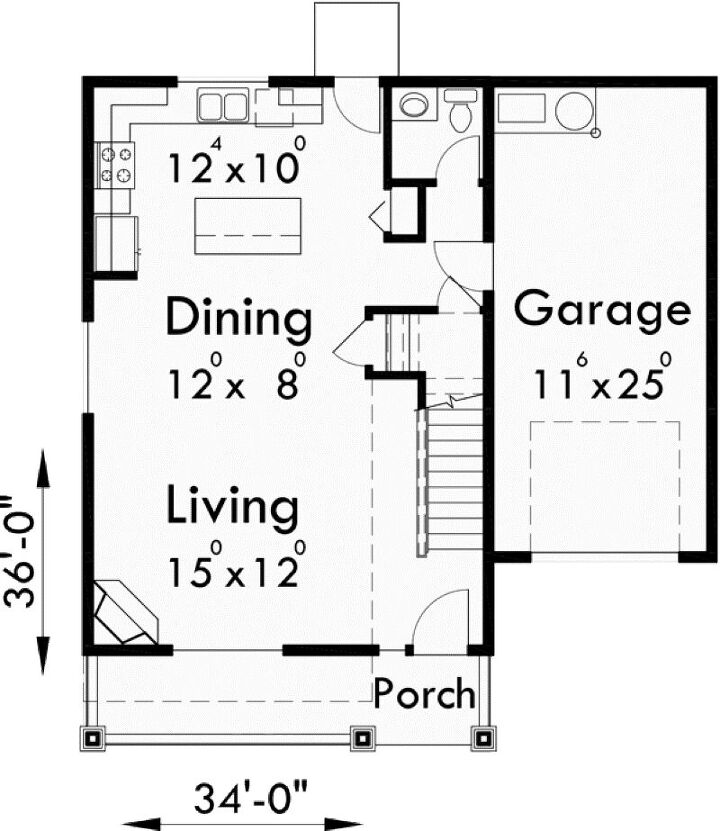 When building on a shallow and narrow lot, opt for a home with more floors. A three or four-story house doesn't just give you the illusion of space but provides actual, usable space.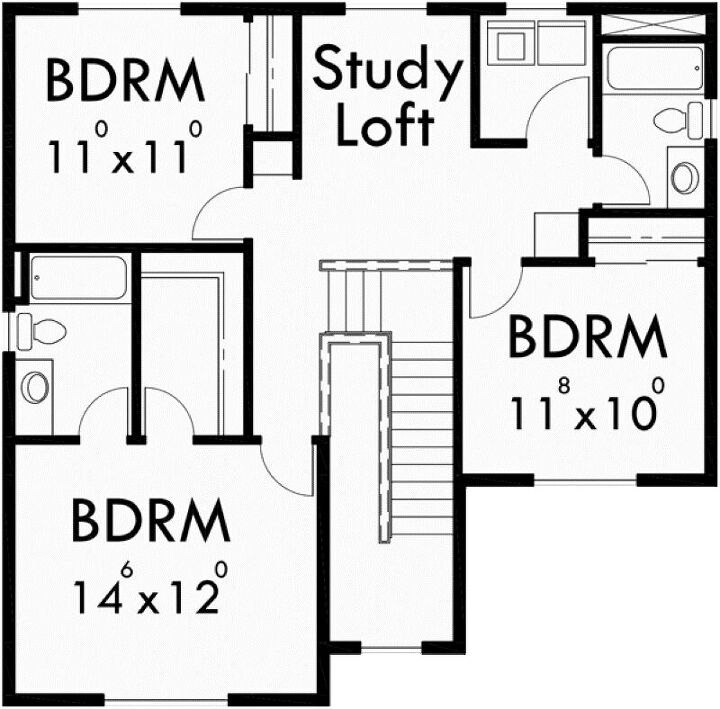 Energy Efficient
Building vertically can be more energy-efficient than homes built horizontally. Over time, this can save you money because exterior walls in shallow lots have less area than traditional, horizontally-built homes. Furthermore, if your house is taller, you can benefit from solar panels to generate electricity or replace a gas water heater.
Open Floor Plan
Shallow and narrow lots can accommodate house plans with an open floor plan. Exterior walls can support the structure of a home, so you don't have to place unnecessary walls on the interior. The open layout can increase the length and size of your home.
High Ceilings
With a shallow and narrow house plan, you can build up, rarely running out of space. This means that you can have high ceilings, increasing the look of open space.
More Privacy
Shallow and narrow lots don't always have privacy because they are in between existing lots and homes. If you want increased privacy, place windows in the front and back of the house instead of the sides. This can bring in natural light without neighbors seeing inside of your home.
If you decide to place windows on the side of your house, put them in the stairwell, laundry room, or hallway. These places require less privacy while still incorporating natural light.
---
Related Questions
What's the average cost to build a house?
The average cost to build a house is $300,000, not including the cost of land. New builds can range from $30,000 to several million dollars; the average price per square foot is $150. On the low end, expect to pay $100 per square foot, and on the high end, $500 per square foot. The overall cost of your home will depend on your style, location, and the cost of labor and materials. Labor and materials typically take up the bulk of home expenses. This is determined by the supply and demand in your area. Check out our guide: How Much Does It Cost To Build A House In Austin?
What should you look for when purchasing a lot to build a house?
The first thing you should do when you start the process of buying a lot is getting a land survey. The purpose of this is for the surveyor to stake out the property lines for you. This will also help you define the boundaries and layout of your lot. Next, you will need to be aware of any zoning restrictions. Contact your county's planning commission to determine what you can and cannot do on your lot. There are laws in every state regarding property.The final thing to consider is whether or not the lot has utilities on it; power lines or natural gas lines? Knowing the available utilities like water, sewerage, and electricity is important because there may not be access to public utilities. If this is true, you may need to have a septic system installed.

Stacy Randall
Stacy Randall is a wife, mother, and freelance writer from NOLA that has always had a love for DIY projects, home organization, and making spaces beautiful. Together with her husband, she has been spending the last several years lovingly renovating her grandparent's former home, making it their own and learning a lot about life along the way.
More by Stacy Randall
Published September 4th, 2021 7:10 PM