726 Views
Does Home Depot Cut Glass In Store? (Find Out Now!)
January 28th, 2022 6:02 AM
Share
Home Depot is the ultimate destination for homeowners and DIYers looking for materials and in-store services. Cutting glass isn't easy to do at home and many homeowners turn to Home Depot, but they don't cut glass in-store. Follow along as we explore why Home Depot doesn't cut glass in stores and see what kind of glass services they do provide.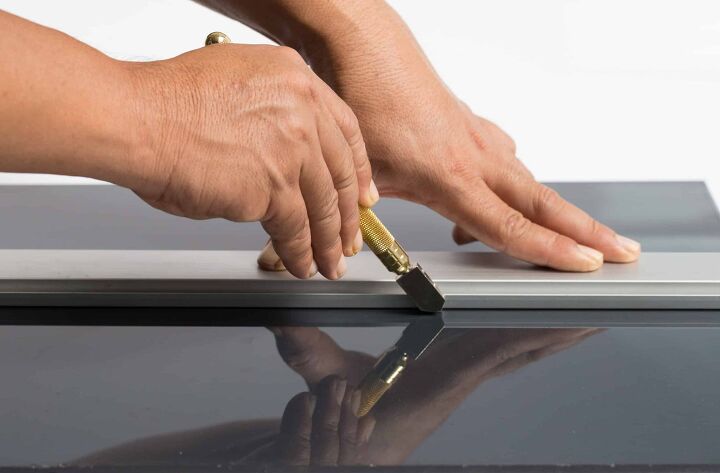 Individual customers and professionals often need to have glass cut to specific sizes for projects ranging from crafts and cabinet doors or mirrors to projects that require large sheets of glass. One store that customers may consider turning to is Home Depot. Before you take the drive, though, you will want to ask, "Does Home Depot cut glass?"
No, Home Depot does not offer glass cutting services for its customers. However, if you want a piece of glass for a tabletop, shelves, frames, or your windows, you can find a variety of sizes in stock at Home Depot. You can also take the glass home and cut it yourself, or hire a professional to cut the glass. Lowes cuts glass, but only for customers who buy it from their store.
Several people asked this question online at various websites including the Home Depot website. An associate of Home Depot answered the customer by replying "Not at my store they Don't" cut glass.
A detailed search of the Home Depot site seems to confirm those answers since there is no information about any glass cutting services.
Does Home Depot Cut Glass In Their Stores?
The Home Depot Stores do not offer some services that customers may find at other stores. However, one thing that Home Depot is known for is its helpful project guides.
Customers that choose to purchase glass at Home Depot may find the "How to Cut Glass" guide helpful if they decide to cut the glass themselves. The step-by-step guide provides excellent details, along with several pictures so that customers can follow along when cutting glass for their project.
There are some project guides for customers for specific projects that use glass, as well. One of them is the "How to Cut Plexiglass" guide. Some customers may find the "How to Replace Window Glass" project guide a great help after they purchase their window glass at Home Depot.
Or, you can check out our free step-by-step article, How to Cut Glass with a Dremel.
Does Home Depot Cut Glass for Table Tops?
Home Depot does not cut glass for tabletops. Still, you can find a wide selection of glass tables for sale at Home Depot. They sell glass kitchen tables, glass patio tables, coffee tables, and accent tables.
If you are planning to build a glass table, or replace the glass on your table frame, Home Depot also sells ready-made glass tabletops in different shapes and sizes.
You want to make sure to get the tabletop that is the right size and thickness for your needs. For example, if you need a piece of glass to protect the top of your antique table, you can get away with a 1/4″ thickness. However, if you are using just glass to top your table, 1/2″ will be much sturdier.
By choosing tempered glass, you will ensure that you get a more resistant piece of glass. If a tempered piece of glass does break, it will do so more safely than regular glass.
Does Home Depot Cut Glass for Shelves?
No, Home Depot will not cut glass for shelves. However, if you want to change up your design, Home Depot will cut wood to your specifications. You will want to make sure you measure the exact size you need for your shelf and choose the appropriate type of wood. You can choose between pressure-treated wood or untreated wood. Then you can select paint or a stain from a wide variety of options at Home Depot.
If you have your heart set on glass for the job, you can consider buying glass cutting tools. Or, you can purchase a glass cutting kit from Home Depot to get the job done.
Does Home Depot Cut Glass for Frames?
Home Depot does sell many different sizes of frames, although they don't cut the glass to custom sizes. These include frames with mats, poster frames, collage frames, shadow box frames, and more. If you cannot find the right size of frame or glass at Home Depot, you can search for a custom frame store in your area.
A custom frame store will not only cut glass to the correct size, but they will also cut a mat to go along with it. Professional framing services can usually also ensure that the materials they use are acid-free and will preserve your memories for years to come. Or, stores such as Michael's and Hobby Lobby also offer to cut glass for frames and may offer more affordable prices.
Does Home Depot Cut Glass for Windows?
Do you need a replacement window? While they will not cut your glass to size for you, Home Depot will replace or install a new window for a charge. This is a professional service that they offer for a fee. Also, if you want a new window treatment to decorate your new window, you can buy a set from Home Depot and they will install it for you.
What are the Installation Costs Like at Home Depot?
While Home Depot does install glass windows, glass doors, and window treatments, there are no set charges listed. Ask the associate about window installation and the charges for the service.
Prices will vary based on individual store locations or the particular area where the glass windows or doors need to be installed. Also, prices may vary based on the specific type of glass window or door you select and how complicated it is to install.
Why Does Home Depot Not Cut Glass?
Home Depot does not cut glass in stores for a few reasons. Glass is a more sensitive material than wood. Cutting glass could put employees' and customers' safety at risk if a cut goes wrong. Also, you would have to first purchase a glass sheet before cutting. This means that if a Home Depot associate made a wrong cut, it could damage your purchase.
What Type Of Glass Does Home Depot Sell?
Home Depot sells a wide range of different sizes and styles of glass sheets. The glass sheets range in size to fit the typical picture frame to glass sheets for larger needs.
The store also sells glass doors for showers, a large selection of mirrors, and mirrored glass for a different look in homes. Home Depot also sells glass blocks in a variety of sizes, thicknesses, and colors.
They sell glass block windows and other windows for their customers' replacement needs or for new building projects. You can also find glass tabletops pre-cut into oval, circular, square, and rectangular shapes.
Customers that visit the store or search online find many options for glass doors and glass panels for doors. Although the store does not cut glass, replacement doors and windows are available to fit just about any budget.
The Home Depot Glass Warehouse
The Home Depot site offers a link to the Glass Warehouse. Click the tab and discover a wide range of glass products.
Customers can find glass mirrors, glass sheets, fixed and sliding glass shower doors, and complete glass shower enclosures. There are also many other glass products sold on the Glass Warehouse page of the Home Depot website.
There is also a "Special Buy" tab on the page that customers can click on to find additional savings on Home Depot glass and glass products. However, like with other glass sold at the Home Depot stores, glass purchased on the Glass Warehouse page cannot be cut to size by the store.
Customers can find savings on delivery on some items, with several products offered with free delivery. There is also an option to ship most products to the customer's local store for free pickup.
Where Do I Find Glass Cutting Services?
Yes, there are several other stores that cut glass, but they may offer limited services. For example, a company may only cut glass for windshields, windows, or replacement mirrors.
Read the specific service information carefully before you visit a store that offers to cut glass. This way you know ahead of time if they sell and cut the type of glass required for your project.
Check Local Or Regional Stores
Local or regional stores often cut glass for customers. One example is the Glass Doctor, which markets itself as a "neighborly company." They offer custom glass cutting services across several states and in limited areas of Canada.
The company also offers glass cutting and replacement services. So if you need to replace a window or another type of glass, they can help you out. Another service offered by the Glass Doctor is making and repairing custom mirrors of just about any size and shape.
Look For Online Companies
A well-known online glass cutting company is Elite Custom Glass. They offer to cut the glass that you purchase to the size and shape you want. You can also ask for other customizations, such as a beveled edge or a unique shape.
Customers simply call the phone number on the website after selecting their products. Elite Custom Glass offers shipping within five to seven days and a satisfaction guarantee.
Smaller Businesses May Be Able To Help
Smaller businesses may offer to cut glass for the customers that purchase the glass in their store. The services at small businesses may be limited. However, a small store is often more willing to dedicate time to talk through your particular vision.
Does Lowes Cut Glass?
We've established that Home Depot won't be able to cut your glass to a custom size. However, will another home improvement store such as Lowe's custom cut glass? The answer is yes, Lowe's will cut most glass for customers when they purchase the glass at the store.
Lowe's store associates help customers determine the best type of glass for their specific project or home improvement needs. The company states that they offer replacement glass for any project. Their confidence is inspiring!
Can You Cut Glass Yourself?
When you are needing a piece of glass there are so many options out there. While Home Depot does not cut glass. many of the store's staff are knowledgeable about what you need to DIY your glass project. This can help you cut your glass yourself.
If you plan to cut your own glass, make sure that you purchase the proper glass cutting tools. A Home Depot associate can help you find the right tools and type of glass for your project.
Make sure that you purchase your other project needs at the same time that you purchase your glass. This saves you from making multiple trips and will save you time and energy.
Consider purchasing the framers, spacers, glass hangers, or double-sided tape. Purchase your caulk, window putty, and all the needed accessories, including any decorative accessories.

Upgraded Home Team
We are a team of passionate homeowners, home improvement pros, and DIY enthusiasts who enjoy sharing home improvement, housekeeping, decorating, and more with other homeowners! Whether you're looking for a step-by-step guide on fixing an appliance or the cost of installing a fence, we've here to help.
More by Upgraded Home Team
Published February 21st, 2021 10:13 AM