856 Views
Standard Crown Molding Dimensions (with Drawings)
July 8th, 2021 7:53 PM
Share
We're committed to finding, researching, and recommending the best products. We earn commissions from purchases you make using links in our articles. Learn more here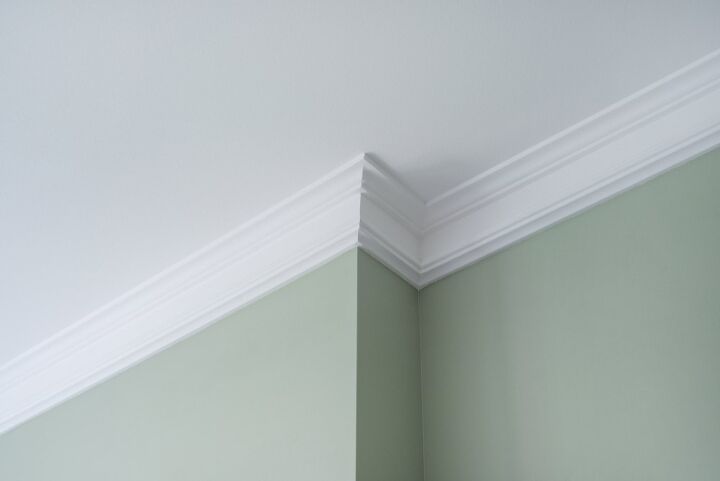 Crown molding is an easy way to add wow-factor to your home without a complete renovation. The decorative molding draws the eyes upward and makes the ceiling feel taller. Use this as a guide to choose the right materials and style for your crown molding project.
Room height will ultimately determine the size of your crown molding. Crown molding typically measures between 3 and 20 inches wide. On average, 8-foot ceilings require molding between 3 and 5 ¾ inches wide.
What Is the Average Size Crown Molding?
Crown molding can range from 3 to 20 inches wide. On average, 8-foot ceilings are most common in households. In this case, you should install crown molding with a width of 3 to 5 ¾ inches wide.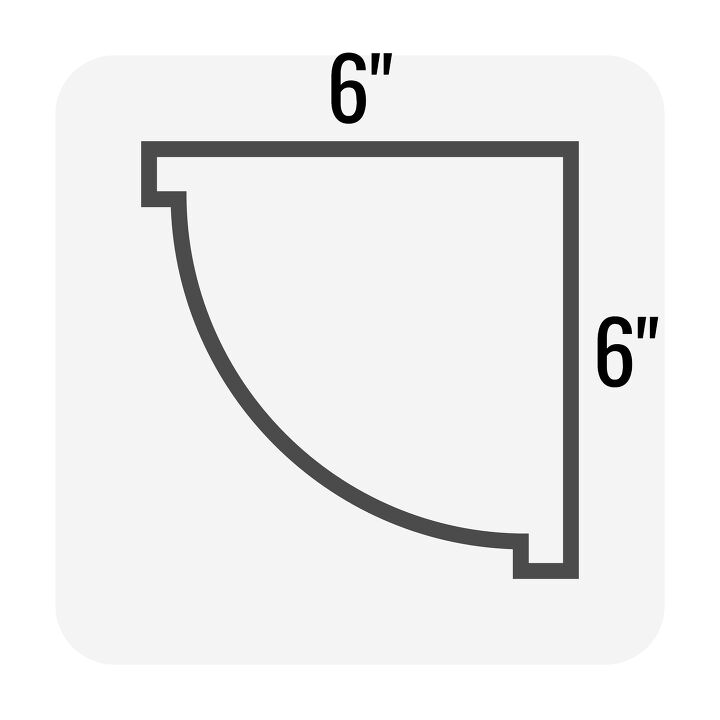 How to Choose the Right Crown Molding
When installing crown molding, you want to consider the proportions of your room. Standard 8-foot ceilings need smaller crown molding in order to be proportionate.
Also, keep in mind the square footage of the space. If you have tall ceilings but the room doesn't have much square footage, elaborate crown molding can look overbearing.
Crown Molding for 7-Foot Ceilings
7-foot ceilings should have crown molding with a shorter length, less than 4 inches. If you want to make your ceiling appear taller, paint the molding the same color as the ceiling. Installing molding that projects out can give the illusion of taller ceilings.
Crown Molding for 8-Foot Ceilings
For 8-foot ceilings, the recommended crown molding size is 2 ½ to 6 inches wide. However, most 8-foot ceilings look best with molding that is 3 to 5 ¾ inches wide. As mentioned before, the square footage of the room can help determine the appropriate molding size.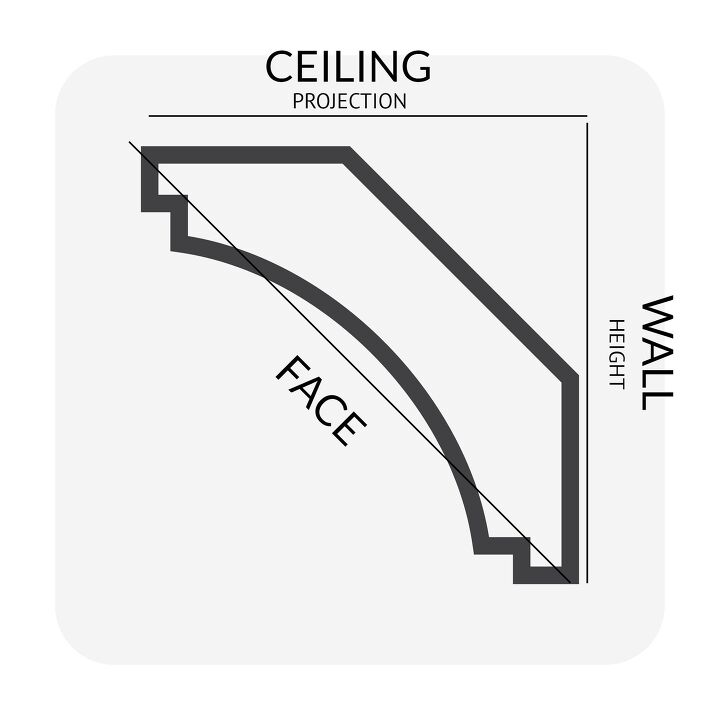 | | |
| --- | --- |
| WALL HEIGHT | FACE SIZE |
| 8' | 3" – 5.25" |
| 8' – 10' | 3" – 7.5" |
| > 10' | Build Up (use multiple trims to create over 7") |
Crown Molding for 9-Foot Ceilings
Crown molding width should increase about ½ inch for each foot of ceiling height. If you have 9-foot ceilings, molding 3 inches to 7 ½ inches is recommended. Adding picture molding, or cornice, can give a formal look to public spaces by combining 2 or more molding profiles.
If your room is more expansive, you can install molding 4 ¼ inches to 7 inches wide. To do this, choose a molding that covers the ceiling and wall seam. This is known as a spring angle and measures 38 or 48 degrees.
Crown Molding for 10-Foot Ceilings or Taller
Taller or vaulted ceilings require wider crown molding. To create an illusion of broader crown molding, combine multiple trim pieces at the top and bottom of the angled molding.
In casual spaces, crown molding should be a minimum of 4 inches wide. In more formal rooms, crown molding should be at least 9 inches wide.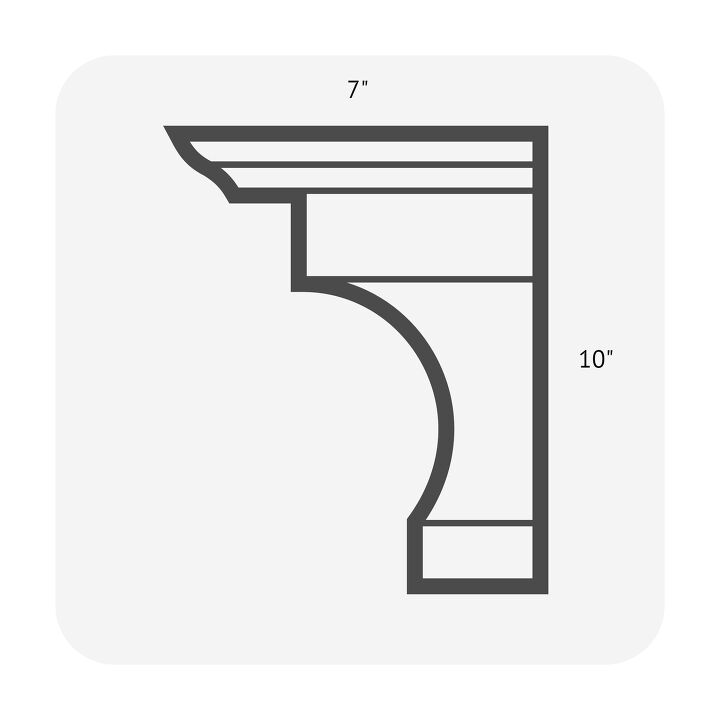 If you have very tall ceilings, you can install a full entablature. This is cornice molding and picture molding that can equal up to 24 inches wide.
Styles of Crown Molding
Crown molding is available in a variety of styles.
One-Piece Crown Molding
The most basic style of crown molding is one-piece crown molding. It is usually made of MDF, so it is an easy option when you want to install it yourself. One-piece crown molding is typically used as an accent in a tray ceiling or easily adding depth.
Two-Piece Crown Molding
If you want a more detailed look for your crown molding, opt for two-piece molding. To do this, one piece of molding is upside down, and another part of molding is on top. You can use several types of crown molding to create a look that is unique to your home.
Two-Piece Traditional Crown Molding
Two-piece traditional crown molding is similar to two-piece crown molding. However, instead of layering the pieces together, leave a space between them, then paint that area the same color. As its name states, this is a more traditional look that makes your room more stately.
Three-Piece Crown Molding
If you want an elegant look and aren't concerned with budget, three-piece crown molding is a good option for you. Using multiple pieces of crown molding can create a unique, luxury look. Some homeowners may even use up to five pieces of crown molding to achieve the grand look they desire.
If you decide to choose this style, be sure to hire a professional. An experienced professional can install the crown molding so that all lines are straight and there are no gaps.
Craftsman Molding
Adding crown molding around a door frame or window can draw attention to that particular spot in your home. If you choose to do this, opt for craftsman-style molding. Craftsman style molding is when multiple trim and crown molding pieces are installed together to create a unique look.
Due to the amount of labor involved, hire an expert to install this molding.
Typical Uses for Crown Molding
In addition to the top of the wall and ceiling, you can also use crown molding in other places.
Wall Crown Molding
Crown molding is typically installed along the top edge of the wall to frame the room. This can make the space appear more visually appealing or interesting. This is the most common type of molding as it comes in several different materials and features.
Ceiling Crown Molding
Installing crown molding on the ceiling is usually done to accent the wall crown molding and make it appear thicker. Ceiling molding can also enhance the look of crown molding. Ceiling molding is cut differently than wall molding so that it sits flush when installed.
Corner Crown Molding
If you want the corners of your walls to be well-defined, choose corner molding. Wall crown molding can be cut at an angle, but corner molding ensures a proper fit. Corner crown molding comes in various materials, and you can paint it to match other molding.
An added benefit of corner crown molding is that it can hide mistakes in the corner. If there are uneven cuts or they don't completely match, choose corner molding.
Accent Crown Molding
Accent crown molding can add interest to a room to improve the look of your space. This molding tends to be more expensive than regular crown molding. You don't want to use accent molding pieces throughout your home but rather to draw attention to specific areas.
Crown Molding Materials
Along with the style and size of your crown molding, you also have to decide on the material. Crown molding typically consists of one of three standard products: medium-density fiberboard (MDF), finger-jointed pine, and solid pine.
MDF
Medium-density fiberboard crown molding is created by pressing wood fibers, resin, and wax. This is an alternative to solid wood molding and an efficient choice for homeowners. MDF molding usually comes primed and ready to paint and costs $1 to $7 per linear foot.
MDF does swell when exposed to moisture, so it doesn't work well in moisture-prone spaces. Therefore, MDF wouldn't be a good option for crown molding in a bathroom. This material is also susceptible to dents and nicks.
Finger Jointed Pine or Poplar Wood
Finger-jointed pine wood or poplar wood molding consists of small pieces of each wood joined together in interlocking lines. These interlocking lines are like fingers, creating a zig-zag shape. Finger-jointed molding is best for homeowners who don't want knots in the wood.
Because it's not a solid piece of wood, finger-jointed molding won't warp as much as solid wood. However, it may have loose joints that can show through the primer. It's essential to purchase your finger-jointed molding from a high-quality manufacturer.
Finger-jointed pine crown molding can cost $3 to $10 per linear foot. Finger-jointed poplar crown molding can cost $4.25 to $11.75 per square foot.
Solid Wood
Solid wood crown molding is an elegant choice when you want to add warmth and luxury to a room. Installing solid wood molding does require experience as it doesn't hide joints and depends a lot on the air's moisture content. On warm days, solid wood molding can expand and then contract as it cools.
Solid wood molding costs $1 to $6 per linear foot. Exotic wood molding costs $10 to $45 per linear foot, but it will ultimately depend on the width and design.
---
Related Questions
Does crown molding increase the value of a home?
Crown molding does add value to your home. Depending on how much you have invested into your crown molding project, it can be a positive return on investment. Crown molding is especially popular in older homes where it can cover ceiling corners that may crack over time.  Crown molding can go in any room, but there are a few rooms that you should focus on. The master bedroom, master bathroom, kitchen, living room, and dining room should be first on your list when installing crown molding. Adding an extra layer of detail to these rooms can increase the value of your home. 
What's the average cost of crown molding?
On average, crown molding installation costs $1,159. Installation costs can between $564 to $1,775 depending on your location, materials used, and other factors. You can expect to pay $4 to $15 per linear foot for both labor and materials. If you want to install crown molding in a single room, this will run from $300 to $800. If you're going to install crown molding throughout your house, it can be much more expensive. For example, 800 linear feet of crown molding installation on average runs about $3,200 to $12,000.

Stacy Randall
Stacy Randall is a wife, mother, and freelance writer from NOLA that has always had a love for DIY projects, home organization, and making spaces beautiful. Together with her husband, she has been spending the last several years lovingly renovating her grandparent's former home, making it their own and learning a lot about life along the way.
More by Stacy Randall
Published July 8th, 2021 7:50 PM