562 Views
Cost to Convert Screened Porch to Sunroom
September 10th, 2021 4:49 PM
Share
We're committed to finding, researching, and recommending the best products. We earn commissions from purchases you make using links in our articles. Learn more here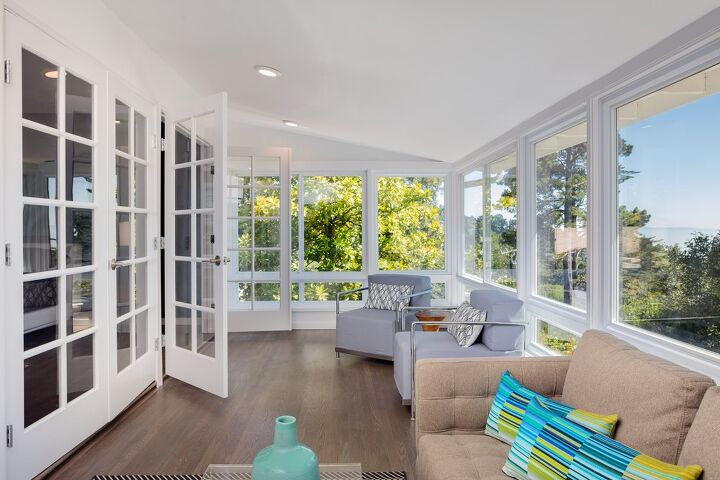 You love your screened-in porch, but it is only useable a few months a year. The option is to convert your screen porch to a sunroom. There are several options to consider as you ponder the possibilities. Each option comes with pros and cons and, of course, a price tag. Here are what we think are the average costs for converting a screened porch to a sunroom.
On average, converting a screen porch to a sunroom runs between $100 to $300 per square foot. A three-season room conversion will cost about $8,000 to $50,000. Turning your screened porch into a four-season room can cost $20,000 to $80,000. As with any remodel project, the size, scope, and amenities you include affect the final cost.
There is no doubt that converting a screened porch can be expensive. However, it would be best if you balanced the cost against the ability to use the space more often and the quality of the time you spend in the space. Upgrading the livability of your screened porch can add value to your home as well.
Do You Need Sunroom or Patio Enclosure Builders?
Get free, zero-commitment quotes from pro contractors near you.
| | | | |
| --- | --- | --- | --- |
| Type Of Screened Porch Upgrade | Low-End Cost | High-End Cost | Advantages |
| Sunroom Upgrade | $100 per square foot | $300 per square foot | Creates and enclosed space |
| Three Season Room Upgrade | $8,000 | $50,000 | Usually suitable to use spring, summer and fall |
| Four Season Room Upgrade | $20,000 | $80,000 | Heated and cooled for year-round use |
What is a Sunroom?
The term sunroom covers a lot of ground depending on where in the US you ask. However, sunrooms typically have a basic set of features that helps define a space as a sunroom. Most spaces identified as sunrooms include these features.
Typically, sunrooms are additions to a home or an enclosed covered patio or porch space.
If the sunroom is an addition to the home, it is usually prefabricated.
The windows are usually fixed and won't open for ventilation.
There is no heating or cooling for the space.
Often, a sunroom is a covered porch that has been enclosed with fixed window units to create a space for plants or seasonal living space. Enclosing a covered porch or patio can cost between $100 and $300 per square foot. The actual costs vary depending on the size of the porch or patio and the type of enclosure.
The lack of heating and cooling in the space may make it unusable during portions of the year. Winter months are understandable, but the summer months may make the space too hot to use effectively.
What is a Three Season Sunroom?
One of the disadvantages of a sunroom upgrade to a porch or patio is the lack of heating and cooling. By adding one or the other, you can effectively use the space during three seasons of the year. If you add heating, you can use the space in fall, winter, and spring. A cooling system allows use of the space in spring, summer, and winter.
Often, the heating or cooling capability uses a standalone through the wall AC or heater. Adding a standalone system is often a much more economical means of creating a three-season sunroom than extending the home HVAC system into the space.
Almost everyone upgrades the windows of the enclosure as well. Adding window units that open can extend the useable seasons. A three-season sunroom upgrade is a bit more expensive than a regular sunroom upgrade. Typically, three-season sunroom upgrades cost between $8,000 and $50,000, depending on the size and complexity of the remodel.
What is a Four Season Sunroom?
A four-season sunroom remodel includes all the amenities of a three-season sunroom but with full HVAC capabilities. The addition of full HVAC capabilities allows the use of the space year-round. These kinds of remodels are usually more expensive than the other types.
The HVAC system can be a standalone dual-use unit or the extension of your home's HVAC system. Unfortunately, extending your home's HVAC system to the new space usually requires upgrading the HVAC system as well. Often, it is more economical to install an HVAC unit to service only the four seasons sunroom.
Typically, enclosing a porch or patio and creating a four seasons sunroom costs $20,000 and $80,000. As with any remodel or home addition, the size, complexity, and finishes included in the project affect the price.
What are the Pros and Cons of Converting a Screened Porch to a Sunroom?
There are both pros and cons to converting a screened porch into a sunroom. You should carefully weigh all the advantages and disadvantages before you make any decision. These are some of the considerations that could influence your decision.
Advantages of Converting a Screened Porch to a Sunroom
Creates additional living space in your home – Converting a screened porch into a sunroom on your home creates additional living space. Certainly, a screened-in porch is a usable living space. However, enclosing the space creates space with more uses during more times of the year.
Adding windows that open will extend the uses of the space – Opting for more expensive windows that open allow the space to be used more often during the year.
Protection from the elements – A sunroom gives your space more protection from the elements. The space will stay free of dirt and debris, unlike a screen room. When blowing rain, snow, or just high winds prevent using a screened porch, will become days when the sunroom is usable when a screened porch is not.
Extended season uses – During the winter months, the glass enclosing the sunroom will gather enough heat to make the space useable. These extended use days add value to the space you enclose.
Disadvantages of a Screened Porch Conversion
A conversion can be expensive – The cost of a screened porch conversion can be expensive. Several factors can affect the cost of a conversion.

The quality and style of the windows you select and installThe amount of construction required to do the conversionThe quality of finishes in the space all affects the cost.

No more outdoor feeling – If you opt for non-opening windows, the space becomes just another room in your house. You lose the connection to the outdoors.
The glass is a heat trap – Enclosing a space with glass creates a heat trap. During the summer months, the space can become unusable.
The sunroom may not stay warm enough in winter – Even with the windows, the enclosed space may not stay warm enough in winter to be usable. A north-facing porch won't get enough direct sunlight in the winter to allow the space inside to warm up. Careful consideration of your home orientation is critical in planning a sunroom conversion.
Your taxes may go up – In some locations, the property taxes on your home reflect the structure's valuation. Enclosing a screened porch may increase the value of your home enough to affect your taxes.
What Costs are Involved in Converting a Screened Porch to a Sunroom?
Breaking down the cost to convert a screened porch to a sunroom is a challenge. The best way to determine the cost in your area is to find several contractors and get each to bid on your job. On average, you can expect the costs by parts of the job to fall into these ranges.
| | | |
| --- | --- | --- |
| Conversion Job Category | Low-End Cost Estimate | High-End Cost Estimate |
| Demolition | $1,000 | $3,000 |
| Framing | $2,500 | $5,000 |
| Insulation | $1,000 | $2,500 |
| Electrical | $1,000 | $2,000 |
| Windows | $6,000 | $15,000 |
| Finishing and Paint | $2,000 | $4,000 |
Don't forget the cost of building permits that may be required in your location. Many cities consider a screen porch conversion as an addition to the home and require permitting. If you extend plumbing to the area, add electrical circuits, or modify the existing framing of your home, permits are almost always a necessity.
Can I Do a Screened Porch to Sunroom Conversion Myself?
There is an old saying that nothing is impossible and the impossible only costs more. If you have carpentry skills and know construction techniques, you may successfully perform your screened porch project. However, if the job requires electrical work or plumbing work, you may get a permit for the job without a licensed plumber or electrician.
In most cases, the scope of a screened porch conversion is beyond the skills of most homeowner do-it-yourselfers. The services of a proven contractor can make the job much faster and, in some cases, less expensive than DIY jobs.
Do You Need Sunroom or Patio Enclosure Builders?
Get free, zero-commitment quotes from pro contractors near you.
Converting Your Screened Porch to a Sunroom
A new sunroom where you once had a screened porch can change the personality of your home. The addition of the space into a useable part of your home certainly adds value for you and can also increase the monetary value.

Dennis Howard
Dennis is a retired firefighter with an extensive background in construction, home improvement, and remodeling. He worked in the trades part-time while serving as an active firefighter. On his retirement, he started a remodeling and home repair business, which he ran for several years.
More by Dennis Howard
Published August 27th, 2021 11:47 AM