361 Views
How Much Does It Cost To Build A Sauna?
December 26th, 2021 10:02 AM
Share
We're committed to finding, researching, and recommending the best products. We earn commissions from purchases you make using links in our articles. Learn more here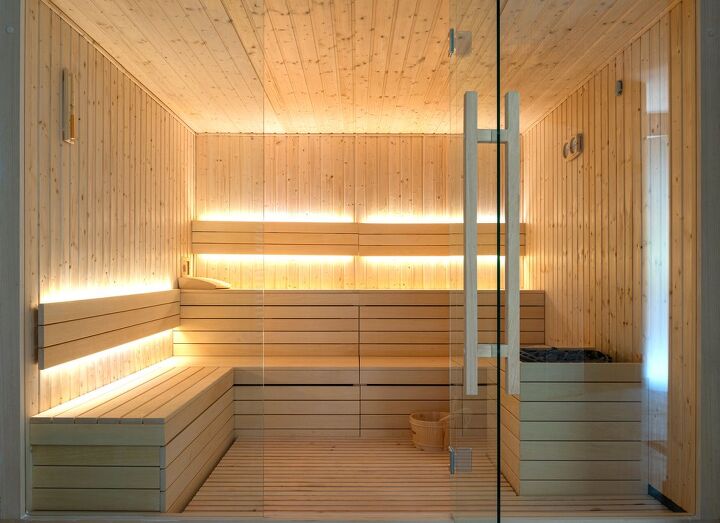 Having your own sauna at home sounds like a dream doesn't it? Staying inside a sauna helps you sit back and relax. The experience is invigorating and it can also serve as the perfect pick-me-up during the middle of the work week.
You can probably find a sauna near your home and relax there if you want. Still, it's hard to beat the convenience of having your personal sauna. So, how much would building a sauna on your property cost?
The average cost to install a sauna in your home is $4,500. Homeowners also have the option of getting prefab saunas an average of $90 per square foot. You may also have to spend $1,500 if you need new electrical and water connections installed. Factors like size, type, materials used, and the sauna's location will affect the final price.
Building your own sauna at home is going to cost a significant of money and there's no way around that. That said, it's an expenditure that can easily prove to be well worth your money. Find out exactly how much a home sauna will cost and which factors affect its price tag by reading on.
Do You Need Handyman Services?
Get free, zero-commitment quotes from pro contractors near you.
In-Home Sauna Cost
To get things started, you need to figure out the material makeup of your sauna. Wood is obviously the material of choice for saunas but there are significant variations between the options available.
At $3 per square foot, pine is a terrific option for those looking to save money. Next up is cedar and they cost $5 per square foot. A square foot of spruce will cost you $6 while hemlock is priced at $8.
Nordic white spruce and redwood are significantly more expensive. They're priced at $16 and $33 per square foot respectively.
Cost to Build a Sauna by Size
| | |
| --- | --- |
| Sauna Size | Expected Cost |
| 3 x 6 x3 Feet Sauna | $2,750 |
| 6 x6 x 4 Feet Sauna | $4,500 |
| 8 x 6 x 12 Feet Sauna | $7,500 |
| 12 x 6 x 12 Feet Sauna | $9,500 |
Size is an essential consideration when building your home sauna. Do you want it to be your private sauna or are you okay with sharing it?
A 3 x 6 x 3 feet sauna is the right size for one person. You will have to spend $2,750 for that one-person sauna.
For $4,500, you can build one that measures 6 x 6 x 4 feet. Those saunas are good enough to accommodate at least two people, but they can seat up to four.
An 8 x 6 x 12 feet sauna will work for a maximum of seven people and it costs $7,500. The biggest sauna is priced at $9,500. It measures 12 x 6 x 12 feet and it's spacious enough for 10 people.
Sauna Cost by Type
| | |
| --- | --- |
| Sauna Type | Cost |
| Infrared Sauna | $7,000 |
| Smoke Sauna | $3,500 |
| Wood-Burning Sauna | $3,500 |
| Electric Sauna | $4,000 |
| Steam Sauna | $4,500 |
Saunas can differ from one another in terms of how they provide relaxation. Let's go over the different types of saunas and how much they cost.
Infrared Sauna – Infrared saunas focus on heating your body up. If you're worried about moisture affecting the wood used for the sauna, infrared is a good option.
Smoke Sauna – The smoke sauna uses fire started under stones to provide heat, but it has no chimney. You simply have to let the smoke out and then enjoy the residual heat.
Wood-Burning Sauna – Wood-burning saunas are very similar to smoke saunas but they're more convenient. The presence of a chimney means you don't have to let the smoke out manually.
Electric Sauna – Choose an electric or dry sauna if you don't want to deal with smoke. The heat inside an electric sauna comes from stones warmed up with the help of electricity.
Steam Sauna – Boiling water is the heat source of choice inside steam saunas. An electric boiler is tasked with boiling the water.
Sauna Floor Costs by Material
Give plenty of thought to the material you want to use as your sauna's flooring. Pick the wrong material and you may have to replace it sooner rather than later.
Cedar – A cedar sauna floor will cost you $425. Cedar holds up fairly well to steam which makes it a fine choice for the sauna.
Concrete – Concrete floors for your sauna are priced at $650. They can be worth that price as long as you take good care of them. Use an epoxy coating to make the concrete floor less slippery.
Plywood – At $125, plywood is the most budget-friendly flooring option for your sauna. It's also an easily accessible flooring material. Plywood tends to warp though so don't be surprised if you have it to replace it not long after installation.
Vinyl – Vinyl flooring makes a lot of sense inside a sauna because of how well it resists moisture. Purchase your own vinyl flooring for $500.
Cost of Building an Outdoor Sauna
Just because you're building a sauna at home, that doesn't mean it has to be confined outdoors. You can set your new sauna up outside in lieu of the more traditional fixture known as the swimming pool.
Building a sauna outside may even stand out as the more practical option. That kind of addition is going to cost you $4,500.
Outdoor saunas tend to be less expensive because they don't have to be designed with room sizes in mind. Designing them is much easier.
It will help to keep a few things in mind when building an outdoor sauna. For instance, you have to choose a material that can resist the harsh conditions outdoors. Don't choose a material that can wear down easily when exposed to moisture or sunlight.
You may also have to clear space for your outdoor sauna. They will need a concrete foundation to stand properly so carving out space for that will be necessary.
Cost to Install a Custom Sauna Room
Are you unhappy with the standard sauna options on the market? If so, you can always go with a custom sauna.
Unsurprisingly though, there's a catch with custom saunas. Because they are custom-built and so many elements have to be either changed or replaced, homeowners have to pay extra.
A custom sauna will cost $10,000. Its price tag will only go up depending on how big you need it to be. Upgraded features will cost you a solid chunk of change too.
The same prices for wood saunas still apply here. If you need a refresher, you can check out the table below.
| | |
| --- | --- |
| Wood Type | Cost |
| Pine | $3 per Square Foot |
| Cedar | $5 per Square Foot |
| Spruce | $6 per Square Foot |
| Hemlock | $8 per Square Foot |
| Nordic white spruce | $16 per Square Foot |
| Redwood | $33 per Square Foot |
Also, note that fiberglass is an option if you're customizing your sauna. Fiberglass, however, will cost more than wood.
Cost to Build a Small Sauna
A small sauna will suffice if you live alone or if you prefer privacy while relaxing. You may also be limited to building a small sauna due to the lack of space inside your home. Also, your budget could force you to build nothing bigger than a solo sauna.
You can build a small sauna for $2,750. If that still seems a bit pricey, you can choose some more affordable materials and heat sources.
There's nothing wrong with going small with your sauna choice. As long as you're able to relax inside of it, then the sauna is doing its job.
Prefab Sauna Rates
Custom saunas are expensive and they are not for everyone. For those who don't mind going with more standardized but still quality options, prefab saunas are available.
Prefab or pre-fabricated saunas are sold in complete kits. You can start working on putting them together as soon as they're delivered to your property.
The prefab saunas are also significantly easier to build and install compared to custom saunas. They are good options for relatively inexperienced DIYers.
Another advantage to choosing a prefab sauna is the price. Prefab sauna kits are sold for $90 per square foot. To get all the pieces you need for a standard-sized sauna, you can expect to spend $3,600.
Dry Sauna vs. Wood-Burning Sauna Costs
Dry or electric saunas and wood-burning saunas are among the most popular options currently available. People like wood-burning saunas because they're more traditional but still feature some modern conveniences. Meanwhile, dry saunas are lauded for how cleanly they work and how easy they are to use.
If you still cannot choose between dry and wood-burning saunas, then you may want to consider the price. Dry saunas are just a bit more expensive than wood-burning saunas. The dry options are priced at $4,000 and the wood-burning saunas cost $3,500.
Choosing between dry and wood-burning saunas can be tough. Still, there are enough significant differences between them that you should end up leaning towards one over the other.
Cost Factors to Consider
The price of the sauna alone is not the only thing you have to consider. There are other factors that can affect the final price tag of your purchase. We've detailed those additional cost factors below.
Two vs. Four-Person Saunas
You can purchase a four-person sauna for $4,500. That may be too big if only you and your spouse will use it consistently though. If that's the case, consider downsizing to a two-person sauna that's priced at $3,000.
Location
We've pointed out that saunas installed outdoors are more affordable than the ones kept indoors. Beyond that though, the indoor location you choose for the sauna can also affect its price.
Installing the sauna in the bathroom can help you save on plumbing, but you may have to clear out the room. The basement is also an option but you may have to add new installations if you want the sauna in there.
Additions & Extras
Accessories can make the experience of using your home sauna even more enjoyable. Ladles and water buckets are practically required for many types of saunas. You can pick up a set of those items for $100.
A thermometer is another must-have accessory for the sauna. Purchase one for $60.
Other accessories like robe hooks, shelves, leg rests are not essential, but they are nice to have around. They are priced at $30, $35, and $45 respectively.
Electrical
New wiring may be required for your sauna. You will need an electrician to add that wiring. An electrician will typically charge $75 per hour.
Installing a Sauna Yourself vs. Hiring a Professional
Hiring an experienced professional to handle the installation of the sauna will cost you $6,000. That's $4,500 for the sauna itself and an additional $1,500 for the labor costs.
Those labor costs are going just to the contractor and the workers they hire. They don't account for other professionals who may be needed to finish the installation.
If you need to hire an electrician and a plumber to add new connections, they will bump up the total cost of the project. Paying both of them may cost you another $1,500.
Taking everything into account, you may have to pay $7,500 for your new sauna. Handling the installation of the sauna yourself can save you a good chunk of money.
The sauna will still cost $4,500, but the labor costs will be significantly reduced. The plumber and electrician may be the only professionals you need to hire. You may only have to spend $6,000 on the entire project.
Do You Need Handyman Services?
Get free, zero-commitment quotes from pro contractors near you.
---
Related Questions
What Is the Expected ROI on the Sauna You Installed at Home?
Pinpointing the return on investment for your new sauna is not always easy. It definitely increases property value, but the degree to which it does is largely dependent on prospective buyers.If you get buyers that love the idea of a home sauna, then the installation could pay off better. Otherwise, you may have to settle for a modest return.
What Are the Standard Dimensions for a Home Sauna?
The standard dimensions for home saunas are 6 x 6 x 4 feet and 8 x 6 x 12 feet. The former is a good choice if you want the sauna to hold two to four people. The latter is spacious enough for a big family because it can accommodate up to seven users.
How Much Will It Cost to Get Your Sauna Removed?
The cost of sauna removal will depend on how many workers you need to hire. For each hour of work, a contracted professional will charge $90.Hopefully, your sauna is not too big or too complicated to remove so the workers don't need that much time. It's also a good idea to hire more than one worker so the removal can be completed faster.
How Much Will It Cost to Get a Sauna Repaired?
Repairing your sauna will cost $350. That's not a small amount. Because of that, buyers may want to consider getting the warranty when they make the initial purchase.Also, take the time to maintain your home sauna properly. Sweep it clean regularly and use a special cleaner for any stains that show up.
Related Guide

Gary Evans
Gary Evans is passionate about home improvement. He loves finding out how to make improvements in the easiest, most practical, and most affordable ways. Upgrading his home kitchen is one of his ongoing hobbies. Gary is also a long-time content creator and enjoys spending his free time tending to his hydroponic vegetable garden.
More by Gary Evans
Published August 12th, 2021 12:39 PM