183 Views
How Much Does It Cost To Build A Roof Over A Deck?
March 11th, 2022 11:05 AM
Share
We're committed to finding, researching, and recommending the best products. We earn commissions from purchases you make using links in our articles. Learn more here
Building a roof over a deck is a great way to make it a comfortable oasis at home, but it can be an expensive venture. Homeowners spend an average of $22,500 to build a roof over a deck, but it varies based on several factors. Whether it be materials, dimensions, or labor costs, let's take a look at how much you can expect to spend to build a roof over your deck.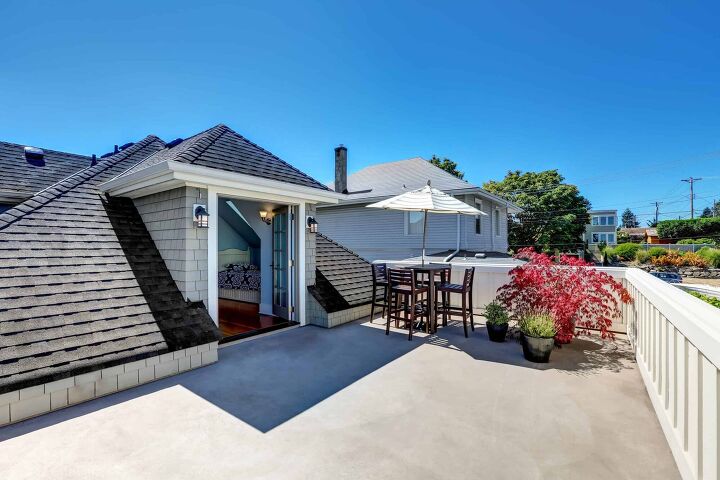 Decks are costly additions that are worth it when you consider that they can increase your home's value. Sometimes, decks are overly exposed to the sun and it can be tempting to add some comfortable shade with a roof. So, how much does it cost to build a roof over a deck?
It costs an average of $6,500 to build a deck over a roof at $42 per square foot. Professionals charge up to $10,000 to add a roof to a deck but it varies based on the materials and size of the project. You can build a roof over a deck without professional help for as little as $1,300.
Between materials, labor rates, and how long the project takes, numerous factors affect the cost to build a roof over a deck. However, you shouldn't let that dissuade you from building a roof over your deck because it is well worth the cost. Follow along as we explore how much it costs to build a roof over a deck.
Do You Need Roofing, Siding, or Gutter Installers?
Get free, zero-commitment quotes from pro contractors near you.
Cost to Build a Roof Over a Deck
The cost to build a roof over a deck varies between permit costs, deck roof design, and building materials. It is much easier to determine when you hire a contractor, but it is also a great DIY project. It costs an average of $6,500 to build a deck over a roof, but it can cost just $1,300 depending on the design and materials. Let's take a look at each of the most important cost factors for building a roof over a deck.
Building Permit
You are required to obtain a building permit when you build a roof over a deck. Not only are building permits a matter of public record, but they also add legitimacy to the project and can help you avoid fines. It costs an average of $350 to pull a permit to build a roof over a deck.
However, costs vary based on where you live and the permit could cost as much as $500. The permit could cost $150 or less, but the price goes up depending on whether or not there is electrical work involved. You can receive a fine if you build a deck over a roof without a permit, or you can obtain a retroactive permit from your local building permit office to avoid one.
Deck Roof Designs
There are only a handful of basic deck roof designs to choose from, but they are each unique. The design affects the cost to build a roof over a deck because it can make the project more or less difficult. However, the biggest difference between deck roof designs is the visual appeal, deck coverage, and function.
The most popular types of pavilion roofs are flat, gable, hip, and skillion (lean-to).
Flat roof is an easier construction project than the gable and hip roofs, saving also in construction materials. The roof is slightly pitched for water runoff.
Gable roof is two equal roof panels pitched at an identical angle. The gable roof itself is easy to build and generally less expensive than more complex roof designs. Water easily flows off.
Hip roof is sloped on four sides and is more durable than a gable roof. Rain and snow can easily slide off of the roof, and hip roofs can withstand strong winds.
Skillion or lean-to roof is a sloping roof generally attached to a taller wall. It is a pitched flat roof and is usually points downward but can also be pitched upward. The greater the downward pitch, the more easily water flows off.
Materials
Trusses and Rafters
A roof requires trusses or rafters in construction. Rafters are built on site and cost much more than pre-made trusses. If customization is required, rafters may have to be used.
Trusses are made of wood or steel. They are precision manufactured at the factory and come in various types. Steel trusses can cost twice as much as wood trusses. The fasteners are generally galvanized steel or the preferable stainless steel.
A specific truss is used based on the style of roof to be built. A smaller roof might use trusses costing $50-$75 each. However, a truss for a hip roof can cost $125-$150 each because of the additional material needed.
Using trusses makes the framing job fairly easy. However, there can be a waiting period of several weeks for custom-built trusses. When delivered, a crane is generally needed to lift the pre-built or custom-built trusses in place.
Plywood
Plywood is the best choice for covering a pitched roof deck before adding, for example, shingles or tiles. Affordable and strong, plywood is made up of layers of wood glued together. The evenly distributed strength of plywood comes from the grain alternating with each layer.
It also dries evenly as a result of these alternating layers, providing structural stability. The thickness of the plywood is determined by the roof's rafter or truss spacing. Leaving the plywood to adjust to the local humidity before installation avoids swelling and buckling problems.
Cedar/Redwood Ceiling
Cedar or redwood planks are popular for the interior ceilings of deck roofs. A 400 sq. ft. roof would use about 50 planks. Cedar is usually less expensive than redwood.
Roof Coverings
Most coverings will require some kind of underlayment, such as felt or synthetic sheet, attached to the plywood base first. Asphalt shingles, wood shingles or shakes, wood plank, wood paneling, metal, tiles, vinyl, solar shingles, thermosets, composites, the choices are many. And the prices cover a wide range of costs.
Roof pitch should be considered when choosing a roof covering. For example, various types of shingles and tiles are a good choice for most gable, hip, and skillion roofs. However, these types of coverings can cause water leakage on a basically flat roof. Standing seam metal can be used for gable, hip, and skillion roofs but also for a more attractive flat roof.
It is a good idea to consult a professional regarding the best type of covering for the pitch of your roof, your location, and your pocketbook.
Average Costs of Deck Roof Coverings
The ranges given below are based on product quality and local costs. The most obvious information is the differences in the costs of the various coverings.
| | | |
| --- | --- | --- |
| Type of Roof Covering | Range of Costs (400 sq. ft.) | Average Life Span |
| Asphalt shingles | $700-$1,400 | 25-30 years |
| Wood shake | $1,500-$3,000 | 25-30 years |
| Clay tiles | $2,500-$5,000 | Up to 100 years |
| Metal | $3,000-$4,500 | 50 yrs./steel – 100 yrs./aluminum |
Shingles, shakes, and tiles can be a problem in high wind locations. Metal roofing, while initially more expensive, is resistant to severe weather. It is also energy efficient and has virtually no maintenance.
Metal roofing now also comes in various attractive shingle styles as well as standing seam and corrugated sheets. There are still other options for roof coverings, such as clear polycarbonate plastic sheeting, skylights, and a durable canvas-type material.
Post Framing
The basic framing involves posts installed on the deck and cross beams at the top of the posts. For smaller deck projects, only corner posts may be required.
The weight that the posts and beams must support will determine the number needed and size. Generally, 6″x 6″ pressure-treated posts support most simple deck roofs.
The height of the beam is also a cost factor. A 6″x 6″ by 8′ southern yellow pine post currently costs between $30-$45. If the roof is being attached to the house, a ledger board(s) must be installed. However, generally only half the number of posts are needed for a simple square or rectangular attached roof.
The type of post and beam materials are another cost factor. Many structures are made of redwood or cedar to complement a wooden deck. While more expensive than pine, they are not as expensive as vinyl or fiberglass.
Post mounts, braces, and joist or truss hangers are additional cost factors in this stage of building. For both framing and roofing, nails, screws, nuts, bolts, and tools need to be figured into the cost.
Local Costs for Materials and Labor
The costs so far discussed have many factors determining your final cost for a deck cover. Local costs for materials factors into the ranges in cost provided above. For example, in finding the cost of the 6″x 6″ by 8′ post, it was least expensive in Los Angeles. It was more expensive in Baltimore, and much more expensive in Honolulu.
Labor costs will also vary according to location. However, some materials may offer labor-saving costs. And some materials may be much more accessible in some locations than others. For a simple deck roofing project, you might consider doing the project yourself. There are plenty of plans and helpful videos on the Internet.
If using a builder, be sure that you get not only multiple estimates, but also a knowledgeable builder. Based on the information here and other resources, ask questions about cost-savings in quality materials without sacrificing quality workmanship. Materials choices can also save in labor time, for example, using trusses rather than rafters.
Upgrades
Of course, upgrades can drastically alter costs. If you use skylights in your roof or put solar panels or shingles on your roof, it will raise the cost. Special lighting and fans are another cost. Then, there is perhaps an additional wall or two, with an endless variety of products, or a screened-in deck. Any special design features will raise a budgeted cost.
Kit Options
Wall-Mounted Pavilion Kit
Another option to consider is a custom-built pavilion kit if the needed deck cover is square or rectangular. Many of these kits can be wall-mounted to the home. They come in a variety of styles and materials. They are pre-cut, and in most cases, ready to assemble in a day.
Some companies include all the needed materials, and some do not include the final roofing material. You want to be sure about what is included in the kit. Shipping is free to most continental U.S. states. The kit may cost less than a similar local construction project pavilion.
Retractable Shade Pergola Kit
And yet another option to cover your deck is a pergola kit with a retractable canopy. Depending on how the deck is used, many buyers like the idea of a breezy designer-looking pergola.
These kits also come in a variety of styles and materials. They are shipped ready to assemble. Shipping is free to most continental U.S. states. Pergola kits are less expensive than pavilion covers. An attractive 15′ x 20′ cedar pergola kit with canopy is about $12,000.
The Essentials
The basic 15 ft. x 20 ft. (300 sq. ft.) deck pavilion construction project is estimated to cost between $16,500 and $21,000. Significant increases or additions to the cost factors will affect both the low and high amounts of this estimate.
There is a lot to consider and decide upon before embarking on a project to cover your deck. Fortunately, there are a lot of resources on the Internet to help you make wise choices. With the deck covering you choose, that outdoor living area can be enjoyed through all seasons.
Do You Need Roofing, Siding, or Gutter Installers?
Get free, zero-commitment quotes from pro contractors near you.
---
Related Questions
To save on material costs, can I stain a western red cedar pavilion to match my redwood deck?
Yes, you can; however, it is not likely to match very well without some extra effort. There are several factors that affect the look of wood, including the pore color and grain of the wood. Your redwood deck may have fewer knots, and the grain is generally slightly smoother by touch.Possibly, with a blending of stains and controlling stain intensity, something very close in color can be produced.
Do I have to worry about how much weight a roof cover would put on my deck?
Yes, and no. It depends on how reinforced the deck itself was when built and what its present condition is. The standard code for weight on a structure such as a deck is 50 psf, (50 lbs. per square foot). There are some important factors in a deck build to meet this standard.Two are the deck's post and beam sizes and beam spacing. The important third factor is the number of footings and the weight they impose on the soil. The condition of the wooden deck is also a consideration. If the deck is old and not stain- or paint-protected, moisture is present, and a fungus. This will result in wood rot. Termites and other insects can also weaken the wood.With the code met, most pavilion and pergola deck covers will not exceed the code. However, it is best to check local building codes and consult a certified home inspector. The North American Deck and Railing Association (NADRA) can help.
Related Guides

Upgraded Home Team
We are a team of passionate homeowners, home improvement pros, and DIY enthusiasts who enjoy sharing home improvement, housekeeping, decorating, and more with other homeowners! Whether you're looking for a step-by-step guide on fixing an appliance or the cost of installing a fence, we've here to help.
More by Upgraded Home Team
Published August 10th, 2020 3:56 PM