11 Views
How Much Does It Cost To Build a Wine Cellar?
March 4th, 2022 4:03 PM
Share
We're committed to finding, researching, and recommending the best products. We earn commissions from purchases you make using links in our articles. Learn more here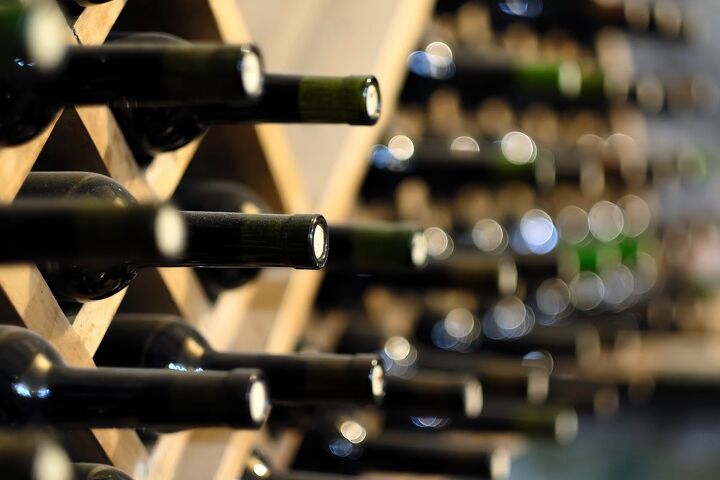 Having your own wine cellar is the dream of many wine lovers and collectors alike. Detailed plans and budgets can help make this dream a reality. Below we will break down the cost to build a wine cellar.
The average cost to build a wine cellar is $40,000. You can build a smaller wine cellar with minimal features for about $5,000. A full room that stores 3,000 bottles is estimated to cost $100,000, but a custom cabinet is $500. The construction cost can range from $300 to $600 per square foot.
It is important to remember the conditions necessary to store wine properly. Primarily, essential factors are constant temperatures between 45-65 degrees, darkness, bottle racks, humidity levels between 50-80%, and vibration-free. The design and components for wine cellars can help create the perfect storing conditions for your wine.
Do You Need Handyman Services?
Get free, zero-commitment quotes from pro contractors near you.
What Does It Cost To Build A Wine Cellar?
The cost of building a wine cellar comes down to the size of the cellar and the amount of construction. The size and storage of the cellar are determined by how many bottles you buy and drink in a year. Do you consume and purchase enough wine for an entire room, or will a cabinet suffice?
A full room, or walk-in cave, can store up to 3,000 bottles; the average cost is $100,000. The lowest price for an entire room wine cellar is around $5,000.
However, the average cost is $40,000. If your plans are smaller, such as a closet or custom cabinet, then the cost can be as low as $500.
Cost To Build Full Room Wine Cellar
| | |
| --- | --- |
| Average Cost | $40,000 |
| Lowest Cost | $5,000 |
| Highest Cost | $100,000 |
Do I Need A Permit To Build A Wine Cellar?
Yes, you will need a building permit to proceed with your project. Permit codes and regulations vary by local, state, and national building codes. Do some research into your area's permit codes and requirements before you begin building your wine cellar.
Cost To Build A Wine Cellar, Based On Location
Location is a vital part of planning a wine cellar and the main factor in determining the cost of construction. Wine cellars need to be cool, dry, and dark with no lingering smells or vibrations. You also need to ensure the cellar can control and regulate the temperature and humidity.
Basement
The basement is a common location for full-room wine cellars since the environment already meets some wine storage requirements. You will likely need to do some remodeling before work on the cellar can begin. Depending on the extent of the remodel, the costs usually average between $10,000 and $25,000.
Crawl Space
If you decide to use a crawl space to store your wine, the main concern is humidity. Check for any signs of mold or moisture, and have those issues addressed before proceeding any further. Installing air-tight insulation and humidity control is essential for the space, with an average cost of $200 to $1,100.
Walk-in Closet
A walk-in closet can be a perfect place to build a wine cellar, requiring little remodeling. As with any chosen location, proper insulation and humidity control are key in creating the ideal environment for wine storage.
Under Stairs
Under-stair wine storage is a very popular option, but costs can run high and vary. Because dimensions under stairs can vary, you'll need to build custom racks to fit the space. Custom wine racks cost between $500 to $2,500 each.
Underfloor
The more luxurious options are underfloor or underground wine cellars. This style builds into the floor, and you can pull the cellar up manually or automatically. The costs can range from $10,000 to large customs at $55,000.
Wine Cellar Construction Costs
The construction of the wine cellar is where you'll invest a large portion of your budget. From framing, drywall, flooring, and lighting, every element serves to maintain the ideal environment to store wine.
Furring/Framing
Furring, or framing, is the process of installing wood strips to raise surfaces, preventing dampness, and creating space for insulation. It is recommended to use 2×6 lumber for the walls and 2×10 for the ceilings. The thicker lumber size makes room for thicker insulation with a higher R-value.
R-values measure how well a two-dimensional barrier resists the flow of heat. By using 2×10 lumber for the ceiling, there is room to install R-30 insulation. To further protect your investment, use pressure-treated wood; this helps prevent rot.
Drywall, Outlets, And Finish
For the walls of your wine cellar, use green board instead of sheetrock. Green board is used in bathrooms and kitchens since it resists mildew and mold. Especially since the cellar will be in a high humidity environment, green board is a must.
Once the drywall is installed, make holes for the outlets and ductworks. Seal any gaps around the places for the cooling units, light switches, and other general outlets. The premise is to create an airtight environment.
All that is left is the wall finish; this is where you can start creating the aesthetic you're looking for. Whether it's paint, wood, faux rock, or stucco, as long as the material is humidity resistant, you're good to go. The estimated cost to finish the walls of the wine cellar is between $1,000 and $3,000.
Flooring
The material for the wine cellar is entirely up to you and your design goals for the space. Soft materials, like wood, are more forgiving on dropped bottles, but harder materials, like tile, are easy to clean. Regardless of your choice, you will need to seal the flooring properly to further create an airtight environment.
Flooring costs vary by material; for example, vinyl costs approximately $1,500, but tile can cost up to $5,000.
Lighting
The wrong lighting is a death wish for your wine, especially older vintages. To save your wine, avoid UV and fluorescents; instead, use LED or thermally fused can lights (IC-rated cans). Consider installing motion sensors or a timer, so there is no concern about the lights being left on.
Lighting and fixtures cost between $150 and $750.
Types Of Wine Cellar Cooling Systems
There are three primary cooling systems for wine cellars, self-contained, split, and ducted systems. Cooling systems are necessary for wine cellars to maintain a stable environment. The type of cooling system you need will depend on the size of the wine cellar and your budget.
Self-Contained
Self-contained cooling systems are the most convenient form of cooling system and the most affordable. A self-contained cooling system has all the elements in a single unit, including the condenser and evaporator. This makes them easy to install without the need for an HVAC technician.
Split Cooling Systems
Split cooling systems have the condenser and evaporator in separate units, making them quieter than self-contained systems. They are connected by an insulated suction line, as well as a liquid line. You can place most units in a remote location and mount them on the wall, floor, or ceiling.
Ducted
If you install a ducted cooling system outside the cellar, it can be up to 25 feet from the cellar. This will reduce vibrations and noise and is a flexible installation. Ducted cooling systems can be either self-contained or split and offer the highest capacity making them ideal for large rooms.
Wine Cellar Cooling Systems By Cost
| | |
| --- | --- |
| Type | Average Cost |
| Self-Contained | $1,000 – $6,000 |
| Split System | $6,000 |
| Ducted | $1,000 – $6,000 |
Cost Of Wine Cellar Doors
When choosing the doors for your wine cellar, it is better to choose substance over style. For example, glass doors are appealing but unsuitable for protecting your wine from UV light. However, glass that is ¾ inch thick, UV-protected, tempered, and double-paned is an acceptable option.
A better choice is exterior grade doors since interior grades are hollow core and will not provide proper insulation. The doors should have an auto-close mechanism to maintain the airtight environment for the wine. When the doors are open, there should be a noticeable pop that signals you've unsealed the room.
The price of the wine cellar door varies by dimensions and materials. The cost can be between $500 and $3,500 for a single door.
Cost Of Wine Cellar Display Racks
Display racks are the core of your cellar; the style and materials are up to you and your design goals. Remember, to prevent the wine from spoiling from exposure to air, store the wine at an angle. This keeps the cork from drying out and air from spoiling your wine.
Some popular rack styles are diamond bins, corner racks, credenzas and bars, and standard. The style of rack comes down to the size of your bottles and their storage needs. Many choose to invest in custom racks, but there are pre-designed, easy to assemble rack kits.
To determine how much room is needed for storage, the measurement is 0.5 square feet per 10 bottles.
Wine Storage Dimensions By Cost
| | | |
| --- | --- | --- |
| Bottles | Square Feet | Cost |
| 100 | Small Cabinet | $500 – $4,000 |
| 500 | 25 | $15,000 – $22,000 |
| 2,000 | 100 | $35,000 – $45,000 |
Do You Need Handyman Services?
Get free, zero-commitment quotes from pro contractors near you.
In Conclusion
You can build a wine cellar for as low as $5,000, but on average it costs $40,000. To construct a full room that can store 3,000 bottles, expect to pay closer to $100,000 or more. In terms of cost per square footage to build a wine cellar, it ranges from $300 to $600.
All that is left is to get started making the wine cellar of your dreams a reality. Taking on the task the building a wine cellar can seem daunting, but it will be worth it.

Stacy Randall
Stacy Randall is a wife, mother, and freelance writer from NOLA that has always had a love for DIY projects, home organization, and making spaces beautiful. Together with her husband, she has been spending the last several years lovingly renovating her grandparent's former home, making it their own and learning a lot about life along the way.
More by Stacy Randall
Published February 15th, 2022 1:25 PM