164 Views
Can You Put A 12-Inch Blade On A 10-Inch Table Saw?
December 1st, 2021 5:08 PM
Share
We're committed to finding, researching, and recommending the best products. We earn commissions from purchases you make using links in our articles. Learn more here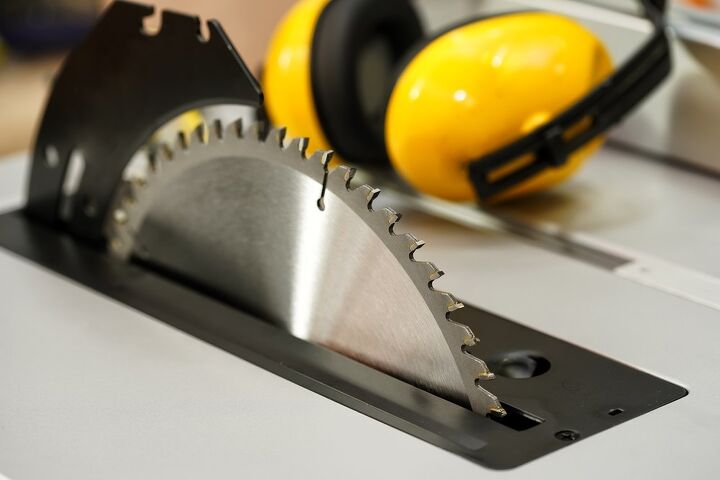 If you want your saws to work correctly, you have to use the best blades. So, can you put a 12-inch blade on a 10-inch table saw or not? Here is what you need to know before making the first cut.
Usually, you can put a 10-inch blade on a 12-inch table saw or a 12-inch blade on a 10-inch table saw. However, the edge must fit into the arbor. If the blade doesn't fit into the hole, it could slip out while you're cutting materials. So, consider using different kinds of saws for complex cuts.
Can You Use Different Sized Blades on a Table Saw?
Choose any woodcutting tool you want, but make sure you're using the best saw blade. Also, know what size blade your saw requires because you could get hurt if something slips or jams. And understand that you can use different blade sizes with some saws but not with others.
Most table saws use 10-inch blades. But some tools take smaller or larger cutters. Versatile saws typically feature an adjustable arbor to help you fit different-sized edges into the hole. So, either choose a multi-function tool or keep several saws in your arsenal.
NOTE: As a general rule, try not to use big blades on small saws because you can lose cutting depth or even hurt yourself.
What Size Blade Does a 10-Inch Table Saw Take?
You can use different blade sizes for a table saw as long as you follow a few simple rules:
Coordination: The diameter of the arbor hole must match the diameter of the saw.
Length: The arbor must be long enough for the dado blade.
With these rules in mind, examine your table saw and blades. You can use an 8-inch cutter on a 10-inch saw if but only if the manufacturer says it's okay. So, check the specifications next. You'll find all that information in the owner's manual or on the manufacturer's website.
Can I Use a Smaller Blade on a 10-Inch Table Saw?
You'll always get the best cut when you use the correct size blade for a table saw. But can you use a smaller blade on a 10-inch table saw, or is that too dangerous? Fortunately, you can get away with it. However, you could still compromise your cut quality.
Although smaller saw blades mean less runout and a smoother edge, you might not achieve the depth you need. And if your cut is too shallow, you'll have to start all over. That means you save time and money by cutting with what you already have. But you could end up paying double in the long run.
DID YOU KNOW: A new table saw costs about $75 at most retailers. But a new blade can cost just as much, if not more.
What Is the Best Blade for a Table Saw?
The best option for any size table saw is a general-purpose blade. But try to buy one that features no less than 40 teeth. And make sure the teeth are evenly spaced and alternately beveled (ATB). That way, you'll achieve the smoothest edge regardless of the depth of your cut.
Can You Put a Circular Saw Blade on a Table Saw?
Feel free to use your favorite circular saw blade on your best table saw. In most cases, you can swap out the table saw blade with several cutters in your collection. So, try miters, cut-off saws, table saws, and radial-arm tools if you can't achieve the slice you desire.
What Is the Arbor Size on a 10″ Table Saw?
Ten-inch table saws feature a 5/8-inch arbor. But most table saws use the same size arbor for blades as small as 7 1/4-inch. That means you can use smaller slicers all the time. Yet, giant blades might not fit the way you want them to. So, get the cut you need with the best-fitting blade.
How Do I Know Which Table Saw to Buy?
Choose your power tools wisely but pay attention to more than just the brand. Also, check the table's flatness. And look at the fence type to make sure it's parallel with the blade.
---
Related Questions
How Deep Can a 12-Inch Table Saw Cut?
With a 12-inch table saw blade, you can cut a maximum depth of about four inches. But 10-inch cutters can slice around 3.5 inches in depth. However, most table saws are adjustable. So, you can make deep or shallow grooves in your material using the same tool.
What's the Difference Between Circular Saw Blades and Table Saw Blades?
Table saws can take eight, ten, and twelve-inch blades. And their cutters are usually coated with carbide. However, circular saw blades generally use 14-inch silicon carbine blades. But some of them use aluminum oxide abrasive cutters instead. Either way, you can use table saws and circular saws interchangeably for some projects.
How Many Teeth Should My Table Saw Blade Have?
Try to use a blade with no less than 40 teeth. But look for 50-tooth edges if you can find them. If you're cutting synthetic materials, always use cutters with 60-80 teeth. And choose blades with more than 80 teeth for cutting plastic, laminate, or other dense materials.
What Is the Best Table Saw Brand?
There are many
power tool brands
to consider, so don't take the decision lightly. Meanwhile, brands like DeWalt, Craftsman, Bosch, Matika, Jet, and SKIL are always best-sellers. But be sure to compare features and prices to find the best one.
Cut Stuff Like a Pro
You don't have to use the best table saws to get a clean cut. You only have to match the blade with the arbor. Then, check the depth of your material to make sure the cutter can slice through it. And if all else fails, try using a different kind of saw for each project.
Related Guides

Tiffany Nichols
Tiffany Nichols specializes in aesthetics, design, marketing, and manufacturing. She's a copywriter and editor for several home renovation companies in the U.S. and works alongside some of the biggest names in the industry. Her hobbies include architecture, art, mental health, and fashion.
More by Tiffany Nichols
Published December 1st, 2021 5:08 PM