177 Views
5 Best Lawnmowers for Wet Grass (We Have a Winner)
December 19th, 2021 11:10 AM
Share
We're committed to finding, researching, and recommending the best products. We earn commissions from purchases you make using links in our articles. Learn more here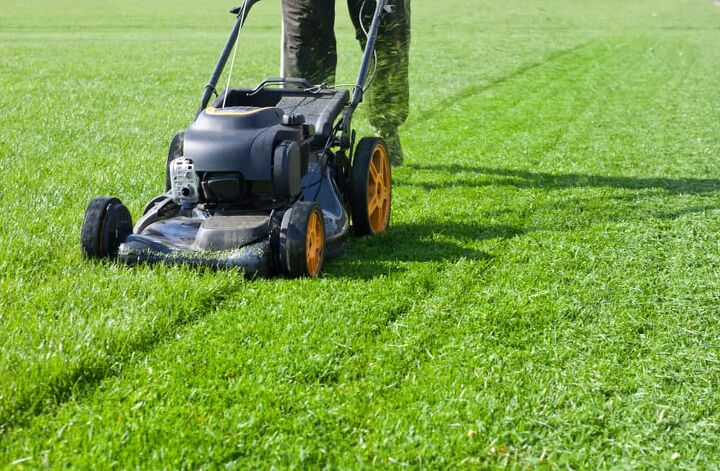 Mowing your lawn is, under the best of circumstances, a chore. Mowing wet grass makes things even more difficult. Wet grass only compounds everyday problems with mowers. To successfully mow wet grass, you need a mower with some special features.
Mowing wet grass calls for some special skills as well as a mower with some extraordinary features. Wet grass tends to be heavy and sticky. Both issues are problems for most lawnmowers. We have looked over a wide range of mowers and believe these to be the best options for mowing wet grass.
Finding the right mower to handle cutting wet grass on your lawn needs careful consideration. You need a lawnmower with extra power and the ability to move wet grass effectively. In addition, you should consider the terrain and size of your lawn as well. One of the mowers on our list should fit your needs.
If you live on a lot more than ½ acre, the Ariens 91523 zero turn lawn mower is a top contender. Zero-turn mowers are fast and offer exceptional maneuverability. On large lots with numerous obstacles, a zero-turn lawn mower can be a huge timesaver.
The Ariens 91523 is a beast of a mower. Power is your chief ally when mowing wet grass. The Ariens 91523 features a Kawasaki 23 HP gasoline engine to deliver that power. Add the optional bagging system with its independent blower to eliminate problems moving grass out of the mower deck.
Best Uses and Fit
A zero-turn mower is not for everyone. Unless you have more than ½ acre to maintain, a zero-turn mower is overkill. On much small lawns, the mower will overpower the space and make maneuvering the mower difficult.
Mowing with a zero-turn mower can be a major problem if your landscape has narrow openings or fenced areas that require passing through a gate. All in all, zero-turn mowers are a good choice for large areas of turfgrass. A zero-turn mower's maneuverability easily handles large, landscaped areas such as flower beds or other landscape details.
Wet Grass Handling
The powerful Kawasaki V-twin engine easily muscles its way through wet grass. The Ariens deck design further aids in moving wet grass out of the cutting area. We suggest adding the optional twin-bin bagging system with its external air blower to clear the wet grass more efficiently.
What We Like About This Mower
The Ariens 915267 has several outstanding features that make this mower even more attractive. The cutting deck height is adjustable from the operating position with one hand. The dial adjustment system allows you to adjust the deck cutting height on the fly for the best cutting results.
The Kawasaki engine adds to the package. The V-twin 726cc 23HP engine delivers lots of torque and power on demand. Extra power is a key issue when moving wet grass through a mower
Our Final Tally
Exceptional power for large lots with large obstacles
User-friendly controls and easy adjustments
Fast and efficient operations for quicker cutting
Wide 52-inch cutting swath
Many homeowners find zero-turn lawnmowers intimidating. The unique drive and steering system do require some skill, and the learning curve can be difficult. A traditional ride-on garden tractor is a more comfortable option for some homeowners with large yards to maintain.
Choosing a traditional ride-on garden tractor for mowing wet grass on large lots makes sense in other ways. The Husqvarna YTH24v54 garden tractor can become a workhorse around a large lot when outfitted with many available accessories.
Best Uses and Fit
Like a zero-turn mower, a traditional garden tractor with a mower deck is best suited to larger yards and lots. Any lot smaller than ½ acre doesn't fit well with a traditional garden tractor. Garden tractors, by and large, are best suited for mowing in long straight runs without many obstacles.
A traditional Garden Tractor shines at handling other landscape chores. From towing small trailers to clearing snow, a wide array of add-on tools make garden tractors much more versatile equipment than zero-turn mowers.
Wet Grass Handling
The Husqvarna Garden Tractor, with its air induction deck design, excels at handling heavy wet grass. The side discharge outlet on the cutting deck spreads the cut grass well to leave a clean and consistent cut, no matter the grass's moisture content. Adding the optional rear collection system gives your lawn an even more manicured look.
What We Like About This Mower
While not as nimble as a zero-turn mower, the Husqvarna YTH24V54 garden tractor and mower has a small turning radius. The turning radius gives this machine the ability to cut tight on curved obstacles such as flower bed edges without problems.
The Briggs and Stratton engine is a well-known and well-respected brand of a power plant. The INTEK engine is durable and efficient. These engines provide long life and cost-effective operation.
Our Final Tally
Comfortable ride
Powerful operation and great cut
A wide number of add on accessories
Dependable Briggs and Stratton engine
Check out the equipment that most lawn care professionals use, and you will find Honda power equipment. There is a reason the professionals choose Honda equipment over other brands. Honda's reputation for reliability and durability are the keys to these decisions.
The Honda HRX2175HYA walk-behind self-propelled lawnmower has all the features any homeowner could want for smaller lots and where wet, thick grass is an ongoing problem. The powerful Honda GCV200 engine provides all the torque needed for handling exceptional grass handling.
Best Fits and Uses
A walk-behind self-propelled mower like the Honda HRX2175HYA is a great choice for any lawn less than 1/23 acre. The self-propelled design makes mowing even a large yard a breeze, and the Honda mower adds to the ease of use.
Homeowners who need to move their mowers between fenced areas or among smaller spaces punctuated with beds or landscaping find a walk-behind mower much more convenient. The Honda HRX mowers fit easily through most garden and lawn gates. Their smaller profile makes them easy to maneuver in tight spaces.
Wet Grass Handling
These Honda mowers' owners with the GCV200 engine consistently remark about how easy these engines start and their reliability. Honda engineering also shines in the blade and mower deck with increased capacity to handle the thickest wet grass.
The rust-free no-dent NeXite® decks provide long life. Coupled with the Honda MicroCut Twin Blades ®, these Honda mowers excel at handling both dry and wet grass. These blade designs cut grass finer for easier movement and mean fewer bag dumps while mowing.
What We Like About This Mower
Almost everything! The powerful engine, the cutting ability, and the grass movement design are excellent. Even the user controls are well thought out, convenient, and easy to use. If there is one thing we would add to the Honda HRX2175HYA is an electric start. However, the ease with which these engines start almost makes an electric start redundant
Our Final Tally
Precision engineering means a long service life with the highest reliability
Powerful engine with plenty of muscle to handle wet grass
Innovative 4 in 1 clip director system allows mulching, bagging, discharging, or leaf shredding with no additional parts or accessories
Includes a 5-year warranty
Most residential lawns aren't big enough for ride-on mowers and don't warrant a self-propelled mower. In most cases, homeowners on smaller residential lots do well with a push-style mower. Small push style mowers such as the Remington RM130 Trail Blazer are more maneuverable on small lots and are easier on the budget.
The lightweight of the Remington RM130 makes the task of pushing this mower easy even in the thickest or wettest grass. The powerful 140cc gas engine driving the Surecut blade handles wet grass quickly with problems.
Best Fits and Uses
Most homeowners living on urban or suburban residential development lots don't have huge expanses of grass to maintain. The added expense and complication of riding mowers and self-propelled mowers on these smaller spaces are not easily justified.
A push-style power mower like the Remington RM130 provides the power and convenience to make lawn care on a residential lot simple and efficient. This slim machine easily maneuvers around landscape elements and through tight spaces. The quick height adjust features makes adjusting the mower height fast and simple.
Wet Grass Handling
Wet grass poses no problem for the Remington RM130 push mower. The powerful 140cc gasoline engine will mulch, side discharge, or bag the wettest grass with ease. The SureCut blade design and deep tunnel deck mean huge airflows to keep cut grass moving.
Five height adjustments allow you to find the best cut level for your grass. Adjusting the mower height appropriately makes for cleaner cuts with less damage to your grass. Quick adjustments allow you to raise the deck to increase airflow and reduce grass clippings when necessary.
What We Like About This Mower
The simplicity of this mower is its best feature in our book. Users of these Remington mowers rave about the ease of use and the simplicity of their maintenance chores. Where you don't need the additional power or features of a self-propelled mower or a ride-on mower, the Remington RM130 Trail Blazer mower is a prime pick.
Our Final Tally
Well-designed blade and deck handle wet grass with ease
Powerful 140cc engine provides ample torque for demanding jobs
Simple and clean design
Great price for the features included
Battery technology has made tremendous strides in the last few years. Combined with lightweight materials and superior deck and blade design, cordless mowers have come into their own.
The EGO Power+ line of cordless lithium-ion walk-behind mower is tailor-made for smaller residential lots and homeowners who want to avoid gasoline, oil, and noise.
EGO is a leader in cordless lawn equipment, and their LM2142SP 21-inch 56-volt walk-behind self-=-propelled lawnmower is the pinnacle of their line. The ability to use two of their 56-volt batteries to power this lawnmower gives you extraordinary capacity and time.
Best Fits and Uses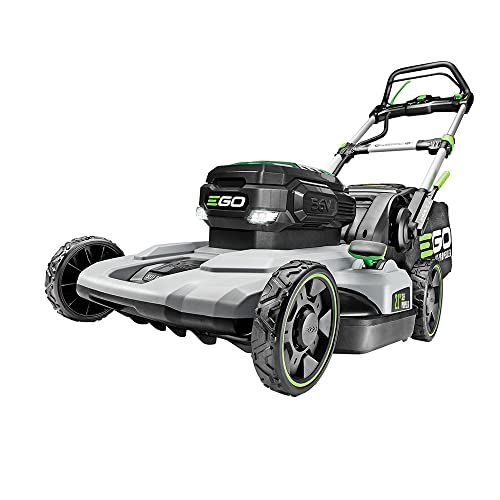 The noise and smell of many gasoline-powered lawnmowers are a problem for some homeowners. In areas where lawns are small, and houses are close together, an electric lawnmower makes an excellent choice.
The EGO Power+ lawnmowers have the power to manage even thick wet grass on smaller lawns without the annoying noise of other styles of mowers.
These mowers' relative lightweight makes them easy to maneuver in and around smaller yards and through garden gates. Storage is also easier with the unique ability to stand the EGO mower on end.
Wet Grass Handling
There is no need to worry about the ability of the EGO Power+ to deal with wet, thick grass. The brushless motor and 56-volt battery provides plenty of torque and power to handle these chores. When coupled with the smart battery management technology, the EGO lawnmowers provide long battery life as well.
The blade design and deck design of the EGO Power+ lawnmowers provide the best in airflow and grass movement. These mowers mulch, discharge, or bag grass clippings with ease. The plastic deck housing may seem like a problem, but users report that the deck's metal lining provides superior operation without problems.
What We Like About This Mower
The quiet. The EGO Power+ is by far the quietest lawn mower that we have experienced. The lack of vibration is also a huge advantage.
Owners of the EGO Power+ mowers consistently find the run time on these mowers is more than adequate to finish their lawn maintenance without having to recharge the batteries. In tight residential neighborhoods, cordless mowers seem like a great solution.
Our Final Tally
Lightweight and easy to use
No gasoline, oil, or smells
Powerful and clean
Easy to store out of the way in smaller spaces
| | | | |
| --- | --- | --- | --- |
| Mower Model | Power Rating | Grass Handling | Outstanding Features |
| Ariens 91523 IKON-X 52" Zero Turn Mower | 23 HP Kawasaki V-Twin engine | Exceptionally when using the accessory rear two-compartment bagging system | Powerful Kawasaki V-Twin Engine |
| Husqvarna YTH24V54 54 in. 24 HP Briggs & Stratton Hydrostatic Riding Mower | 24 HP Briggs and Stratton INTEK engine | Air induction deck design for improved airflow and grass handling capabilities | Wide Range of accessories |
| Honda Self-Propelled Variable Speed Select Drive Walk Behind Lawnmower | Honda GCV200 3.8 HP 4-stroke gasoline engine | VersaMow system allowing different modes of grass cutting and handling without attachments | Honda power equipment reputation and excellence. |
| Remington RM130 Trail Blazer 140cc 21-inch 3-in-1 Push Lawnmower | 140cc auto choke gasoline engine | Surecut blade design with a deep dome cutting deck for impressive grass handling | The 3-in-1 cutting capability allows you to mulch, side discharge, or rear bag your grass clippings |
| EGO Power+ LM2142SP 21-inch 56-volt Lithium-Ion Cordless Electric Walk Behind Mower | 56 Volt 5. Amp Hour Battery | Enough power to handle modest-sized yard and wet grass | Dual power system allows you to use two batteries to double the available run time on this mower |
Is It A Good Idea To Cut Wet Grass?
In the great scheme of things, cutting wet grass is not your best option. Cutting your grass when it is wet can have several downsides.
Cutting wet grass is harder on your lawn equipment resulting in shorter equipment life and more maintenance costs.
Wet grass can clog your lawnmower, preventing proper discharge of the clippings
Many lawnmowers don't have the power to muscle through wet grass effectively
In some cases, mowing your grass wet can damage the grass plants or even kill them
In the long run, it is always better to let your turf grass dry thoroughly before mowing.
Is It Safe To Mow Wet Grass With A Cordless Mower?
Yes, you can safely mow wet grass with a battery-powered mower. You should, of course, practice the normal safety precautions you use with any power equipment. The dangers of using a battery-powered mower to cut wet grass are no more and no less than using a gasoline-powered mower.
However, you should never use a corded electric mower or any other corded lawn tool in wet conditions. Power cords and wet grass is a recipe for disaster. There are many documented instances of homeowners suffering electrocution while using corded lawn tools in wet grass.
The Wet Lawn Conundrum
Is it better to let your wet lawn grow and dry out before mowing or mow while the grass is still damp? This debate rages continually among both professionals and homeowners. If you must mow your turf while the grass is wet, having the proper equipment is necessary.
We hope that this article gives you the insight to find the lawnmower that best fits your needs for mowing wet grass.

Dennis Howard
Dennis is a retired firefighter with an extensive background in construction, home improvement, and remodeling. He worked in the trades part-time while serving as an active firefighter. On his retirement, he started a remodeling and home repair business, which he ran for several years.
More by Dennis Howard
Published April 7th, 2021 3:07 PM