245 Views
5 Best Bathroom Vanities For Mobile Homes (Ultimate Guide)
April 23rd, 2021 4:28 PM
Share
We're committed to finding, researching, and recommending the best products. We earn commissions from purchases you make using links in our articles. Learn more here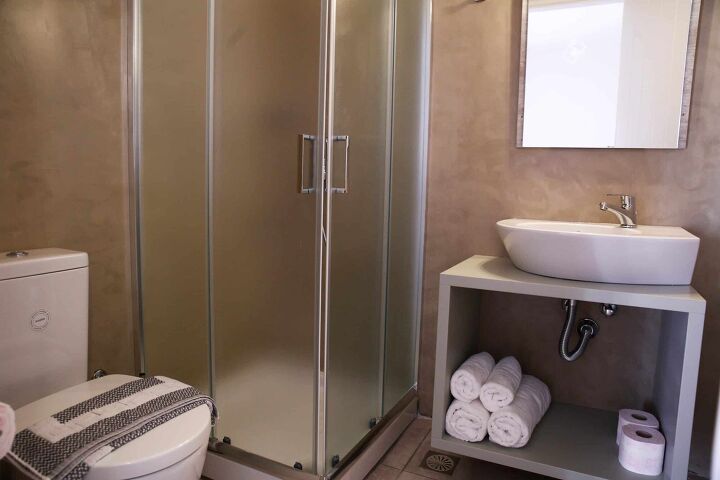 Finding a proper bathroom vanity can be difficult enough, but what about when the space is limited as it can be in a mobile home? Just because mobile homes offer lesser space doesn't mean that they can't have beautiful, modern aesthetic qualities.
The right bathroom vanity for mobile homes can be as easy or difficult as you choose. It can be as simple as finding one available with all the fixings or picking out the fine details yourself. This guide will help you along the way.
Let's take a look at the top picks.
Do You Need to Hire Cabinet Installers?
Get free, zero-commitment quotes from pro contractors near you.
Top 5 Bathroom Vanities for Mobile Homes
1. Eclife Wood Bathroom Vanity w/Glass Sink Bowl
ECO-FRIENDLY: MDF eco-friendly material used to make vanity more durable and sturdy; 15mm Thinkness and smooth surface board, easy to clean and wear-resistance.
EASY to INSTALL: Need to be self-assemble, delicate design make it easy to assemble; Small body includes maximized storage; Five drawers, more convenient and flexible for you to use.
DETAILS FEATURES: 304 Stainless steel slide & Zinc alloy handle & Soft-close door & Tempered glass construction & Scratch and Stain-Resistant sink surface & Easy to Clean & Sturdy & High quality slide rail & Rustproof plastic cover on side cabinet.
DIMENSION: 24'' L x 20'' W x 32'' H Black bathroom single vanity; 5-1/2"(H) x 16-1/2"(DIA) Round tempered glass single base sink; 20" W x 27.6" H Mirror; 12"L x 20"W x 30" H Black side bathroom cabinet (3 Packages will be send).
For the price and the quality rating, there is no better mobile home vanity than this. At just $275, it is an affordable option that will fit into most modern mobile home bathrooms. Even better, it is easy to install. There is some self-assembly, but the body includes flexible and convenient storage options to maximize space.
The most important feature of this bathroom vanity is that it is eco-friendly. Made with environmentally friendly materials, it is sturdier and more durable than some of the others on the market.
In addition to its environmentally friendly construction, this eclife wood bathroom vanity will save on your water usage. The 1.5 GPM faucet aerator can help you save up to 30% water over its lifetime, resulting in major savings on your water bill.
2. Casa Mara Glossy White Bathroom Vanity w/Ceramic Sink
Though it is one of the most expensive options on the market, there may not be a more exquisite option out there. The beautiful, glossy white provides a beautiful, modern aesthetic that will make it feel more like a luxury hotel instead.
Its easy installation comes with great instructions, taking the guesswork out of the entire process. When constructed, it is thin so as to take up less space with more storage options for even larger things like towels.
Most importantly, it is constructed with materials that are meant to last. There is no sacrifice in quality or appearance despite the smaller space.
3. Puluomis 24" Bathroom Vanity w/Dark Coffee Wood Fixture
Another option for those looking for a mobile home vanity on a budget. Compactly designed to provide ample space without taking up much of its own. The glossy countertop surface makes it easy to keep clean and the stylish, modern aesthetic is highly versatile for almost any modern bathroom decor.
This unit also comes with the mirror, vanity, glass sink, pop up drain, ORB faucet, mounting hardware, and hot/cold lines. This unit also makes for easy installation so that you can spend more time using your vanity rather than putting it together.
The finished product is a beautiful, highly aesthetic bathroom vanity that will leave ample space in any mobile home bathroom.
4. eclife 24" White Modern Cabinet w/Ceramic Sink Top
ECO-FRIENDLY: MDF eco-friendly material used to make vanity more durable and sturdy; 15mm Thickness and smooth surface board, easy to clean and wear-resistance.
EASY to INSTALL: Need to be self-assemble, delicate design make it easy to assemble; Small body includes maximized storage, more convenient and flexible for you to use.
DETAILS FEATURES: 304 Stainless steel slide & Zinc alloy handle & Soft-close door & Knock-down Rectangle Ceramic Sink Top & Premium White Ceramic Bathroom Vessel Sink and Faucet Combo & Scratch and Stain-Resistant sink surface & Easy to Clean & Sturdy.
DIMENSION: 23.2" L x 19.7" W x 31.5" H White bathroom single vanity, MDF made small bathroom vanity combo; 24" x 20" x 5/8" (LxWxH) White drop in ceramic bathroom vessel sink base, with overflow; 20" W x 27.6" H Mirror. (This item will be send with 2 packages, probably will be delivered at different time, thanks.)
Another one from eclife shows that they are one of the best and most trusted names in the vanity business and this unit is no different. All white is very much in style for both kitchens and bathrooms these days and this unit delivers that modern aesthetic well.
Its major selling point is its eco-friendliness. It is made of materials that are environmentally friendly that are also durable to stand up to daily use for years to come. Even better, these materials are easier to clean, allowing for less cleanup time and more time for anything else.
This bathroom vanity is also a huge water saver. The 2 GPM faucet aerator will save up to 30% water over its lifetime. While beauty may be the most popular feature on a vanity, its efficiency is a close second and this unit delivers.
Lastly, the install is quite easy as well thanks to quality directions. Putting this unit together is quick and easy and meant to maximize internal storage without the need for additional space in the mobile home bathroom.
5. Puluomis 28" Wood Black Bathroom Vanity w/Tempered Glass Sink Top
The cheapest mobile home bathroom vanity on the list comes in a huge array of colors and styles for the optimal flexibility and versatility. Just as importantly, it is one of the most stylish options on the market, the tempered glass bowl providing a pop of bright, shining color.
Even better, the slick touch of both the vanity and the sink allows for a feeling that is slick to the touch, making it far easier to clean up and move on to other things. The unit comes with the vanity, glass sink, mirror, ORB faucet, hot/cold lines, pop up drain, and mounting hardware should that be desired.
Its easy installation and modern style make it a perfect fit for just about any mobile home bathroom that is looking for a modern aesthetic. It also features a grid pattern with a "floating" design to maximize the space in the bathroom.
How to Determine the Right Style of Vanity
Determining the right bathroom vanity for your home comes down to a few different things. While things like the number of sinks may be limited (mobile homes can probably only handle one), choosing the style is always an important feature to determine.
This will come down to personal style. Traditional cabinets? Antique pieces? Pedestal sinks? Knowing the style ahead of time can make choosing the right vanity a bit easier (though there are additional features to keep in mind).
Here are a few important things to consider when it comes to choosing the right style of vanity:
What color?
Planning on staining or painting?
Doors, drawers, or pullouts?
What type of door style?
Another thing to consider is the fact that vanities don't have to be free-standing. Most free-standing vanities for mobile homes should come with mounting equipment to provide a more level, "floating" appearance.
If storage isn't an issue, the floating or wall-mounted countertop could be the best choice. After all, that cabinet will take up more space in an otherwise small bathroom, so if it isn't necessary, just leave it out entirely.
Finding the Right Countertop
Regardless of the cabinet or sink, perhaps the most important feature to a mobile home vanity is in the countertop. The right countertop should have a visually appealing aesthetic while also being easy to clean up quickly.
The right countertop depends on the sink and cabinet. If those tend to be something more rustic or antique, it may not be the best choice to go with something modern for the countertop. Again, it all comes down to personal preference and style.
There are tons of choices available for the countertop on the vanity. Quartz, granite, laminate, marble, wood, concrete, and solid surface countertops are just a few of the options available. The most popular choices are quartz and granite because of the clean stone look that gives the countertop a more luxurious aesthetic.
Even better, quartz and granite are two of the more durable options for countertop. Remember, the vanity needs to be able to hold up for a long time, and going with durable materials – that can also provide a unique and beautiful aesthetic – is what a quality vanity needs.
Going with softer stones may provide a different aesthetic than the traditional stone options, but there is one thing to keep in mind. Soft stones tend to scratch easier, and they will also have a lesser tolerance for moisture.
Should the Mirror be the Same Size as the Vanity?
As a general rule of thumb, the mirror over the vanity should be several inches smaller than the vanity and sink area. Though mobile home vanities will be considerably smaller than their traditional bathroom counterparts, this is still a great rule to go with.
So, while a traditional bathroom vanity may be about 48" or so, the vanity going into a mobile home may be half of that. This is due to the lower ceilings in a mobile home as well as the smaller size for the bathroom area.
So, if the entire vanity is only 24" in total, consider going with a mirror that is around 20" or so. Even better, the mirror doesn't need to be connected to the rest of the vanity. It can "float" above the cabinet itself, allowing for custom spacing and a cleaner, less connected look.
Selecting Hardware
Another important consideration for a mobile home bathroom vanity is in the choice of hardware. Not all hardware is created equally, either from a visual or functionality standpoint. Choosing the wrong hardware can make the entire cabinet look "off" and can ruin the entire aesthetic.
But just as importantly, the proper hardware should be completely functional. Hardware that is clunky to grip can make for a frustrating experience whenever something is needed in the drawers or cabinet space.
The two common forms of cabinetry hardware are knobs and pulls. These are meant to protect the finish of the cabinet in an important way. They protect the wood finish on the cabinets by keeping the oils from our hands from coming in contact.
For full-overlay and frameless cabinets, these are pieces of hardware are especially important because fingers won't be able to fit into the reveals of the cabinet. So, finding the right hardware is essential for creating the perfect bathroom vanity.
Do You Need to Hire Cabinet Installers?
Get free, zero-commitment quotes from pro contractors near you.
How to Find the Right Hardware
While each of the components of the bathroom vanity plays an important role in the entire structure, the hardware may be the most important piece. Choosing the wrong hardware can compromise the entire look and function of the vanity.
Here are a few helpful tips for ensuring that the right hardware is chosen for the vanity.
Step 1: Pull or Knob?
The very first step is to know what kind of hardware you want. There aren't any hard and fast rules about what to pick; it all comes down to visual appeal and functionality preferences. The great thing is that they don't have to be entirely uniform; they can be mixed, too.
Using pulls for drawers and knobs for the doors is a very common look that combines the best of both worlds. A good rule to follow, however, is that larger doors and pull-out doors should have pull hardware. This is more about functionality than it is about appearance.
For pulls, the way they are mounted is important, too. Vertical mounting could make it a more natural grip when opening drawers or doors versus a horizontal mounting. When using knobs, they can provide a smoother aesthetic but may be a bit more difficult to grip.
Step 2: Curved or Straight?
For the sake of this piece, let's say that the choice is pull. Now we have to get a little more nuanced and decide whether or not the hardware should be curved or straight. It is important that the hardware choice is consistent with the type of lines incorporated into the design.
Hardware that is most consistent with the rest of the design is important. For example, square cabinet styles – flat pane and shaker, primarily – will need square or flat style hardware to match the lines of that style cabinet.
On the flip side, there are curved cabinet styles like pillow-top doors, raised panel, recessed panel, and more. Finding curved hardware provides softer edges and tends to have a bit more detail to it than straight. It may seem like small things, but all of these factors can come together to make an aesthetic work.
Step 3: Think of the Finish
Now that we've considered the overall aesthetic considerations, finding the finish is the next step. We want all of the colors, shapes, and lines to come together to form a unified design. Most homeowners tend to go with either a brushed nickel or chrome for their finishes, but there are so many different available options to consider.
Another thing to remember is that the hardware doesn't have to match the faucet so long as it compliments any of the other finishes in the design. If the faucet is stainless or brushed nickel, there are complimentary finishes that can go along with it:
Bronze
Pewter
Stain Brass
Aluminum
Black Matte
Rust
For chrome, the options tend to look like this:
Black
White
Pewter
Clear glass
Dark Bronze
The choices will come together to provide a unique, unified design that ties in all of the components of the vanity together to look the way that you want.

Ryan Womeldorf
Ryan Womeldorf has more than a decade of experience writing. He loves to blog about construction, plumbing, and other home topics. Ryan also loves hockey and a lifelong Buffalo sports fan.
More by Ryan Womeldorf
Published September 28th, 2020 5:13 PM