345 Views
9 Best Alternatives To Shower Curtains (Must-See Options)
January 3rd, 2022 10:40 PM
Share
Shower curtains can bring beauty in home decor to a bathroom, but some problems lead people to search for alternatives. Like everything in the home, you have to weigh the pros and cons. Over time, the cons seem to take over in the decision-making.
Mold and mildew can take over a shower curtain causing foul odors and a slimy residue. Cleaning it can be a headache. So, what are the options if you want to change your shower curtain or go to something completely different?
Some alternatives people lean toward in upgrading their showers are glass doors, mirrors, wet rooms, hanging plants, and more. There are other types of material such as nylon, hemp, linen, bamboo, and bathroom window coverings. Window coverings have different items such as sheer curtains, shutters, roller panel blinds, and aluminum Venetian blinds.
There are tons of shower curtain alternatives out there to spruce up your bathroom space, many of which are considerably affordable. That said, take a look at these 9 options to inspire your next bathroom project.
Do You Need Glass Shower Door or Enclosure Installation?
Get free, zero-commitment quotes from pro contractors near you.
Reasons For Change
The two most significant reasons people change from shower curtains to something better are cleaning and quicker showers. It is easier to clean a solid surface than something that is always moving while you wash it. Showers are meant to be fast, but fighting with curtains takes up time if it keeps rubbing up against you.
Cleaning a shower curtain is great, but studies show they have more germs and bacteria than the toilet. In a survey of over 500 people, there was 60 percent more microbial life than on the toilet seat. It makes for an excellent reason to switch.
How about the ten rounds you go fighting with the curtain to keep it off of you? The heat from inside the shower will pull the curtain inward. As you fight with keeping your space, more water gets on the floor, defeating the purpose of having a curtain.
When you have decided to switch, there are several alternatives. We will cover each option giving its focal points to determine what works best for your bathroom.
Top Alternatives to Shower Curtains
1. Glass Door and Panel
Glass doors are the most convenient to clean because you can see clearly see from the inside and out. The perfect time to clean them is right after the shower before the water spots dry. All it takes is a quick towel wipe down as you are getting out of the shower.
There are glass and soap scum cleaners that make it quick and simple to clean once or twice a week. The best part is knowing all of the alternatives will not leave you fighting an endless battle with a curtain. They also are more durable and much longer.
The door and panels are sealed, so the water does not escape and ends up all over the floor. If there is a detachable showerhead, glass doors and panels work the best to keep the water inside. You can also request a special finished coating which helps in the cleaning process.
2. Mirror Shower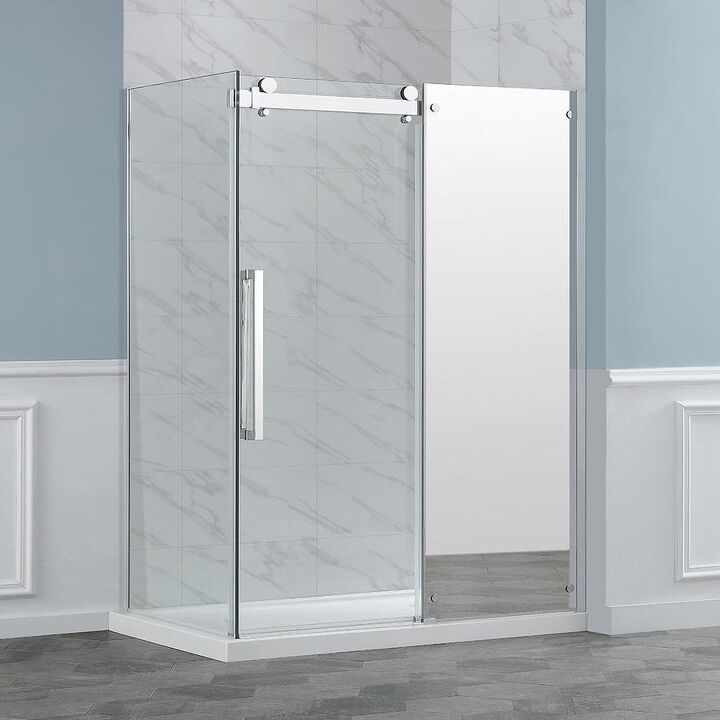 Mirror showers create an illusion that is easy to maintain and lasts as long as glass doors and panels. These work best for the small bathrooms that you want to make them look more prominent than the optics. It keeps all the water from splashing outside and has an elegant and modern look.
Like the see-through glass, you can clean it in the same manner. It also will keep you clean as the shower curtain will not meet and greet you while showering.
3. Wet Rooms
Sometimes the best alternative to a shower curtain is none at all. Wet rooms are the easiest alternative since there are no doors or curtains. To achieve a true open, doorless shower, there are a few things to keep in mind if you have the shower already in place. It always has to face the opposite direction from the entrance since there is nothing to catch the splashing water.
You should also have a step over to enter and exit the shower and catch the draining water. Another thing to keep in mind is having the floor slanting toward the drain. Sufficient space is required for this type of shower setup.
4. Hanging Plants
Hanging plants in place of a shower curtain works excellent for those who love organic fashion. Indoor plants can offer you the privacy you need and get the watering they require as you shower. This option is another way to take the time out of cleaning and make your life easier.
Having plants in place of a shower curtain will make it feel like you are in the rainforest. It offers an exotic feel with the suggestion of hanging the plants with handmade macrame hangers. Some great ideas for plants are spider ferns, ivy, or peace lily.
The Softer Options
It is true glass, mirrors, and solid shower panels with doors are more costly. Vinyl curtains took the place of cloth shower curtains, but people still use softer material due to the advantages. Cloth-based curtains are easier to clean over plastic by throwing them in the washing machine.
The difference is in the materials used, making them more efficient than the regular curtains. Privacy would be the main reason for using these alternatives over what is listed above. They all allow light to come in, but no one can see you on the other side of the curtain.
Listed below are the cloth alternatives to the regular shower curtains that are in most people's homes. These are not cheap store brand names but are the next alternative in upgrading from traditional ones. They also are more reliable and sturdier than what some people fight within the shower.
5. Nylon Curtains
Nylon is a material that can go into the washing machine on a delicate cycle and a preferred choice curtain. People choose nylon for various reasons such as color and design, nylon ties back easily, and matching the bathroom decor. The only downside is that it is not resistant to mold and mildew, so it often needs washing.
6. Hemp Curtains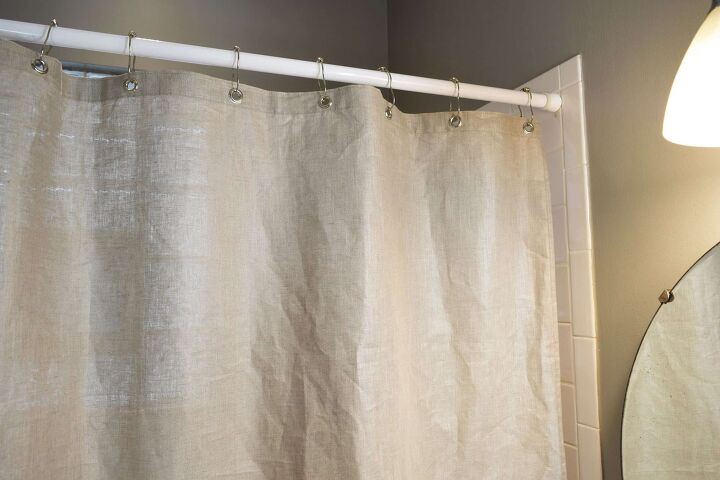 Hemp has exploded on the popularity charts for many reasons. Hemp shower curtains are made from plants, and people love organic material. The hemp plant is easier to maintain as it takes less water than cotton to irrigate.
Since it is organic, it is a healthier material to use than other PVC curtains. More on the plus sides, hemp is softer, bacteria, mold, mildew resistant, and machine washable. It also is a heavier curtain that keeps the water inside the shower instead of on the floor.
7. Bamboo Curtains
Bamboo curtains are an ecologically friendly way of going about getting the style and purpose of your shower. It is one of the most attractive of them all, and it goes with everything in the bathroom. Keep in mind, choose the bamboo treated to prevent water damage, rotting, and fungal growth.
The bamboo comes in a tied-together panel from the stalks, or it also comes in fibers for a tropical feel. It can either fold up, roll-up, or leave it wide open to dry when not in use.
8. Bathroom Window Coverings
Bathroom window coverings come in different options and make another great alternative to shower curtains. The following items fall under the category of your choices as you see fit.
Sheer curtains: Bathroom window curtains can go in place of a shower curtain. Some may have to be modified to fit, but they will make excellent matching decor for your bathroom.
Shutters: Shutters will bring about an antique look to your shower in the way they open and close. They can be made out of treated wood or any solid material with hinges.
Roller Panel Blinds: These are blinds that roll up and down with a metal or wooden rod. Some are tied up, while others have a mechanism to operate them with the pull and release of a string. They come in treated wood, plastic, or vinyl.
Aluminum Venetian Blinds: These are the old fashion blinds that go in between the window and the curtains to control the light. It also prevents viewing and can add to total privacy in the shower. Aluminum will not rust, so it is safe to use around water.
9. Macrame Shower Curtain Detailing
For a more unique, bohemian-style look, you can add some macramé to virtually any shower curtain or shower curtain alternative. The knotting technique lends a more relaxed look than traditional weaving styles. Pair it with some hanging macramé plants and earthy hues to really tie the space together.
Shower Screens vs. Shower Curtains
Oftentimes, the most obvious alternative to shower curtains is what's known as a shower screen. Bath shower screens are essentially panels that protect the rest of your bathroom from water splashes or leaks coming from the shower. They are attached to the wall and typically use some form of hinge mechanism to operate them. Although shower screens are commonly framed and made of glass, they come in many different variations.
Opt for a frameless bath shower screen for a fresh, modern look, which will effortlessly blend into the other elements of your bathroom. There are also numerous types of glass to choose from, from frosted to clear, in addition to styles that slide, fold, or curve based on your specifications. In fact, the range of shower screens available is so diverse that you're bound to find something that fits your needs.
The major advantage to shower screens is that they are nearly watertight and more effective than traditional curtains at preventing water from ending up your bathroom floor. While they are more expensive, shower screens last longer, look more appealing, and require less frequent maintenance. After all, shower curtains not only harbor mold and mildew easily, they are more susceptible to damage and will need replacing sooner than a screen.
Do You Need Glass Shower Door or Enclosure Installation?
Get free, zero-commitment quotes from pro contractors near you.
---
Related Questions
What if I don't want a shower curtain? Can I use just the liner?
Of course, the liner is thicker and usually has a magnet to hold it in place. Liners are see-through, so if you do not mind, it is at your discretion as you see fit. It will be effective enough at keeping the water inside, and it is not flimsy like the shower curtain by itself.
How do I tell which alternative to the shower curtain works the best?
Go for serving the purpose first, and then go for the look and style you want after. If you do not cross the outside of the shower or touch the wall, find the matching one for your bathroom.
Will all the alternatives work for any shower?
Ultimately, whether an alternative will work or not depends on the size of the shower and the size of the alternative. You have to check the dimensions before installing any given alternative. Some you may have to modify and cut to fit, while others will fit perfectly into place.

Upgraded Home Team
We are a team of passionate homeowners, home improvement pros, and DIY enthusiasts who enjoy sharing home improvement, housekeeping, decorating, and more with other homeowners! Whether you're looking for a step-by-step guide on fixing an appliance or the cost of installing a fence, we've here to help.
More by Upgraded Home Team
Published March 6th, 2021 4:37 AM