84 Views
Choosing a Bathroom Vanity Height: Types & Other Tips
April 20th, 2021 12:44 PM
Share
We're committed to finding, researching, and recommending the best products. We earn commissions from purchases you make using links in our articles. Learn more here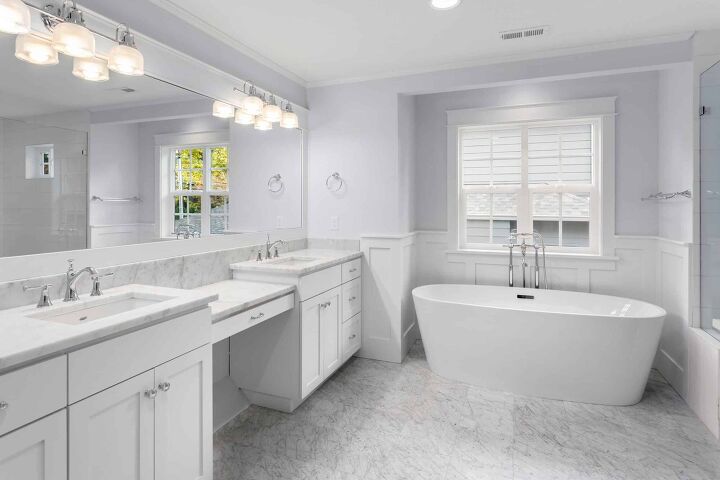 There are many different standards when it comes to how tall a bathroom vanity should be. Modern designs seem to prefer higher vanities while retro homes go the opposite way. At the end of the day, it comes down to what height makes you the most comfortable.
In general, your vanity should be at least 32" tall. Most vanities don't exceed 36" above the floor in terms of placement. Anything outside that range will cause quite some inconvenience.
In this article, we will go through everything you need to know about putting vanities in your bathroom. We will show you all the best products, inform you of the basic height requirements and take a look at installation costs.
Do You Need to Hire Cabinet Installers?
Get free, zero-commitment quotes from pro contractors near you.
Types of Bathroom Vanities
First thing first, let's take a look at some of the most popular types of bathroom vanities in the market. Some of the best bathroom vanity manufacturers in the US include Roberston, James Martin, and Virtu USA.
All these brands provide an extensive category with different finishes and designs. Nonetheless, any vanity you can find will fall into one of the three following categories:
1. Floating Vanities
Floating vanities, or wall-mounted vanities, are frequently seen in modern, minimalist bathrooms. They often have simple, contemporary, and elegant designs. Depending on the type of finish, floating vanities can create a delicate chic vibe in your bathroom.
We've collected three best-selling floating vanities for your reference:
Top 3 Best-Selling Floating Vanities
| | |
| --- | --- |
| Product Name | Features |
| Fresca Mezzo 60″ Teak Wall Hung Single Sink Modern Bathroom Vanity | Wooden cabinet. Plenty of counter space with a single sink. Comes with wall-mounted medicine cabinets. |
| VIGO 35-inch Single Bathroom Vanity | Contemporary style. Clean, white finish with grey wood-textured cabinet doors. |
| Virtu USA Opal 48 inch Double Sink Bathroom Vanity Set | Modern and sleek design. White ceramic top with dark cabinets. Plenty of space. |
When installing a floating vanity, the height is measured from the top of the sink to your bathroom floor. When installing, many homeowners will create a deep toe kick to avoid dust from collecting.
2. Freestanding Vanities
These are the most common vanities of all time. In short, freestanding vanities are made of a storage cabinet that stands on the floor and a sink on top of it. Usually, the bottom piece either has legs or features a kick plate base.
Take a look at the 3 best-selling freestanding vanities:
Top 3 Best-Selling Freestanding Vanities
| | |
| --- | --- |
| Product Name | Features |
| Distressed Rustic Farmhouse Bathroom Vanity | Vintage-style farmhouse design with three layers of drawers and a marble countertop. |
| Kendall Blue Bathroom Vanity, 48″, Vanity With Carrara Marble Top | Modern blue finish with plenty of storage space and a marble countertop. Made of a solid wood frame. |
| Charlotte Vanity, Chocolate, 60″, Quartz Top, Single Sink | Wooden frame and cabinet with a rack on the bottom. White ceramic top and chocolate finish creates a homey, contemporary look. |
3. Corner Vanities
Corner vanities have become more popular in the past years. They take up limited floor space without compromising storage space. They are tucked into a corner and are out of your way. They can also be used as lovely decoration pieces.
Top 3 Best-Selling Corner Vanities
| | |
| --- | --- |
| Product Name | Features |
| 24″ Thomasville Corner Bathroom Vanity | Featuring a quartz countertop, porcelain sink, and a steady body. Polished finish. |
| Classic-Style Bayview Corner Sink Vanity, 24″ | Brown vintage design and specifically designed for a smaller bathroom. White under mount porcelain sink. |
| 31″ Single Corner Bathroom Vanity | Utilizes your corner space with an innovative design. Recessed panels, scalloped feet, and a white finish. |
Most corner vanities use the same installation method as freestanding vanities. However, some newer brands also have wall-mounted corner vanities. These are perfect for those going with a futuristic look in their bathrooms with their more daring designs.
How Tall Should My Bathroom Vanity Be?
Now that you've taken a look at your choices when it comes to bathroom vanities, we can finally discuss the real question.
When it comes to the height of any furniture, the No.1 rule you should follow is convenience and comfort. In other words, your bathroom vanity should be as tall as you need it to be.
Traditional Standards
In most traditional homes, bathroom vanities are between 30" to 36" tall. A standard vanity is 32" tall. This height was decided because many modern housing plans after the Civil War had multiple bedrooms but only one bathroom.
That means children will be sharing the bathroom with the adults. Therefore, bathroom vanity height became quite essential unless the parents wanted to hear their child scream for help every time they used the bathroom.
The standard vanity height of 32" was determined that it was tall enough to not cause excessive bending for the adults. Meanwhile, it was short enough that a child could reach over the sink with a small stepping stool independently.
Modern Designs and Higher Vanities
Nowadays, bathroom vanities tend to go towards the higher end of the spectrum. If you are purchasing a wall-mounted vanity, then the height is 100% decided by your personal preferences.
Generally speaking, the most comfortable height for a bathroom vanity is 36". This height helps to prevent back pain caused by bending over while washing. Therefore, for homes with senior citizens, it is best to have at least one vanity at 36" tall.
The One Exception: Vessel Sink Vanities
Unlike most traditional vanities where the sink goes into the countertop, vessel sink vanities do the exact opposite. The sink, often designed in the shape of a bowl, goes on top of the vanity countertop, or directly over the cabinet.
Naturally, the height calculating method will be different for vessel sink vanities because the countertop is no longer at the same height as the brim of the sink. In many cases, the vessel sink is sold as an individual item and does not match with a standalone vanity at all.
While this gives you more freedom in terms of decoration, it certainly makes the calculation of vanity heights more complicated in this case.
How Tall Does a Vessel Sink Vanity Need To Be?
The easiest rule to follow? Any vanity that will later receive a vessel sink on top of it can't be more than 30" tall. This is because most vessel sinks are about 5-6" deep. Therefore, you simply minus the estimated sink depth from the comfort vanity height.
If you are going with the traditional value, then you'd be looking for a 25" tall vanity. In other words, you are searching for a vessel sink vanity base only. Unfortunately, nowadays there are only a handful of 24" vanity designs.
Therefore, if you are sharing the bathroom with children, it's best to go with more traditional vanity designs.
Then Why Would I Want a Vessel Sink?
There is no doubt that vessel sinks have advantages that kept them strong in the bathroom vanity competition. Below are a few benefits vessel sinks have:
Design: Vessel sinks definitely make your guests Wow. Their bold design brings life to your bathroom, and the variable choices of tops and cabinets also give you endless combinations.
Aesthetics: Did you know vessel sinks can make your bathroom look larger? That's because the matching vanity is a few inches shorter. This increases the distance between the sink and the ceiling and thus makes the bathroom look bigger.
More Counter Space: Not having the sink under-mounted into the vanity means you have the entire countertop to yourself. That is a lot of extra space if you think about it.
Flexibility: Same with the endless design possibilities, a vessel sink can be easily swapped out whenever you want without affecting the cabinet and the countertop.
Installation: Compared to under-mounted sinks, vessel sinks are much easier to install. Thus they are more friendly for homeowners who have less plumbing knowledge.
Measuring for a Bathroom Vanity
When it comes to vanity size, remember that height is only one-third of the game. To find the perfect bathroom vanity, you will need to know what width and depth your vanity should be as well.
Consider the below points when measuring for a vanity:
Traffic Flow: How many people will be in and out of the bathroom? Are they all adults? Elderlies? Children?
Plumbing: If there is a sink and a drain, then there needs to be plumbing. Try to find a vanity that wouldn't require any rerouting.
Existing Features: These mainly point to fixations, such as existing lights or outlets. Like plumbing, those can be expensive to move. If you are putting a vanity between two outlets, you will need to measure the distance for that.
An easier way to look at this is you are fitting a puzzle-piece in. You want the vanity to be the perfect width so nothing needs to be moved just so it could fit.
The Undiscussed Specs: Width and Depth
We've talked plenty about heights, so we might as well take a look at the depth and width of bathroom vanities.
Standard Vanity Widths
The most common vanity widths are 24, 30, 36, 48, 60, and 72 inches. Most single-sink vanities fall between 24" to 48", and most double-sink vanities are between 60" to 72" wide.
In recent years, 54-inch double-sink vanities have been gaining popularity. That is because many compact homes may want a double-sink vanity but don't have the space to house something 60" wide or more.
Also, always keep in mind that the countertop will be at least one inch wider than the cabinets.
Standard Vanity Depth
The standard bathroom vanity depth is 21". In the meantime, the vanities in the market vary from 17" to 24" deep. If you have a smaller bathroom, you should go with narrower and less deep vanities. They will provide sufficient storage space while allowing decent foot traffic.
Single Vanity vs. Double Vanity
Let's see. We've covered the designs available in the market. We've taken an in-depth look into the specifications as far as sizes go. What's there left before you can find your perfect bathroom vanity?
Yes. Models.
There are only two types of vanity models, single vanities and double vanities. Which one will suit you the best?
Surprisingly, your bathroom size alone is not enough to decide which model you should go with. There are other things you should think about.
For example:
Will there ever be two people using the vanity at the same time for any reason?
Do you care more about storage size? Because a large single vanity provides more storage space than a regular double vanity.
Do you need separate storage for each sink? If so, even if you have a large enough space, you may still want to get two single vanities instead of one double vanity.
Next, let's look at your options for each model.
Best Single Vanities in the market
Most single vanities are compact and designed for smaller bathrooms. However, in recent years we also see larger single vanities focusing on storage space winning the market.
We found the top 3 best-selling single vanities and put them into a comparison table below.
Top 3 Best-Selling Single Vanities
| | |
| --- | --- |
| Product Name | Specs |
| Arminta 42″ Single Bathroom Vanity Set | 37.5" H x 42" W x 22.5" D |
| 24" Vanity with Single Sink Top in White with White Ceramic Basin | 33.7" H x 24" W x 18.3" D |
| Caldwell 48″ Single Bathroom Vanity Set | 35.9" H x 22" D x 47.2" W (Base width) |
Best Double Vanities in the market
Most double vanities are meant for larger bathrooms. If you enjoy getting ready in the morning with someone you care about side-by-side, a double vanity will satisfy you to the fullest.
Again, take a look at the 3 best-selling double vanities we've found.
Top 3 Best-Selling Double Vanities
| | |
| --- | --- |
| Product Name | Specs |
| Vinnova 723060-GR-CA-NM Gela 60″ Double Vanity | 60" H x 36.1" W x 22" D |
| Hamilton 61 in. W x 22 in. D Double Bath Vanity in Ivory with Granite Vanity Top | 35" H x 61" W x 22" D |
| Finley 54″ Double Bathroom Vanity | 24" H x 19" D x 54" W |
Do You Need to Hire Cabinet Installers?
Get free, zero-commitment quotes from pro contractors near you.
---
Related Questions
How much does it cost to install a bathroom vanity?
Assuming you don't need any rerouting of electric wiring or plumbing, vanity installation should cost $200 to $1,000, or $100 to $150 per hour.
What are some of the factors that may increase my installation cost?
Removing a wall, installing new plumbing lines, and installing a backsplash.
Can I customize my bathroom vanity?
Yes, of course. You can always only purchase a vanity base and customize your countertops. Alternatively, you can customize a full vanity set. Although the latter can easily go over $2,500, not including the installation cost.With all this information, we know you will find your ideal vanity!

Upgraded Home Team
We are a team of passionate homeowners, home improvement pros, and DIY enthusiasts who enjoy sharing home improvement, housekeeping, decorating, and more with other homeowners! Whether you're looking for a step-by-step guide on fixing an appliance or the cost of installing a fence, we've here to help.
More by Upgraded Home Team
Published September 5th, 2020 8:46 PM