170 Views
19+ Types of Bathroom Vanity Tops (Top Materials & Styles)
December 20th, 2021 8:06 AM
Share
We're committed to finding, researching, and recommending the best products. We earn commissions from purchases you make using links in our articles. Learn more here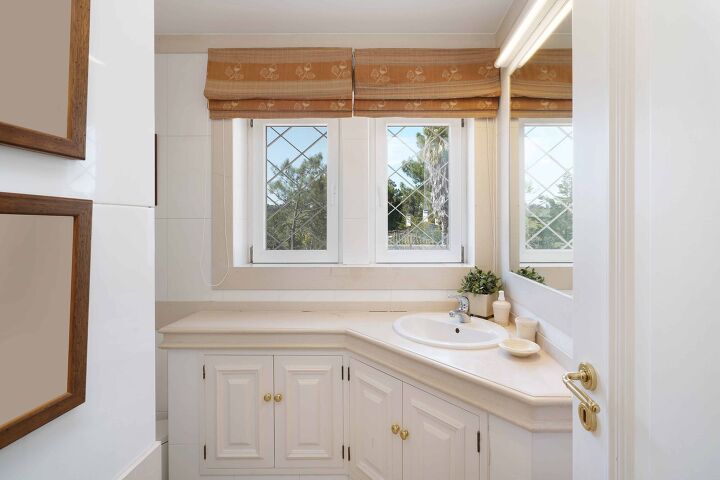 When it comes to remodeling or designing your bathroom, nothing makes quite the impact as the vanity countertop. The right bathroom vanity top can deliver sophistication, complement an existing theme, or bring the natural beauty of the outdoors inside, and so much more. It is, arguably, the most important feature in a bathroom.
Aside from being a focal point in the bathroom, vanity tops play a crucial role in both durability and functionality, as they must be able to stand up to soap, water, and various cosmetics and skincare products while also serving as a workspace in the morning and evening hours. As such, the bathroom is no place for fragile, absorbent, and easy-to-stain vanity tops.
Since the vanity top is a crucial bathroom component, it's important to know your options. Some of the most common materials used for vanity tops include laminate, natural stone, concrete, solid surface, composites, and butcher block. The surface that you choose for your bathroom countertops ultimately comes down to your individual taste and budget.
With that said, continue reading for our comprehensive guide that features 19 different bathroom vanity tops. That way, you can make an informed decision on which countertop construction material is best for your bathroom.
Natural Stone Bathroom Vanity Tops
Natural stone, regardless of the type, is considered a step above ceramic and porcelain tile as a vanity top material. There are many different types of natural stone used in the construction of countertops, including soapstone, limestone, slate, travertine, marble, granite, and onyx. A bathroom vanity top made of natural stone typically involves a thick solid slab with holes cut out for the sinks. Though, natural stone countertops can also be designed as tiles, similar to how ceramic tile tops are created.
Whenever you want your bathroom to exude luxury, opt for natural stone. While a natural stone vanity top is ideal for a master or guest bathroom, it may not be best suited for family bathrooms that see heavy use. While most natural stone countertops come with the benefits of durability, beauty, and some level of stain resistance, each type of stone has its own individual pros and cons. Let's take a look at some of the most common natural stone materials used for vanity tops:
1. Slate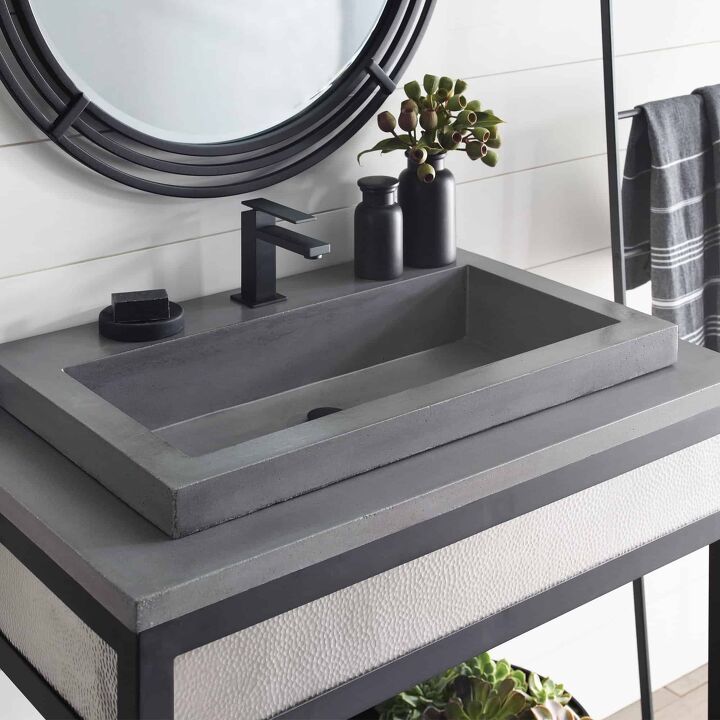 Slate is an excellent vanity top material to choose from, as it resists stains and is slightly less porous than marble or granite. It has a subtle shift in coloration that is less dramatic than both marble and granite, which makes it easier to have countertops with a more uniform look to them. Slate comes in gorgeous shades of gray, charcoal, black, brown, and pewter, with some that contain hints of red, blue, or green.
Although you won't see as distinct differences between slate slabs as you would with other natural stone materials, each vanity top piece is unique. Slate is also exceptionally durable and hardy, which makes it an appealing material to use in both the bathroom or kitchen. It doesn't scratch or chip easily and can withstand heat well. Solid slabs of slate can be purchased for approximately $50 to $75 a square foot, which is quite a bit more affordable than their pricier marble and granite counterparts.
Pros of Slate Vanity Tops
Affordable when compared to many other natural stone materials
Non-porous, meaning it cleans up well, is resistant to stains, and won't absorb liquids
Durable, scratch-resistant and heat-resistant
Uniform appearance
Cons of Slate Vanity Tops
Tend to have sharp and brittle corners
More subdued style than other alternatives
2. Soapstone
Another natural stone material, soapstone has a milky appearance with slight veining on the surface which gives it a rustic appeal. It has been used for centuries in the construction of countertops. Made out of quarried stone, soapstone is a steatite stone that contains magnesite, dolomite, and chlorite.
The exceptional amount of warmth in soapstone is what makes it a popular material for countertops in country-style homes. Though, it will also work well with a variety of styles – from traditional to eclectic to contemporary.
The colors of soapstone range from almost pure white with minor marbling to a nearly solid charcoal gray, with a pleasing array of pearls, grays, whites, and off-whites in between. Although soapstone is not as durable as granite, it is more pliable which means it is less brittle and less susceptible to cracking under pressure. Not to mention, it is even more non-porous than sandstone, granite, and even slate.
Pros of Soapstone Vanity Tops
Versatility, works well with many different home design styles
Non-porous – less likely to stain than other natural stones
Easy to clean
Doesn't need to be sealed
Cons of Soapstone Vanity Tops
Fairly soft stone, meaning you should be careful not to cut or drop heavy items on it
Requires periodic oiling
Limited in color – from white to charcoal
3. Limestone
Although it's somewhat rare to be used in bathrooms, limestone is an exceptionally durable stone that can work in both kitchens and bathrooms. The material has increased in popularity in recent years because it has a striking resemblance to marble, with a slightly lower price tag.
One of the major advantages to using this type of natural stone is that it will complement virtually any space. It can add value to your home and create a sophisticated look as a vanity top in your bathroom.
Unlike many other natural stones, limestone does require a bit of maintenance. It is relatively porous, which means limestone countertops need to be sealed frequently in order to prevent stains. It also doesn't hold up well to heat and is susceptible to scratching and cracking. Though, this may not be much of an issue for your bathroom as you won't be doing any cutting or placing hot pots on the countertop.
Pros of Limestone Vanity Tops
Elegant, sophisticated beauty
Historical significance of being used in the construction of the Lincoln Memorial the Parthenon and even the Great Pyramid
Works well with many home styles
Resembles marble and is a cheaper alternative
Cons of Limestone Vanity Tops
Requires frequent sealing
Susceptible to staining, cracking, and scratching
Does not stand up to heat well
4. Travertine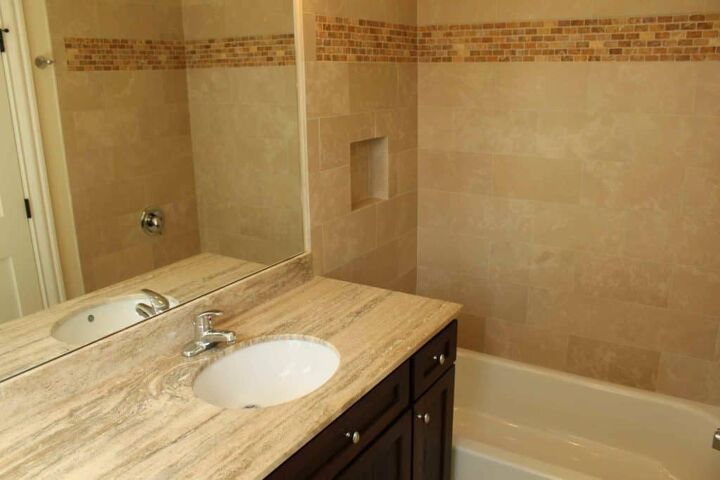 Travertine is a close relative of limestone and, like its cousin, isn't commonly used for bathroom countertops due to its softness. Although it scratches more easily than marble or granite, that does not mean it isn't a viable material for bathroom vanity tops. In fact, the warm earthy tones found in travertine make it ideal for those who seek a tranquil, relaxed atmosphere in their bathroom. While it isn't particularly durable, it's highly unlikely that you'll damage a travertine countertop with normal everyday bathroom use.
Since travertine is porous it must be sealed annually, and if it is not done, stains and bacteria can seep into the stone. This material is easily susceptible to scratching, even when sealed. One of the major benefits of travertine is the price, as you can expect to spend around $50 per square foot for a solid slab. However, it's more typical to find both travertine and limestone countertops made from tiles rather than slabs.
The disadvantages that come with travertine are most prevalent in areas that are heavily trafficked. As a result, you should avoid putting travertine countertops in a kitchen that sees heavy use. Though, they tend to work well in most bathrooms, as they won't be subjected to the same conditions that you will find in a kitchen.
Pros of Travertine Vanity Tops
Natural, unique visual appeal
Highly reflective natural which can add brightness to your bathroom
Easier to cut than other materials
Versatility – can be found as a slab or tiles
Cons of Travertine Vanity Tops
Highly reactive to acids
Frequent sealing is crucial
Soft and porous nature, increasing the risk of etching, scratching, and other damage
Sensitive to heat
5. Marble
Of all the natural stones to choose from, marble is one of the most stunning. It is a comprehensively veined metamorphic stone that comes in a virtually infinity number of patterns and colors. Marble is commonly used in areas that require beauty and elegance, rather than strength.
Since it is a relatively soft, porous material that is weaker than granite, it's ideal for areas that won't see the same stress and abuse found in kitchens. As a result, marble is a wonderful choice for bathroom vanity tops provided that you seal it regularly.
Marble must be sealed every year or two to prevent bacteria and stains from soaking into the stone. Like travertine, the stone is easily etched by acids and harsh cleaners. Though, if you experience severe etching, true marble can be resurfaced, but this is not the case with cultured marble. While marble isn't recommended for use in the kitchen, it is heat resistant. Fortunately, you won't have to worry about a styling tool marring the marble vanity top in your bathroom.
The primary reason the marble continues to be so in demand is due to its spectacular looks. This stone comes in a range of wonderful colors that includes solid black, solid white, and also yellow, rose, green, gray, black, and white spectrums. You'll also enjoy the benefit of a completely unique piece in your bathroom, as no two slabs are the same.
Pros of Marble Vanity Tops
Striking beauty and elegance
Uniqueness, as no two slabs are the same
Heat-resistance
Cons of Marble Vanity Tops
Incredibly porous
Requires frequent sealing
Susceptible to etching, scratching, staining, chipping, and cracking
Not recommended for use in the kitchen
7. Granite
Granite has a rich beauty that is unmatched by other alternative vanity top materials. Although considered to be on par with marble, granite typically has less veining and more flecks of varying colors throughout a slab. Due to the versatility and availability of this stone, granite is considered the most popular natural stone used for countertops. Like marble, each granite slab is unique with colors and patterns that range from subtle to bold.
The material is very durable and stands up to normal wear and tear, especially scratches. Though, granite is not a stone you'll want to use as a work surface because it will dull your knife blades. It also resists heat, which means placing a hot hair tool on it in the bathroom won't be an issue. However, you will have to frequently seal your granite surfaces in order to ensure that it is resistant to stains and doesn't absorb liquids.
Choosing granite for your bathroom will make the vanity top become the focal point of the room, significantly improving the visual appeal of the space. The beauty of granite does come at a price, as you can expect to spend over $100 a square foot, but prices as high as $250 a square foot are also common.
Pros of Granite Vanity Tops
Timeless and gorgeous appeal
Not susceptible to scratching
Resistant to heat
Cons of Granite Vanity Tops
Requires sealing to be stain resistant
If not sealed correctly or if the seal wears off, the material can absorb bacteria and other liquids
Dulls knife blades
Heavy objects can crack or chip corners
Expensive
11 Other Bathroom Countertop Options
Laminate Bathroom Vanity Tops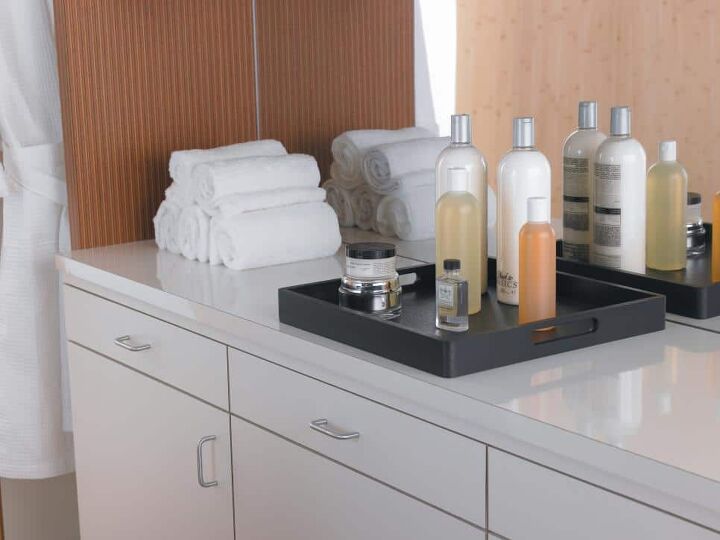 Laminate is a very economical choice for bathroom vanity tops. They also come in a wide array of finishes that are intended to convincingly appear like real wood, marble, granite, and even leather. Because of its versatility, laminate is a popular choice for vanity top material. Solid laminate countertops are constructed from layers of plastic, adhered to a particleboard (MDF) core.
Although laminate is relatively stain-resistant, stands up to water, and is resilient in regards to chips and cracks, the material is susceptible to burning, denting, and dulling. These countertops can be found as stock pieces, which can be cut or fit by virtually anyone. They can also be custom-made by fabricators who construct the countertop based on your specifications, creating a designer laminate with custom edges and other features.
You can expect to spend between $10 and $20 a square foot for prefabricated laminate countertops right off of the shelf. If you opt to have the laminate vanity top custom made, you'll pay around $30 to $65 a square foot. Laminate tops are ideal for guest bathrooms, but not for master bathrooms or any other areas where style is a top priority. Though, they can be a "quick fix" when you're looking to remodel your bathroom under a time constraint, like when you're telling to sell your home.
Pros of Laminate Vanity Tops
A very cost-effective countertop material
Comes in a wide range of patterns and colors
DIY friendly installation (prefabricated varieties)
Cons of Laminate Vanity Tops
Custom-made tops require professional installation
Often seen as a low-cost, bargain choice
Very lightweight – does not possess the significant heft of other materials
Quartz Bathroom Vanity Tops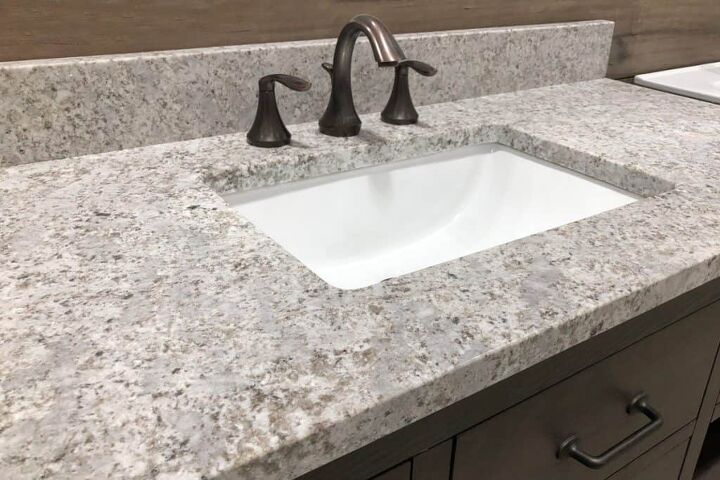 Although granite has been the most popular choice for countertops for many years, quartz is starting to rise in popularity among both homeowners and designers. In fact, quartz is one of the most durable and abundant minerals on the planet. While quartz is a natural stone, quartz countertops are a man-made material. They consist of roughly 95% natural quartz chips and dust that is bonded together with the use of resins. Then, pigment is incorporated to give color to the stone.
The manufacturing process of quartz allows for a much wider range of colors than you'd find with other natural stones. Popular brand names for quartz include Cambria, Caesarstone, and Silestone. One of the major benefits of quartz is that it is more durable than granite and does not require sealing because it naturally resists staining, bacteria, and moisture.
There are very few disadvantages that come with this manufactured stone product, which is why it's so popular. However, one of the main concerns tends to be the price. You can expect quartz countertops to cost around $115 to $200 a square foot – a price that rivals high-end granite and marble.
Pros of Quartz Vanity Tops
Non-porous and does not require sealing
Wide range of colors and styles
More durable and less brittle than other natural stones
Coloring is more uniform than natural stone
Rich, luxurious finish
Won't chip or crack easily
Cons of Quartz Vanity Tops
High price point
Not as resistant to heat as granite
Seams may be visible
Concrete Bathroom Vanity Tops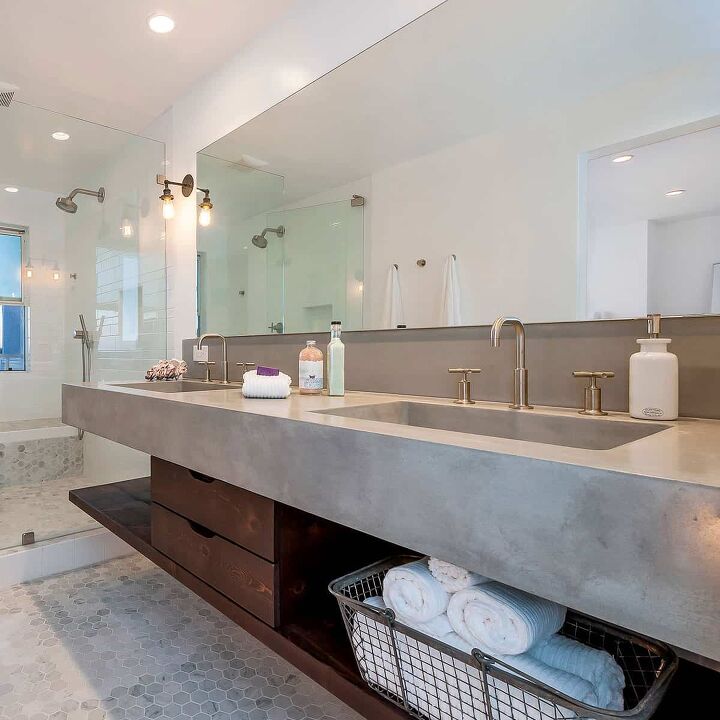 While it may not be your first choice when it comes to vanity top material, concrete is currently a very popular trend in countertops. When used as a countertop, concrete is not the boring course gray slab that you see in sidewalks and driveways. Instead, the surface is highly polished and may even be texturized, in some designs. Some designers even embed stone, tile, or bits of glass into the concrete during production.
When compared to the other bathroom vanity top options, concrete tends to be one of the more expensive choices. Though it's more affordable than high-end granite, you can expect to spend between $75 and $100 a square foot for your concrete countertop to be fabricated and installed. They are an excellent choice if you want to make an exceptional design space in your bathroom. And, unlike natural stone, that will work well in heavy-use family bathrooms.
Pros of Concrete Bathroom Vanity Tops
An "on-trend" choice for countertop material
Typically a strong selling point
Exceptionally strong and durable
Cons of Concrete Bathroom Vanity Tops
Not DIY-friendly – concrete countertops must be made and installed by professionals
Repair is generally not an option – when cracks occur replacement is the only option
Concrete countertops require a special, experienced contractor
Solid Surface Bathroom Vanity Tops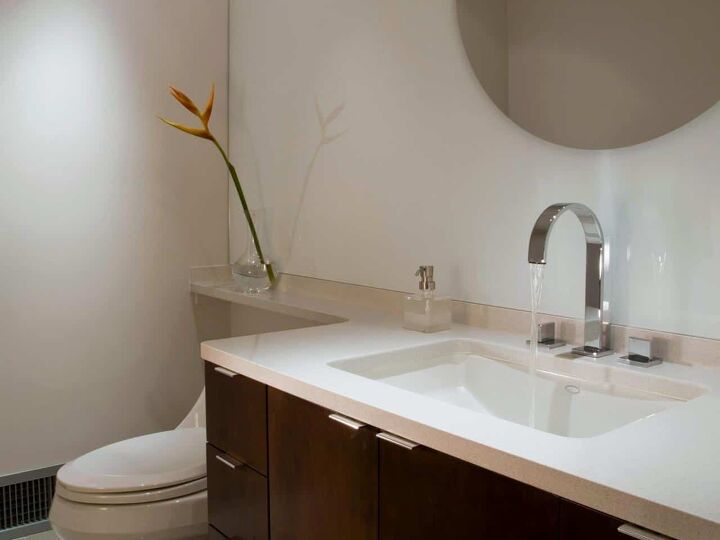 A solid surface is constructed out of a blend of acrylic and polyester particles that are bonded using resins. What results is a countertop material that resembles natural stone and can be molded into a number of different shapes, including countertops that incorporate sink basins in the design. Solid surface vanity tops come in a range of styles and colors and are produced by many manufacturers including Swanstone, Corian, and Silestone, to name a few.
These "faux stone" countertop materials have essentially replaced the "cultured marble" plastic materials that once ruled the bathroom vanity top market. Solid surface used to be considered a premium building material, but now sits between natural stone and quartz on the upper end and laminate on the lower. Fortunately, a solid surface is an easy-to-care-for material that is resistant to staining and can be easily repaired as needed.
As a result, these countertops are ideal for heavy-use bathrooms, such as those used by small children. They can also serve as a quick solution when you're remodeling a bathroom to prepare for listing your home for sale. Solid surface bathroom vanity tops will generally run you between $45 and $75 a square foot, manufactured and installed to your requirements.
Pros of Solid Stone Bathroom Vanity Tops
Can be molded into seamless countertops, even to create those that include sink basins
Material is easy to maintain
Stain-resistant
Can be easily sanded and repaired, as needed
Patterns, colors, and styles are consistent – no issues with matching pieces
Cons of Solid Stone Bathroom Vanity Tops
Has a somewhat artificial stone-like appearance
Lacks the elegance of natural stone
Limited DIY options
Not widely available for purchase by homeowners
Material is not heat resistant
Ceramic/ Porcelain Tile Bathroom Vanity Tops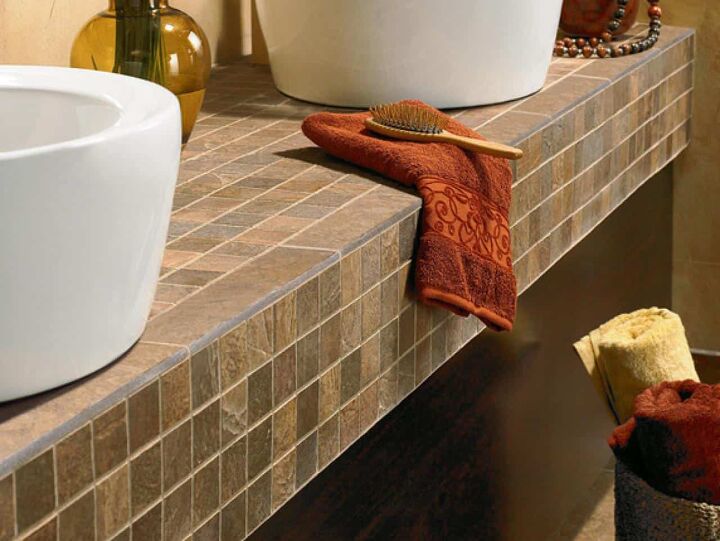 Ceramic, porcelain, and even glass tiles are very traditional materials that are commonly used in traditional décor. Though, thanks to recent innovations, they are often found in trendy, contemporary designs as well – especially the porcelain variety. Conventional ceramic tiles are constructed out of clay and a surface glaze, which are heated with fire to become hardened. Porcelain, on the other hand, is a form of ceramic that is made out of finer clays and is fired under much higher temperatures.
As a result, porcelain tends to be a much denser and more durable material than ceramic, making it ideal for both countertops and flooring. Another major benefit of porcelain is that it can imitate other materials, such as leather and wood. This gives you virtually endless design possibilities. Although glass tiles are not technically the same as ceramics, they have a relatively similar installation process. Glass tiles also offer even more style and design options.
Pros of Ceramic/ Porcelain Tile Bathroom Vanity Tops
Ceramic tiles are relatively DIY-friendly to install
Tile is considered affordable
A premium countertop option
Nearly endless design options to choose from
Cons of Ceramic/ Porcelain Tile Bathroom Vanity Tops
Tile tends to be brittle and can break under impact
Grout lines are susceptible to staining and discoloring
Grout also requires frequent cleaning and resealing
Composite Bathroom Vanity Tops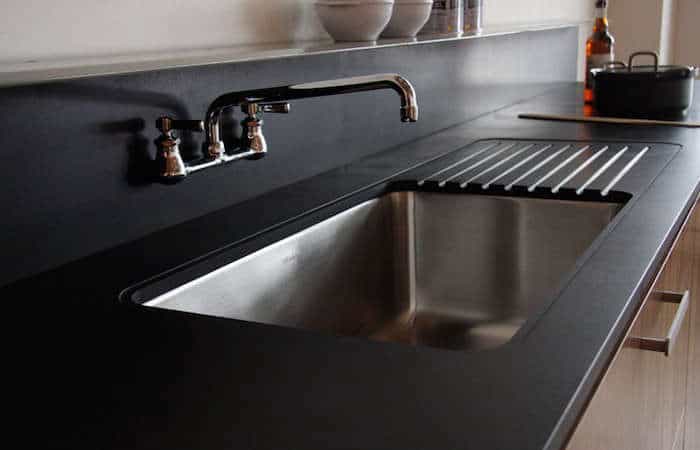 Countertops made out of composite materials look and perform like solid surfaces. Though, you likely are unaware of the fact that most of them are made out of paper. Aside from being water-resistant, the surface of composite countertops resists stain, bacteria, heat, and scratches. Most types can actually resist heat of up to 350 degrees. In fact, composite countertops are used in a variety of industrial applications, so they will work well in any bathroom you have.
They are warm to the touch, which offers a rich, natural appeal that gets better with age. Like wood, composite surfaces will darken over time due to sunlight exposure and oxidation. While many see this as a benefit, you can slow the process by using an ultraviolet seal. The material is available in a wide range of earthy tones – from denim blue to chocolate brown.
Composite countertops are an eco-friendly bathroom vanity top material, made from natural fibers and resin as a binder. In fact, they are one of the greenest options out there. These countertops are made from recycled materials or other types of material that would've otherwise gone to waste. Most manufacturers use non-petroleum or water-based phenolic resins, steering clear of harmful VOCs. Although the countertops themselves are not recyclable, they can be recut and retooled for future applications.
Pros of Composite Bathroom Vanity Tops
Eco-friendly countertop material
Warm, earthy look
Darkens over time to form a beautiful patina
Incredibly durable – suitable for industrial applications
Resistant to stains, water, heat, and scratching
Cons of Composite Bathroom Vanity Tops
Slightly artificial appearance – won't ever look exactly like natural stone
Tempered Glass Bathroom Vanity Tops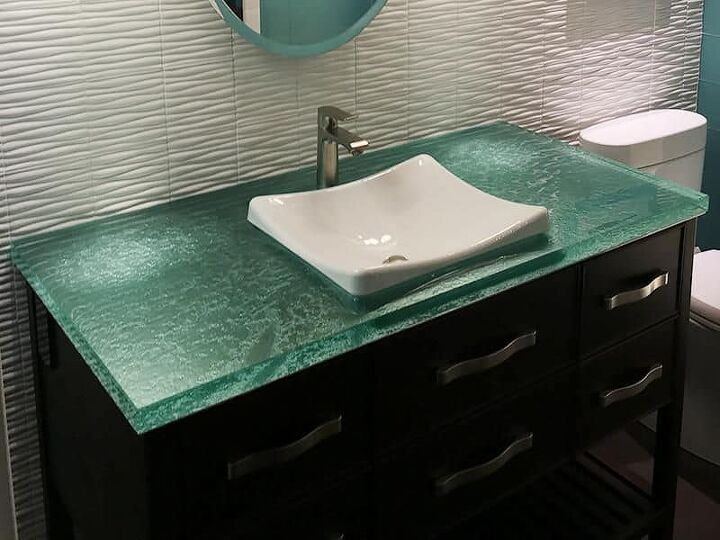 Believe it or not, tempered glass countertops are one of the most versatile materials that you can use in your bathroom. They are available in a wide range of colors, styles, and textures. Its versatility makes glass countertops pair well with just about any home décor. Tempered glass countertops are incredibly strong and often feature a formed-in sink.
The material is resistant to staining, scratching, and bacteria. It's also one of the easiest countertop materials to clean – simply wipe it down with a quality glass cleaner or your preferred cleanser. Unlike many other vanity top materials on this list, you don't have to seal tempered glass. You also don't have to worry about etching caused by harsh cleansers or acidic liquids.
You can expect to pay approximately $50 a square for tempered glass countertops. Though, the price varies considerably based on the source and your particular design choices.
Pros of Tempered Glass Bathroom Vanity Tops
Extremely durable
Won't show visible wear or discoloration over time
Heat resistant – don't have to worry about shrinkage or warping
Easy to clean
Stain-resistant, scratch-resistant, and non-porous
Doesn't need to be sealed
Those that are made out of recycled materials are eco-friendly
Cons of Tempered Glass Bathroom Vanity Tops
Shows fingerprints (opt for textured glass to eliminate this problem)
Heavy objects can chip, dent, or crack the surface
Challenging and costly to repair
Recycled Glass Bathroom Vanity Tops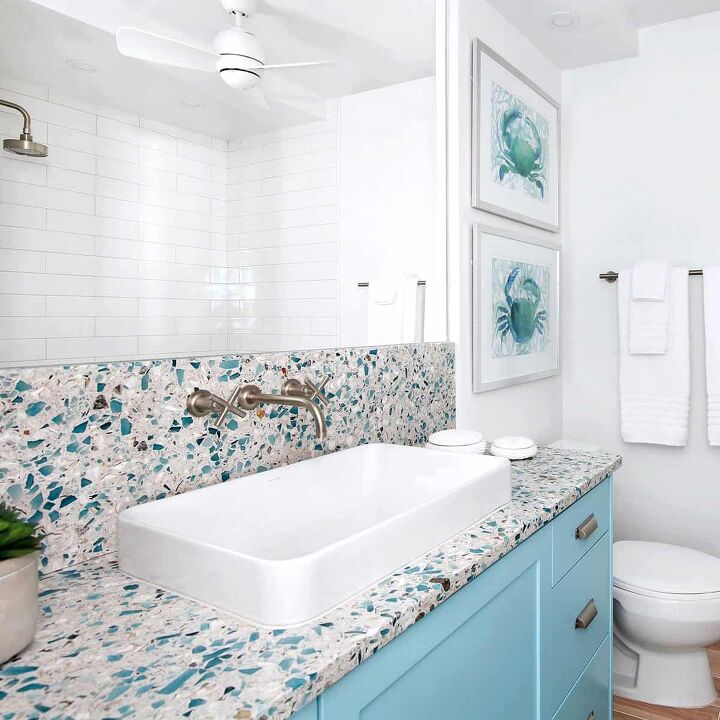 Recycled glass countertops are made out of, as the name suggests, recycled crushed glass that is embedded in either concrete or clear acrylic. Though they are a relatively new innovation, they are growing in popularity and can make gorgeous centerpieces in your bathroom or kitchen. When used as a bathroom vanity top, recycled glass lends a trendy designer charm. Since they are custom-made, no two recycled glass countertops are alike.
Based on your preferences and the glass that's used, you can have your recycled glass vanity top to be traditional, or more modern in appearance. These types of countertops generally range from $50 to $100 a square foot installed. The price will depend on the glass used and the specific style. Recycled glass vanity tops are ideal for high-end bathrooms, or those where style is an important factor.
Pros of Recycled Glass Vanity Tops
Very durable, strong countertops – particularly when they made using acrylic
Acrylic-based recycled glass countertops are easy to clean
Eco-friendly – made from recycled glass
A wide range of styles available
Cons of Recycled Glass Vanity Tops
Types that involve concrete can be somewhat brittle
When cracks occur (more common with concrete) the countertop cannot be easily repaired
Concrete types are susceptible to staining if not frequently sealed
Stainless Steel Bathroom Vanity Tops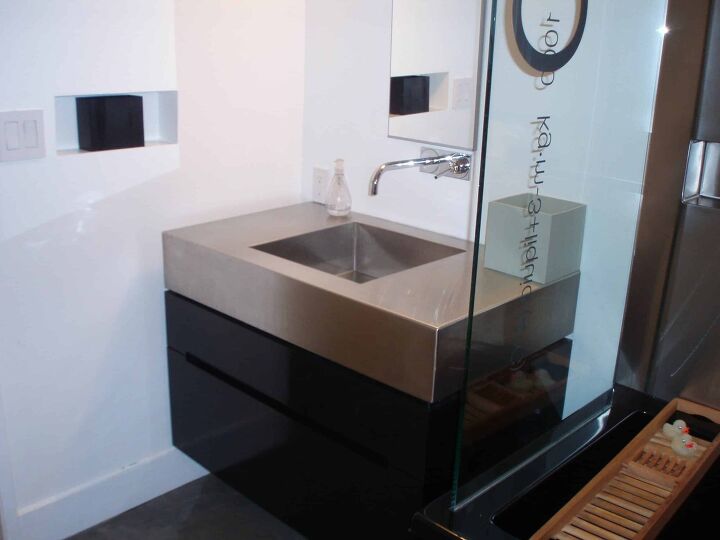 Though typically more common in kitchens, stainless steel vanity countertops are slowly making their way to bathrooms – especially for those who are looking to achieve that sleek, stylish, industrial design. Stainless steel works well in both contemporary and traditional décor, as varying finishes and shapes can offer a unique look that pairs well with virtually any design. The major benefit of stainless steel for bathroom vanity tops is that it offers clean, simple beauty.
Though, many choose the material because of its durability. Like tempered glass, stainless steel is non-porous so you'll never have to worry about moisture or bacteria seeping into the material. There is also no risk of staining or etching from acidic liquids or harsh chemicals. With that said, there's a reason why stainless steel is the most popular material used for countertops in commercial kitchens.
However, stainless steel does tend to scratch and dent easily. It also shows fingerprints, but they can be easily cleaned away. While stainless steel vanity tops aren't necessarily pricey, the high-quality version that is recommended for your vanity top can be quite expensive.
Pros of Stainless Steel Bathroom Vanity Tops
Non-porous – resistant to moisture, bacteria, and staining
Doesn't need to be sealed
No risk of etching from harsh cleaners
Offers industrial quality strength
Sleek, modern design
Cons of Stainless Steel Bathroom Vanity Tops
Susceptible to scratching and denting
Relatively expensive
Butcher Block Bathroom Vanity Tops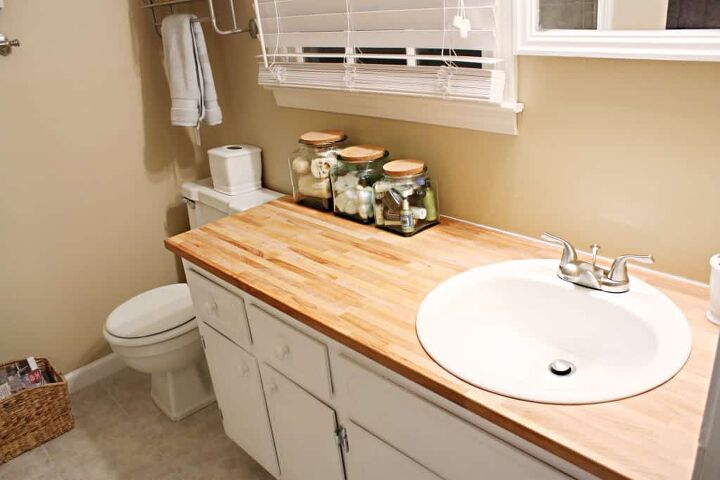 Butcher block bathroom vanity tops consist of individual strips of wood that are fused together to create a sleek, seamless slab. It is a trendy, yet timeless material used for kitchen countertops and a unique choice for the bathroom. Aside from creating a warm, country-style vibe, butcher block countertops are one of the most affordable options. They'll typically cost you between $20 and $60 a square foot, which is cheaper than nearly all of the alternatives.
You can save even more money by handling the installation yourself, as butcher block countertops are very DIY-friendly. They are also easy to clean with a bit of soap and water, or vinegar to both clean and disinfect. Butcher block bathroom vanity tops offer flexibility, as you can choose the particular hue and pattern you want by selecting the hardwood and grain.
Though, one of the major drawbacks to this material is that it's incredibly sensitive to liquid. Wood is notorious for harboring bacteria, staining, warping, and even growing mold when exposed to moisture. To avoid these necessary effects, you'll need to seal your butcher block vanity top on a monthly basis after the initial installation sealing.
Assuming that you install, seal, and clean your butcher block countertops properly, the surface should last you approximately 20 years, and possibly longer.
Pros of Butcher Block Bathroom Vanity Tops
Flexibility – you can pick the wood and wood grain to achieve your desired look
Lasts a couple of decades
Very sensitive to liquid – susceptible to bacteria, warping, staining, and mold
One of the most affordable choices
Easy to clean
Cons of Butcher Block Bathroom Vanity Tops
Tends to ding easily
More vulnerable to scratching
Expands and contracts with temperature changes
Reclaimed Wood Bathroom Vanity Tops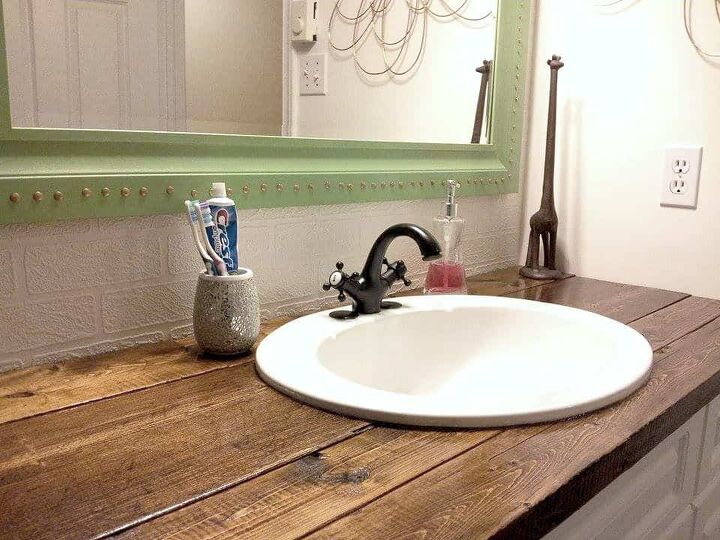 Reclaimed wood, on the other hand, refers to wood that takes on a second life as your bathroom vanity top (or kitchen countertops) after being repurposed from a barn, warehouse, factory, or other structure. The major benefit of opting for a reclaimed wood vanity top is that it's sustainable. Unlike natural stone, wood is a renewable resource and when you used reclaimed wood you are recycling a renewable resource – arguably the eco-friendliest countertop material.
The material offers a unique weathered look, which can give your bathroom an aged, historical charm. Reclaimed wood is also very durable, and since it's already spent years withstanding the elements it is even stronger than a strong "new" wood plank. Since old structures use a range of different wood species, you have many options to choose from. Plus, there are even species that can only be found as reclaimed wood.
Pros of Reclaimed Wood Bathroom Vanity Tops
Incredibly stable, strong, and durable
Offers a unique rustic, traditional look
Arguably the most sustainable countertop material
Range of options to choose from
Cons of Reclaimed Wood Bathroom Vanity Tops
Reclaimed wood is an infinite supply
More expensive than newly sourced wood
Previous wood treatments may be toxic
More Related Guides

Jessica Stone
Jessica considers herself a home improvement and design enthusiast. She grew up surrounded by constant home improvement projects and owes most of what she knows to helping her dad renovate her childhood home. Being a Los Angeles resident, Jessica spends a lot of her time looking for her next DIY project and sharing her love for home design.
More by Jessica Stone
Published March 23rd, 2021 5:27 PM