772 Views
What is the Average Bedroom Size? (with Drawings)
November 17th, 2022 11:04 AM
Share
We're committed to finding, researching, and recommending the best products. We earn commissions from purchases you make using links in our articles. Learn more here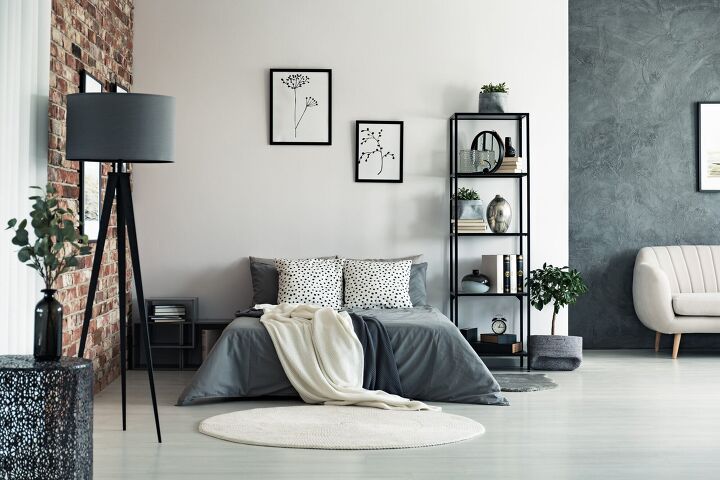 It's never easy to plan a dream home or even pick out an existing one, especially when you don't know what dimensions you should look out for. Bedrooms are huge selling points in any house, and it is important to find one that is spacious and comfortable. With that size, what is the average bedroom size?
The average bedroom size is 132 square feet, or 11' x 12'. A 132 square foot bedroom can comfortably fit a queen or king-size bed, and they are the standard for 2,500 square foot homes. Small bedrooms generally measure 10' x 10' and large bedrooms measure 12' x 12' or more.
Nothing is worse than getting stuck with a tiny, cramped, and uncomfortable bedroom. Comfort is king, and it is ideal to build or buy a home with a bedroom that suits your needs. Follow along as we explore the factors that affect the average bedroom size.
What is the Standard Bedroom Size?
The standard bedroom size is 132 square feet, and that is considered suitable for children and adults. You can fit a queen-sized bed in a standard bedroom, but it will be difficult to fit a king, although it is possible. Codes require that there must be enough space in a standard bedroom to fit a bed.
That is why you rarely find bedrooms that measure less than 120 square feet. A bedroom is not considered habitable if it is smaller than 70 square feet and has less than 7 feet of space in each direction. You must add another 50 square feet of space for each additional person that inhabits the bedroom.
Standard bedrooms measure 11' x 12', and that gives enough space in each direction. However, the dimensions vary based on the design and are acceptable as long as there is enough space for each person that inhabits the room.
Standard Bedroom Size with Twin Bed
A twin-size bed has dimensions of 38 inches wide by 75 inches long. In order to comfortably fit a twin bed or bunk bed, the minimum room size must be 7 feet by 9 feet. Though, this will likely not accommodate additional furniture, so a 7 foot by 10-foot room may be required for this purpose.
This will allow for extra furniture items like a dresser or a nightstand, and also adequate clearance around the bed to get around. Though, for best results, a bedroom with a twin-sized bed should have a minimum floor plan of 86 square feet (pictured above).
Standard Bedroom Size with Two Twin Beds
Often used for shared kids' bedrooms or college dorm rooms, these types of rooms must allow for a minimum clearance of 30 inches around any open edges of a twin bed. For enhanced comfortability, the clearance should be increased to 36 inches.
Depending on the specific clearances and the furniture you intend to place in the bedroom, standard bedrooms sizes can vary. However, for a bedroom, guest room, or dormitory with two twin beds, the space should be at least 117 square feet.
Standard Bedroom Size with Full Bed
Full size beds measure 53 inches wide by 75 inches long and are a great starter mattress for recent grads or young adults that are living on their own for the first time. Oftentimes referred to as a double, this bed has the same length as a twin bed but is 16 inches wider. Full beds aren't recommended for couples who share the bed with children or pets, but are the ideal choice for guest bedrooms.
Minimum clearance for full size beds is 30 inches, while comfortable clearance is 36 inches. Whenever possible, like most situations, the preference is for greater clearances with full size beds. Bedrooms with full size beds should be a minimum of 97 square feet. For maximum comfort and to allow space for a closet, the room should be between 118 and 121 square feet.
Standard Bedroom Size with Queen Bed
Measured at 60 inches wide by 80 inches long, queen beds are the most popular mattress size on the market. They are traditionally used in master bedrooms and offer plenty of space for couples or simply individuals who enjoy a bit of extra space to move around. Recommended clearances around the perimeter of a queen bed are 30 inches minimum, but 36 inches for maximum comfortability.
For minimum clearance, bedrooms with queen beds should be approximately 106 square feet. To allow space for a closet and a desk, the bedroom can be between 128 and 131 square feet. Whenever possible, the greater the clearance, the better.
Standard Bedroom Size with King Bed
King beds measure 76 inches wide by 80 inches long, and are the ideal choice for couples who share a bed with children or just enjoy their space. A kid bed can be created by putting two twin size beds together – called a split king. These mattresses are large enough that both users can sprawl out comfortably with plenty of room to spare.
Again, minimum clearances are 30 inches, while comfortable clearance is 36 inches around the perimeter of the King bed. Because of the common luxury associate with king beds, it is highly recommended to opt for larger clearances. Bedrooms that feature king beds should be a minimum of 119 square feet. Though, for optimal bed clearance and closet space, these bedrooms can be between 141 and 147 square feet.
Standard Bedroom Size with California King Bed
Measuring 72 inches wide by 84 inches long, the California King bed is the largest mattress on the market. The generous length makes this bed ideal for taller people, especially those that stand over six feet tall. Of course, individuals of average height can still benefit from a California king bed, especially those who share the bed with other people or pets.
These types of beds are best suited for large master bedroom spaces. Although minimum clearance around the perimeter of a California king bed is 30 inches, 36 inches is recommended. Bedrooms with California king bed should be at least 120 square feet, or between 143 and 147 square feet to optimize comfort and additional space in the room.
Master Bedroom Dimensions
Master bedrooms generally measure between 200 and 400 square feet. The average master bedroom measures 14' x 18, 14' x 20', or 15' x 18'. However, there is more freedom when it comes to master bedrooms because the large space means that it will always be inhabitable.
A master bedroom can even measure 11' x 24', and there is no shortage of options if you design the home yourself. You can upgrade a standard bedroom to a master bedroom if you increase the dimensions, and it is an expensive project. It costs an average of $60,000 to upgrade a standard bedroom to a master bedroom.
| | |
| --- | --- |
| Home Size | Average Master Bedroom Dimensions |
| 2,000 square feet | 230 square feet |
| 2,000 to 3,000 square feet | 270 square feet |
| Over 3,000 square feet | 400 square feet |
In regards to ceiling height, the room must have a height of 7 feet in order to be habitable. Though, for best results with a master bedroom, you'll want the ceiling to be at least 7 feet 6 inches high.
Average Kids Bedroom Size
A kid's bedroom is generally smaller than standard or master bedrooms. Typically, a child's bedroom can measure between 50 and 150 square feet. They are usually one-half or even one-third of the size of the master bedroom.
The size of a kid's room may differ quite a bit depending on the bed. For instance, if you decide to use a full-size bed instead of a twin, you'll want the room to be at least 11 feet by 11 feet to have adequate clearance. Or, if you also want additional furniture in the space, you should consider allowing 12 feet by 12 feet.
These rooms usually only take up about 17% of the total size of the home. Though kids' rooms are usually limited on space, if your children share a room you can maximize the space by using bunk beds. Children over five years old are fond of bunk beds and can use them safely.
Average Guest Bedroom Size
When you're planning the layout of your home, you also want to consider the size of your guest bedrooms. Although these rooms are smaller than the master bedroom, guest rooms are usually bigger than a kids' room. In most cases, they feature either a full-size bed or a queen-size bed.
Unlike other bedrooms, the size of a guest bedroom can vary substantially and some homes don't even have one. The average size of a guest bedroom is around 250 square feet, however, larger homes or massive estates could have guest bedrooms almost as big as a standard-sized master bedroom.
Average Bedroom Size for Apartments
The standard size of an apartment bedroom will vary based on the city and state it's located in. It can also depend on whether you're purchasing an average size apartment or the penthouse of a high rise. For instance, in populous cities, bedrooms tend to be much smaller than in cities with comparatively low populations.
This has to do with the lack of available square footage in cities. Square footage is at a premium in locations like Los Angeles, New York, San Francisco, and other major metropolitan areas. However, apartment bedrooms, on average, measure at 11 feet by 12 feet.
How Small is Too Small?
In some instances, you may not have a lot of space to work with to begin with and be forced to make each room as small as you can feasibly get away with. Your best course of action is to get the smallest bed that you are comfortable with and make sure that it doesn't consume any more than half of the bedroom.
For example, a full-size bed is under 30 square feet and would not bode well in a room that is less than 60 square feet. Meanwhile, an 8-foot by 8-foot bedroom would be very small for a bed this size, but may work for a tiny home. You also have other options like futons and sleeper sofas. These allow you to fold the bed away when not in use and take advantage of more floor space during daylight hours.
What About Bedroom Shape?
While it's most common to find bedrooms in a rectangle or square shape, you may still see bedrooms in other shapes. In most cases, it's easiest to organize and furnish a space that is square and you'll likely have more difficulty with a bedroom of any other shape – which can impact usable space.

Jessica Stone
Jessica considers herself a home improvement and design enthusiast. She grew up surrounded by constant home improvement projects and owes most of what she knows to helping her dad renovate her childhood home. Being a Los Angeles resident, Jessica spends a lot of her time looking for her next DIY project and sharing her love for home design.
More by Jessica Stone
Published June 20th, 2021 3:15 PM