298 Views
What Size Mirror For A 36 Inch Vanity? (Find Out Now!)
December 20th, 2021 8:24 AM
Share
We're committed to finding, researching, and recommending the best products. We earn commissions from purchases you make using links in our articles. Learn more here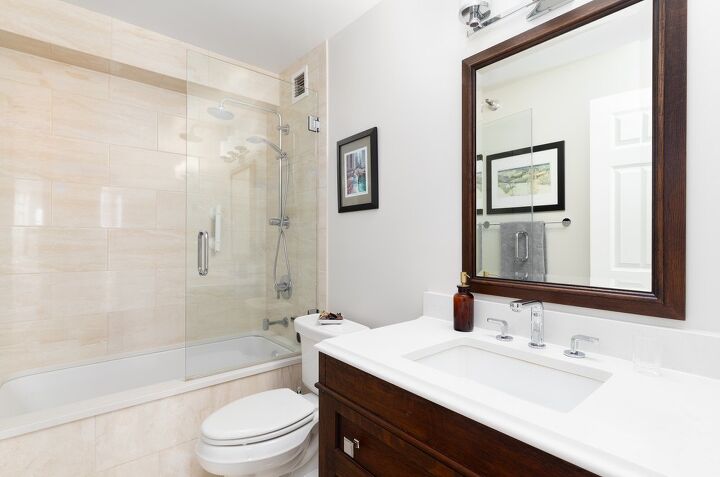 Mirror size and placement relating to your vanity can make or break your room's aesthetic. That's why it's so important to get the right fit for your space. If you have a 36-inch vanity that needs a mirror to accompany it, you're in the right place.
For a 36-inch vanity, your mirror should generally be 32 inches wide at the most. This will leave two inches of space on either side. The height of the mirror can vary but can be as tall as you please as long as you leave room between the top of the mirror and the ceiling.
Let's look at more of the specificities that come along with finding the right mirror for your vanity, so you can get the best option for your own.
Do You Need Mirror Installation or Replacement?
Get free, zero-commitment quotes from pro contractors near you.
Width of Your Vanity Mirror
As a rule of thumb, you should leave approximately two to four inches of space on either side of your vanity when measuring for the mirror that will be placed above it. That said, you are more than welcome to have the mirror extend beyond the edge of your vanity. At the end of the day, it is all up to you and your style.
Height of Vanity Mirrors
If you want a longer vanity mirror, be sure it does not reach all the way to the ceiling. You should generally leave about five inches of space between the top of the mirror and the base of the ceiling. Other than that, it can vary in height depending on the size of your bathroom and the placement of your light fixtures.
Mirror Shapes
The type of mirror you install will also impact its size and the way it sits over your vanity. There are countless mirror shapes you can use, including a plethora of custom shapes and antique mirrors. Here, we'll just be briefly talking about some of the most common options you can choose.
Rectangular Mirrors
A 36-inch vanity will be a single vanity, which means it has only one sink. A rectangular mirror can be installed both horizontally and vertically over a single vanity depending on your preferences for your space.
Square Mirrors
The dimensions of your square mirror will be 36 x 36 (inches) and will usually be smaller than their circular or rectangular counterparts. This makes them effective for smaller bathrooms as you can still get the functional mirror space you need while keeping unsightly things—toilet, laundry baskets, etc.—out of the reflection.
Round Mirrors
Round mirrors can either be a circle or an oval. Oval mirrors are great for narrow spaces and can be installed horizontally or vertically. These types of mirrors typically offer a more elegant look for your space.
Circle mirrors often create a dynamic contrast between the other angular pieces in your room. They should be installed directly over the sink to ensure they are completely centered over the vanity.
Hexagonal/Octagonal Mirrors
If you're looking for a more geometric option, hexagonal and octagonal mirrors are great choices. When measuring for a mirror like this, be sure to go from to point that will stick out the furthest to the left and right. You can install these types of mirrors both horizontally and vertically.
Additional Considerations
Before you jump into installing your vanity mirror, be sure to consider these last few things to ensure you get the job done right…
Cabinets and Shelving
If your mirror is going to be on the same wall as any. wall-mounted shelving or cabinetry, keep at least a couple inches away from them.
Mirror Frames
When measuring your mirror, be sure to account for the size of any large frames that may go around it to ensure proper measurements.
Lighting Options
If you use sconce lighting on the sides of the mirror, the mirror itself will be narrower than usual so the lights are above the vanity.
If you already have vanity lighting installed, you may need to reconsider the height of your mirror. That is, unless you want to rewire the lighting, too.
Vanity Placement
The placement of your vanity on the wall will impact the width of your mirror as well. The mirror should always be a few inches away from adjacent walls to ensure the aesthetic is just right.
---
Related Questions
What are the dimensions of a 36-inch vanity?
If you have a 36-inch vanity, it will generally be 22 inches deep and 35 inches high. The measurement of 36 inches refers to the width of the vanity. The vanity's height may vary slightly depending on the thickness of your countertop material.
What are the different types of vanities?
There are a wide range of different types, including free-standing units, floating vanities, vessels, pedestal sink vanities, under-mounted sink vanities, cabinets, makeup vanities, and many more.
Do You Need Mirror Installation or Replacement?
Get free, zero-commitment quotes from pro contractors near you.
Final Thoughts
Choosing the right size mirror for your vanity can save you a lot of trouble in the long run. For starters, you won't have to waste time and money replacing the mirror or removing the vanity itself.
Furthermore, the right mirror-to-vanity ratio can make your space appear larger and more put together. And that is a bonus for any room in your home.
Related Guide

Kerry Souder
I am a copywriter and editor based in the Las Vegas area with nearly a decade of experience under my belt writing landing pages, cost guides, blog posts, newsletters, case studies, and social media content. I have a degree in Strategic Communication and experience working in both the account and creative spheres. My goal is to always be discovering new interests and bettering myself as a writer and editor along the way.
More by Kerry Souder
Published October 8th, 2021 12:42 PM