22 Views
What Furniture Goes With Dark Wood Floors?
May 11th, 2022 5:20 PM
Share
We're committed to finding, researching, and recommending the best products. We earn commissions from purchases you make using links in our articles. Learn more here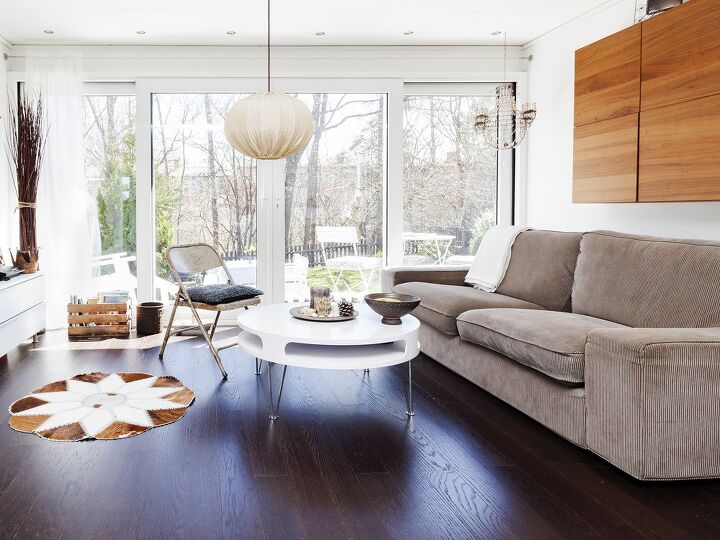 With dark wood floors, you can couple almost every color of the furniture, which includes different wood tones. However, there are several factors to consider, such as wall color and the ambiance you want to create in the space.
Many different colored furniture goes with dark wood floors such as white, light, light, medium, and dark wood, yellow, blue, violet, brown, gray, black, different prints or patterns tan, and purple. Lightweight and shinier colors will help to freshen up a dark room, whereas darker colors will create a cozier atmosphere to welcome your guests.
Below, we will take you through some of the top furniture color choices when you match them to dark hardwood floors. Let's get started!
White
If you do have dark wood floors, white furniture is a great option to consider. The light furniture contrasts nicely with the dark floors and gives the room a spotless, fresh, modern appearance.
White couches and chairs look great with darker colors walls, but they provide a powerful and flexible color combination for you to start introducing any other stylish touches. This also allows you to incorporate the different colors you want through decorative pillows and other decor.
Light Wood
With dark wood floors, you can match almost any tone of wood you want, but the light wood, in particular, looks especially nice.
Choosing a light wood for a side table, hutch, or couch legs will make the best harmony to your dark wood floors. It makes it so the room doesn't feel so dark, yet you're keeping up with the wood theme of your home.
Medium Wood
A medium-toned wood also looks great with dark wood floors. Your couch's wooden legs can focus on providing just enough contrast even against dark floors and walls. In such a dark space, a darker tint of wood would not have done as well.
Dark Wood
When you choose the necessary components, dark wood furniture can be an excellent option for your living room.
A unified, coordinated look can be achieved by trying to match your wood furniture items to the accurate color of your dark hardwood floors. And if you pair the dark wood with a light couch, rug, and walls, it won't feel too overwhelming.
Yellow
Another effective color for lightening up a room of dark wood floors is yellow. A yellow sofa can add a bright splash of color to the living room.
This color of the couch's frame and legs fit the dark oak floors, allowing them to fade into the background and allow the color to stand out.
Blue
Blue looks great with darkened wood floors. A nice dark blue velvet sofa softens the space, but any color of blue could be matched with dark wood floors.
Consider a lighter shade if your walls are dark, and a darker tone if your walls are light. Providing contrast with blues will keep the room open while making it appealing to the eye.
Violet
Dark wood floors are the ideal backdrop for vibrant colors like a stunning shade of violet. If you want to create a room that is both formal and fun, choose a couch in vibrant color.
Another instance in which trying to match the furniture feet to the floor allows the appearance of the sofa to stand out. The dark floor provides a beautiful base for this.
Brown
Combine brown furniture with dark wood floors for a rustic look. A nice leather couch and chair's medium tone is a lighter shade than the flooring, but a softer tan also would work well.
You can also choose a darker brown, such as chocolate, but keep in mind that darker furniture may blend in with dark floors or start creating more darkness in the room than you'd like.
Gray
Gray may be the correct option for your furniture if you're going to look for a neutral option. A gray couch would complement the dark wood floors in a contemporary, minimalist living room. Consider white as well as lighter shades of wood when pairing darker-colored furniture with dark floors.
A skylight and a wide range of light-colored components are advantageous when selecting dark wood flooring.
The muted colors of the couch, the naked appearance of the bench at the foot, the chandelier, the coffered ceiling, and the stone wall make this one more relaxing and homier. The fireplace adds to the rustic and moody feel of a dark wooden floor living room.
Black
If you have dark flooring but want to add a black desk or another piece of black furniture, you may be concerned that the two will be too dark together.
Placing a light-colored rug beneath the table or even other dark home furnishings piece will quickly solve this problem while also adding some contrast to the room.
There is nothing wrong with black furniture on dark hardwood floors, as long as you add a few contrasting colors to the room!
Mix
When decorating a room with dark wood floors, you shouldn't have to stick to one color of furniture.
For example, you could choose furniture that is teal, black, and silver. While these don't sound like they match, throw in a neutral shade of curtain and it will tie the whole room together.
Plains and Prints
Choosing dark for the wood floors has advantages and disadvantages. One requirement is that it still has a softer fixture to perk up the home.
Choosing brilliant pastel colors is often a good idea. The vibrant color of red and a patterned throw pillow are infused in this idea to start serving as an accent piece to this room full of neutrals. When pursuing an idea like this, do not second-guess incorporating red tones into your organic space.
Tan
A large floor plan would make dark wood floors beneficial because it draws attention to it. If you have a home with a large bay window, let in plenty of natural daylight.
Natural lighting can help make the entire space feel warm and inviting. Combining that with a rebalancing of muffled neutrals like tan is a great idea.
Purple
Dark wood floors make an excellent backdrop for vibrant colors such as purple. Use a couch in a bright purple to create a fun but classy look, or throw in a few shades of purple for a space that would be both graceful and lively. This would match the home furnishings legs to the floor, enabling the sofa's color to stand out.
Is Dark Wood Flooring Out Of Style?
Hardwood flooring is always in style. No matter what color you choose, hardwood flooring is a wise investment.
Though the trend may shift forward into lighter shades each year and greige colors a next, dark wood floor has always been a viable option.
When selecting floors for your home, consider what will work the best with your wall surfaces, furniture, and preferred overall look instead of the latest fad, which can change at any time.
Flooring is a long-term commitment that cannot be changed as easily as a sectional sofa or paint job, so choose an option that you can live with in the long run. You can't go wrong with any shade of wood, regardless if it is light, dark, or somewhere in between.
Can You Put Light Wood Furniture on Dark Wood Floors?
Light wood furniture complements dark wood floors beautifully. The light color creates a nice comparison and can brighten up a dark room.
When selecting light wood furniture to complement your dark wood floors, look for pieces that are the same shade of wood. This will result in a classic, synchronized look that is always popular and fashionable.
Should All Furniture Be the Same Color?
It is not necessary for all of your furniture to be the same color. You can mix color schemes, wood shades, or both for a truly eclectic look.
If you want to mix colors and are not really sure where to begin, choose two or three that you believe will complement each other. Then, carry those colors through all of the room's extras, such as decorative pillows, drapes, rugs, and artwork.
By tying the various shades of your furniture together in this way, it will appear they all match, even though this may not the whole truth.
Should Furniture Be Darker Or Lighter Than Floor?
It is primarily determined by the coloring of your floor on whether your furniture should be darker or lighter. For example, if you do have dark oak floors, it is much better to choose lighter-colored furniture and provide contrast.
If you do have light-colored floors, you should choose dark-colored furniture. That isn't always the case, as it depends on the whole decor of your interior.
Because the contrast is one of the most important rules of any design or color scheme, it is one of the most important ideas for trying to coordinate wood floors with furniture. Darker wood floors can really make lighter wood furniture pop and look fantastic.
Light hardwood, on the other hand, complements darker furniture perfectly. Interior spaces that lack contrast can become monotonous, and smaller objects can easily become lost in the space.
The color and visual appeal of smaller decorative elements and furniture can be absorbed by darker flooring. As a general rule, lighter floors complement more nuanced furnishings, while darker floors complement heavier objects. This will assist you in maintaining consistency in the space, allowing everything to flourish.
Should All Furniture Match The Same Color?
Your furniture does have to be the same color. Bright colors, wood tones, and perhaps both can be used to create a truly unique atmosphere.
If you really want to merge colors but aren't sure where to start, pick two or three that you think will complement each other.
Then, use similar colors in other elements of the room, such as decorative pillows, drapes, rugs, and paintings.
Trying to combine the various colors of your home furnishings in this manner creates the illusion that the different components were intended for one another. You can even go so far as to use paint color to help align the design of the room.
Is Light Wood Furniture On Dark Wood Floors A Good Idea?
Pairing light hardwood with dark wood flooring creates a comfortable, inviting, and elegant atmosphere in a room. The light color creates a pleasing contrast and may help to brighten up a dimly lit environment.
When buying light wood furniture to go with your dark hardwood floors, look for portions that are the same color as the wood. As a result, you'll have an ageless, coherent, and consistent visual style that never lose its charm.

Heather Robbins
Heather is a passionate writer who loves anything DIY. Growing up, she learned everything from home repairs to design, and wants to share her tips with you. When she's not writing, she's usually hiking or searching for her next DIY project.
More by Heather Robbins
Published May 11th, 2022 5:20 PM