212 Views
What Color Hardware With Cherry Cabinets?
March 4th, 2022 3:49 PM
Share
We're committed to finding, researching, and recommending the best products. We earn commissions from purchases you make using links in our articles. Learn more here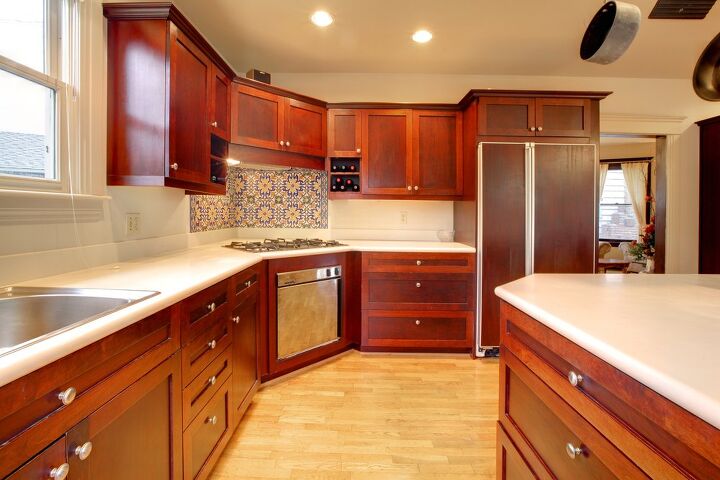 Cherry cabinets have been a rustic, traditional, and modern kitchen design for years. This highly popular hardwood is known for its unique aging process and can match a variety of colors. The stunning warm color variations make it possible to pair many different hardware options to keep your cherry cabinets modern.
Cherry cabinets are a popular choice for kitchens that go with bronze, white, green-gold, brushed nickel, and steel-colored hardware. Their versatility allows you to experiment with various hardware styles and colors. Choosing different materials, from glass to wood, for your hardware will complement your cherry cabinets and provide a unique look.
Cherry cabinets will not be leaving kitchen designs anytime soon since it is a beautiful, timeless wood. Finding ways to make your cherry cabinets stand out is as simple as the hardware you choose.
Do You Need an Interior Decorator?
Get free, zero-commitment quotes from pro contractors near you.
Why Is Cabinet Hardware So Important?
The right cabinet hardware can make a big difference in your kitchen. If you want it to pick up the tones in the wood or even coordinate with your appliances, there are options. Cherry cabinets are popular right now, but many homeowners wonder which hardware will work with darker wood.
You can use your hardware to bring out all sorts of tones and colors in the cherry wood. Certain hardware can blend in or complement the colors in the rest of your kitchen. From faucets to knobs and handles, you'll likely find that hardware plays a big role.
From the proper placement of knobs to a simple color that may pull everything together, hardware is important. When you pick your color and style, you set a whole new boundary in your kitchen. The style can go from drab and plain to unique and stylish with a simple twist and a pull.
What Is The Best Color Hardware With Cherry Cabinets?
1. Bronze Hardware
Bronze hardware tends to be darker, similar to cherry cabinetry, but the orange-red effect of bronze gives a unique look. Combining bronze hardware with cherry cabinets accentuates the warm, natural, color of the wood. A bronze luster of knobs against a red, darker cherry gives the room a bit of sophistication and elegance.
Bronze is as natural as they come with the pure brushed effect; it can bring out many other features.
2. White Hardware With Cherry Cabinets
Using two tones that contrast with each other is as easy as pairing any light color versus a dark color. White and cherry wood are a complementary contrast that brings a popular effect into your kitchen. Of course, white tends to go with everything, but it is a flawless upgrade with cherry wood.
White is a timeless choice to go along with timeless cherry cabinets. You can never go wrong with white. Opting for white faucets, white handles, and white knobs can bring the whole picture together.
3. Green And Gold Hardware With Cherry Cabinets
One would not think that green and gold go together, but these contrasting colors are the talk of the town. It is a unique blend of warm and cool coloring that initially pulls the warmer colors out of cherry wood cabinets. The gold can shine brilliantly, while the green gives an earthy warmer feel.
Combining these colors with cherry cabinets is sure to give your room an earthy feel. It is rustic and unique.
4. Brushed Nickel Hardware With Cherry Cabinets
Brushed nickel is a pure, subtle, and softer color that can complement your cherry cabinets. It has a natural, clean look that people use in many kitchens, not just for hardware. Some appliances can look similar to brushed nickel to complement a variety of hardware and furniture.
Brushed nickel is a manufactured coloring that looks like steel that has been rubbed or painted. It is a simple and sophisticated look that goes well with almost all cabinets, especially cherry.
5. Steel Hardware With Cherry Cabinets
Steel is often an easy and inexpensive choice for most homeowners. Most appliances range from white to steel, and matching hardware would make your cherry cabinets stand out. Steel, like brushed nickel, will keep your kitchen up to date with its ageless durability.
If you want strong, dependable, and durable hardware that will withstand years of use, steel is a good choice. Handles, doorknobs, and cabinet fixtures are among the most popular pieces of hardware to buy. You can not go wrong when choosing steel, and it is a popular choice to use in a lot of newer or upgraded homes.
More Hardware Ideas That Go With Cherry Cabinets
In choosing cherry cabinets, you add a unique and timeless element to your kitchen. Cherry is a darker color of wood with a red or dark brown undertone. People use it for a variety of home goods but mainly cabinets.
With its dark complexion, cherry can actually mesh with quite a few varieties of hardware, not just the ones listed above. You can go as far as to choose something as simple as glass or wooden handles. With various colors and stains, you can make your hardware just as unique as your cabinets.
Glass Hardware And Cherry Cabinets
Glass is not always a practical choice, but it is unique. If you choose to have glass hardware, you might find it difficult not to make your kitchen look dated. That being said, glass can come in many designs and colors.
Colors and design are what make a room unique. If you choose colored glass hardware to complement cherry wood, you can do no wrong. With a variety of colors to choose from, you can match your kitchen design and aesthetic with a color of your choice.
From blue, green, beige, to even black, picking out glass hardware can be a piece of cake. You may also decide to go with clear, a classic choice that will give your space the light it may need.
Wooden Hardware And Cherry Cabinets
The beauty of wood on wood is that you can pick and choose any color, style, or design you prefer. There's a wide variety of choices and a vast selection of stains or paints you can choose from. Choosing a color from your wall or backsplash can do wonders for bringing your cherry cabinets into your work.
You can also choose to have cherry or stain unfinished wooden knobs cherry for a blend like no other. Choosing cherry hardware with cherry cabinets will give your kitchen a flawless look without breaking in color or viewpoint.
Cherry cabinets may look intimidating, but there are more choices of hardware than you can imagine. When choosing your hardware to go with cherry cabinets, it can be a practice in trial and error. But you must find something that works for you and your design.
Do You Need an Interior Decorator?
Get free, zero-commitment quotes from pro contractors near you.
---
Related Questions
What fixtures go with cherry cabinets?
Fixtures can be anything from appliances to lights and faucets. The most obvious choice for many is stainless steel. Stainless steel is a durable and complementary style that goes with anything and everything. Whether your walls are blue or pink or have cherry cabinets, stainless steel matches.Steel faucets and lights can give the room an incredible cohesive bond that brings out any color in cherry cabinets. Many even use stainless steel in hardware due to its durability and easy cleaning background.
Are dark, cherry cabinets out of style?
Though many find cherry an old wood, it is actually a popular choice for kitchens and bathrooms. It is a strong hardwood that can withstand use and damage. There is a rise in using dark cabinets in modern homes since it gives the appeal of a sophisticated time.Color does seem to matter, but you can find a simple variety of cherry wood used in cabinets. Since it is a timeless color, cherry wood will be sticking around for some time to come.

Stacy Randall
Stacy Randall is a wife, mother, and freelance writer from NOLA that has always had a love for DIY projects, home organization, and making spaces beautiful. Together with her husband, she has been spending the last several years lovingly renovating her grandparent's former home, making it their own and learning a lot about life along the way.
More by Stacy Randall
Published January 22nd, 2022 5:33 PM