104 Views
What Color Should I Paint My Kitchen With Cherry Cabinets?
December 13th, 2021 2:22 PM
Share
We're committed to finding, researching, and recommending the best products. We earn commissions from purchases you make using links in our articles. Learn more here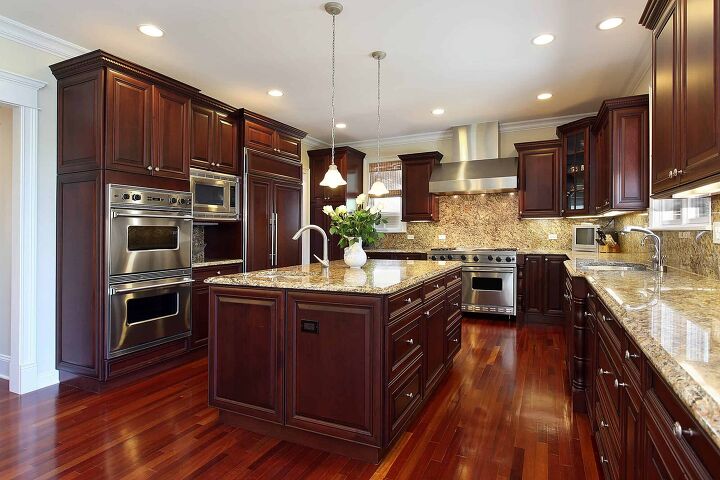 When it comes to kitchen design, very few things will make as much an impact as the color scheme you choose as well as the wood finish you choose for your cabinets. Some wood finishes, like birch, can be matched with a wide range of different paint schemes. Cherry cabinets, on the other hand, can be pretty hard to pair with paint. Want to avoid hackneyed color pairings? You do have some interesting choices you can make…
The reddish brown hue of cherry cabinets can pair with a wide range of different colors. Whites, creams, greys, and even greens can help add a little flair without contrasting with the rich color of cherry wood. When picking a color, knowing what to avoid (like metallics) can be just as important as knowing what to seek out.
Admittedly, cherry finishes are not the easiest type of wood to work with. It's an old-fashioned look that is commonly associated with the 80s and 70s. However, that doesn't mean that you have to settle for a garish retro look. If you're wondering what to match up, this guide can help.
Do You Need to Hire a Cabinet Refinishing Contractor?
Get free, zero-commitment quotes from pro cabinet refinish near you.
What Color Should I Paint My Kitchen With Cherry Cabinets?
This is a toughie, but there's some good news. You do have a couple of options that can give you a modern, sleek look. The best way to sort through them is through groupings:
Off-whites and whites
Pale Yellow
Greys
Greens
Blues
Dark Primary Colors
It's important to remember that knowing what to avoid is just as important as knowing what works well with cherries. So, before we get into the actual benefits of each, we're going to talk about what colors don't work well with cherry cabinets and what painting mistakes to avoid.
Paint Idea Mistakes To Avoid With Cherry Cabinets
Cherry cabinets can be a great pick for people who love a strong statement wood, but the thing is, they can easily become too much for most kitchen designs. Since they are so bold, you have to know how to make sure your wood color doesn't overwhelm the overall design. Here's what you should avoid when working with cherry cabinets:
If you go for a dark primary color in a smaller kitchen, make sure to balance it with a light pattern or trim. Dark colors make rooms look smaller, so going for an entirely dark hue with cherry is basically asking for your kitchen to feel small and cramped. To make the room look more open, add splashes of white or cream alongside those dark hues.
Avoid black. Cherry and black paint is not only a good way to make your kitchen look cramped, but a great way to make it visually jarring. It's just too extreme!
Do not try to pair metallic or glitzy hues with cherry. Cherry is one of those woods that works well as a focal point, and if you have too much "noise" going on, that focus will be lost.
Avoid darker paints in very small kitchens. You don't want to get a paint color that shrinks an already-cramped kitchen.
Slick Paint Pairings For Cherry Cabinets
Here's the fun part: talking about what does work! If you are looking for paint pairings, you have a bunch of choices that you can pick from that will look great. Each has its own perks and pitfalls, so we're going to take a look at each group on its own merits.
Whites And Off-Whites
Without a doubt, this currently rests as one of the most popular groups of colors that can be paired with cherry. Whites are versatile, open up a room, and let the boldness of cherry wood finish pop. A "safe" option if there ever was one, choosing a white or cream color will ensure you can work almost any style into your kitchen.
The big drawback with this color group is that many people find it to be a little hackneyed. Everyone has a white kitchen these days, right? That being said, going for white, beiges, or off-white will afford you a lot more decoration options. So, why hate on that?
Pale Yellow
You can never go wrong with using pale yellow to create a bright, cherry kitchen space. Fortunately, pale yellow also pairs well with cherry cabinets. It can energize your kitchen, without being too overwhelming. Even just a couple coats of a pale yellow shade can liven up your kitchen remodel and enhance the look of your cherry cabinets.
Greys
If you're looking for a more modern take on neutrals that doesn't involve too much warmth, a light grey might be a good choice to consider. Greys are able to shift the focus to the warmth of cherry hues while also giving a surprising amount of contrast to your overall kitchen look.
The hard part of working with greys is that they're a "like it or hate it" type of pairing. Some people adore this look, while others find it to be a little too stark for their taste. If you want to modern it up, choosing a "greige" type of grey might be a good way to add a newer (and warmer) take on this classic pairing.
Greens
Greens of almost every shade are famous for being a great match with cherry wood. This has been a trend since the 70s, and while avocado green was the color of choice back then, today's kitchens tend to go better with a hunter green. The reason why it works so well is because of the contrast green and cherry red have. It's a forest vibe.
For darker cherry kitchens, opt for lighter shades of green, such as thyme or sage. Whereas, cabinets with a lighter cherry finish can get away with darker green walls, as it will make the lighter, natural color of the cabinets pop. For light cherry kitchens, consider a true green or even a forest green.
Olive green is especially popular in kitchen design right now, as it is both bohemian and sleek. When paired with cherry cabinets, this shade can really look beautiful. If you're concerned that an olive color may clash with the ton of your cabinets, simply keep the other colors in your kitchen space very muted.
Though, the problem with green hues is that they tend to be a little cliche, and that their darker colors can be a bit much in smaller kitchens. It also can be difficult to find a motif that works with cherry and green that doesn't rely on a woodsy vibe. Just make sure you have a kitchen that works with this color scheme before you get the paint!
Blue
If green doesn't appeal to you, blue is another option. In this case, the same color principles apply. Pair muted blue walls with lighter shades of cherry, and bolder or brighter blues with darker cherry cabinets. Though, you ideally want to choose a hue that has cool undertones and won't clash with the cabinets.
To really tie the space together, consider adding wall tiles in a similar blue shade to create a lovely backsplash.
Darker Primary Colors
Deep wine reds, mustards, royal blues…Cherry wood can work with them all because it's such a bold hue. The thing with this color combination style is that it's meant to be striking. These combinations are bold and often carry an almost-regal appearance to them that makes them serious statement pieces.
The pitfall with darker colors is that you often need to have a large kitchen to make them look alright. Without a large kitchen, expect to spend extra cash painting a pattern that balances a royal color with white to keep your place looking spacious. Additionally, a lot of people find this look to be a bit too heavy for their tastes.
Undeniably, pairing dark primary colors with cherry cabinets will create a sense of moodiness in the space. Though, you can balance out this effect by choosing brighter décor, curtains, and hardware throughout.
Or, if you're still concerned about this combination being too overpowering, try painting only the lower half of the walls in a dark primary color, such as navy blue. Then, incorporate a lovely, white tile backsplash for some timeless color blocking.
Do You Need to Hire a Cabinet Refinishing Contractor?
Get free, zero-commitment quotes from pro cabinet refinish near you.
Our Final Take
Cherry cabinetry is not easy to work with, at least when it comes to color schemes. It takes a keen eye for design to keep cherry modern, but that doesn't mean it's impossible to do. After all, cherry remains a popular finish for a reason.
Though there can be a little difficulty in finding the right pairing for your decorative vision and room size, you shouldn't give up on trying to get that perfect paint swatch for your kitchen. There are plenty of "tried and true" options to choose from, including whites, greys, and more exotic colors like wine red.
With cherry cabinetry, the key thing to remember is to work with the kitchen size you have. Since cherry is a darker wood, it's easy to overwhelm tiny kitchens with all the dark colors. So, in an effort to keep things looking spacious, only add as much darkness in your paint scheme as your kitchen can handle.

Ossiana Tepfenhart
Ossiana Tepfenhart is an expert writer, focusing on interior design and general home tips. Writing is her life, and it's what she does best. Her interests include art and real estate investments.
More by Ossiana Tepfenhart
Published July 30th, 2020 9:19 PM