117 Views
What Can I Put Between The Stove And Refrigerator Space?
April 16th, 2021 7:51 AM
Share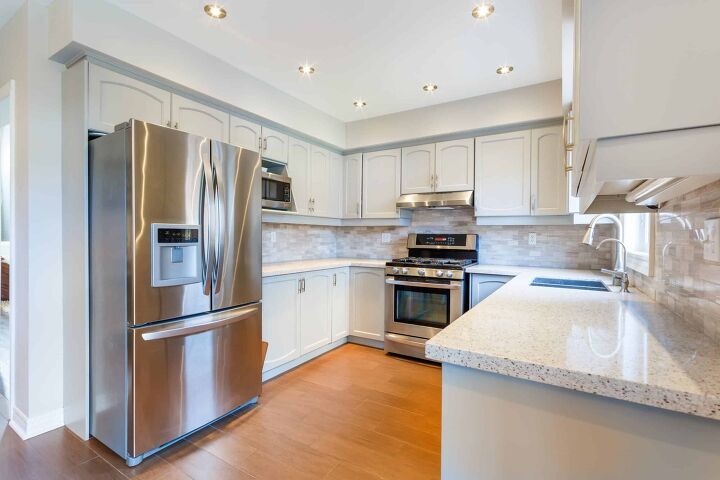 When you're redoing your kitchen, you may be presented with some minor problems when it comes to figuring out the layout. Once in a while, you end up with a gap that's just difficult to work with. For many of us with a "row-style" kitchen, this gap area is between the stove and the refrigerator. So, what can you put there to make things easier for people who are cooking in your kitchen?
What you can put between your stove and refrigerator space will depend on the environment and access to outlets. Larger spaces with access to plumbing you can put a sink or a dishwasher. If you don't have that space, adding extra cabinetry, a garbage can, or a countertop for kitchen work can also work.
Feeling at a loss of what to put in between your stove and refrigerator? This guide will help you jog your thinking a little, and hopefully help you find the perfect idea to finish off your kitchen project.
Do You Need to Hire Cabinet Installers?
Get free, zero-commitment quotes from pro contractors near you.
What Can I Put Between The Stove And Refrigerator Space?
What you can put between the stove and refrigerator space in your kitchen all depends on what you have available to you, and how far apart these two items are. As far as actual possibilities go, the amount of options you have is endless. To make this guide easier, we decided to break it down based on the space and what you have nearby…
1. Ample Space, Plumbing, And Electrical Outlets
If you have a lot of space between your stove and refrigerator and plenty of outlets to work with, then the world is your oyster! You can add a bunch of goodies to your kitchen area, including:
A Dishwashing Machine. Dishwashers are now considered to be one of the most in-demand amenities in a kitchen. Besides, who wants to spend time scrubbing away at dirty dishes?
A Sink. You will need to find a place to install a sink (or two) in your kitchen anyway. It might as well be here. It'll help mitigate temperature changes.
A Closet. This doesn't require plumbing or electrical outlets, but you may still find yourself in need of some extra closet space when renovating. If you feel like this would help you make the most of your space, then go for it.
A Freezer. If you have a lot of food to store, you might want to invest in an extra freezer. This is an especially good idea if you hunt, or if you tend to buy in bulk.
A Wine Fridge. If you ask me, this is a must for any fan of vino, as well as anyone who wants to entertain large crowds of drinkers at their home.
2. Ample To Moderate Space And Electrical Outlets
If you don't have any plumbing access, but have a decent amount of space, you might still be able to work with some of the options up top–including the freezer and wine fridge. However, things like a dishwasher might be out of the question. So, what can you do now? Most homeowners will install a countertop to allow additional surfaces for cooking space. From there, they may put some of these amenities:
A Workspace. A built-in butcher's block, a knife storage area, and maybe a spice rack would make for a great workspace in a petite kitchen.
A Microwave. A necessity by most peoples' definitions, microwaves tend to be placed on a countertop near an electrical outlet.
A Water Cooler. Though this is more of an "office kitchen" idea, there are some homeowners who enjoy having a water cooler on their countertops.
Small Appliances. Spaces with electric outlets are the best locations for keeping small appliances that you need to use. So, if you regularly use a food processor, a pressure cooker, or a bread maker, this would be a smart place to store it.
Cabinetry. Just about every kitchen owner wants to have a little more space for all their stuff. So, why not add some cabinetry or a Lazy Susan to your home? This doesn't require electricity, but it will make great use of your space.
3. Small Spaces, No Outlets
This has to be the toughest space situation that you may have, but you still have options. Here are some of the better picks we've seen:
Ultra-Slim Pull-Out Cabinets. Ultras-slim cabinets are engineered to be pulled out of their location, giving you a better use of storage space. These can be used to hold utensils, spices, cutting boards, and serving trays in a pinch.
Wheeled Islands. If you need to get a little mobile from time to time, consider adding a wheeled cart to fill in those smallish, awkward gaps that can happen between a stove and a kitchen.
Countertop Overhang. Some architects are now using countertop overhangs as a way to fill in gaps and add a little continuity to a kitchen's countertop aesthetic. This can give you a little extra workspace, as well as a good way to hide a trashcan from view.
Garbage Cans. You can also just place a garbage can in those awkward gaps, if you are not feeling anything too fancy.
Storage Shelves. Another option that you can choose to pursue is to work with storage shelves. Mini storage shelves are great for holding cleaning products as well as storing pantry items that are hard to work with otherwise.
Broom Storage. We all need a place to store brooms and mops. If you don't have much space in closets, using that small gap between your stove and fridge can work.
Space Limitations
In an ideal world, your kitchen would be oriented with the stove, refrigerator, sink evenly spaced out throughout the room. Experts refer to this as the "working triangle." However, for those who live in an apartment or smaller home, this layout is simply not achievable.
It can be incredibly tricky to try to squeeze an oven, refrigerator and sink into a smaller kitchen. To make cooking and cleaning in your kitchen more efficient, it's best to have some distance between these three components.
Additionally, positioning a refrigerator and stove right next to each other can cause them to work at limited capacity, since one is cold and the other is hot.
Factor in Airflow and Heat
When you're establishing the layout of your kitchen, it's important to consider the heat and airflow surrounding your fridge. The majority of freestanding refrigerators on the market necessitate some space around them to function properly. For example, Samsung recommends 10 centimeters and 5 centimeters on all sides of their fridges. This ensures that the appliance is working to the best of its ability and has appropriate airflow to function.
The key to the performance of your refrigerator is keeping it well ventilated and maintaining a steady temperature around its perimeter. In addition to keeping the sides free of obstructions, you should avoid placing anything next to your fridge that generates a considerable amount of heat. For best results, there should be at least 9 inches between a stove and refrigerator. Although, in some cases this is not feasible, and insulation is the only course of action.
Insulation Between Refrigerator and Stove
If the layout of your particular kitchen requires the stove and fridge to be next to each other, you must install some form of insulation. This will help to limit the transfer of heat, and means that your refrigerator won't have to use too much energy to keep cool.
If you're engaging in a whole kitchen redesign, you can use this space to your advantage and install a useful appliance, additional cabinet space, and more.
How To Choose The Right Option For You
There's no cut-and-dry way to pick the right option for others. You have to think about the way you work in a kitchen, and from there, figure out which amenities will best serve you. For some people, adding broom storage makes more sense than a countertop overhang. For others, putting a sink in between your oven and fridge is the smartest thing to do.
When in doubt or just feeling a bit lost, it's better to ask an interior designer or a kitchen design expert for help. It's their job to help you create a better kitchen, after all.
Do You Need to Hire Cabinet Installers?
Get free, zero-commitment quotes from pro contractors near you.
Our Final Take
The space you have between your oven and refrigerator can vary greatly depending on how your kitchen is designed, and that means the sky's the limit to what can go between them. For larger layouts, having a sink, a freezer, or a wine fridge is a smart way to increase your kitchen's value and make your life just a little easier.
On the other hand, if you have a smaller kitchen, your best bet is to focus on the functions you know you need rather than want. For most of us, that includes extra shelving, pull-out cabinets, as well as countertop space to store your most favorite small appliances. Of course, what matters most is what you feel your kitchen needs.
If you are good on storage, then great! Add some more cooking space. If you have all the basics but want some extra amenities, add a water cooler or a kegerator. After all, your kitchen is going to be the place you spend most of your time cooking and entertaining. You, of all people, will be the one who knows what would work best.

Ossiana Tepfenhart
Ossiana Tepfenhart is an expert writer, focusing on interior design and general home tips. Writing is her life, and it's what she does best. Her interests include art and real estate investments.
More by Ossiana Tepfenhart
Published August 19th, 2020 11:26 PM