164 Views
11+ Types of Pavers (for Driveway, Patio & Pool Deck)
May 8th, 2023 12:44 PM
Share
We're committed to finding, researching, and recommending the best products. We earn commissions from purchases you make using links in our articles. Learn more here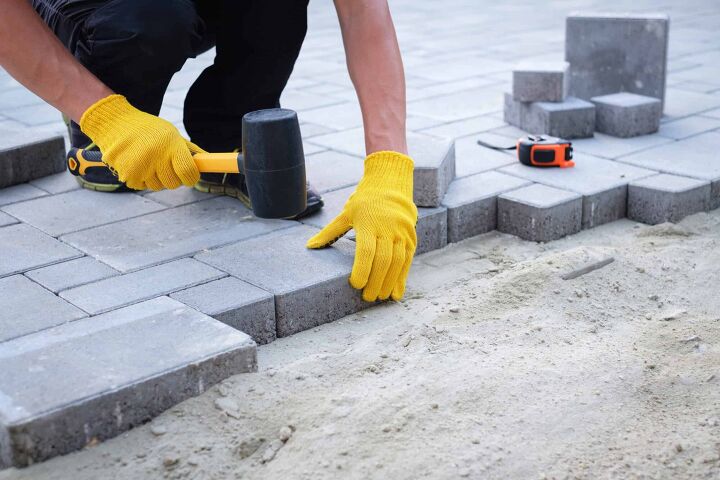 Whether you're looking to build a patio, walkway, or even a pool surround, you have many different types of pavers to choose from. Choosing the right paver stone is very important, not only for aesthetic purposes but also for the sake of durability. Different types of pavers hold up better in certain elements, while others are simply easier to maintain.
Some of the most common types of pavers include those made out of brick, concrete, natural stone, and porcelain. If you're unsure about which variation is best for your situation, we're here to help. Our comprehensive guide on the different types of pavers will help you understand how each differs so you can make an informed decision on which is best for your patio, walkway, or garden project.
Do You Need Pavers for Driveway and Floors Installed?
Get free, zero-commitment quotes from pro contractors near you.
What Are Pavers?
Pavers are a very popular material primarily used for outdoor hardscaping. They are made from a variety of materials including brick, concrete, tile, stone, and even plastic to be used as exterior flooring or stepping stones.
Pavers are typically installed over top of a compacted base consisting of soil and sand. Though, the installation process will vary slightly based on whether your pavers are interlocking or slabs.
Paver Materials
The main factor that distinguishes types of pavers is the material that it is made out of. Generally speaking, there are four main types of paver materials: natural stone, brick (clay), concrete, and porcelain. Though, there are numerous variations of natural stone that are frequently used as pavers.
Natural Stone Pavers
Stone pavers are used to construct level, easily accessible surfaces for driveways, patios, pool decks, and walkways. Unlike other alternatives such as brick or concrete pavers, natural stone pavers aren't always found in identical shapes and sizes. Instead of being made out of molds, they are cut from quarries. As a result, there is always going to slight variations in the color, texture, and size of natural stone pavers.
Though, these variations tend to add beauty to these types of pavers, making them a very desirable choice. Another reason why natural stone pavers are so popular is because they are one of the most heavy-duty choices. They're natural and can blend in effortlessly to your outdoor space, adding style, sophistication, charm, and curb appeal.
Natural stone pavers also offer versatility, as there are many different kinds. In fact, virtually any type of rock can be made into a stone paver. Some of the most common options include cobblestone, bluestone, travertine, flagstone, limestone, and granite
1. Cobblestone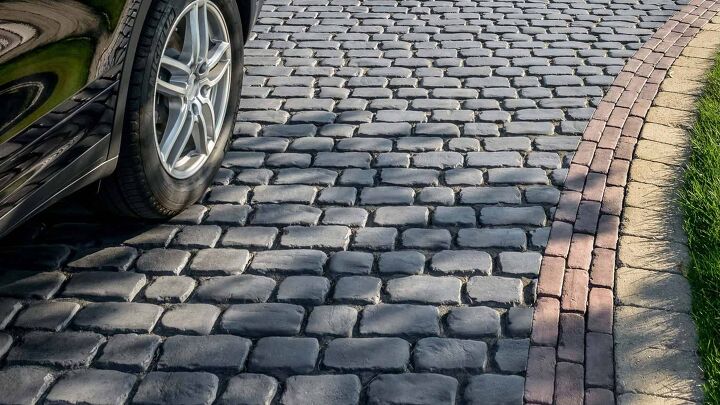 When used properly, the term 'cobblestone' describes small blocks of paving material that are made out of natural tones. Though some manufacturers use the term to refer to cast concrete bricks, true cobblestones are natural stone – most often granite, but can sometimes be made from limestone, basalt, or other types of stone. Granite and other cobblestone varieties have been used in the construction of walkways, driveways, and roadways for centuries.
In fact, many of those surfaces are still intact today. Cobblestone can stand up better than most alternatives, and it produces that unique "old world" appeal that can add curb appeal and value to your home. Cobblestone has a number of advantages with really only one major drawback – the high price tag. Though, they do tend to require professional installation.
However, so long as the cobblestone is installed and maintained properly, it can remain stable and functional for over 100 years.
2. Bluestone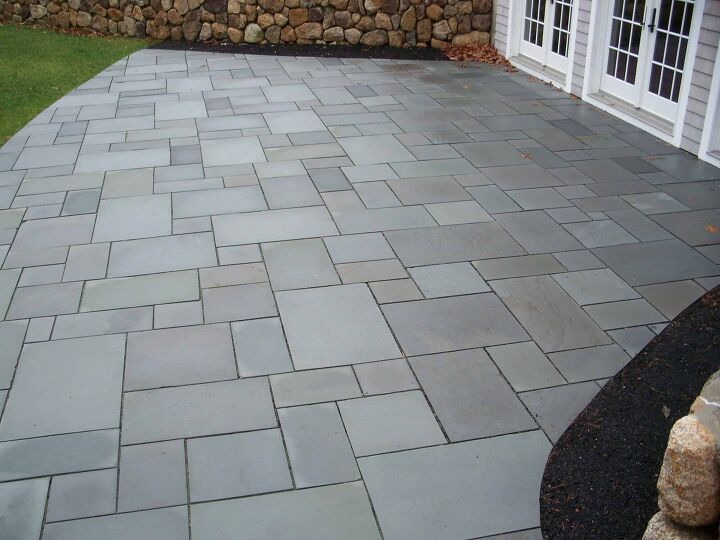 Bluestone is a very common type of natural stone that is used in construction. Generally speaking, there are two main varieties: Shenandoah Bluestone, a type of limestone, and Pennsylvania Bluestone, a type of sandstone. Pennsylvania Bluestone is a sedimentary rock, with sand-sized grains, while Shenandoah Bluestone is also a type of sedimentary rock but is primarily constructed of calcium carbonate.
Bluestone pavers come in a range of shapes and sizes, and can be cut in a uniform manner as rectangles or squares, or jagged and irregular shapes to achieve a more natural look. The variation that you choose solely depends on preference, though, irregular-sized bluestone pavers are often best for free-form designs like stepping stones and walking paths. Whereas, uniform pieces are easier to work with and require less labor to map out the design.
One of the main advantages of bluestone is its durability. When properly maintained, this material should last you many years. It also comes in a range of natural earth-tone colors, which look elegant and appealing and will complement virtually any landscape. Not to mention, bluestone will tolerate all weather and temperature fluctuations, making it ideal for areas that experience hot desert heat or even snow and ice conditions.
3. Travertine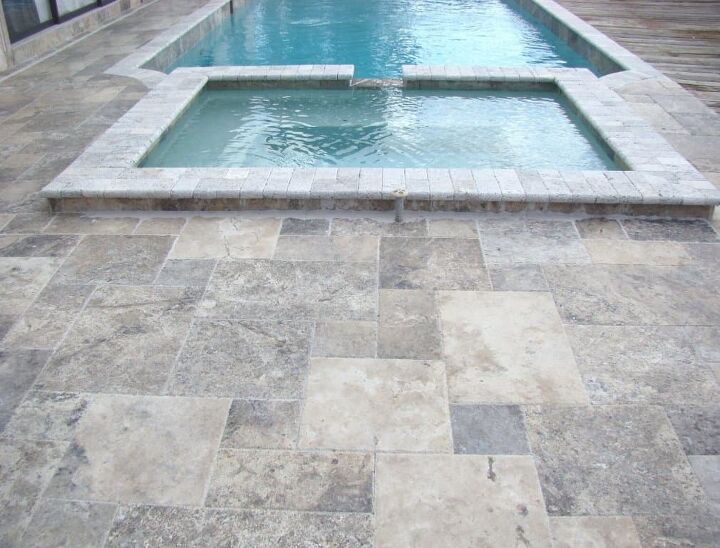 Travertine is a stunning type of sedimentary stone that is primarily seen used in interior flooring and wall applications, as well as for exterior pavers because of their natural look. The material is especially popular for pool decks and surrounds. When used as pavers, travertine requires minimal cleaning and will withstand virtually any weather conditions, while retaining its color.
Aside from being durable, travertine pavers are environmentally friendly, and come in a range of tones and colors. They also insulate heat so you won't have to worry about your travertine surfaces getting too hot to walk on during the summer months.
Some of the drawbacks to travertine pavers include the fact that they are much heavier than other alternatives and are highly sensitive to acids. Therefore, you should avoid cleaning this material with vinegar or any other acidic cleaning solution, as it could leave an unsightly stain on the surface.
4. Flagstone
Like other natural stone materials, flagstone is sourced from a quarry and is used for flat slabs of paving stone. It is traditionally made from sandstone, slate, or limestone, as these types of natural stone are very easy to cut and split into manageable slabs.
Flagstone pavers are ideal for a variety of residential applications such as pool decks, stepping stones, patios, and walkways. They are typically used commercially since they can be relatively pricey and the installation process tends to somewhat complicated.
Flagstone pavers come in a range of colors and hues – ranging from reds to blues to browns, and also combinations of these colors. The pavers can be found in uniform square or rectangular shapes, and also cut irregularly. These types of pavers come with a host of advantages including durability, aesthetic appeal, versatility, high density, and low maintenance requirements.
5. Limestone
Limestone is one of the most common materials used for natural stone pavers. The material is formed in bodies of water and is comprised primarily of skeletal fragments of organisms. It is usually tan, gray, or whitish in color. Limestone pavers are known for being very heavy, durable, and dense, which makes them a long-lasting choice for your exterior surfaces. Whereas, the lightly textured surface makes it the ideal choice for pool surrounds and patios.
Since limestone is available in many places around the world and is easy to install, it's considered one of the more cost-effective natural stone options. The material is also eco-friendly, low maintenance, and the surface temperature won't change based on the outdoor conditions.
However, limestone is not without drawbacks. The major disadvantage to this material is that it is more susceptible to stains than any other type of paver. Though, a sealer can be implemented to protect the surface. Limestone is also prone to algae growth and has limited color options.
6. Granite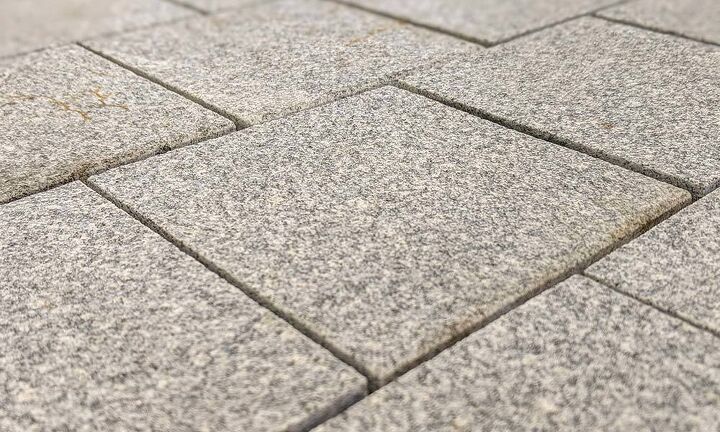 Granite is an incredibly popular stone and comes in a wide array of patterns and colors to meet your specific aesthetic desires. The surface of the stone is non-porous, meaning it is resistant to scratches, stains, and other damage. Granite pavers are also highly durable, fade-resistant, and weather-resistant. Choosing granite for your hardscaping will ensure that it looks great for a longer period of time before needing to be replaced.
These pavers are also not prone to cracking, shifting, or buckling. They require very little maintenance and, due to their heat resistance, make a well-suited choice for flooring around fire pits, outdoor fireplaces, or any areas that get direct sunlight throughout the day.
Though granite comes with a number of benefits, these pavers tend to be one of the most expensive natural stone options. Not to mention, the price can rise based on the pattern and color that you choose. Granite pavers are also not ideal for DIY projects, as they are heavy, difficult to cut, and generally challenging to deal with.
Additional Paver Options
1. Brick Pavers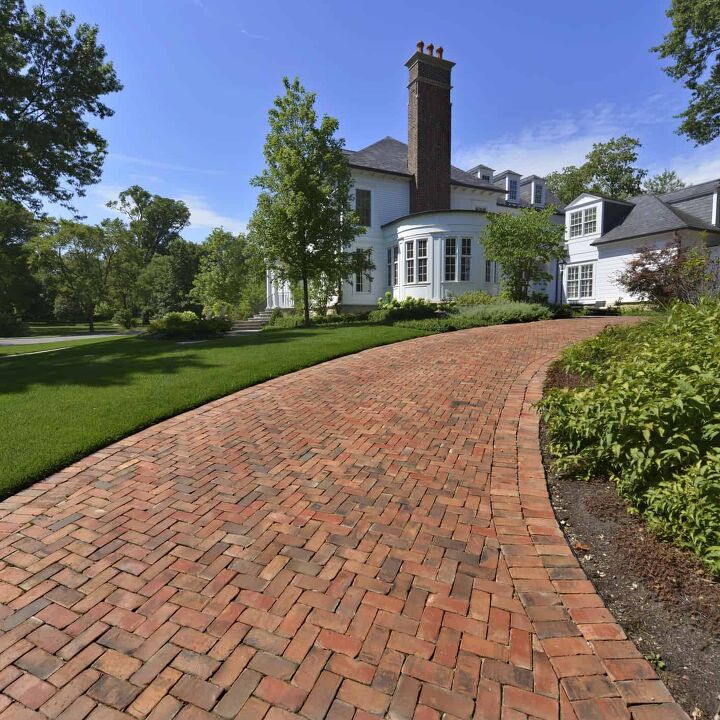 For a more traditional look, brick can create a timeless and rustic appearance for your exterior surfaces. Brick pavers are made out of molded clay that is baked and is set into either a sand or mortar base.
They offer incredible versatility, as brick pavers can be installed in a wide array of color combinations, designs, finishes, and patterns. Some of the most traditional patterns include circular, stacked, basketweave, and herringbone.
While the size and color of brick pavers are limited, this is what helps to create that timeless look for your patio, walkway, or driveway. Brick pavers are also known for being a strong and stain-resistant choice, while the addition of sealants can make them fade-resistant too. A popular way to install brick pavers is with small gaps between them, this creates a permeable paver system that allows water to drain through to the sub-base.
In order for brick pavers to be long-lasting after install, they must be frequently maintained. They also require a good base otherwise they'll be more susceptible to cracking and chipping over time.
2. Concrete Pavers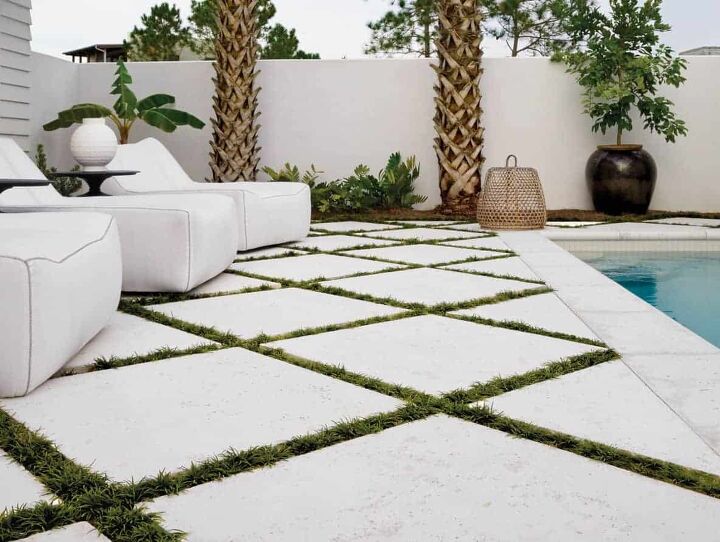 While you might assume that concrete pavers have the same dull, gray-colored appearance that you're most familiar with, they actually offer plenty of versatility. In fact, concrete pavers are incredibly popular and allow you to stamp, engrave, and finish them to achieve a fully customized look.
They come in a range of shapes, textures, and colors. This, along with their easy installation makes concrete pavers a desirable choice for finishing exterior surfaces.
Concrete pavers are ideal for those looking to achieve a minimalistic, but still natural look. Some concrete pavers can even be dyed to appear like brick. They are a relatively affordable option and also one of the most durable. Though, they tend to have a short longevity and are somewhat high maintenance.
To retain their color, you will need to regularly seal concrete pavers. They are also susceptible to cracking in extreme temperatures.
3. Porcelain Pavers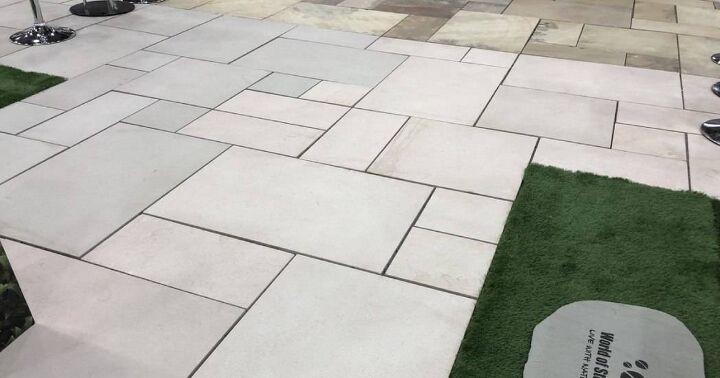 A relatively new addition to the paver family, porcelain pavers are growing in popularity due to their many benefits. Like brick, porcelain is clay-based and is treated with extremely high temperatures during the formation process. This method results in a material that is highly durable, non-porous, and weather-resistant.
Since porcelain pavers have a less absorbent surface when compared to other alternatives, they are very popular for pool decks and other areas that will frequently experience saturation.
One of the major benefits to porcelain pavers is that they can be produced to resemble natural stone materials such as marble, granite, and slate – at a more affordable price. They also come in a wide array of patterns and colors to match your desired look.
With their visually appealing elegance, low maintenance requirements, and low moisture absorption rate, porcelain pavers are an excellent choice for virtually any application – both indoors and outdoors.
The only major drawback to porcelain pavers is that they aren't well-suited for highly-elevated locations. Particularly, if the area experiences harsh frost, porcelain pavers may have a difficult time holding up over time.
4. Rubber Pavers
In recent years, innovation has paved (pun intended) the way for more practical alternatives to traditional paver materials. Rubber pavers are now a popular choice for exterior flooring due to their eco-friendly design, unmatched absorption properties, and dependable traction. They come in a range of color options, making it easy to find one that complements the design of your outdoor space.
Rubber pavers are designed to appear like natural stone or brick, which adds an extra bit of style to the hardscaped areas around your property. Although, some find them to be not as attractive as the traditional porcelain, stone, or brick pavers. They can be used over an existing patio or to create a safe play area for children underneath a swing set. In fact, their low shock absorption and slip-resistant surface make rubber pavers the ideal choice for those with kids.
Almost entirely made out of recycled materials such as old tires, these types of pavers are eco-friendly. They are also less susceptible to cracking and chipping than alternatives. Though, since rubber pavers are a relatively new invention, their lifespan hasn't been fully understood.
5. Plastic Pavers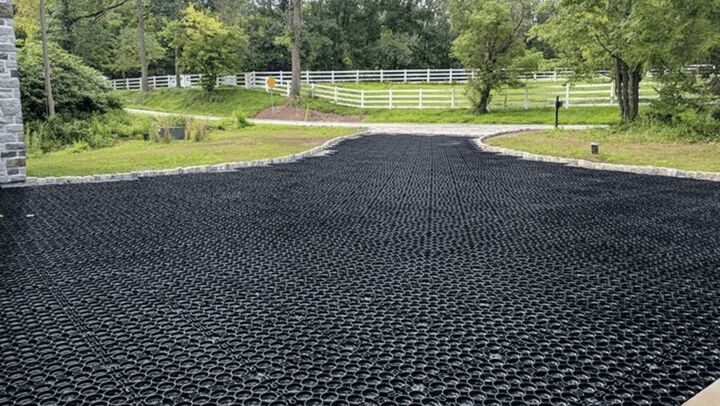 Plastic pavers are another innovative option, made out of either recycled plastic or newly-manufactured. They are created by melting plastic with water and then combining it with soil. This mixture is stirred and poured into paver-shaped molds until fully dried.
Many manufacturers produce plastic pavers, though they all boast 100% permeability and the ability to stand up to both extreme heat and extreme cold.
Aesthetically speaking, plastic pavers offer a number of options with varying fill materials. On one hand, they can be filled with gravel for high-traffic locations, creating a maintenance-free surface that can be driven over. While on the other hand, plastic pavers can be filled with grass for driveways and other light trafficked areas, creating strengthened and stabilized green spaces.
Paver Colors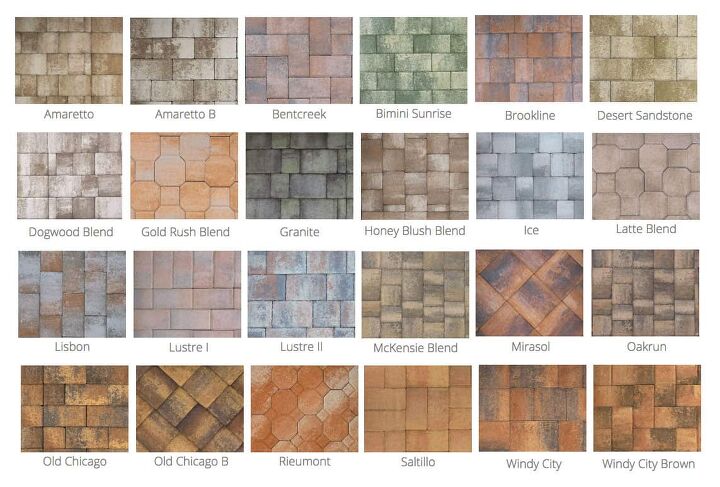 In addition to paver materials, the color of your pavers is a major factor when it comes to the overall design. Generally speaking, you want to choose a color that is going to harmonize with the color scheme and style of your home, while also complementing the existing landscape, and the function of the space.
First, understand your options, as each material is going to have varying colors to choose from. Then, consider your desired effect. Are you looking to achieve an intimate, tranquil feel? If so, grey or natural-toned tumbled pavers with clean lines might be your best bet. Whereas, if you want a more rustic look, you'll want to opt for tumbled pavers with irregular edges and coloring.
Pro Tip: Lighter colors will help give the illusion that your space is larger and more opener. While, darker hues will create a more cozy, intimate feel.
When trying to determine the right color scheme for your pavers, you'll also want to think about how the space is going to be used. For example, if you plan on barbecuing, opt for a dark-colored paver that is going to hide potential stains. Finally, think about your home's materials and roof color. Experts suggest that matching your pavers to the color of your roof is a great way to tie everything together. However, make sure that the hues don't clash.
Do You Need Pavers for Driveway and Floors Installed?
Get free, zero-commitment quotes from pro contractors near you.
Paver Designs
The fact that pavers come in a wide array of colors, sizes, shapes, and textures, makes the design possibilities virtually endless. In fact, experts assert that this versatility has resulted in an increase in demand for custom paver installations. With that said, some of the most common patterns you'll see with pavers, regardless of the material, include the following:

These popular designs are striking, functional, and much more cost-effective than their more intricate counterparts. With so many design options to choose from, consider hiring a contractor that shares your unique vision and will help you bring it to life.
How to Install Pavers
To install pavers on walkways and pathways, you want to plan for a width that's at least three feet. Whereas, for driveways, you should measure your vehicles and account for enough space on all sides with the doors open to allow people to move around the cars comfortably.
When it comes to installing pavers, you have two options: interlocking or slabs. Interlocking pavers are form of manufactured paver, making them very simple to install. Simply lay them out side-by-side to craft borders that section off your garden and lawn. Or, use pavers to make a patio, walkway, or other outdoor living space, or stack them to form a raised bed. With interlocking pavers, you do not need mortar to achieve a secure fit.
For a more detailed breakdown, check out: How to Install Rubber Pavers (In 3 Easy Steps).
The second type of pavers are known as slabs, which are laid out flat to achieve a level surface. These do not "interlock," and are generally larger than interlocking pavers.
How to Maintain Paving Stones
Fortunately, pavers are almost completely maintenance-free. However, you do have to sweep, seal, and clean most types of pavers often to increase their longevity and enhance their appearance. In most cases, using a pressure wash on occasion is enough to keep pavers looking their best.
Some types of pavers will benefit from regular sealing, as it helps them last longer and minimizes stains. Concrete pavers should be resealed every two years or so, especially if your pavers are exposed to heavy traffic and a lot of wear and tear. Clay pavers, however, typically do not need to be resealed – unless they come into contact with grease and oil, like from cars or around a grill.
To clean and wash away grime on brick pavers, use a combination of water and detergent. Fixing cracked pavers is another maintenance task you should keep up with. Though, only fix cracks that are large and visible. In some cases, it may be cheaper to replace the entire paver rather than try to fix a crack.

Jessica Stone
Jessica considers herself a home improvement and design enthusiast. She grew up surrounded by constant home improvement projects and owes most of what she knows to helping her dad renovate her childhood home. Being a Los Angeles resident, Jessica spends a lot of her time looking for her next DIY project and sharing her love for home design.
More by Jessica Stone
Published March 11th, 2021 1:28 PM