143 Views
15+ Different Types of Bed Frames (with Photos)
December 19th, 2021 5:07 PM
Share
We're committed to finding, researching, and recommending the best products. We earn commissions from purchases you make using links in our articles. Learn more here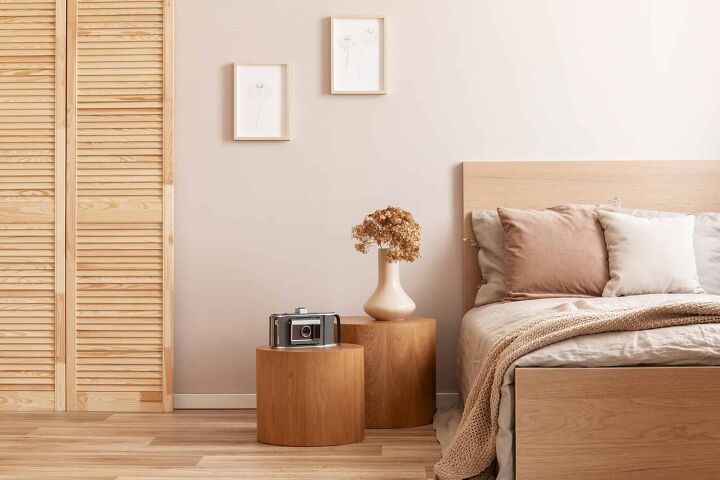 When it comes to finding the perfect type of bed for you, selecting the mattress size comes easy. However, there are a number of additional factors that must be considered – including the material, bed frame style, color, and more. All of the options can make the decision very overwhelming.
From platform beds, sleigh beds, and canopy beds to basic headboards and even bunk beds, there are many types of bed frames you have to choose from. Whether you're looking for something that is old school and vintage or a little more of a statement piece, there's a bed frame out there that will fit your individual needs.
If navigating all of the different types of bed frames and range of styles has you stressed out, we're here to help! Continue reading for our complete guide on all the popular bed frame designs for 2021, along with some pros and cons of each to help you make an informed decision on which is right for you!
Do You Need an Interior Decorator?
Get free, zero-commitment quotes from pro contractors near you.
The Platform Bed Frame
Out of all of the types of bed frames available, the platform bed tends to be the most popular. These types of beds rest on a base that is a raised, level horizontal solid frame. In most cases, the frame consists of rows of flexible wooden slats that are designed to support the mattress.
Platform bed frames come in a wide array of styles and present a sleek, low-profile appearance. They also eliminate the need for a box spring, as the frame provides both adequate support and ventilation for the mattress. These types of bed frames are ideal for smaller spaces, like studio apartments or urban lofts. They also work exceptionally well in spaces with an open floor plan, as they don't add visual clutter and can make your bedroom feel even larger.
Pros of Platform Bed Frames
Affordability: Platform beds tend to be more affordable since you can forgo purchasing a box spring to go with it.
Small Space Friendly: This type of bed frame is one of the best choices for small bedrooms. Their sleek appearance takes up less floor space and helps to minimize clutter.
Suitable for Any Mattress: With a platform bed frame, any mattress can be used. This makes it the ideal choice for the wildly popular memory foam mattresses.
Cons of Platform Bed Frames
Difficulties for Side-Sleepers: Since the mattress sits on a solid platform, or wooden slats, platform beds tend to be much firmer than other options. This presents a challenge for side-sleepers, as a firm mattress may create too much pressure and be uncomfortable.
Climbing In and Out: Platform bed frames are generally much lower to the ground, meaning climbing in and out of bed may take some getting used to. For those with back or knee problems, you may want to consider another option.
The Folding Bed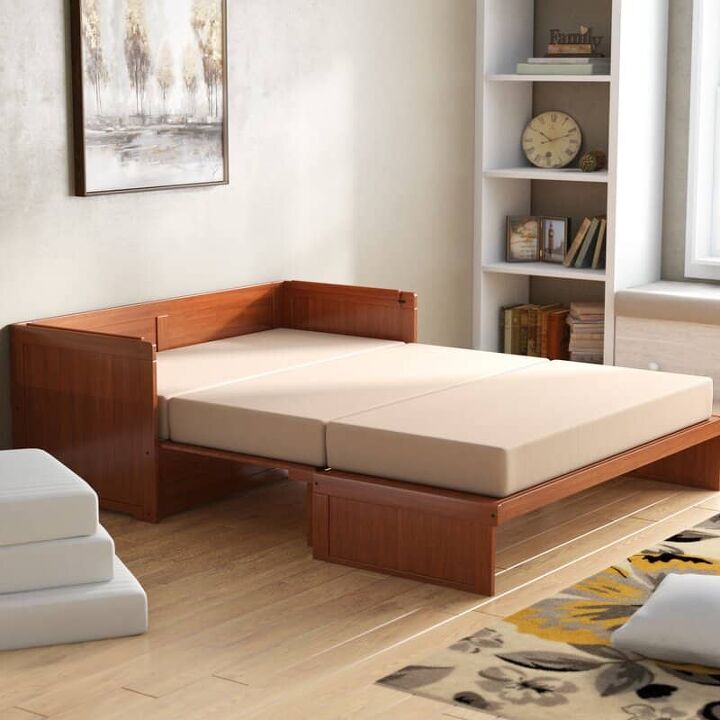 Folding beds are a very unique style of bed frame. The frame itself is hinged, which allows the bed to be folded up and stored in a much smaller space. This makes folding beds the ideal choice for small bedrooms or rooms that serve dual purposes, such as a studio apartment or guest room. They can easily be folded out when it's time for bed and stored away when you have company over.
Some folding beds can be folded into closets using a wheeled frame, while others are stored into a specific enclosure meant for display. They also make an excellent choice for a dorm room bed.
Pros of Folding Beds
Space-Saving: The major advantage to folding beds is that they take up very little space, often less space than a sofa.
Durability: Most folding beds have a very durable steel frame, offering strong support for the mattress and the sleeper.
Cons of Folding Beds
Disorganized Bed Sheets: The constant folding of these bed frames can make it difficult to keep your bed sheets and pillows organized. Pillows also lose their shape faster when they're left in the bed while folded.
Challenging to Fold Out: Although modern folding beds are designed to make them easy to fold out and put away, in some cases, they can still be difficult to manage. Also, if you're unfamiliar with how the bed works, it may take some time to get it down to a science.
The Upholstered Bed Frame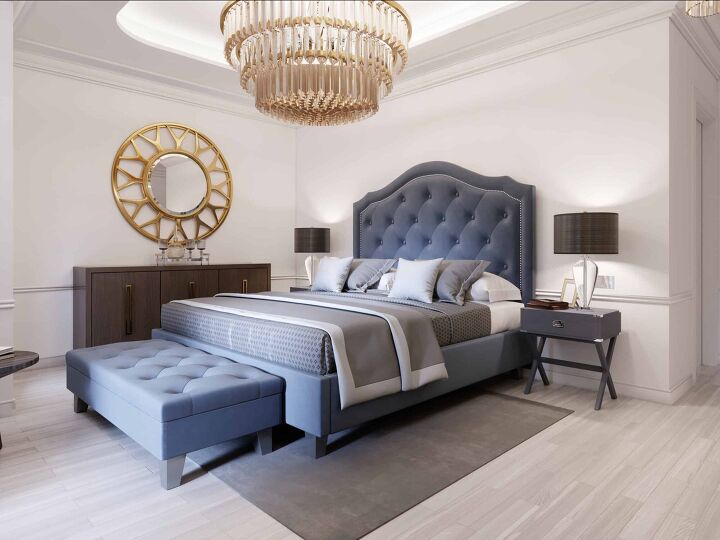 If it's luxury that you seek, upholstered beds are an excellent choice! These beds are gorgeous, and are also very soft, which makes sitting up in bed exceptionally comfortable. In many instances, upholstered beds feature the buttoned look.
They offer a bold, decorative touch to a wide range of spaces – especially bedrooms that are categorized as classic or traditional-style. However, you can add an upholstered bed frame to any bedroom that needs an infusion of coziness.
Pros of Upholstered Bed Frames
Comfortability: The cushioned support and plush headboard creates a comfortable place for reading or watching TV while in bed.
Variety: Upholstered bed frames come in many different colors, fabrics, and patterns. You should have no trouble finding a design that complements the rest of the décor in your bedroom.
Cons of Upholstered Bed Frames
Maintenance: To keep your upholstered bed looking great, you'll need to perform frequent vacuuming. This helps to keep the dust and pet hair at bay, as it will stick to the fabric surface. If you have an allergy or sensitivity to dust, you may want to consider a different option.
Wear and Tear: Since fabric is less durable than a metal or steel frame, grease spots, dents, and impressions will unavoidably develop on the surface of an upholstered bed over time.
The Storage Bed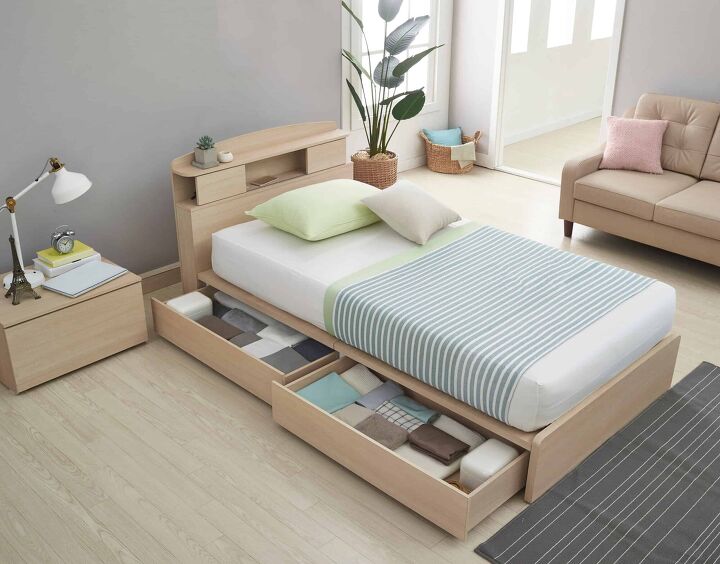 Storage bed frames are designed to help maximize storage space in your bedroom. It is one of the most space-efficient and multipurpose of all the bed frame types. In most cases, storage beds are encased in either real or faux leather with a large space underneath the mattress.
When you need to store something, the bed portion of the frame lifts up for easy access. Some storage bed designs come with drawers on one or both sides to store clothing, sheets, or anything else you need to keep organized.
Pros of Storage Beds
Storage: An obvious benefit, storage capabilities for this bed style are designed and constructed right into the frame. This results in a bed frame that is one interconnected unit, stocked with whatever you need to stow away.
Durability: Many storage beds are constructed out of gorgeous wood materials that offer a nice appearance, while also providing a solid and durable foundation.
Cons of Storage Beds
More Expensive: The price of storage beds tends to be higher than other options.
Difficult to Move: Since they contain additional components, storage beds tend to be rather heavy. Also, being built as one large piece, they are generally pretty difficult to move.
Maintenance: It can be challenging to maintain the track rollers and hardware that are built into the storage units underneath a storage bed – especially since they are difficult to reach. Over time, these components may fall off, come loose, or require general repair.
The Sleigh Bed Frame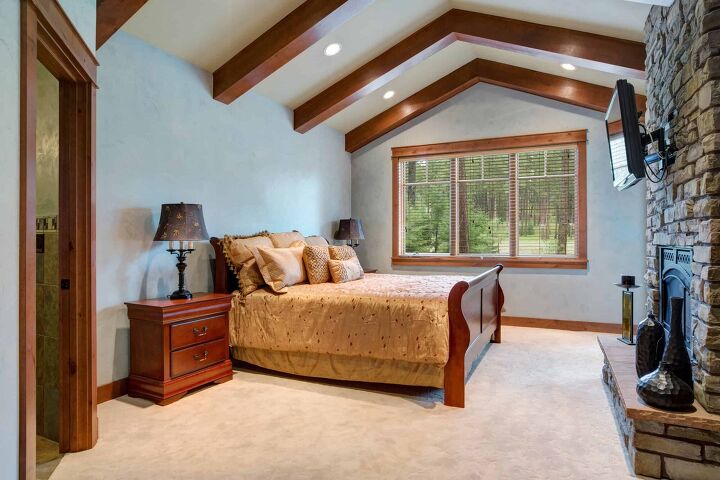 The sleigh bed frame is, exactly as the name indicates, a bed that is shaped liked a sleigh. It features both a high headboard and a high footboard. Oftentimes, the head and footboard are scrolled and made out of heavy wood. However, they can also be found in a variety of materials such as iron, aluminum, and steel. This is a very unique bed frame style that offers some serious appeal and can work well in virtually any setting.
Pros of Sleigh Bed Frames
Exceptional Style: When you opt for a sleigh bed frame, you get to enjoy the benefits of an instant statement piece that is sure to be the focal point of your bedroom. They come in a wide array of styles ranging from wood designs to upholstered varieties, so you'll have countless options to choose from to fit your design aesthetic.
Cons of Sleigh Bed Frames
Difficult to Move: Since conventional sleigh beds are made out of high-quality, heavy solid wood they tend to be very heavy. While modern upholstered varieties are lighter, they can still be challenging to move.
Limited Leg Room: Since sleigh beds have a footboard, they may not be the ideal choice for people with long legs.
More Expensive: Sleigh beds are, most often, pretty expensive. The high price tag has to do with their specific design and construction.
The Murphy Bed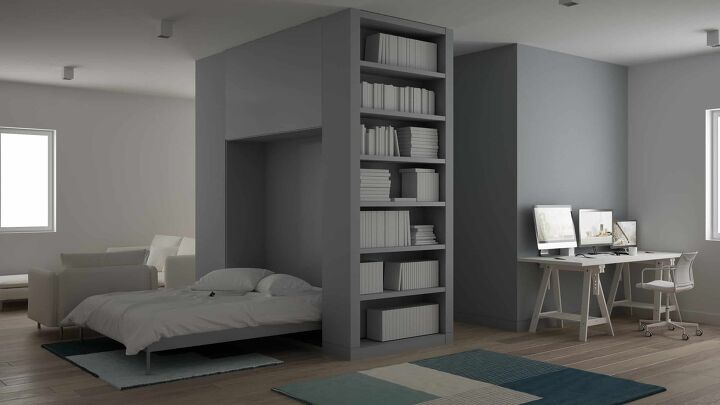 Often considered a type of folding bed, the Murphy bed dates all the way back to when Thomas Jefferson was alive. Sometimes referred to as "wall beds," Murphy beds present a very unique way to save space in your bedroom. Similar to the folding bed, they can be hidden away when not in use to create extra space.
Murphy beds feature a hinged frame that allows the bed to be titled vertically and stored in a cabinet, wall, or closet. They even come as cohesive units, some with shelves, nightstands, and additional storage units built around the bed.
Pros of Murphy Beds
Space-Saving: The most obvious benefit to Murphy beds is their ability to maximize the space in your bedroom. Ideal for small living areas, Murphy beds can be lifted out of the way and stored against the wall to create more room.
Multi-Functional: Modern Murphy beds feature additional storage shelves, while others can be converted into a couch or even a desk. These features make Murphy beds multifunctional, helping you to save even more space!
Cons of Murphy Beds
Sometimes Challenging to Put Away: Although modern Murphy beds are much easier to fold and unfold than original designs, they can still be challenging to operate for some.
Can Be Dangerous: If not correctly installed or used, Murphy beds can be very dangerous. They could even, in rare cases, result in death.
Expensive: When compared to other bed styles, Murphy beds tend to be much more expensive. Not to mention, you may incur extra fees to have one installed.
The Canopy Bed Frame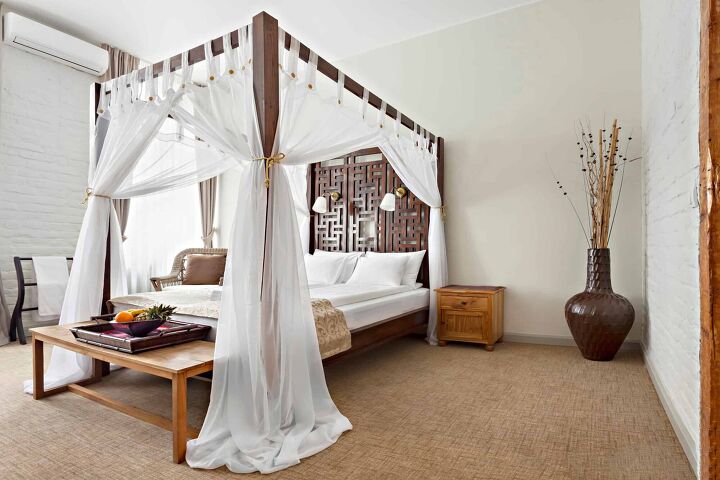 Sometimes referred to as a four-poster bed, the canopy bed frame has gained popularity in recent years, offering more contemporary and streamlined styles. They are essentially a poster bed, with the addition of the posts being connected for the use of a canopy. Depending on the design, the canopy may be draped or left open.
The traditional style canopy bed features a post at each of the four corners that extend far above the surface of the mattress. Oftentimes, decorative or ornate is draped over the space between the post which creates a canopy, or ceiling, that covers the bed space.
This type of bed frame is ideal for lofty spaces or any bedroom with high ceilings. They also work exceptionally well in master bedrooms that receive a lot of natural light.
Pros of Canopy Bed Frames
Statement Piece: It's hard for other bed frames to compete with the stylishness and statement piece that is the canopy bed frame.
Coziness: Installing a canopy bed can instantly make your bedroom feel cozier, with its' enveloping design and the addition of a draped fabric over top.
Cons of Canopy Bed Frames
Size Constraints: Many modern canopy beds are intended for both large and small spaces. However, most of the time, you'll need to have tall ceilings for a canopy to truly serve a room.
Maintenance: With canopy beds, dust will collect on the top. This means you'll have to clean it regularly.
Difficult to Move: The size and construction of canopy beds indicate that they require more assembly to move in and out of your bedroom.
The Trundle Bed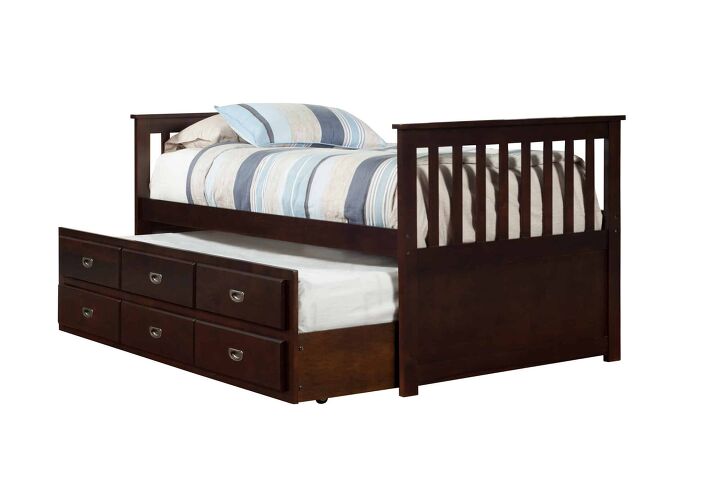 Typically considered a pair of beds, a trundle bed consists of one standard bed and one that is set on casters and is stored underneath the other. They are essentially two beds in one, making this design very popular in both kids and teen bedrooms. Trundle beds are another space-saving option, allowing the bottom bed to be tucked out of sight until a guest needs to use it.
Simply slide the bottom bed out and it's ready to be used. Trundle beds don't take up as much space as bunk beds and are suitable in even the smallest of spaces.
Pros of Trundle Beds
Space-Saving: The greatest advantage to trundle beds is that they help you save on floor space. Simply slide the bottom bed underneath the main bed until both need to be used.
Easy Operation: When compared to other space-saving options, a trundle bed is much easier to pull out and push back in. The mattress is set on castors and takes very little effort to slide in and out on the wheels.
Variety: Some other types of trundle beds offer the ability to raise the trundle bed to reach the height of the main bed. This essentially creates one, much larger bed at a moment's notice.
Cons of Trundle Beds
Difficult Assembly: When compared to other options, trundle beds tend to be more difficult to assemble as they consist of more components.
Specialized Mattress: In many cases, you'll need to purchase a specialized mattress for the trundle bed, which may be more expensive or more difficult to find.
More Expensive: Trundle beds are generally more expensive than many other options on this list.
The Headboard
If you're looking to achieve a particular look but don't want the entire frame, a gorgeous, standalone headboard may be the option for you. More specifically, they can be a great way to upgrade your simple metal frame on a budget. Headboards come in a wide range of styles, colors, and sizes to fit your individual needs. They are simple, versatile, cozy, clean-lined, and can be easily coordinated with the overall design of your bedroom.
Pros of Headboards
Easy to Move: Freestanding headboards are very easy to attach and detach from a bed frame. This makes them an easy to move option.
Cost-Effective: Purchasing the headboard on its own is more cost-effective and requires less of a commitment. Standalone headboards can work well with an array of setups, such as a basic metal mattress stand and a box spring. Despite the simple arrangement, your headboard will still look gorgeous from afar.
Options: When it comes to freestanding headboards, the options are endless. You can choose everything from a sturdy, upholstered headboard to a DIY option that is simply adhered to the wall behind your bed.
Cons of Headboards
Just a Headboard: A headboard is just one piece – not the entire bed frame. If you're in need of something that's also going to hold up and support your mattress, this may not be the ideal option for you.
The Wrought Iron Bed Frame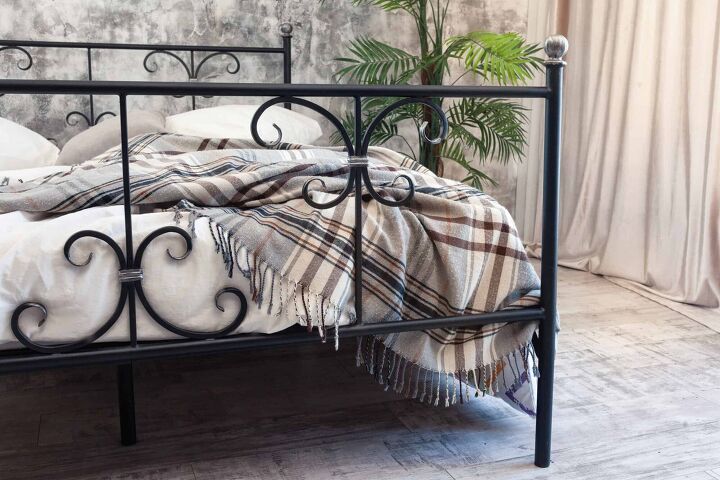 As far as longevity goes, a wrought-iron bed frame outlasts all the other bed styles due to its sturdy metal construction. As an added bonus, these types of beds also come in a wide range of styles. For a versatile option, you can choose a wrought-iron bed frame that has a painted finish, such as bright, antiqued white.
Wrought-iron beds look great in bohemian and rustic bedrooms alike. They are also ideal for starter apartments, guest bedrooms, kids' rooms, or anywhere where you want the bed to be low-maintenance, durable, and long-lasting.
Pros of Wrought Iron Bed Frames
Low-Maintenance: These bed frames are exceptionally durable, since metal is less likely to fade or weaken over time. Additionally, they do not require the same level of cleaning and maintenance than other upholstered or wood beds do.
Easy to Move: Despite their metal construction, wrought iron beds are not as heavy as you might assume. In fact, they are generally much lighter than platform beds or solid wood bed frames.
Durable: Wrought iron beds have a very sturdy construction and can withstand a lot of weight. As a result, they are an excellent investment that will last you many years.
Cons of Wrought Iron Bed Frames
More Expensive: When it comes to wrought iron bed frames, the price points vary considerably. Due to their high-quality construction and longevity, they can often get very expensive.
Limited Styles: Although there are many different shapes to choose from, wrought iron beds have a very particular look that can be difficult to redecorate in the future.
The Daybed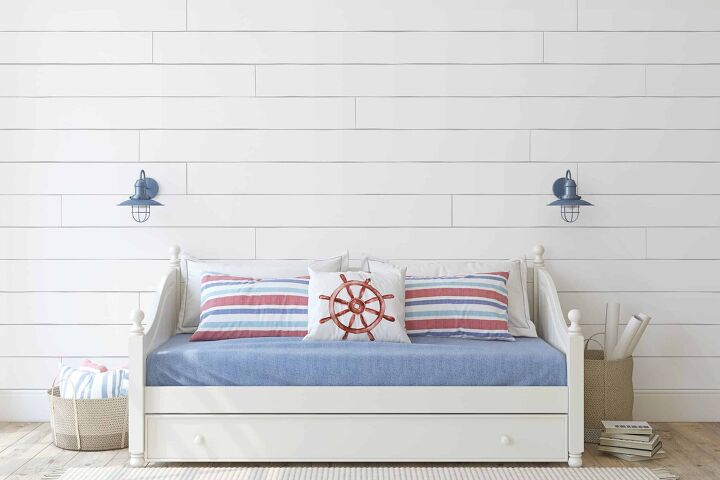 If furniture pieces that are multipurpose are your thing, then you'll love daybeds. They are essentially a bed and a couch all in one. Most often a twin-sized mattress, you can lounge, sit, sleep, and recline on them. Daybeds are generally very popular in guest rooms due to their multipurpose functions. They are also found in a variety of materials and styles.
Pros of Daybeds
Space Conscious: Because of their dual purposes, daybeds are an excellent choice for homes that have limited space. Choose daybeds for rooms where you could use furniture that pulls double duty.
Stylish: Daybeds are often more stylish than traditional beds. They exude an almost luxurious feel that begs to be lounged in.
Ideal for Split-Use Spaces: If you have a guest room that doubles as an office, a daybed might be the perfect option. It can be used for seating during the daylight hours and a bed at nighttime.
Cons of Daybeds
Size: Daybeds generally don't have much versatility when it comes to sizing. They are nearly always found as a twin-size frame.
Only Fit One Person: Since daybeds usually house twin mattresses, they can only sleep one person. As a result, daybeds aren't the best choice for guest rooms that will see more than one guest at a time.
Bulky: Despite the fact that they are designed for twin mattresses, daybeds tend to be bulkier than the average twin bed.
Mid-Century Modern Bed Frame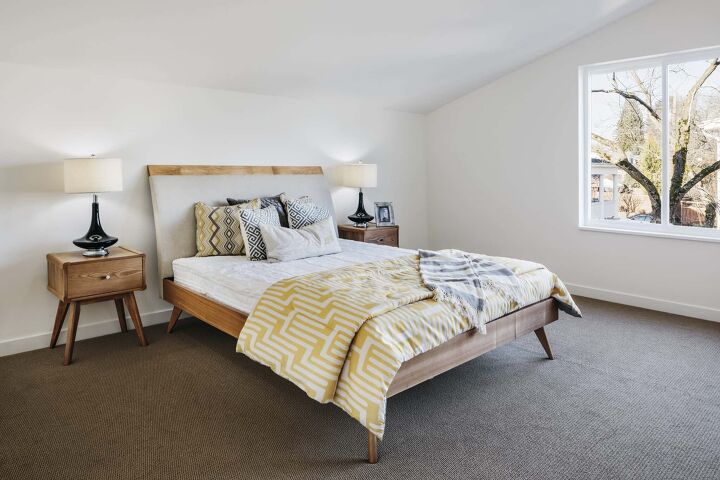 If mid-century modern design is your vibe, opt for a bed frame that is mid-century modern inspired. This bed frame style features tapered legs, basic forms, and is generally made out of polished wood in either an acorn or blonde finish.
In most cases, mid-century modern bed frames will be labeled as such in their product description, making it easier to find the bed of your dreams. Mid-century modern bed frames work great in modern and minimal bedrooms, or space where you a frame that matches the existing style without being a statement piece.
Pros of Mid-Century Modern Bed Frames
Sleek Design: These types of beds are stylish, simple, and sleek. As a result, they are the ideal choice for modern spaces. Their design creates less clutter visually, which makes them a great option for small bedrooms.
Low Maintenance: With simple lines that lack ornamentation, these bed frames are relatively easy to clean and maintain.
Versatility: Although mid-century modern bed frames offer a distinct look, the style can work well in rooms of many different styles.
Cons of Mid-Century Modern Bed Frames
Not Comfortable: Unlike other options on this list, this bed frame is not soft, cozy, or plush.
Expensive: Mid-century modern bed frames tend to be pricier than other alternatives, especially because the style is wildly popular right now.
Style-Specific: Though simple, these beds do have a very particular style and vibe to them that is generally more specific to modern, mid-century, and eclectic décor.
Do You Need an Interior Decorator?
Get free, zero-commitment quotes from pro contractors near you.
The Bunk Bed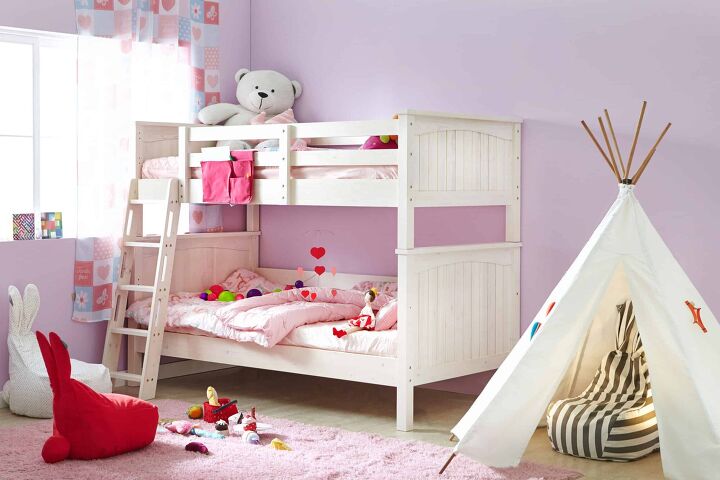 While adults may not purchase bunk beds for their bedrooms, they do buy them for their kid's rooms. They are a great space-saving tool for kids that share a room, or just to have an additional bed in the house for guests or sleepovers. Bunk beds are also very advantageous in cabins or vacation homes where you most likely pile loads of people into a much smaller space.
When it comes to purchasing bunk beds, make sure that you choose a style and construction that is tailored to the specific age group they are for. For example, if you have young kids, choose a bunk bed that has a thicker ladder and side rails. Then, depending on how the bed will be used, decide whether you want a queen or twin-sized mattress on the bottom bunk.
Pros of Bunk Beds
Space-Saving: The most obvious reason to love bunk beds is that they create so much more space for activities (Step Brothers, anyone?)! Like trundle beds, you are getting two beds for the floor space of one.
Ideal for Kids: Undeniably, kids love bunk beds. They are fun, exciting, and perfect for kids that share bedrooms or in homes that are simply short on space.
Sleepovers and Guests: Bunk beds provide additional sleeping options for your guests or your kid's friends during sleepovers. Also, opting for a queen bed on the bottom offers even more versatility!
Cons of Bunk Beds
Size: While bunk beds do take up the same floor space as a traditional bed, the top bunk obviously makes them larger. As a result, you want to make sure your ceilings can accommodate the additional height.
Getting In and Out of Bed: Whether you're on the top or bottom bunk, climbing in and out of bed is considerably more difficult. You either have to climb up a ladder or duck your head.
Safety: When it comes to bunk beds, you cannot avoid the fact that climbing is required. If you have kids that are under the age of six, safety becomes a concern.

Jessica Stone
Jessica considers herself a home improvement and design enthusiast. She grew up surrounded by constant home improvement projects and owes most of what she knows to helping her dad renovate her childhood home. Being a Los Angeles resident, Jessica spends a lot of her time looking for her next DIY project and sharing her love for home design.
More by Jessica Stone
Published February 8th, 2021 10:42 PM