353 Views
What Are The 7 Safest Neighborhoods In Savannah, GA?
November 29th, 2021 11:49 AM
Share
We're committed to finding, researching, and recommending the best products. We earn commissions from purchases you make using links in our articles. Learn more here
Savannah, Georgia is a coastal, mid-sized city with a world-class reputation for hospitality. Think beautiful coastal landscapes, well-preserved architecture, and rich, vibrant history in a warm subtropical climate. Home to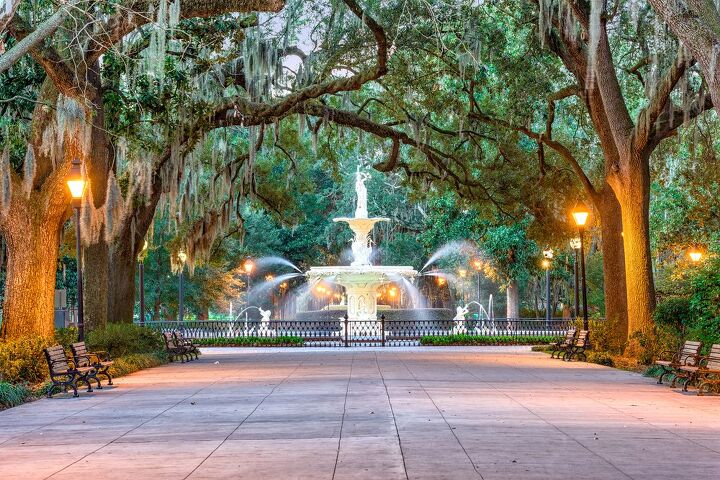 Savannah, Georgia is a coastal, mid-sized city with a world-class reputation for hospitality. Think beautiful coastal landscapes, well-preserved architecture, and rich, vibrant history in a warm subtropical climate.
Home to over 100 distinct neighborhoods, Savannah has a picturesque historic district and a lively downtown, as well as a diverse surrounding community. The state of Georgia is generally a safe place to live and the city of Savannah is no different. Individuals and families alike can feel a sense of well-being about anywhere in this picturesque city. There are however a number of communities that offer the highest levels of safety.
The safest neighborhoods in Savannah, GA are Talahi Island, Isle of Hope, and Henderson. These neighborhoods are cited for low crime rates, low unemployment rates, and high-income levels. The residents of these neighborhoods consist of young families, mid-level executives, and retirees. Each of them boasts the cities lowest violent crime rates and are exemplary in the safety of their residents.
Set against a backdrop of historic landmarks and Victorian-style mansions, Savannah is a charming city that anyone will easily want to live in. But before making a final decision, we recommend doing some essential research first. Safety should be a top priority for anyone looking to relocate or otherwise make a move to Savannah. Let's examine some key elements of this city and look more closely at safety.
Do You Need to Hire Movers?
Get free, zero-commitment quotes from pro contractors near you.
7 Safest Neighborhoods in Savannah, Georgia
Locals pride themselves on Savannah's affordable living costs, reliable public transit, and booming metropolitan area. There are plenty of neighborhoods in the area, too, and we know how daunting it can be when looking for a new place. Using reliable data and credible reviews from residents, we've come up with a list of the best neighborhoods in Savannah.
1. Talahi Island
Population: 1,454
Median income: $87,096
Total crime per 100K:  381
Unemployment rate: 1%
"To grow up and live 5 minutes from a beach for 18 years is the greatest experience. To have a back river or waterway accessible to me for fishing, boating, or swimming has given me the best childhood possible," says one long-term resident from Talahi.
This resident has nothing but beautiful words and praise for this mid-sized coastal city. It is one of several islands lying in the tidal marshes between Savannah and the Atlantic Ocean.
Residents in Talahi Island appreciate the seaside lifestyle in the beautiful beach town, which has been recognized as an ideal place to live with low crime. They also enjoy a sense of community through various outdoor activities like water sports.
If you are interested in Talahi Island, you will be amazed with real estate options from new traditional homes with marshfront views and stucco exteriors to bungalow-style homes with protective metal roofs near the beach.
2. Isle of Hope
Population: 2,564
Median income: $85,707
Total crime per 100K:  426
Unemployment rate: 3%
Isle of Hope is a suburb of Savannah in Chatham County and is one of the best places to live in Georgia. Despite the title, Isle of Hope is not an island.
It was established as a 19th century retreat for the elite of Savannah during the intense heat and outbreaks of malaria throughout the summer months. As greater numbers of people discovered the area, it eventually became a popular summer retreat. By the early 20th century, it fully transformed into a suburb of Savannah with year-round residents.
You might be interested to know that most of this neighborhood's residents are married. Hence, its real estate is primarily made up of medium-sized to large single-family homes.
If literature, music, and arts are your cup of tea, you may have found a great place for you in Isle of Hope. Neighbors in Isle of Hope are "urban sophisticates" with fine tastes in culture.
3. Henderson
Population: 1,681
Median income: $70,000
Total crime per 100K:  663
Unemployment rate: 3%
Another suburb of Savannah in Chatham County, Henderson is home to many families and young professionals. With a mixture of owners and renters, Henderson's real estate is primarily composed of medium-sized (three or four bedroom) to small (studio to two bedroom) single-family homes and apartment complexes/high-rise apartments.
The neighbors in Henderson are middle-income. Here, 35.9% of the working population are in executive, management, and professional occupations.
According to a long-time resident who's also a parent, "The community is a somewhat close one. Neighbors look out for each other [in Henderson]."
4. Skidaway Island
Population: 7,950
Median income: $104,643
Total crime per 100K:  953
Unemployment rate: 2%
Skidaway Island is a suburb of Savannah in Chatham County, offering residents a sparse suburban feel in one of the largest planned communities in the country.
Living on Skidaway Island is a very distinct kind of lifestyle. It is peaceful and quiet with above-average safety compared to other neighborhoods in Georgia and a diverse range of housing options.
Skidaway Island is a retiree's dream neighborhood, being more retiree-friendly than 99.8% of neighborhoods in GA. If you choose to live here, expect a vibrant mix of very educated seniors, highly knowledgeable executives, and other age groups.
5. Whitemarsh Island
Population: 6,922
Median income: $62,746
Total crime per 100K:  884
Unemployment rate: 2%
Whether you choose to rent or own a property, there's a place for you in Whitemarsh Island!
Whitemarsh Island has been ranked as among the best place for young families to begin their lives. It has a favorable mixture of college students, low crime rates, and decent walking distances and areas.
It is also reported to be a better location for college students to reside in than most due to the area's convenience and services. Additionally, there are senior living communities, the senior center, parks, and recreational facilities for retirees.
Most Whitemarsh Island residents are upper-middle income making it an above average income neighborhood. It also stands out nationally for having a greater proportion of its residents active in the military than 97.2% of other U.S. neighborhoods.
6. Dutch Island
Population: 943
Median income: $142,989
Total crime per 100K:  1,098
Unemployment rate: 0%
Dutch Island is a small picturesque, gated community with 500 acres of beautiful landscape and roughly 480 residential houses. It is a short car ride from downtown Savannah.
Scenery around the island consists of the vast saltwater marsh and the intercoastal waterway. What's more? You can be part of the neighborhood's active and engaged Homeowner's Association, which oversees the community. The neighborhood is usually vibrant with social activity happening at the community dock or pool.
As one of its residents said, "It is a very beautiful, safe, down-to-earth, caring community in which I was blessed to grow up."
7. Thunderbolt
Population: 2,606
Median income: $54,564
Total crime per 100K:  1,270
Unemployment rate: 3%
Part of the greater Savannah metropolitan area, Thunderbolt is a very small town with a population of 2,606 people and just one neighborhood. However, its real estate is some of the most expensive in Georgia.
While Thunderbolt is just a short drive away from Savannah, the scenic town feels like a whole other world with remarkable sights of the wildlife-filled marshlands surrounding its waterway.
If you decide to move to Thunderbolt, you will have very well-educated neighbors compared to most cities and towns. Here in Thunderbolt, 36.91% of adults have a bachelor's degree or even an advanced degree.
However, living in this peaceful town can be costly when it comes to transportation and commuting expenses. Drivers will need to spend an average amount of money on gasoline or other fuels during their commute, since public transportation options are not widely available here. Homeowners who own cars might have the least expensive transportation and commuting costs in the area since home values tend to be quite high.
Do You Need to Hire Movers?
Get free, zero-commitment quotes from pro contractors near you.
Summing It Up
Whatever you fancy, you can embrace the lifestyle you want in a safe neighborhood in Savannah, Georgia. The city, as well as its neighborhoods, feature art, period architecture, and trendy boutiques thriving with the wonders of nature. Driving east from downtown Savannah, you can see the residential areas in Thunderbolt, Whitemarsh, Talahi, and Wilmington islands along the Atlantic Ocean coastline.
Meanwhile, just a little farther south and you can enjoy the beauty of secluded Burnside Island, the Vernon River, or see different animals like wolves, birds of prey, foxes, cougars, bobcats in the Oatland Island Wildlife Center.
Whether you are a student, young professional, married, start-up family, or a retiree, there is a perfect and safe Savannah neighborhood for you. Real estate options also come in a wide range, with different types of housing that suit different needs. You can also choose the kind of neighbors you want to live with.
Moving to Savannah, Georgia means taking things at a slower pace so you can enjoy every moment without worrying much about your safety.

Paige Hanawalt
Paige is an elementary school librarian with a passion for writing. Her hobbies include reading an exorbitant amount of fantasy, slowly teaching herself to draw, and home decor. While she isn't the most talented artist or interior designer, what she lacks in skill she more than makes up for in enthusiasm. When she's not curled up with a book, you can certainly find her curled over the keyboard.
More by Paige Hanawalt
Published October 11th, 2021 8:24 PM