1.3K Views
10 Piano Brands To Avoid (Buy These Instead!)
January 3rd, 2022 11:04 PM
Share
We're committed to finding, researching, and recommending the best products. We earn commissions from purchases you make using links in our articles. Learn more here
Pianos are an amazing instrument that can be used to create all kinds of musical masterpieces. But they are also quite expensive, and if you spend your money on the wrong brand, you'll be stuck with a terrible, low quality piano. Whether it be Gewa, Lindner, or Samick, let's take a look at the 10 worst piano brands.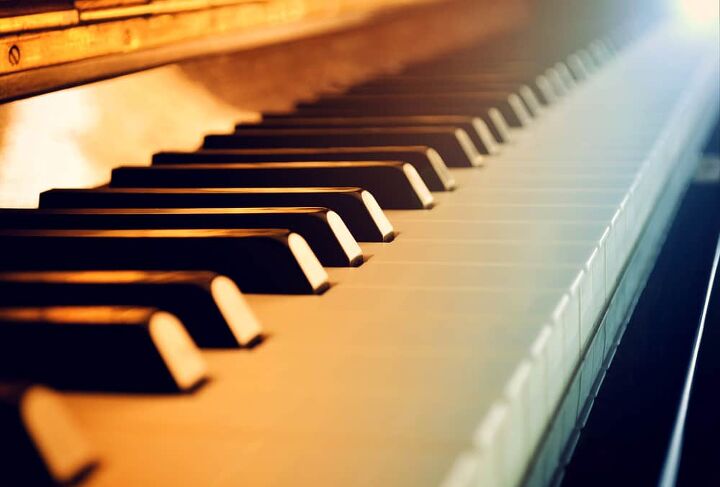 There is a special feeling when you walk into someone's home, and there is a piano sitting there waiting. However, it can be disappointing when you find that it's only for decorative purposes.
Many reviews and advertisements cover only the good stuff because they want you to buy their name-brand product. The ads will not tell you what is wrong with them. The buyer only finds out after purchase, so which brand names of pianos should you avoid?
When buying an upright or digital piano, avoid brands like Wurlitzer, Daewoo, Kranich & Bach, and Samick. Also, Marantz, Linder, Williams, Arestia, Gewa, and Suzuki. Pianos from these brands consistently have issues like cracking sounds, resistance when playing keys, and overall sound quality issues. Instead, buy Donner, Yamaha, or Alesis Melody pianos.
Related Content: List of All Piano Sizes | Types of Pianos | Cost to Tune a Piano | Parts of a Piano
The 10 Worst Piano Brands To Avoid
Statistics and polls were put together to determine which pianos were the worst. Homeowners and professionals threw in their opinions, which helped us develop this list just for you!
1. Wurlitzer
These pianos are not made for professionals. The cheap and low-quality factor does not allow musicians to get the quality sound they need. Most professional musicians have labeled Wurlitzer pianos as dull.
Some would say it is alright to learn how to play on a Wurlitzer piano, but even students feel like they are playing on a toy piano.
Wurlitzer Models To Avoid
The Wurlitzer piano models that you should avoid include the Wurlitzer 120, Wurlitzer 200, and Wurlitzer 200A. Overall, these particular models are known for the poor sound, the need for constant tuning, and electrical problems that ultimately seem to have no sure fix.
When the Wurlitzer 200 first came out, there were a lot of electrical problems associated with the piano, and unless it was rewired, there was no way to fix this. When the new and improved 200A came out, it was built poorly and needed constant tuning and maintenance.
Lastly, the Wurlitzer 120 seems to have a fat and poor sound. Furthermore, it's an expensive piano. Not to say these pianos aren't valuable, but if you're looking for a piano to play, these models are less than ideal.
2. Daewoo
Daewoo is a Korean manufacturer brand that has produced and exported pianos since 1976. Pianos manufactured from Korea were notorious for their low-quality parts, especially before the 1990s. The primary issues with these pianos are sticking keys and the lack of ability to stay in tune.
Once people purchase this piano brand, it is not easily fixable. Piano technicians cannot repair most of them because the parts are almost impossible to find. It doesn't help that customer service for the Daewoo brand seems to be non-existent.
Daewoo Models To Avoid
After pouring through numerous Daewoo piano models, the two worst models you need to avoid are the Daewoo DU4RP Upright Piano and the 1987 Sojin Daewoo. The DU4RP is prone to warping due to the way it was built, and the 1987 Sojin Daewoo sounds out of tune even when it's in tune, and the keys like to click.
Keep in mind that these issues only get worse over time. Unless you're planning to purchase and completely revamp, it's not worth buying either of these models if it's not strictly for decoration.
3. Kranich & Bach
Of all the other brands on this list, the Kranich & Bach brand is the oldest. This brand manufactured pianos from the Civil War era in 1864 and lasted until 1985. However, the reputation is not good.
The quality is poor, and the keyframes are poorly designed. Well-established brands can last what seems like forever, but not this name brand. Regular maintenance has no chance of keeping these pianos going.
Anyone who purchases this piano will have many different issues to deal with. The company closed its doors in 1985, so there are bound to be issues if you find one of these pianos.
Kranich & Bach Models To Avoid
The Kranich & Bach piano models you should avoid include the C153 Grand Piano, BP50, and the Kranich & Bach 47900. The keyframes are very poorly designed on all of these models, making them incredibly hard to play. These are also deemed the most unmaintainable models as well.
4. Samick
This brand has the same issues as Wurlitzer. Professionals refuse to play them but say it is ideal for beginners and casual use only. Those learning on a Samick lose interest in the brand when they realize just how poor the sound quality is that these pianos produce.
If you do not mind the sound and only use it for playing simple melodies, it is good. It is not a piano that can be played for long periods. Eventually, the sound will get to you.
Samick Models To Avoid
When buying a Samick Piano, the models you should avoid include the Samick JS43, JS115, JS247, and SIG48. These pianos are not built for the best sound and do not contain the best structure.
While these brands seem to be okay for beginners, they can be frustrating to play because the key placements are off, and the sound does not ring as it should. This could be detrimental to beginners as the feeling and sound of a good quality piano can sound odd or feel odd.
5. Marantz
People who are familiar with the Marantz brand tell buyers to run away. The company has been in operation since 1953 and is not well-liked when it comes to its pianos. Piano players say the Marantz pianos are created with defective quality materials.
Marantz specializes in audio products. They added pianos to their sales line, but it was apparent they did not focus on the pianos.
Marantz Models To Avoid
The model that Marantz is most known for is the Marantz Model PC 1145B PianoCorder, which you should avoid if you're looking for a piano that's friendly to play. The sound and construction were inferior when they came out; imagine how they sound 40 years later.
While the concept of this piano is interesting, the execution of bringing that concept to life failed as they didn't focus primarily on the build, and they built it with poor quality materials. Had they honestly tried, this piano could've been one of the best on the market.
6. Lindner
This is another upright brand of piano to avoid, and for a good reason. The keys are made of plastic and break as the piano ages. Lindner made a poor decision when they were forced to make lighter pianos.
They are known as one of the worst brands of all time. The experiment with placing revolutionary plastic or see-through plastic in their pianos destroyed their company's name. Not to mention, there are no parts available when something breaks because the company has shut down.
Lindner Models To Avoid
There is no particular model to avoid for the Lindner brand, as the brand should be avoided altogether. These Irish pianos were created with revolutionary plastic and break very easily. Beware that the Lindner brand is also sold as the brand name "Cameo."
The plastic that Lindner is created with does a very poor job at functioning with the demands of the piano keys and foot pedals. Think of those plastic hooks used to hold cheap children's toys together; that's the plastic used in these pianos.
7. Suzuki
Suzuki is famous and well-liked in the automotive industry, but not in pianos. It is a separate entity independent brand labeled under Suzuki. This is another piano that has horrible key action with weighted keys.
Acoustic pianos can put forth the sound according to how hard the keys are pressed, and Suzuki brands do not have this feature, and it takes away the realistic feel and timing of the music.
Professionals and music teachers say it takes away from experience for beginners. Those who are experienced can somehow manage, but it is not the same.
Suzuki Models To Avoid
The Suzuki piano models you should steer clear of include the MDG 400 BL, MDG 300, and Suzuki CTP-88. There have been various reports, such as the foot pedal not holding the proper positioning, software issues, and poor realistic dynamics.
The foot pedals for the MDG-400BL are too long, so when you press them, there's too much slack to where the foot pedal is more or less ineffective, without in real way to fix it. And when it comes to the MDG300 and CTP-88, the loud to soft-touch response was very weak, which made them hard to play overall.
8. Williams
Reviews call the Williams piano nothing more than a "piano-shaped object." It is a digital piano that is made of plastic. It may have the features of over 150 sounds and instruments, but this doesn't make up for the poor quality of sound.
Players notice the soft sounds as they hit the keys. One key may be louder than the other. Many musicians labeled Williams as a disappointment.
Digital pianos with the same features are under $300 and sound and play better than this brand and have better key action. The black keys feel too much like plastic, making it noisy unless you drown the sound out by cranking the volume.
Williams Models To Avoid
The Williams piano models to avoid include the Symphony Grand, Allegro 2 Plus, and Legato Plus. Not only is the brand made of poor-quality plastic, but, collectively, these specific models are known to have issues with key tone and volume being off from one key to the next.
9. Artesia
Many people discuss the discomfort of playing this brand of piano. Along with the rest, it has low-quality parts that break easily. The acoustic piano is challenging to play due to the rigid keys, which are hard to press.
The keys of a piano are meant to play smoothly so that they can flow with the music. Bad reviews state that the keys do not even belong on the piano. The sound is terrible and goes out of tune often.
With the digital piano, the professionals notice the tempo is altered from the MIDI playback songs. Other digitals have this feature but not the Artesia brand. Players call it a huge deficit.
Artesia Models To Avoid
The Artesia models you should avoid include the PE-88 Digital Piano, PA-88H, Harmony 88, and the Artesia AG-50 Digital Grand Piano. There have been problems across the board on these specific models, including everything from poor key structure to poor sound quality.
Owners of these particular models complain of the key placement and frames being 'off', which ultimately make them rub and click together. This makes it difficult to play the piano fluently without being thrown off by the sound that it produces.
10. Gewa
Piano players are not impressed with this brand at all. For a digital piano, the speaker system is no good. Professionals say the sound feels like it is coming out of a cabinet. Headphones do not help the situation, and the sound is still too low when the volume is turned up.
Gewa Models To Avoid
When it comes to the Gewa brand, the piano models that should be avoided include the Gewa UP400 Digital Piano, the UP280G, and the UP260G. The way the sounds ring out of these particular models makes it sound like the speakers are hiding in a closed cupboard.
Not only is the sound muffled, but very soon after purchase, there seem to be frequent shorts in the speaker wires and poor software overall, making it almost impossible to play this brand.
Top-Rated Pianos You Should Try
Now that you know which piano brands to run away from, you can learn about the top-rated pianos and keyboards.
Donner DDP-100
This upright piano has the best-weighted keys that can get you into the feel and rhythm of your music. The sound is realistic and excellent. A built-in amplifier allows for using MP3 players, headphones, and uploading of external sounds.
This piano is a favorite among professionals, teachers, students, and homeowners. It even has a wooden cabinet built into it.
Alesis Melody
A digital piano with a stand that holds musicians' hearts has made its breakthrough. The Alesis Melody has 61 keys and is portable with built-in speakers. This keyboard contains over 300 voices, sounds, and rhythms.
Music teachers love it because it enhances the teaching abilities and student enthusiasm in playing the piano. It also works excellent in the studio and homes. Another added feature is the built-in microphone so that you can sing along.
Yamaha
Yamaha has been a personal favorite of many throughout the decades and is also one of the most trusted name brands. The keys are perfectly weighted for playing smoothly.
Performers, teachers, students, and homeowners love this piano with the matte black keys. It absorbs moisture keeping the keys protected. This piano will be around for many more decades.
Why Is The Brand Of A Piano Important?
Many shoppers often rely on the top brands blindly. Some people have continued to buy or subscribe to a particular brand for decades, and they feel the product held up to its word and name. Pianos are no different when it comes to certain brands.
Some professionals need their equipment to be reliable in performances and others for show and tell. No one wants to look like a fool if they put all their glory into their piano, only for it to malfunction. It has happened to many performers and those learning at home.
Therefore, it's important to learn about the different brands as two brands can cost the same, but one will be notorious for poorly built pianos, while the other brand can be rated as one of the best!
What Makes A Bad Name Brand?
Brands that create their piano parts poorly and are expected to break at any moment are considered bad brands. False advertisements can lose the public's trust, especially when you look at the reviews only to find out how poor the piano is.
All parts must be made with the highest quality material for the name brand to be trustworthy. When the manufacturers put all the pieces together, the piano should hold a tune. Some pianos are unsuitable for beginners and discourage future pianists when they do not function properly.
Upright Pianos vs. Digital Keyboard: The Difference
Upright pianos can either work off of electric or acoustic sounds. They stand upright and are made out of the finest wood products for show and stability. There may be keys added to the keyboard depending on the size of the piano.
A digital piano looks almost as fancy as an upright but is mainly for a corner and saving spaces. These run strictly off electricity and battery power. They come flat and can be placed anywhere, like a tabletop or in your lap.
There are many more buttons on a digital because they are made to be synthesizers. Different sounds and other instruments can come out of it while playing with the keys.
More Guides on Piano Dimensions

Upgraded Home Team
We are a team of passionate homeowners, home improvement pros, and DIY enthusiasts who enjoy sharing home improvement, housekeeping, decorating, and more with other homeowners! Whether you're looking for a step-by-step guide on fixing an appliance or the cost of installing a fence, we've here to help.
More by Upgraded Home Team
Published April 4th, 2021 1:32 PM