486 Views
4 Laminate Flooring Brands To Avoid (Buy These Instead!)
April 19th, 2021 1:02 PM
Share
We're committed to finding, researching, and recommending the best products. We earn commissions from purchases you make using links in our articles. Learn more here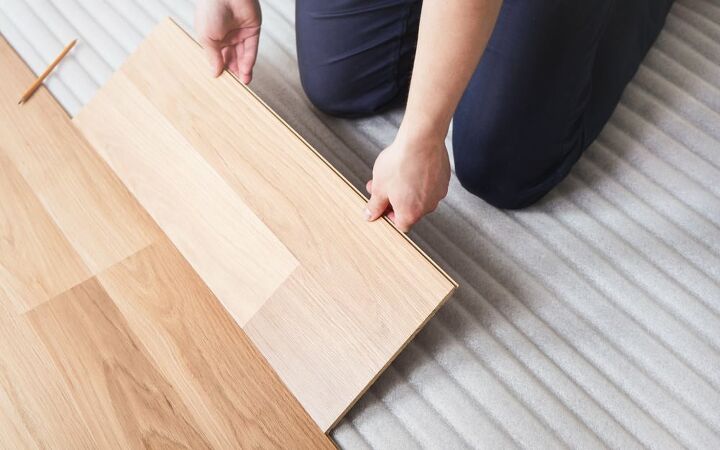 Laminate flooring has become increasingly popular over the years due to its affordability and ease of installation. Additionally, it is exceptionally durable and expected to last upwards of 20 years! This is a deal that you cannot beat. However, this depends on the laminate quality, which is why it is vital that you steer clear of certain laminate flooring brands.
After extensive research, we have discovered that the number one brand you should avoid is TrafficMaster due to its inferior quality. TrafficMaster is not durable and will not last long at all. Also, you should avoid Armstrong and any other brands you can purchase from Home Depot or Lowes.
At first glance, most of you might be a little surprised that we had put TrafficMaster as the number one brand to avoid, but we have our reasons! Stick with us through this article to inform yourself of the laminate flooring brands you should steer clear of. Do not worry; we have also included some of the best brands so that you know what to look for when you shop.
Do You Need to Hire a Flooring Contractor?
Get free, zero-commitment quotes from pro contractors near you.
How We Determined The Worst Brands
Most laminate flooring brands are great; however, each brand has its advantages and disadvantages. We took the time to pour through tons of information, including their reliability rating, reviews, reputation, price, and durability. We thought it was vital to combine these components for our determination.
The Top 4 Laminate Flooring Brands To Avoid
Beginning with number one on our list, TrafficMaster, we'll take you through each of the brands we have listed to explain why you should avoid using these at all costs.
TrafficMaster
Lowe's Laminate Flooring
Armstrong
Home Depot Laminate Flooring
TrafficMaster
TrafficMaster draws their customers in with the appealing laminate that they sell. At first glance, this brand looks like the greatest bang for its buck, but it is lacking in several areas, including quality, durability, and warranty.
Poor Quality
The quality of TrafficMaster's laminate is not particularly good. At 68 cents per square foot, it is just not worth getting a product that you will need to replace in less than two years. Most TrafficMaster laminates' reviews said that consumers noticed peeling and chipped planks within the first week!
Not Very Durable
Most decent laminate will last about 25 to 30 years. However, TrafficMaster typically needs to be replaced within the first ten years. If you expect a lot of foot traffic over the area, you will need to replace the flooring within the first two years.
Traffic Master is also not water-resistant or resistant to stains or wear and tear. While the price point is excellent, the product is not. You would be better served to pay a little bit higher of a price for good flooring.
Bad Warranty
The warranty is only 15 years! Not to mention, TrafficMaster does not cover any wear and tear damage. They also do not guarantee that their product will not warp or stain. So, what exactly does their warranty cover? Well, it covers any damaged planks upon opening but does not specify much more than that.
Laminate From Lowe's
It is no surprise that Lowe's is a company that pulls billions of dollars in revenue, but that does not necessarily mean they are experts when it comes to flooring. When you choose to have them install it for you, the brand they use to install is not great at all, and the installation job is not particularly good either.
Poor Reputation
Upon reviewing Lowe's laminate flooring's consumer reviews, both the installation professionals and the materials themselves had poor reviews. Also, it's been stated that Lowe's flooring 'specialists' have missed their appointments or have overcharged the customer.
Not So Great Quality
After installation, consumers have reported peeling, warping, and scuffing within the first few months. Some people have not had a straight answer on the brand that Lowes even uses for installation, but it is not good quality.
The amount you pay for them to install the flooring, you could use that to get a better-quality laminate and install it yourself.
Armstrong
We will be the first to tell you that some of Armstrong's laminate is amazing! They have some great laminate flooring, and some of the other laminates are not so great. So, why did we put them on this list? Because they deceive you with their warranty, and if they are deceptive in that way, what other practices are they misleading?
They Trick You With Their Warranty
When you first look through their warranty, everything is excellent! However, there is a ton of fine print that you need to pour over before you decide to purchase their product. What is happening behind the scenes is that they prorate their warranty the first year and then each following year, the prorate proceeds at 5%.
What this means for you is that the warranty is quickly dwindling. For example, if you need a repair after ten years, the warranty will only cover 50%! The whole point of this is to trick you into thinking that you are getting a good warranty when in all actuality, it is a horrible one. Always make sure that you read the fine print.
Home Depot Laminate Flooring
Another great industry giant is Home Depot; however, like Lowes, they are not good when it comes to flooring. They do specialize in home renovation projects, but they do not specialize in flooring. There is a difference. Most of the flooring is of lousy quality, and it is hard to install.
Bad Quality
Upon checking the reviews, most customers have complained of warped planks and ill-fitting flooring. The tracks do not want to match up or slide together, and they feel more like cardboard than actual laminate backing board. This results in a lot of warping, particularly if you accidentally spill water.
Hard To Install
Not only is the quality of the flooring bad at Home Depot, but it is also ridiculously hard to install. Even professionals have had an issue with installation as the warping, and unlined tracks make it hard.
While you might think it is a good idea to hire professionals at Home Depot to install your flooring, they also have bad reviews. They have been known to make uneven cuts, and they do not clean up the way they should. One customer had said that Home Depot did not reinstall the toilet after installing the floor.
What To Look For In A Laminate Flooring Brand
When it comes to flooring, laminate is one of the cheapest ways to go. However, like with everything else in the world, there is high-end and low-end laminate. Something to keep in mind is that you get what you pay for.
This does not mean to buy the most expensive laminate and call it good; it is a bit more involved than that. Below, we have included several things for you to look for when choosing a laminate flooring brand.
Material Quality
The number one factor that you want to consider when purchasing laminate flooring is the quality of the materials used to create the planks and the underlay.
This alone will be enough to guide your decision on whether you should buy it or not. It is a great idea to make sure you get water-resistant materials so that it lasts you even longer.
Consistent Installation Processes
This may sound a bit weird, but you need to ensure that the flooring brand you are looking into has a consistent installation process. Sometimes these smaller brands will have questionable tactics throughout the installation. Furthermore, the instructions will differ between the same products.
Durability
The durability is another important factor as this is going to determine the longevity of your flooring project. To tell whether laminate is durable, you will want to check the thickness, as it should be between 8 and 12 millimeters. Additionally, the laminate should be resistant to normal wear and tear, stains, and water.
Warranty
No matter the project you purchase, you will always want to ensure that it has a good warranty. A standard warranty for laminate flooring is typically 30 years, and it should cover fading, stains, and peeling.
Flooring Brands To Choose Instead
There are two brands that stand out when we researched the top laminate flooring brands: Mohawk and Pergo. However, they both tied for first place since they are both remarkably similar. We will take you the reviews together since there is nothing that separates these from tying in first place for the best laminate flooring brands.
About Mohawk And Pergo
Overall, Pergo was the very first company ever to manufacture laminate, and they only manufacture the best. Mohawk acquired Pergo in 2013 and ended up following the same type of expert care and craftsmanship that Pergo applies in their laminate flooring manufacturing process.
However, if you need us to tell you one or the other, we say Pergo only because Mohawk adopted its brand. But both companies follow the same protocols and create the same quality products as one another.
Why Choose Pergo/Mohawk?
When you choose Pergo or Mohawk, you get a high-quality product created while keeping longevity at the forefront of their minds. Not to mention, their flooring is gorgeous, thick, and water-resistant, as well as resistant to wear and tear and stains.
Moreover, Pergo and Mohawk incorporate several additional technologies into their laminate, making them the best laminate flooring brands to get.
Friendly For The Planet
Laminate is not typically recycled because it is hard to do so. Therefore, Pergo and Mohawk are GreenGuard certified as they have a low amount of volatile organic compounds inside their laminate. Not to mention, their product is also CARB2 compliant, which means that the laminate does not contain formaldehyde.
CARB2 stands for California Air Resources Board's Phase two, a strict set standard to ensure that formaldehyde is not included in the manufacturing process. You can always look for products that are labeled as NAF or no added formaldehyde to ensure you get a compliant product.
Water-Resistance
Because of the water-resistant quality, you can now mop your laminate like you with any other type of floor. There is no need to worry about a spill or how you are going to clean your floors anymore. Pergo has a laminate that is called WetProtect, and Mohawk has one that is called RevWood Plus; Both products are focused on high-quality water-resistant laminate flooring.
UniClic
UniClic is a locking technology that makes sure that your laminate flooring is fully intact and does not slip. Part of the purpose of this technology is to prevent any moisture from leaking in between the planks. The moisture leakage is what causes warping and other problems, so by including UniClic, this will no longer be an issue.
GenuEdge & Hydroseal
Hydroseal is used to coat the edges in exceptionally durable sealant, while the GenuEdge is added for further protection. The GenuEdge and the Hydroseal together help protect the entire laminate piece from stains, damage from moisture, and any sort of warping.
AC4 Rating
Almost all the laminate between Pergo and Mohawk has an AC4 rating. The rating says that the laminate flooring can withstand traffic in both residential and commercial settings. This type of rating also means that any chances of chips, tears, or scratches are reduced.
Other Benefits Of Pergo And Mohawk
There are a couple of added benefits to Pergo and Mohawk, which include their beautiful sheen as well as their large selection of laminate flooring products.
Sheen
You can choose different finishes such as satin, semi-gloss or matte. These provide the amount of sheen that you want depending on the finish that you prefer. However, it is essential to keep in mind that a glossy sheen can make dirt more visible. If you are laying flooring in a high-traffic area, it is a good idea to choose either matte or satin.
Huge Selection
Another difference between Mohawk and Pergo is that Mohawk has a larger variety of laminate flooring products to choose from, while Pergo has unique products. Combining the two of these provides some fantastic options for you to choose from for laminate flooring.
However, if you want something with more natural wood, then Pergo is the best decision. But if you want a wider variety of choices, then you can look through Mohawk's collection, which consists of over 150 different styles.
Do You Need to Hire a Flooring Contractor?
Get free, zero-commitment quotes from pro contractors near you.
Wrapping It Up
Choosing laminate flooring for your home is a process within itself, nevermind the actual installation! Expensive doesn't always mean the best, and cheaper is not always better. It's crucial for you to take your time in choosing the best flooring and ensure that you get a product made of high-quality materials. You won't regret it.

Heather Robbins
Heather is a passionate writer who loves anything DIY. Growing up, she learned everything from home repairs to design, and wants to share her tips with you. When she's not writing, she's usually hiking or searching for her next DIY project.
More by Heather Robbins
Published March 2nd, 2021 2:26 PM