29 Views
The 5 Best Kitchen Chairs That Swivel
April 5th, 2022 9:18 PM
Share
We're committed to finding, researching, and recommending the best products. We earn commissions from purchases you make using links in our articles. Learn more here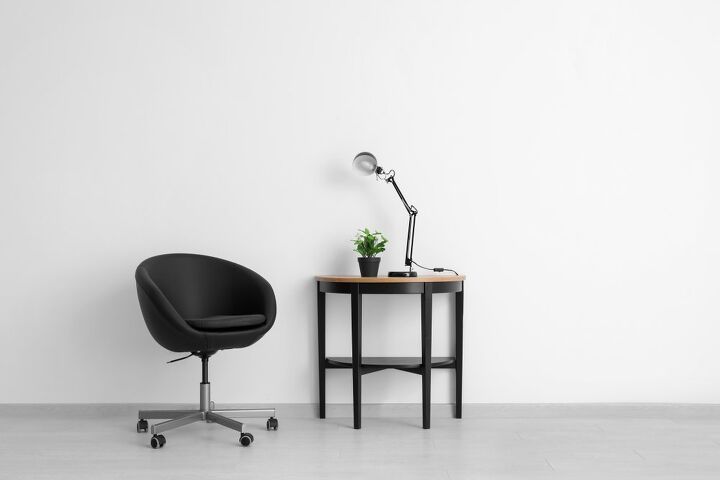 Most of us don't pay a lot of attention to the decor of our kitchen eating area. Many times, the eating area in our kitchen is a second thought situation. However, since most of us spend a lot of time in our kitchen and its attendant eating area, we should think a little more about style and comfort.
Kitchen swivel chairs may be formal, informal, table height, bar height, or counter height for an eat at the kitchen island. Available styles range from avant-garde to colonial. Many swivel kitchen chairs have casters for easy movement on solid surface floors. Materials used for swivel kitchen chairs include wood, metal, plastic, fiberglass, and carbon fiber.
There are a few things to consider when selecting a set of swivel kitchen chairs. We will talk a bit about these considerations after we look at some of the choices available. We made our selections to try and cover as many styles, tastes, and needs as possible. Hopefully, one of these swivel kitchen chairs will fit your decor.
Our Swivel Kitchen Chair Picks
There are thousands of different swivel chairs on the market. Finding one that suits your tastes can be overwhelming, to say the least. We chose several styles and types of swivel kitchen chairs for our list. Since kitchen chairs can suffer from spills and other food accidents, we looked for durability as well as style.
These swivel kitchen chairs with casters from Caster Chair Company are traditionally styled and offer the convenience of both swivel and rolling castors. These chairs will enhance any breakfast area or kitchen dining area. The bonded leather seat and back coverings resist stain and spill. These chairs with elegant bentwood arms will provide years of service in your kitchen dining area.
Caster Chair Company used premium-grade mechanisms and materials to produce these chairs. You can count on premium features on these quality chairs.
Features
Each of these swivel kitchen chairs from Casual Rolling includes high-quality casters allowing you to move these chairs easily around your kitchen, dining room, game room, or family room.
Commercial grade tilt and swivel mechanism provide rugged durability on the parts of your chair that take the most stress. You can look forward to a long life from these chairs.
The back and seat feature the best quality foam for comfort and long service life. The bonded leather upholstery on the chair's back and seat will give years of trouble-free comfort. Solid oak arms and a welded construction on the chair base frame add strength to the frame. These chairs as made in the USA.
Specifications
Dimensions – 28 inches deep, 37.5 inches high, 23 inches wide
Seat Depth 18 inches
Arm Height 25 inches
Our Thoughts About This Chair
The styling of this chair is simple and elegant. The bonded leather upholstery wears well and will resist stains and spills. You should be aware that the color of the upholstery and the wood is light and may not fit in well if the rest of your home decor is dark wood.
I am always a little paranoid about furniture that is purchased online from a picture. My recommendation is always to buy one chair to make sure you get what is advertised. Another point of concern is the assembly that may be required. All reports from other purchasers of the Casual Rolling Caster Chair by Caster Chair Company are positive in this area. The assembly is simple, straightforward, and quick.
If you want a swivel standard height kitsch chair without casters, we suggest you look at the Studio Design Home Spire Luxe Swivel Chair. These high fashion swivel chairs will enhance any decor and bring a bit of luxury to your kitchen eating area. The upholstered arms provide a level of comfort that may be missing in many kitchen swivel chairs.
Studio Designs offers a variety of options in this line of swivel chairs. You can opt for
Wooden legs
Metal Legs
Leather upholstery
Spire Lux Fabric Upholstery
A wide variety of colors
Studio Design adds both luxurious looks with style. The features that hide beneath the fine upholstery tell a lot about what these chairs are about.
Features
These chairs from Studio Design feature a sleek sculpted design enhancing any décor. The solid wood legs are stained a dark rich color while the metal legs are powder coated for long life and durability. Each chair employs a 360-degree ball-bearing swivel mechanism allowing smooth movement. Each chair is rated for up to two hundred pounds.
The comfortable design features upholstered arms for comfort while sitting. The wide array of options in leg and for persons upholstery colors allows you to make a statement in your kitchen with these chairs.
Specifications
Dimensions – 24 inches deep, 35.5 inches high, 25.5 inches wide
Seat Depth – 1.5 inches
Seat Height – 21 inches
Seat Width – 18.5 inches
Our Thoughts About This Chair
The Studio Designs swivel chair incorporates contemporary style with good looks and functionality. The curvaceous design and upholstered arms give this chair a modern look and feel. The option for wooden legs or metal legs adds another dimension to your selections.
Users should be aware that these chairs ship unassembled. By all accounts, this swivel chair takes a bit of doing to assemble. In some cases, the holes for the screws may be drilled too small to get the screws started. Users do appreciate that the cushions are firm and provide comfortable support. All in all, we like the look of this chair design.
Counter height eating space at a kitchen island is growing in popularity in both new homes and kitchen remodels. Turning your kitchen into an entertainment area is all the rage. These counter height swivel kitchen chairs feature a traditional look with all wood construction and dark vinyl upholstery. Overall, the feeling that these chairs evoke is comfort and richness.
Ball & Cast has a history of building well-made and long-lasting chairs. These wooden traditionally styled swivel chairs will enhance the decor of your kitchen. You will enjoy the features that Ball & Cast incorporate into their chair designs.
Features
The classic design of these Ball & Cast swivel kitchen chairs can easily fit into casual or more formal decor with ease. The counter-height design allows comfortable seating at eating height kitchen islands and the curved back design provides perfect support. Each chair has deep high-quality foam ensuring long-term comfort
Under the rich upholstery you will find a premium ball-bearing 360-degree swivel mechanism that provides quiet and effortless rotation. Each chair has a circular footrest ensuring that no matter where you turn the chair, you have a full stability. The skirt design also fully hides the swivel mechanisms providing an elegant finish.
Specifications
Dimensions – 20 inches deep, 17.5" wide, 37.5 inches tall
Rated for up to 25o pounds
Seat height – 24 inches
Weight – 23 pounds
Our thoughts about This Chair
We love the look and feel of real wood. The bentwood legs give this chair a feeling of luxury. The design gives a look of elegance to these swivel chairs that will enhance any kitchen. The majority of purchasers of the Ball & Cast counter height swivel praise the products.
One area that does get some comments is the assembly instructions that accompany the chairs. Some buyers find the assembly instructions hard to understand and not clear about the sequence of the assembly.
Many new kitchens feature a bar-height counter on the kitchen island so the cook can engage with guests from the start of meal preparation to dessert. If your kitchen has a bar height eating counter on the island, you can make a statement with these adjustable swivel bar chairs from Spyder.
These Euro-style bar chairs feature a cutting-edge design that will bring an entirely new feel to any kitchen. The molded chair form evokes futuristic designs, and the bright chrome metalwork looks crisp and clean. These Spyder swivel bar chairs are available in a wide array of upholstery colors and materials. Order a color to match your decor or bar chairs in different colors for a whimsical effect. You won't be lacking in features if you select these one-of-a-kind bar chairs for your kitchen.
Features
Strength and support are the name of the game with these Spyder contemporary adjustable swivel bar chairs. From the frames and supports made of steel to the 360-degree ball bearing swivel action durability is built into every chair. The faux leather upholstery in a variety of colors allows you to create a focal point in your kitchen with your color choice. The upholstery is available in green, black, yellow, white, and gray
A chrome finish on all exposed steel parts gives maximum protection to the steel frame and legs. You can adjust the height from bar height to counter height using the premium gas-filled lift mechanism
Specifications
Overall height – 35 to 44 inches
Seat Width – 20 inches
Seat Height – 24 – 34 inches
Depth – 19 inches
Backrest Height – 10 inches
Our Thoughts About this Chair
These bar chairs from Spyder are certainly eye-catching and appealing. While they may not fit into all kitchen decors, in the right place these euro-contemporary bar chairs can be a focal point that defines your kitchen eating space.
These swivel bar chairs are an easy assembly project. The colors are bold and bright. The Spyder bar chairs provide a certain flair to even the plainest kitchen eating area. These chairs can be a fun and novel way to spice up your bar height kitchen counter eating area.
Another growing trend in kitchens is the outdoor kitchen. The addition of a cooking area at a home pool or patio makes the space even more inviting and functional. Many outdoor kitchens are complete with a bar height eating area that allows the chef to engage with guests as the meal is prepared.
The Adelita swivel bar and counter chair is a perfect addition to your outdoor entertaining area. These swivel chairs can be ordered in bar height or counter height as well as either black powder coat finish or brushed stainless steel. A host of other features make these chair winners for your outdoor kitchen space.
Features
The Adelita Swivel Bar and Counter stool is built around a durable steel frame that is either powder coated, or chrome plated for durability and corrosion resistance. The chair is upholstered with faux leather on a low back design with wrap around arms that provide optimum lumbar support. The upholstery is available in a wealth of colors including vintage black, vintage coffee, and vintage gray.
A premium steel ball-bearing 360-degree swivel action allows you to always be facing the action. The ring footrest and floor protectors enhance the livability of these chairs. The package comes with connectors and tools included for quick and easy assembly.
Specifications
Bar Chair Seat Height – 30 inches
Counter Seat Height – 26 inches
All Steel frame construction
Width – 22 inches
Depth – 23 inches
Weight – 26 pounds
Our Thoughts about This Chair
The Adelita swivel outdoor kitchen chair combines some traditional features and some more modern elements. We think that this chair is equally at home with contemporary modern decor or can fit into the most traditional decorating plan. The chair is generous and comfortable making it suitable for long afternoons and evenings outdoors in your entertainment space.
Buyers of these chairs routinely report that the finish is excellent at that the assembly was a snap. In our opinion, these chairs are the perfect addition to any home outdoor kitchen. They will also work inside your home when the weather turns, and outdoor entertaining is put off for a few months.
Choosing a Swivel Chair for your Kitchen Shouldn't Cause your Head to Spin
There are thousands of options for swivel chairs in your kitchen eating area. It doesn't matter if you have a traditional height table, a counter-height eating area, or a bar height social center where you cook.
Finding the swivel chair that matches your style and flair is the important part. Hopefully, our selections help you wrap your head around finding that standout swivel chair that makes the right statement.

Dennis Howard
Dennis is a retired firefighter with an extensive background in construction, home improvement, and remodeling. He worked in the trades part-time while serving as an active firefighter. On his retirement, he started a remodeling and home repair business, which he ran for several years.
More by Dennis Howard
Published April 2nd, 2022 5:07 PM