165 Views
Jack and Jill Bathroom Floor Plans
October 22nd, 2021 8:30 PM
Share
We're committed to finding, researching, and recommending the best products. We earn commissions from purchases you make using links in our articles. Learn more here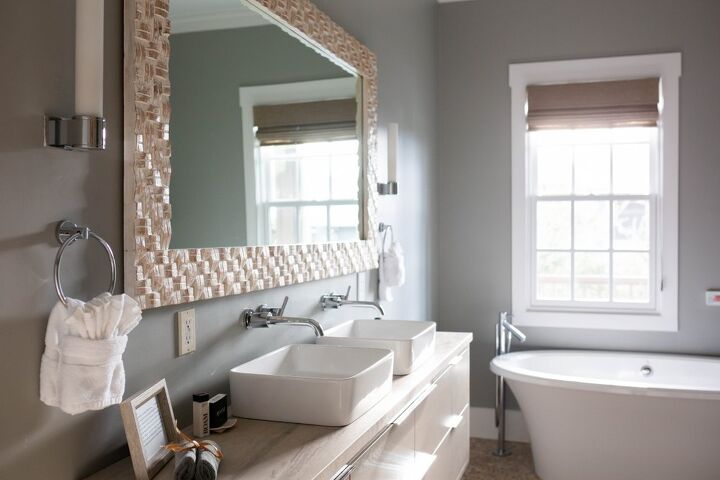 Jack and Jill bathrooms are often popular choices for multi-kid households, with two separate bedrooms sharing one bath. They even get their name from the popular kid's nursery rhyme, Jack and Jill. They also enable household members to have a private entrance without having to double up on the number of bathrooms.
Jack and Jill bathrooms feature a variety of layouts, with the most common being hallway style between two bedrooms. They always feature double sinks or vanities, typically along one wall with the toilet, tub, and shower opposite. Some Jack and Jill bathrooms feature a separate tub and toilet area to keep it more private from the sinks.
You can also find Jack and Jill bathrooms with separate sink areas splitting a common tub and toilet. Some styles also feature separate closets, while others are more simple. You might not see Jack and Jill bathrooms too much in newer homes, but they're excellent for saving space.
What Is A Jack And Jill Bathroom?
The most recognizable feature of a Jack and Jill bathroom is its two access points from its shared rooms. These bathrooms became popular in the 1960s when families were typically larger.
The original intention was for siblings to share these bathrooms. They are full baths, usually with a tub and shower or a tub and shower combo. You'll always find two sinks, adequate storage space, and you can lock both entrances.
The most common setup for a Jack and Jill bathroom is between two bedrooms. However, you can even find one in a one-bedroom house. In this situation, one entrance leads to the bedroom, while the other goes to the hallway.
This is so people can access the bathroom without going through your bedroom. Likewise, you can have a private entrance to your bathroom without having to go into the hall.
How Big Is A Typical Jack And Jill Bathroom?
Jack and Jill bathrooms might have unique layouts to traditional bathrooms, but they are roughly the same size. An average size regular full bath is about 160 square feet. Keep in mind; this is an average, so many are smaller or larger than this.
Jack and Jill bathrooms tend to be just slightly larger to accommodate the two doors and double sinks. But, you can still get them in a wide range of sizes, from small to large.
Small Jack And Jill Bathrooms
A small Jack and Jill bathroom might only measure about 40 square feet. This small area would likely have two sinks close together, and everything is shared. In other words, there would be no additional separation within the bathroom for the toilet or tub.
You also wouldn't have an abundance of storage space in a smaller bathroom. You could also help balance the small area by hinging the doors to open into the bedrooms.
Average-Sized Jack And Jill Bathrooms
The average size of a Jack and Jill bathroom is about 110 to 164 square feet. You'll find a larger counter space between the sinks and the toilet is likely separated with its own door. The main entry doors can open into the bathroom with no trouble.
You can also fit much more storage in this size bathroom, including adding a closet.
Large Jack And Jill Bathrooms
If you have the space, why not give the kids even more room to spread out? It could alleviate some sibling rivalry (maybe). Larger Jack and Jill bathrooms can range from 165 to 210 square feet.
When you have this kind of space, you can almost create two separate bathrooms. Each person could enter a separate area with a sink, vanity, and storage.
Then, there would be another door leading to a shared tub and shower (or combo). The toilet might also be in this area, or you might find yet another separation for the toilet.
Larger bathrooms can also accommodate double closets. If you have it in the budget, you can even give each person their own sink and toilet. Then, the only shared element is a tub and shower in the middle.
Different Jack and Jill Bathroom Floorplans
As you can see from the various sizes of Jack and Jill bathrooms, you have many layout options. When designing a shared bathroom, consider who will be using it and their individual personalities. Also, think about how they get along.
For many siblings, having a smaller bathroom with everything shared is great. It can even help build their relationship and make them closer. Multiples, like twins and triplets, usually do just fine with this setup.
But, with others, it can be a recipe for disaster. Also, if a brother and sister are sharing the bathroom, you may want to consider a bit more separation. In other words, you have to plan for the people, not just based on what you think looks good.
Luckily, there are endless options when it comes to floorplans for Jack and Jill bathrooms. Here are a few to help you get inspired and get your juices flowing.
A Basic Jack and Jill Bathroom With Privacy
One of the most common Jack and Jill styles is a shared sink space with a separate tub and toilet. Each person walks in from their own bedroom and has immediate access to their sink. The sinks usually sit in a long double vanity, offering ample storage, and are parallel to the bedroom doors.
Across from the vanity area is another door that leads to the toilet and tub. Another thing to consider for smaller Jack ad Jill bathrooms is changing the door style.
Instead of sacrificing too much space with multiple doors, you could install pocket doors if you have the wall space. Or, for the interior door leading to the toilet, you could switch out a standard door for a bi-fold door.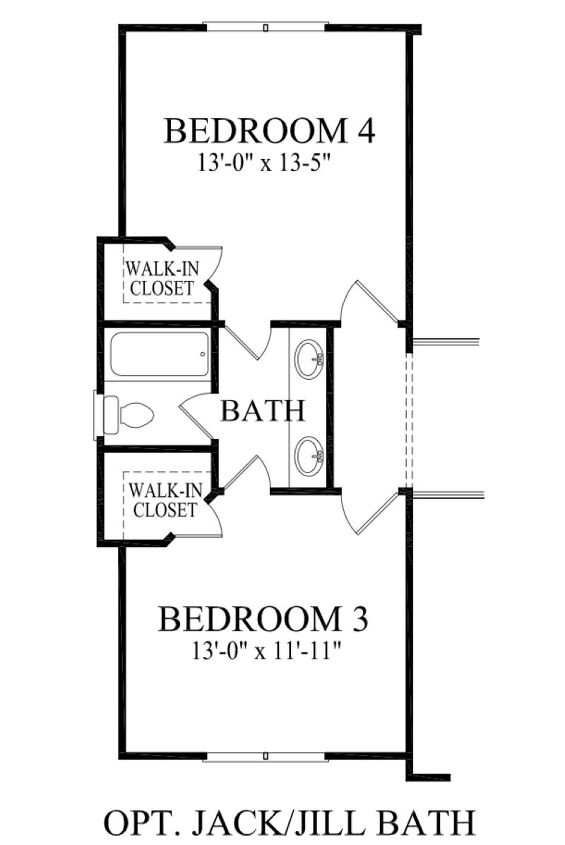 Jack and Jill Bathroom With A Separate Tub And Toilet
This Jack and Jill layout also offers lots of privacy, separating the toilet and tub from each other. The bedroom doors open out into the bedrooms and are perpendicular and across from the sinks. Instead of stepping into the ends of the bathroom, each person steps into the middle.
The tub and shower combo is in its own room, separated by a door. The toilet also has its own separate area and is on the opposite side of the bathroom.
In this setup, the sinks are closer together and in the middle of the bathroom. Again, if space inside the bathroom becomes crowded, you could switch out the interior doors. There is not enough room for a pocket door here, but you could consider a bi-fold or accordion-style door.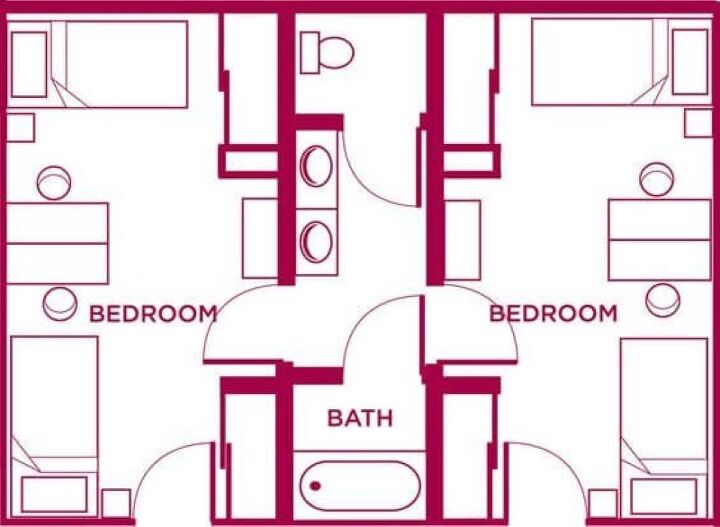 Jack And Jill Bathroom With Private Vanities
Perhaps one of the best ways to add privacy in a Jack and Jill bathroom is completely separating the sinks. In this layout, each person accesses a private vanity area complete with storage. It is closed off from the rest of the bathroom.
This is great for doing make-up, brushing teeth, etc., and not having to worry about anyone busting in on you. Then, each of these separate sink areas has its own door leading to a shared tub and toilet area.
The tub is even offset a bit, so it's not in view of the toilet. With a shower curtain, you can add some privacy in case someone needs the toilet while you're in the tub.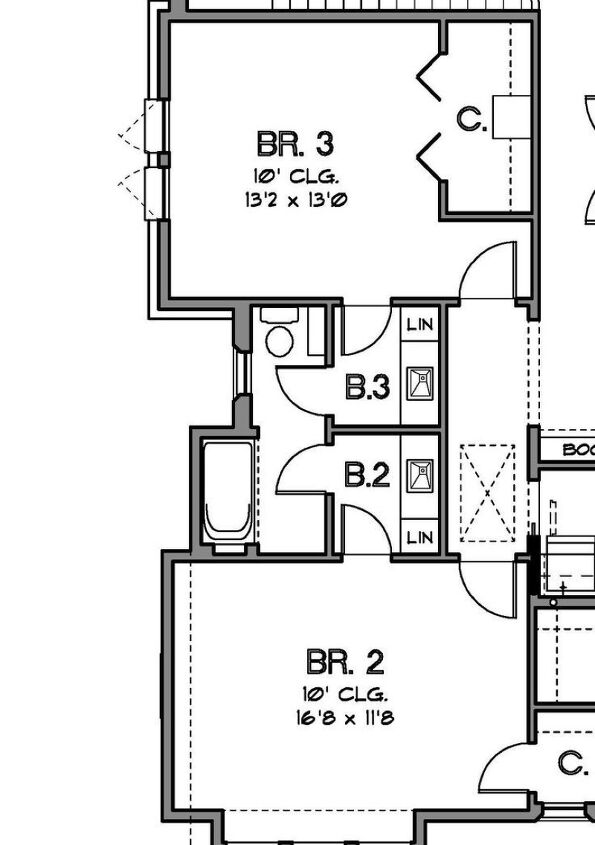 Everything In One Place
Of course, you also have the Jack and Jill bathrooms that put everything together in one room. You walk in from your bedroom and see the sinks, tub/shower, and toilet. This setup is best for siblings that get along well (or, if anything, it will force them, too).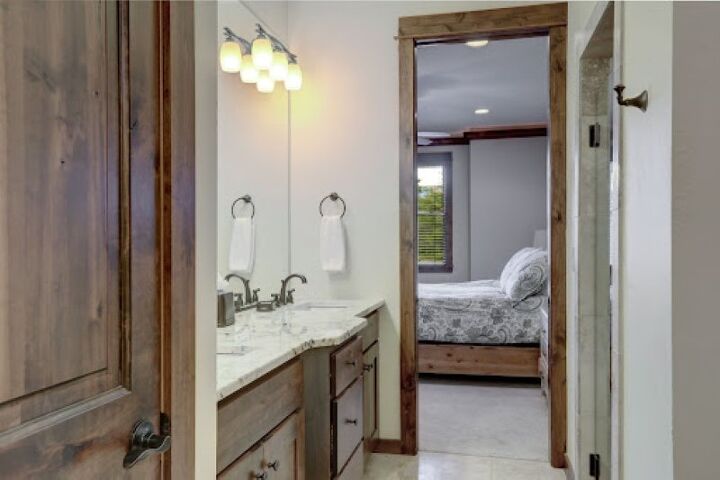 King-Sized Jack And Jill Bathroom
You can incorporate walk-in closets and lots of space into a Jack and Jill bathroom if you have the room. In this layout, each person enters into separate sink areas again, with the addition of a private walk-in closet.
Pocket doors maximize space, leading to a large shared toilet and tub/shower area. There's also extra storage in this part of the bathroom as well.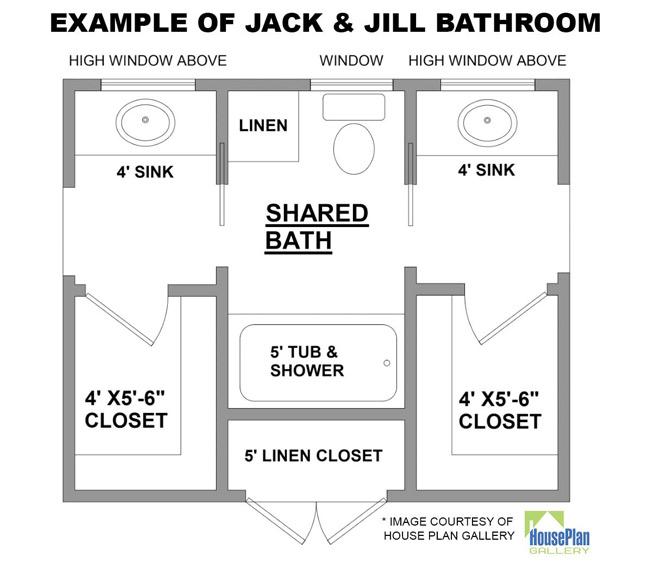 Pros and Cons of a Jack and Jill Bathroom
Jack and Jill bathrooms come with lots of upsides and a few downsides. Keep the following in mind when planning on adding a Jack and Jill bathroom into your home.
If your house has limited space, Jack and Jill bathrooms can be a great idea. They're also cost-effective and still provide ample storage and privacy.
However, you can only typically access the bathroom from the bedrooms in most cases. Also, this can cause some conflict with space, and long-term might not be as valuable as a traditional bathroom.
Basically, look at your big picture when you're considering adding a Jack and Jill bathroom into your house plans.
---
Related Questions
In what other situations would a Jack and Jill bathroom be useful?
While most popular between sibling bedrooms, this bathroom also works well between one bedroom and a guest room. This way your guest feels like they have their own private bath during their stay. They can enter the bathroom without having to leave their room.Likewise, many bed-and-breakfasts use this setup as a way to grant two guests a more private bathroom. If you have a one-bedroom, one-bathroom home, a Jack and Jill setup is also ideal. This way, you can still have a private entrance to your bathroom. But others don't have to walk through your room to use the bathroom.
How much does a Jack and Jill bathroom cost to install?
A Jack and Jill bathroom will cost about the same as adding a traditional full bath to your house. It might be slightly higher for larger setups since you'll likely add extra walls and doors for more separation.But, in general, you can expect to pay around $20,000 to add a Jack and Jill bathroom from scratch. For larger, more elaborate layouts, it could be closer to $40,000. If you already have a bathroom between two bathrooms and want to convert it, you'd spend $600 to $900. This would be to add the two doors from each bedroom and assumes you have the space to do so.If you have to rearrange bathroom fixtures or plumbing to add the doors, you'll pay more. You also need to decide if you'll maintain the original bathroom entrance or close it up.

Stacy Randall
Stacy Randall is a wife, mother, and freelance writer from NOLA that has always had a love for DIY projects, home organization, and making spaces beautiful. Together with her husband, she has been spending the last several years lovingly renovating her grandparent's former home, making it their own and learning a lot about life along the way.
More by Stacy Randall
Published August 27th, 2021 11:54 AM