75 Views
Is Hamilton Heights A Safe Place To Live? (Find Out Now!)
November 9th, 2021 11:30 AM
Share
We're committed to finding, researching, and recommending the best products. We earn commissions from purchases you make using links in our articles. Learn more here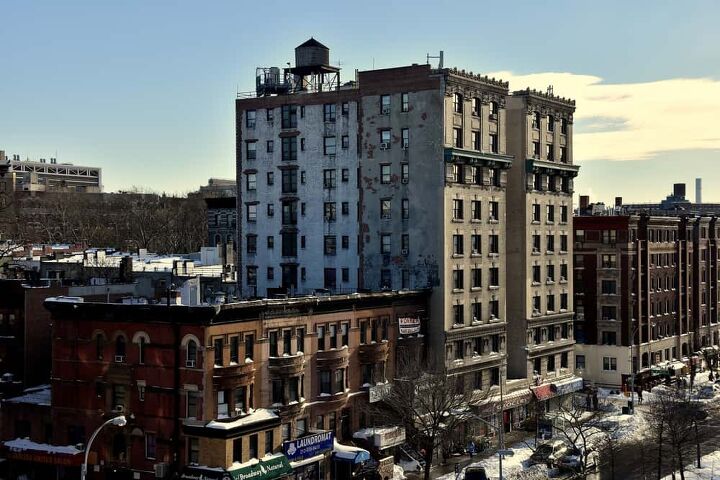 Hamilton Heights is a neighborhood in New York City, New York, specifically the northern part of Manhattan. Known for its rich history and diversity, this community is often sought out as a place to settle down in. Described as a quaint neighborhood in the midst of a big New York city, this neighborhood is highly desirable. Before taking the plunge, it's important to discuss any issues that affect the quality of life such as safety in Hamilton Heights.
When it comes to safety, Hamilton Heights has a higher crime rate than other boroughs reported throughout the city. It has improved over the years and rates of violent crime have gone down. Though it still remains at large, a higher crime area.
Do You Need to Hire Movers?
Get free, zero-commitment quotes from pro contractors near you.
All About Hamilton Heights, New York City
Hamilton Heights is renowned for its culture and grit, but those aren't the only factors that to consider. If you're considering a move to Hamilton Heights but aren't quite sure if it's right for you and your family, no worries. Below we've broken down more aspects relating to the neighborhood as a whole, including safety statistics.
Diversity and Demographics for Hamilton Heights
According to the 2010 census, Hamilton Heights, NY, had 48,520 residents. This is a significant drop from the 2000 census that accounted for 50,555. This decrease could be for many reasons such as limited space due to the neighborhood only being 1.08 kilometers!
Additionally, a majority of the population was people of color with the following statistics – Nearly10% of the Hamilton Heights population was white, equating to 5,287 people. There were 15,646 African American individuals making up a significant portion of the Hamilton Heights population at just over 15%.
The final notable racial demographic was the fact that over half of the population identified as Latinx or Hispanic. Those that identified as Native American, Asian, Pacific Islander, and any other races not reported above made up less than six percent. It is rare to see neighborhoods with such diversity and that surely contributes to Hamilton Height's rich culture.
Hamilton Heights' Appeal and Attractions
Hamilton Heights is not usually the destination most add to their bucket list. It should be as it has deep-rooted ties in the community, state, and country as a whole. It is known as the place where Alexander Hamilton spent the last years of his life. Today, it remains integral to the retelling of history. Given this, there are multiple attractions dedicated to Hamilton's legacy in Hamilton Heights including the Hamilton Grange National Memorial.
Additional attractions in Hamilton Heights include:
City College of New York
Dance Theatre of Harlem
Harlem School of Arts
Aaron Davis Hall
Sugar Hill
The Audubon Mural Project – known for painting murals on buildings around the neighborhood paying tribute to John James Audubon and his artwork.
The Cost of Living in Hamilton Heights
Hamilton Heights has a cheaper cost of living than the New York average, but higher than the national average. Percentage-wise, Hamilton Heights is 15% higher than the national average overall. 36% higher than the national average for goods and services, and 22% lower than the national average for housing.
These figures balance out to the 15% over average quoted above. Hamilton Heights is considered a low-income neighborhood with an average family income of just over 40,000 a year. The cost of living is expected to rise sharply as gentrification continues in the area.
Job Opportunities in Hamilton Heights
Hamilton Heights is in close proximity to the hub of major cities and subsections. Because of this, there is a high chance for substantial growth in the neighborhood while maintaining those close connections. Locals describe the area as having businesses that date back decades, mom and pop shops, bodegas, and more.
While it may be difficult to find a white-collar job in this neighborhood, there are many opportunities for a short drive, train, or cab ride away. Additionally, the Hamilton Heights neighborhood houses a couple of major institutions, such as the City College of New York. Employers like this supply a long list of jobs from professors to janitorial staff.
Crime Rates in Hamilton Heights
As mentioned before, Hamilton Heights' crime rates are not ideal. Served by the 30th precinct of the NYPD, crime rates have fallen in the last two decades. They still remain higher on average than other similar neighborhoods. In total, crime has decreased overall by 78%, however the precinct still reported the following statistics in 2019:
4 murders
20 rapes
190 robberies
178 felony assaults
69 burglaries
289 grand larcenies
27 vehicle grand larcenies
Across all New York state boroughs and all of the precincts, Hamilton Heights has 760 crimes per 100k residents. The rest of the boroughs, or the boroughwide standard, is only 632 crimes per 100k residents. When we look at Manhattan, the crime rate is 572 per 100k.
In total, Hamilton Heights crime rates are lower than the national average at 18%. However, the violent crime rate in Hamilton Heights is 71% more than the national average. There is a 1 in 50 chance of being a victim of a crime in the neighborhood. That is a significant number when considering when that many people can live in your very apartment building.
It is also important to emphasize the crime rate is improving with a 1% drop year by year. Additionally, Hamilton Heights is considered 51% safer than any other New York Cities. Given Hamilton Heights' position as a lower-income community, these numbers are optimistic as lower-income communities generally have higher crime rates.
Health Issues
The Hamilton Heights neighborhood is grappling with another major issue. There are major health concerns in regard to air pollution and personal health and their effects on residents. Health status can be a significant factor in determining what makes a place good for a family to live in.
An air pollutant known as fine particulate matter is concentrated in this community far above the Manhattan average. Given that this is a community of lower economic status than other Manhattan subsections, it is particularly troubling.
Along with this sentiment, Hamilton Heights residents run high health issue statistics. Primary issues noted include diabetes, heart disease, asthma, obesity, and similar chronic illnesses. There is also a low percentage of uninsured residents. These statistics speak of the area's resources general standards of health. An important note for Hamilton Heights is that the number of bodegas and convenience stores far outweigh supermarkets. Thorough studies have linked food deserts with a number of health problems.
Raising a Family in Hamilton Heights
With Hamilton Heights elevated crime rates and high population density, it is important you thoughtfully consider what is best. Sticking to the better areas of the neighborhood can minimize your risk of encountering one of these crimes yourself.
Is Hamilton Heights a Nice Area to Live?
The answer to this question will vary between who is asked. Many argue Hamilton Heights is a great place to live as it is great for families with ample parks and close proximity to everything. Others disregard any positives and condone its elevated crime rates. All-in-all, it is not possible to give a definitive answer applicable to all. If you are looking for a close-knit community, space to grow, and value affordability, this may be the place!
---
Related Questions
What is the Weather Like in Hamilton Heights?
Hamilton Heights experiences similar weather patterns as Manhattan. Throughout the year residents can expect lows in the twenties and highs in the eighties to nineties. A typical day in December might so a low of 35 degrees and a high of 48 degrees. In the summer, say August, a low of s68 degrees is expected while a high of 85 is typical. The fairly neutral temperature point is one of the bigger draws for residents, if you can stand the humidity that is.
Should I Move to Hamilton Heights?
If you're looking for a rich blend of culture and history, Hamilton Heights is the perfect place to settle down. The space is small, allowing for a close-knit community with a small-town feel, despite being in a massive city. Though densely populated, you won't have to worry about nameless faces here, residents value neighborly connections. If you're a young professional or looking for a starter place, Hamilton Heights is a great option.
What is There to Do in Hamilton Heights?
There is plenty to do in Hamilton Heights! Not to mention Manhattan attractions and New York City being only a brief subway ride away. In Hamilton Heights, you will find museums, excellent eateries, small businesses, parks, and more. If ever bored of what's on your street, the entirety of New York City is easily accessible.
Do You Need to Hire Movers?
Get free, zero-commitment quotes from pro contractors near you.
The Verdict: Is Hamilton Heights Safe to Live in?
The answer to this is also not cut and dry, especially when considering other cities across America with lower crime rates. Locals advocate for Hamilton Heights safety measures. They state that areas around the schools where there is constant foot traffic and public safety officers are ideal. Because this is a close-knit community, you also reap the benefits of having vigilant neighbors who watch out for one another.
More Related Guides

Upgraded Home Team
We are a team of passionate homeowners, home improvement pros, and DIY enthusiasts who enjoy sharing home improvement, housekeeping, decorating, and more with other homeowners! Whether you're looking for a step-by-step guide on fixing an appliance or the cost of installing a fence, we've here to help.
More by Upgraded Home Team
Published May 17th, 2021 12:19 PM