238 Views
How To Install A Stackable Washer And Dryer
April 19th, 2021 4:59 PM
Share
We're committed to finding, researching, and recommending the best products. We earn commissions from purchases you make using links in our articles. Learn more here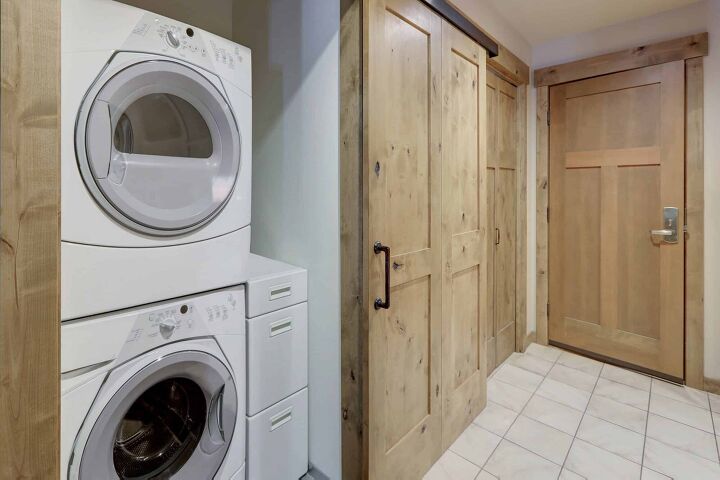 Your laundry room is not going to be the largest room in the house. Heck, for most homeowners, it's going to be the smallest by a long shot. In fact, many laundry rooms are little more than a glorified closet. That means that you may need to get a stackable washer and dryer for your place. But, how can you install them in such a tight, tiny space?
It's best to get a pair of coordinated machines to begin with. When buying approved stackables, measure your space, move the washer in first, then top it with the dryer. Once everything is moved in, secure them both. Connect the hoses and cords once everything is moved into place.
Like with most other appliance installations, much of the work that you are going to need to do is about choosing the right stackables. This guide will give you some information on how to go shopping for your supplies.
Do You Need Appliance Installation or Replacement?
Get free, zero-commitment quotes from pro contractors near you.
Prepping Your Laundry Room
Before you do any type of installation, it's important to make sure that you're aware of your surroundings and how they affect your project. We are going to assume that you are using a room that's already got a vent, a water tap, and the proper outlets for a washer and dryer. Even so, you still need to prep your room. Here's how to do it:
Remove the current washer and dryer from your space. You can usually get junk luggers to do this, but you can also call an appliance store. Sweep the area under the washer and dryer.
Get a tape measure and get your room's measurements. You need to have at least two inches of extra space between the walls and the stackables.
Measure the doors to the laundry room as well. Don't skip this step. You need to make sure that you have enough space to fit the stackable items through before you get them into your home.
If you need any additional fixtures and outlets, get them installed professionally. To work both a washer and a dryer, you will need electricity, a vent, and access to water. If you don't have access to all three, put the brakes on this project and get your utility access in order,
How Do You Choose A Stackable Laundry Kit?
There are three basic things you need to be aware of when you're choosing a stackable laundry kit. As long as you have these three things below, you should be good to go:
Approved for Stacking. You should look for a stackable washer/dryer kit. If you choose a machine that's not meant for stacking, you're going to have a bad time.
Correct Measurements. If you can't fit your machines in the door, you're going to end up with a second trip for a refund.
Correct Fittings. Since stacking will require having stuff strapped (or bolted) down to each other as well as the walls, you are going to have to get the right fittings for the job. Most stacking kits are made specifically for the model of washer and dryer you buy, so make sure to get a kit that matches your fittings.
Ideally, you'll choose a washer and dryer from a company that's reliable and has a decent warranty. With stackable fixtures, quality takes another step to the forefront simply because there is a higher risk of having damage due to the weight of the machinery.
Should You Get A Top-Loading Machine?
You should never get a top-loading machine if you are trying to stack your washer and dryer. Moreover, you shouldn't get machines that are not meant to be stackable. Machines that are not meant to be stacked are going to get damaged as a result of the weight from a loaded machine. If you aren't sure whether a model is stackable, ASK!
Installing Your Stackable Washer And Dryers
When it comes to your washer and dryer installation, connecting everything is going to be the second most important thing you do. The most important thing is to know the order of things to do. Here's the scoop:
Make sure that your area is prepped and cleared out. You will need all the normal fixtures for appliances to start, plus a dryer vent.
Wheel in the washer first. The washer will always have to be put on the bottom of the room, since the weight of the wet laundry will break a dryer.
Get your dryer, and stack it on top of your washer. You will need to remove the dryer's feet, if it has any. Grab the dryer and place it on top of the washer.
Use your kit to secure your two appliances into place. Your kit will have a complete set of instructions on how to make this happen. In most cases, you will need to have brackets and bolts being put into the sides of your appliances.
Connect both appliances to the proper outlets. This includes plugging in the appliances to the electrical outlet and connecting your dryer to the vent. Once everything is connected, you should be good to go.
Should You Hire Someone To Install Your Stacked Washer And Dryer?
Truth be told, most people won't have that hard a time installing their own washer and dryer. Most machines come with installation instructions, and if you get the right kit, all you'll need is a regular toolbox to get the job done. The issue, for many people, is the time and effort you need to put in to install it.
If you decide to get someone to install it for you, there's some good news here. Many companies (including Costco) will offer free installation services if you get the appliances and stacking kit from them. If you're looking for an easy way to get your stuff installed without paying a fee, check with the supplier from your appliance store can help.
How to Hook Up a Dryer Vent in a Tight Space
When you need to hook up a dryer with a wall vent that is located near the dryer discharge vent, you may need to use a special dryer vent connector known as an 'offset dryer vent.' Hooking up a dryer vent is already challenging enough, with the outlet positioned right against the back of the unit. It becomes even more difficult when the dryer is housed in a tight space. The following are the steps you need to take to install a dryer vent in a tight space, whether your particular dryer is gas or electric.
WARNING: Before you proceed, make sure that you turn of the gas supply and unplug the power cord from the outlet.
Connect the gas line (gas dryers only). For gas dryers, there is a flexible gas line that transports natural gas from the house pipe to the gas inlet on the dryer. The threads of these components must be wrapped in yellow PTFE tape. Loop the tape around the fitting clockwise two or three times. Then, position the opposite end of the flexible gas line over the supply line and tighten with your hands. Use an adjustable wrench to tighten further.
Prep the offset dryer vent. Offset dryer vents allow dryers be installed much closer to the wall than normal. To purchase the right size offset dryer vent kit, measure the distance between the center of the wall vent and the center of the dryer discharge vent.
Seal gaps using HVAC aluminum foil tape. After removing the duct from the box, adjust the connect holes to the appropriate spacing by sliding the ends either apart of close together. Once set, attach the ends by using foil duct tape.
Connect the offset duct to the wall vent duct connection. Using the smaller end, connect the offset duct to the wall connection duct.
Then, connect the offset duct to the dryer. Position a 4 ½ inch stainless steel band worm-gear hose clamp atop the dryer's discharge vent. Move the dryer into the right spot and slide the offset dryer vent connection over the dryer's discharge vent. Ensure a tight fit using the clamp and a screwdriver.
Do You Need Appliance Installation or Replacement?
Get free, zero-commitment quotes from pro contractors near you.
---
Related Questions
Are stackable washers and dryers considered to be full size?
A typical stackable machine will be around 27 inches in width, which is considered to be a full-sized proportion. With that said, it's still going to be on the smaller end of the full-size spectrum.
Do stacked washer and dryer sets have a lot of luxury features?
Unfortunately, most stacked washers and dryers are fairly basic when it comes to their features. With most stackable kits, the fact that they are stackable is their most luxurious feature. If you are looking for models that offer up all the bells and whistles, you should seek out standalone machines instead.
Do you always need a stacking kit if you want to stack your washer and dryer?
Stackable washers and dryers might be able to rest on top of one another, but they still need to be secured in place. Otherwise, your machines will run the risk of falling, tipping over, or otherwise sustaining damage. Therefore, a stacking kit should always be seen as a necessity.
Can you stack units from two different brands?
While you might have some units that give you a little leeway, the truth is that you should never try to stack different brands together. They're not built to "lock-in" the way that units from the same brand would be.

Ossiana Tepfenhart
Ossiana Tepfenhart is an expert writer, focusing on interior design and general home tips. Writing is her life, and it's what she does best. Her interests include art and real estate investments.
More by Ossiana Tepfenhart
Published August 28th, 2020 9:10 AM