464 Views
How To Keep Carpet Edges From Fraying (Do This!)
December 23rd, 2021 2:17 PM
Share
We're committed to finding, researching, and recommending the best products. We earn commissions from purchases you make using links in our articles. Learn more here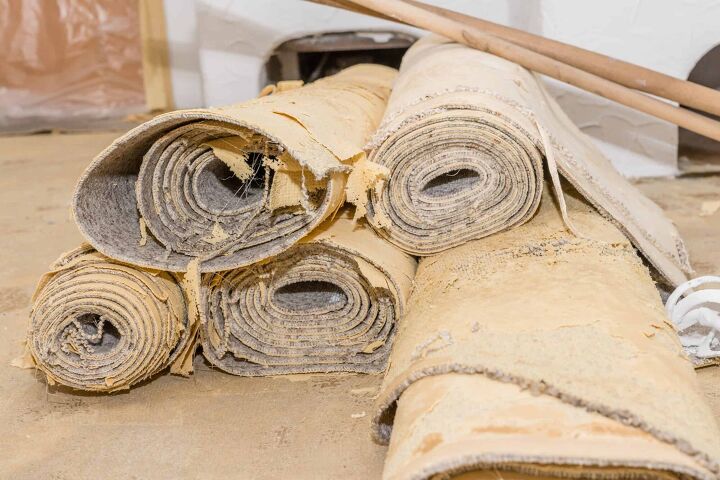 If you've ever owned carpet for an extended amount of time, you know how annoying it is when the edges start to fray. When you start to notice it, you can't unsee it and start to think you need to replace the carpet. But, instead, help your carpet last longer with a variety of ways to keep carpet edges from fraying.
To keep carpet edges from fraying, use carpet binding tape, iron-on tape, or carpet transition strips, and cut off loose fibers before they start to fray. You can also seal the edges using a heat gun or go to a carpet store to get your rug professionally bound. To help prevent fraying, move furniture on sliders and ensure the carpet is installed well.
Do You Need a Carpet Repaired, Refastened, or Stretched?
Get free, zero-commitment quotes from pro contractors near you.
Tips To Keep Carpet Edges From Fraying
It's normal for carpet edges to start to fray over time, typically from wear and tear or, in some cases, an improperly installed carpet. When you install carpet, ensure you do so properly, If you are unsure of your own skills, seek reputable, qualified carpet installers to do the job.
Also, if you move furniture on the carpet, it can increase the likelihood of fraying, especially if anything snags on the edges. Moving heavy pieces and items like dining tables and similar pieces can catch on pieces of carpet and cause a tear which will eventually lead to fraying.
Therefore, whenever you move furniture or other have objects on the carpet, utilize furniture sliders to help protect the fibers. Sliders also make it a lot easier to move heavy pieces and won't damage your flooring.
While these steps can help prevent fraying from happening, they are only the beginning. Here are a few more tips to keep carpet edges from fraying.
Cut Off The Frayed Edge Of The Carpet
As soon as you notice some loose fibers on the edge of your carpet, cut them to prevent further fraying. However, simply cutting off the frayed edge of the carpet is more of a short-term fix.
If you do it properly, it will likely look nice at first. But if the carpet is in a high traffic area, the edges will likely become frayed again soon.
To cut the frayed edge cleanly, you will need a very sharp utility knife or a carpet cutter. You'll also have to use a long straight edge to guide you– don't trust yourself to cut it free form. Spend some time ensuring you're cutting a nice straight line to avoid having to correct it when it doesn't look straight.
Also, it's important to only cut loose fibers and not those still attached to the carpet backing. If you accidentally cut these fibers you'll likely make the fraying worse.
Use Carpet Edge Binding Tape
Binding tape is mostly used for sealing the edges of area rugs, runners, and carpets on staircases. It comes in handy, especially when repurposing carpet remnants into area rugs.
Carpet binding tape comes in many different colors to match your carpet. You can find it on Amazon, or your local hardware store.
To bind your carpet edges, you will need:
Long straight edge
Utility knife
Hot glue gun with plenty of extra glue sticks
Roll of carpet binding tape (measure your carpet to make sure you get the right-sized roll)
Step 1: Trim The Carpet's Edge
If the edge of the carpet isn't straight, trim them with a sharp utility knife. You'll need to start with a clean straight edge to make sure the binding looks as smooth and natural as possible. This is a good time to plug in the hot glue gun so it can start warming up.
Step 2: Start Preparing And Placing The Tape
Cut the end of the binding tape so that it is straight. Start by peeling off a few inches of the paper from the adhesive side of the tape. If you'll be binding fully around the area of a rug, then start in the middle of one side.
Slide the sticky side of the binding tape under the carpet edge and press the carpet firmly onto it. Unroll the tape little by little and continue, making sure to keep it straight along the edge.
Step 3: Be Careful With Corners
When you get to a corner, cut a line in the tape so that you're able to curve the binding around the corner of the carpet. You will need to trim the extra adhesive that will be exposed once you've covered the corner.
Step 4: Finishing Off The Tape
When you reach the point where you started, cut the end of the binding tape to fit flush against the starting spot. Get your glue gun and dab a little between the two ends and hold it for a few seconds until they are dry.
Run a thin line of glue along the edge of the carpet in a small section and press the binding against it until it dries. It's important to only do small sections since hot glue dries quickly.
The amount of glue used should be enough to stick, but not so much that the glue sticks out. Take your time here, to make sure you cover the entire area and it's stuck together nicely.
And that's it. If applied correctly, this tape should last for at least several years. Alternatively, there are professionals who do carpet binding, but this will be a lot more expensive than doing it yourself. Professional carpet binding can cost about $1 to $4 per linear foot.
Therefore a 5×7 rug might cost between $27 and $96, while a 10×10 room could cost between $40 and $160. But if you opt to do the binding yourself, you can get a caret binding kit for about $20. Along with extra supplies, your total cost would be about $50.
Iron-On Carpet Tape
Another kind of tape sometimes used to secure carpet edges and prevent them from fraying is heat-activated double-sided tape. This tape can make your carpet stick to pretty much anything you need it to.
The process for iron-on tape is similar to the binding tape, except for it gets ironed onto the edge of the carpet. The process varies depending on the type of tape, and what you are using it for. You can also use the tape to attach two pieces of carpet or tape it down to a surface.
Threshold Transition Strips
This method is most appropriate when you need to cut part of your carpet to fit around another type of flooring. For example, if you're installing carpet in your living room that leads into a dining area with a tiled floor, you may have an abrupt end to the carpeting.
Carpet transition strips ensure that the progression from carpet to tile looks natural and isn't vulnerable to fraying. You can pick these up at any major hardware or home store, and they come in many different colors and types.
You will need:
Electric drill
Wood Screws
Transition strips
Here's how to install the strips:
Step 1: Measure And Place The Transition Strips
Measure the border length of the carpet edge that will lead to the other flooring material and take note of the number of corners.
Once your carpet is in place, lay your transition strips down over the area where the carpet adjoins with the other flooring component. The strip should be halfway over each material.
Step 2: Screw Down Strips And Install Corner Caps
Install a wood screw through the holes of the strips with an electric drill and into the floor. Install the corner caps last in the same fashion, on top of the already installed strips.
Heat Seal The Carpet Edges
Use a heat gun to melt the edges of your carpet. The edges will stick the padding and stay in position. However, it's imperative to be careful so you don't burn a hole in your carpet or start a fire. Make sure to hold the heat gun 3 to 6 inches away from the carpet, and don't keep it in one place for too long.
Wrapping Up
Carpets in high-traffic areas take a lot of abuse and wear, especially with kids and pets. If you take the time to seal the edges of your carpet as soon as you install it, you won't have to worry about fraying as much. But luckily, these DIY methods discussed will conceal frayed edges and breathe new life into your tired carpet.
---
Related Questions
How do I join two carpets together?
The iron-on tape we mentioned earlier is great for putting two carpets together seamlessly. The heat-activated glue adheres to the tape strongly between the two pieces and makes it look natural. You will just need a steam iron (or a regular iron in a pinch) and some iron-on tape.
How do I fix a tear in my carpet?
To conceal it, you can cover the area with a nice area rug or cover it with a piece of furniture depending on the location of the tear. To repair the damage, you can use carpet tape to put the carpet back together, if the tear is linear. If not, try to find either a scrap from when you installed your carpet, or find a similar carpet sample to match. Then use carpet glue to place the carpet scrap over the tear.
What kind of carpet is less likely to wear?
To prevent excess fraying and other types of wear, choose a carpet that is durable and more resistant to wear. For this, nylon carpet is your best bet. Nylon is the strongest carpet material, performs better than others in high traffic areas, and is resistant to mold and mildew.
Do You Need a Carpet Repaired, Refastened, or Stretched?
Get free, zero-commitment quotes from pro contractors near you.

Upgraded Home Team
We are a team of passionate homeowners, home improvement pros, and DIY enthusiasts who enjoy sharing home improvement, housekeeping, decorating, and more with other homeowners! Whether you're looking for a step-by-step guide on fixing an appliance or the cost of installing a fence, we've here to help.
More by Upgraded Home Team
Published September 10th, 2020 10:54 AM