217 Views
How To Keep A Shepherd's Hook From Leaning
November 7th, 2021 2:03 PM
Share
We're committed to finding, researching, and recommending the best products. We earn commissions from purchases you make using links in our articles. Learn more here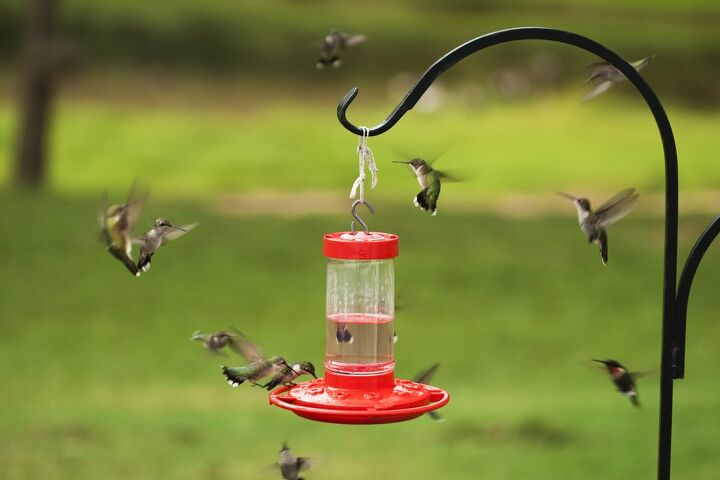 With a variety of shepherd's hooks on the market, they can be used to decorate an outdoor wedding or to enhance your outdoor space or garden. Shepherd's hooks allow you to elevate and display hanging baskets, yard ornaments, lanterns, bird feeders, or other outdoor decorations.
However, one of the most common problems associated with this pole garden hook is that when there is too much weight, they will lean or fall over entirely. A standard Shepherd's hook hanger can typically hold around 12 pounds. While you should always check the recommended weight that your particular Shepherd's hook can hold, sometimes they require additional support.
Use J-hooks to anchor your shepherd's hook. You can also place the shepherd's hook in a pot or bucket with a weighted base. Dig a hole, place the shepherd's hook in the middle, and fill it with cement so that it doesn't lean.
This article will explain what a shepherd's hook is and how you can keep it from leaning once installed. This will help keep everything stable, so your outdoor space will stay looking incredible and inviting to family and friends.
Do You Need Handyman Services?
Get free, zero-commitment quotes from pro contractors near you.
What Is A Shepherd's Hook?
A shepherd's hook is the more commonly referred to name for a single or double pole garden hook typically installed in the ground. They come in many different shapes, sizes, and designs. Their primary use is to hang baskets, plants, and another décor in an outdoor space.
A Shepherd's hook has a built-in support system that consists of two anchors at the base of the pole. These anchors are welded together and appear like a lowercase "h." This system is typically enough to support the weight on the hook. However, the Shepherd's hook may require additional anchoring or support to stabilize the pole and support the weight on the hooks.
How To Install A Shepherd's Hook
Choose an area. Adding a shepherd's hook to your garden is a very simple task. If you are hanging baskets or planters from the hook, make sure to choose a site that gets the amount of sunlight required for your particular plants. However, make sure this area isn't entirely in the sunlight if your plants cannot handle that. It needs to be an ideal area based on the needs of your plants.
Level out the Shepherd's Hook. Establish the area where you want to install the hook and position it upright so that the hook or hooks face in the desired direction. Using a carpenter's level, hold it against the pole and adjust as needed until the Shepherd's hook is perfectly level.
Drive the stakes into the ground. You'll then want to place your foot on the footpeg of the Shepherd's hook anchor stakes. To drive the stakes into the ground, step down on the footpeg. While doing this, make sure to hold the vertical pole level with your hands.
Check the stance. After you have installed the shepherd's hook, you will want to check the level of the pole and ensure that it's standing the way it's supposed to.
Assess The Stability Of The Shepherd's Hook Pole
Before you start adding any additional support systems for your Shepherd's hook, you'll want to test the stability of the pole. If the garden hook is constructed from a thicker metal material than cheaper garden hooks made from thin metal, it will be better able to support the weight on the hooks.
Most standard Shepherd's hooks can hold around 12 pounds of weight on their hooks. However, you should check the information for your particular hook and assess its capabilities yourself.
To test stability, hang the desired object from the hook or hooks after the attached anchors have been installed in the ground. If your object is a plant that will require watering, consider watering it when attached to the hook to check how much weight the water will add.
Stabilizing A Shepherd's Hook With J-Stake Anchors
If you've assessed that your hook needs some additional support, the first option you can do is install J-stake anchors into the ground. For this, all you'll need is a rubber mallet, rocks, and the anchors themselves.
J-stakes are ground support anchors that can be bought online or at your local hardware store. We recommend using ones made of a heavy-duty steel rebar for this project. They have chisel-pointed ends, which are especially helpful if you have harder soil like rock or clay.
Anchoring The Shepherd's Hook
To anchor the Shepherd's hook, you'll want to tap three J-stake anchors into the ground using your rubber mallet to properly sink them. For the first stake, drive it straight into the soil in a manner so that it catches on the horizontal foot peg of the hook. The other two J-anchors should be installed on a 45-degree angle, wrapping the hooks around the main pole. Drive them in different directions directly where the main pole meets the horizontal footpeg.
Keep in mind that the anchoring capability of J-stakes is increased with the length. To finish off this installation, place some large rocks around the pole of the hook on the ground. Shove the rocks tight up against the pole to keep it from moving side to side. Make sure that at least one rock is placed directly on top of the horizontal footpeg.
Add Support To Your Shepherd's Hook With Cement
The second option you have for stabilizing your Shepherd's hook is to pour cement. Although this is a more permanent solution, it will fix the issue of your leaning hook.
Start by digging a hole about 6 feet into the ground where your shepherd's hook will go and mix up some cement. Pour the cement into the hole, allowing about 3 to 4 inches of space on top. Sink your Shepherd's hook into the cement, verify that it is entirely level and let the cement dry for at least 24 hours.
Once the cement is dry, cover it up with the desired material. You can use topsoil, mulch, or plant some grass seed in its place. With help from the cement, your Shepherd's hook will now stay anchored and will not shift or lean.
Using A Pot Or Bucket To Anchor Your Shepherd's Hook
The final option for anchoring your Shepherd's hook in place is to utilize either a pot or bucket and cement. This is a much more temporary solution as it won't require you to pour any cement into your soil.
Instead of sticking your Shepherd's hook into the soil, you will be placing it into either a bucket or pot, depending on your preference. Like the last option, you'll want to pour the cement and sink the Shepherd's hook into it. You can choose to put cement in half of the pot and soil in the other to create a unique aesthetic.
After allowing the cement to dry, the bucket can then be buried into the ground and removed when desired. Or if you've chosen to go the pot route, your Shepherd's hook will remain anchored, does not need to be planted in the ground, and will add an extra level of sophistication to your outdoor space.
---
Related Questions
How much weight can a shepherd's hook hold?
A shepherd's hook adds beauty to your outdoor space and creates a nice little charming garden. You can hang the flower baskets or use the hook to create some decorations for a wedding or a backyard event, or party. The weight this hook can hold depends on the size. For example, some will allow 14-inch baskets and hold a total of 30 pounds. You should weigh the baskets while the flowers are watered to account for the water weight.
What can I hang on a shepherd's hook?
There are a wide variety of things that can be hanged on a shepherds hook, including:
Kissing flower balls
Wood letters
Galvanized flower buckets
Terrariums
Signs
Paper lanterns
A wide variety of other things.
What is the tallest shepherd's hook?
The tallest shepherd hook stands at around 10 feet. However, if you want something taller, you can always create one yourself. Most people choose a hook that's about 5 to 7 feet tall.
Do You Need Handyman Services?
Get free, zero-commitment quotes from pro contractors near you.
Wrapping It Up
Using Shepherd's hooks in your garden or other outdoor environment is a cost-effective way to add levels and style to your space. Whether you're using the hooks to hold solar lanterns, hanging flower pots, wind chimes, or bird feeders, they'll display them efficiently and elegantly.
However, one of the most common problems with this device is its tendency to lean if too much weight is applied on the hook. It's essential to be aware of weight requirements for your Shepherd's hook and evaluate the stability before doing any extra work.
If you are experiencing issues with your Shepherd's hook leaning, shifting, or falling over completely, it may need some additional support. This can easily be achieved by installing J-stake hooks, adding cement to your soil, or filling a bucket or pot halfway with cement.
For more tips and tricks on how to elevate your outdoor space, check out " How To Hang A Window Box Without Drilling" and " 25 Cheap Retaining Wall Ideas For Your Garden."
Related Guide

Jessica Stone
Jessica considers herself a home improvement and design enthusiast. She grew up surrounded by constant home improvement projects and owes most of what she knows to helping her dad renovate her childhood home. Being a Los Angeles resident, Jessica spends a lot of her time looking for her next DIY project and sharing her love for home design.
More by Jessica Stone
Published July 23rd, 2020 7:44 PM