266 Views
How To Install Rubbermaid Fasttrack (Step-by-Step Guide)
August 11th, 2021 1:45 AM
Share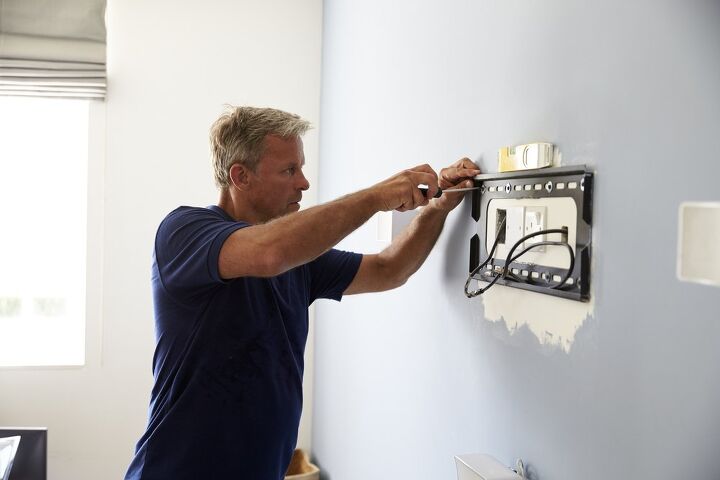 Getting high-quality storage that doesn't look hideous can be a chore and a half. Or at least, it used to be prior to Rubbermaid's arrival. Rubbermaid created a storage system known as Fasttrack, and it's designed to make your storage easier than ever to mount on a wall. The hard part, of course, is figuring out how to install it.
To install Rubbermaid Fasttrack, you're going to have to mount the hooks and tracks on the wall of your choice. The rails need to be mounted on your wall studs. From there, you will need to assemble to specific Fasttrack storage items you want to use, and then slide them onto the rails.
Rubbermaid did a remarkably good job at making Fasttrack one of the easiest systems to use. Even so, it's a good idea to know how to make the most of your storage. This guide is here to help.
Do You Need Handyman Services?
Get free, zero-commitment quotes from pro contractors near you.
What Do You Need To Use Rubbermaid Fasttrack Storage Items?
Before you start assembling those accessories or cabinet units, it's important to make sure that you have Fasttrack rails. These rails come in their own package and can vary in lengths from 32 to 84 inches. They also come with all the equipment you'll need to install them. After that, you can choose other Rubbermaid storage items in the Fasttrackline that you want to hang on the rails.
If you got a Rubbermaid Fasttrack Closet Kit, then the rails that you need in order to form a base of your storage system will be included as part of your package. They're really good about making sure that you don't feel like you're left "high and dry" over it.
What Do You Need In Order To Install Fasttrack Items?
For the most part, you won't need much that you can't get out of an Ikea toolbox. Most people are able to install the entire kit with a screwdriver and a hammer. If you want to get a power screwdriver, you can, but almost everything is meant to snap and lock into place after the rails are put together.
Is This A DIY Project You Can Do?
You can't get an easier system to install than the Rubbermaid Fasttrack system. There's absolutely no need to get a professional to install it unless you're too busy to do so yourself. Even if you have almost no experience with anything DIY-related, you can do this. So don't worry. You're good to go here.
At times, it might be helpful to have a friend help you out. However, the actual skill level involved is ridiculously low which means that you don't need to be Bob Villa to be able to get this installed.
Installing Your Fasttrack Rails
To start your installation, you're going to need to work on mounting your rails. This is best done using the studs of your walls. Your regular sheetrock won't be able to handle the railing system's weight.
Rubbermaid makes both horizontal and vertical rails, each of which is designed to work with specific tools and accessories in the Fasttrack family. Thankfully, both rail types will mount fairly easily. Here's how to place your rails:
Find out where the studs in your home are. This will be where you're going to be hooking the railing system. You will need to measure out where you the distance between each stud is in order to determine where your other rails will need to be. Most studs are going to be between 16 to 24 inches apart.
Measure how high you want your railing to be. To make sure that your railing is going to be straight, use a level and mark off where each railing will start and end.
Mount the rails using a drill and the provided screws. The rails already have a pre-drilled mounting hole so that you can hang them with ease. The rails also come with instructions that can help you mount, if you are not sure whether you're doing it right.
Give the rails a gentle tug to make sure they're set in sturdy. They should be, but it's always smart to double-check. If they aren't, try mounting things again or adding reinforcements.
How Much Weight Can Rubbermaid Fasttrack Accessories Hold?
This all depends on the accessory as well as how many different accessories you intend on mounting on the rails. For the most part, well-installed rails can hold up to 250 to 300 pounds fairly easily as long as the weight is evenly distributed. Here's what you should know about the most popular storage devices on Fasttrack:
25 Pounds. This is the maximum storage for the Rail Access Bin, the Rail Small Shelf, as well as a single bin of the Bench Blox Kit.
50 Pounds. This is the maximum storage for the Rail Large Shelf, Vertical Ball Rack, Utility Hook, Power Tool Hooks, and S-Hook.
1750 Pounds. This is the total amount of pounds that the ultra-strong Tool Cabinet Kit can hold. This is also the total amount of weight a Rubbermaid Fasttrack rail can hold. Wow!
How Do You Attach Fasttrack Accessories?
Here's the coolest thing about the Fasttrack system. All you have to do is hang them up on the holes provided on the railing systems once you've finished assembling the accessories. Each accessory has its own assembly instructions as part of the kit, so there isn't much guesswork in that department.
Most people find that fitting the accessories on the railing is best done by lifting the accessory item over the railing, then gently hooking it in by brushing it against the railing holes until it snags.
How To Plan Out Your Rubbermaid Fasttrack System
If there's one issue that you should be aware of, it's that planning out a Rubbermaid Fasttrack system can be a bit daunting. This is why many of the Fasttrack Kits exist: they make things easier and take the guesswork out of most of your storage planning. Since many of the kits are specifically geared towards one type of storage or another, it works out.
Of course, some of us (myself included) need to have more customized storage. We're not always looking for storage for tool sheds or something similar, ya know! If that happens, you're going to have to plan out your Fasttrack storage. These tips below can help:
Measure it out first. The first thing you need to do is take measurements of your wall or closet, as well as measurements of the items you intend to store. This way, you can make sure that everything will fit on the railing that you want and that you won't end up making a storage facility for something that is too large.
Vertical with vertical, horizontal with horizontal. Make sure that your accessories are meant for the railing type that you have. Most should work, but there are a scant few that might not. Double-checking can save you a trip to the returns line.
Use cabinets for hazardous materials, lined baskets for knickknacks. You need to lock away hazardous things from the reaches of kids, so cabinets are a must if you want to store things like turpentine or formaldehyde. If you have a bunch of loose screws lying around, then you may need to include a bin.
Don't shy away from ceiling storage. Believe it or not, the Fasttrack system can be used on ceiling studs as well. We suggest pairing ceiling systems with S-hooks for bicycles or scooters.
Don't hesitate to look online for some inspiration. I'll be the first to say it. People get a little bit crazy with their Fasttrack setups, and it only takes a quick look on Pinterest to see what they've come up with. If you're low on inspiration, this is a good way to find some decent ideas for your home.
Do You Need Handyman Services?
Get free, zero-commitment quotes from pro contractors near you.
---
Related Questions
Can a Rubbermaid Fasttrack storage system increase your home's value?
Unlike most other home storage systems, the Rubbermaid Fasttrack storage system has been proven to add some value to your home. To get the most value out of it, we suggest adding it to your closets, pantry, and your garage walls. People will love having that extra space for their belongings and also appreciate the aesthetically-pleasing way it looks.
Can Rubbermaid Fasttrack rails be cut?
Yes, but it's not something you should try to do. Rubbermaid Fasttrack rails should not be cut shorter than 32 inches unless absolutely necessary. This will give you enough length to attach them to three studs comfortably. A better option would be to use the full rail size you get and just work around your home's restrictions by moving your railing's location to a larger room or wall.
Can Rubbermaid Fasttrack work with Gladiator?
Unfortunately, no. The Fasttrack is just a little bit thinner than the Gladiator's model, which in turn, means that accessories won't properly hook. If you were hoping to use your old GearTrack stuff with the new Rubbermaid system, you're going to be sorely upset. It just won't work, and actually is somewhat risky to do.

Ossiana Tepfenhart
Ossiana Tepfenhart is an expert writer, focusing on interior design and general home tips. Writing is her life, and it's what she does best. Her interests include art and real estate investments.
More by Ossiana Tepfenhart
Published October 10th, 2020 7:13 PM