466 Views
How To Install A Wall Oven In A Base Cabinet
October 20th, 2021 11:26 AM
Share
Installing a wall oven in a base cabinet is a great way to make the most of the space in your kitchen. The process is easy if your cabinet is 30" in diameter, and the wall oven should fit right into it. Whether you have to build a new base cabinet or fit it into an existing one, let's take a look at how you can fit a wall oven in a base cabinet.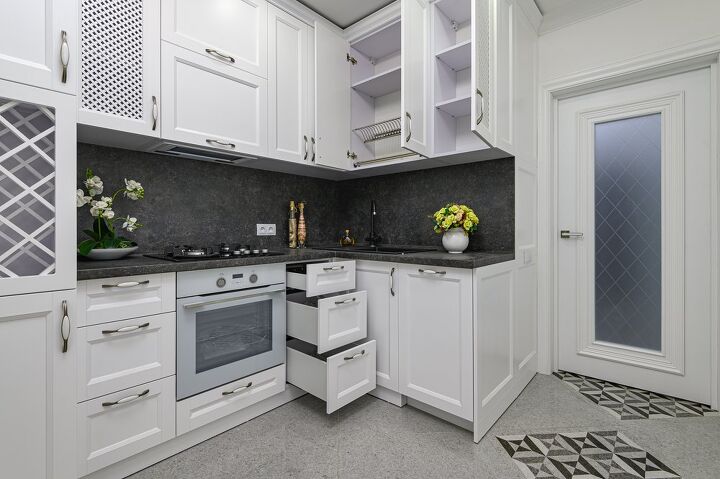 There are several reasons to install a wall oven. Wall ovens come in many different styles with a large assortment of options, making them an asset to any kitchen. However, that means there are many questions to consider before choosing an oven. Questions arise, such as, how would you install a wall oven into a base cabinet?
If you have a 30″ diameter cabinet, you can place the oven directly into it by removing any obstructions. Connect the wiring and screw the oven into place using the connectors that came with the oven. If needed, an oven cabinet can be constructed out of plywood and replace existing cabinets.
Do you want a model with many of the latest features? Which features? Would you prefer to save some money with a budget model that still gets the job done? We'll walk you through the instructions of how to install your wall oven, as well as how to get this job done on a budget.
Do You Need Appliance Installation or Replacement?
Get free, zero-commitment quotes from pro contractors near you.
Options For Wall Ovens
Like with most appliances, there are some options to choose from when buying your wall oven:
Type of Power: Electric wall ovens are more common; however, gas wall ovens are available. Electric ovens have a larger selection to choose from and are easier to clean.
Size: You can easily get a 24, 27, or 30-inch oven. This will likely depend on your cabinet size. You will also need to choose whether you want a single or double oven. If you do a lot of cooking, especially for guests, you may want a double.
Convection: A convection oven heats food quickly and evenly by having a fan move air throughout the oven. This feature will add about $300 to the cost of the oven.
Self-Cleaning: This feature will save time in cleaning the oven. However, it will also cost approximately $300.
Type of Controls: Electric controls are more common, but you could save money and get a budget model with dials.
Control Lockout: Parents of young children should definitely consider this feature. It allows the parent to disable the control panel, thus preventing young children from playing with it.
Side Opening Door: A side-opening door could be convenient for a person with disabilities who otherwise may have trouble reaching the oven's contents. Also, some people may find the look aesthetically pleasing.
Advantages Of A Wall Oven
One common reason for installing a wall oven is to have a second oven. This is good for people who entertain frequently. Another common reason is to keep the oven separate from the stovetop, thus allowing two people to cook comfortably. Also, there are several other advantages, such as:
If you have a bad back, there's no need to bend over
Ability to keep your face out of the heat
Out of reach of children and pets
Creates some character within your kitchen
The broiler is within reach instead of at the very bottom of the oven
Disadvantages Of A Wall Oven
Wall ovens cost more, which is their biggest disadvantage. Also, they are more challenging to install. This is particularly important if you intend to install the wall oven yourself. A few more disadvantages include:
They tend to heat up your house a bit quicker unless you also install a ventilation system for them.
If you store anything in a cabinet above them, these items tend to heat up as well
Depending on the placement, the handles can be in the way of elbows and heads
The Cost Of A Wall Oven
A high-quality wall oven can easily cost as low as $2,500 dollars. This can easily climb to $1,000 or $2,000, maybe more depending on your choice of the oven. A cooktop will need bought separately.
Cost Of Installing A Wall Oven In A Base Cabinet
Installing a wall oven will cost around $1,000 to $2,000. The cost of labor to have the oven installed is approximately $100 to $200.
Wall ovens often need to be hardwired. So, it may be worth the cost to have the oven installed if you are not familiar with wiring. If your cabinets need repair, the price of a wall oven may be part of a restoration of your cabinets.
The Cost Of A Separate Cooktop
The cost of a cooktop will vary considerably depending on your choice of gas, electric, or induction. An electric may be found at a low of around $500, however may climb up to $2,000 for an induction cooktop.
The Cost Of A Single Range
A high-quality kitchen range can be had for under $1,000. This also simplifies the decision by combining the cooktop and oven into a single product.
Advantage Of A Range
The most significant advantage for a range is simplicity in purchasing a single freestanding unit. Otherwise, it is necessary to price out and select multiple separate ones. Additionally, the labor and cost of building new surfaces to hold wall ovens can be avoided.
Standard Mount Or Flush Mount?
Before installing your wall oven, you need to decide if you want a standard mount or a flush mount. Installing the oven in a base cabinet while having it flush mounted would be convenient and look better. Also, an oven that protrudes beyond the counter will require more frequent cleaning and look less appealing.
If you want a flush inset, check if your oven can be installed this way. Some wall ovens cannot be flush inset because they would cause heat damage to the cabinet.
Sizes Of Wall Ovens For Base Cabinets
Wall ovens are typically 24, 27, or 30 inches wide. Although, it is possible to get them in a few different sizes. The most common size wall oven is 30 inches, which requires a 33-inch cabinet.
Premade Appliance Cabinet
Home goods suppliers such as IKEA sell premade built-in appliance cabinets designed for standard 30″ wall ovens. These cabinets are made with slots for a power cord and simply slide into place in your kitchen.
How To Build A Oven Cabinet
To build a simple oven cabinet, make sure you have space in your kitchen for the new cabinet. You can likely use the same plywood that is used for the surrounding cupboards. This should work as the outside of most ovens do not reach dangerous temperatures.
Instructions
Remove an existing cabinet. Cut out an existing cabinet if needed. This cabinet should be on the end of all your others. For example, you can't cut out a cabinet above your counter and expect to install an oven there; it's just not practical. Find an end cabinet that you don't use often, and remove it.
Take measurements. Measure the area of your oven and match the plywood to your existing cabinets. Ensure that you create the cabinet so that it's large enough to hold the type of oven you want. However, it shouldn't block any hallways or any access to your other kitchen appliances.
Start building. Build a simple box using the dimensions of your oven. Make sure there is an extra half-inch on either side to leave room to insert the oven. If you don't have the extra space, you may have issues installing your oven or even opening and closing it.
Secure and set the wiring. Connect the parts of the box together using heavy-duty staples. Then, cut a hole in the rear of the box for the wiring. Next, slide the oven in place and use the connector with the oven to fit it in place.
Get creative. Arrange your new cabinet wherever you will be using it. Add trim around the edges to make it blend in and look professional.
Decorate and enjoy! If you are looking for molding to blend your cabinets into your ceiling, that is also an option.
How Can I Clean My Wall Oven?
A wall oven, especially in a base cabinet, can be cramped and awkward to get in. Yet, the oven needs to be cleaned, and oven cleaners can stink too bad for some to use. If self-cleaning isn't an option, try this:
Remove the insides. Remove the grates and anything else inside.
Create a solution. Mix baking soda and water into a paste.
Apply the mixture. Brush the entire inside of the oven other than the heating coils with a paintbrush.
Let it sit. Wait overnight and then wipe down with a damp cloth.
Spray down the oven. Mix vinegar and water in a spray bottle and spray the oven down. This should remove odor-causing particles from your oven.
Wipe it down. After the vinegar has sat for a while, take some water on a cloth, and wipe down the inside of the oven.
Do You Need Appliance Installation or Replacement?
Get free, zero-commitment quotes from pro contractors near you.
Our Takeaway
Cabinet ovens are lovely to create a friendly space to cook, especially when there's more than one person in the kitchen. The cabinet is easy to create as long as you provide adequate space and take the correct measurements. While you can install these yourself, we highly suggest having a friend available. The ovens can be heavy, so it's best if you have someone to assist you with the lifting. We hope this guide has helped you to create comfortability and convenience in your beautiful kitchen.
Related Guides

Upgraded Home Team
We are a team of passionate homeowners, home improvement pros, and DIY enthusiasts who enjoy sharing home improvement, housekeeping, decorating, and more with other homeowners! Whether you're looking for a step-by-step guide on fixing an appliance or the cost of installing a fence, we've here to help.
More by Upgraded Home Team
Published July 24th, 2020 5:37 AM