1.1K Views
How To Get Rid Of Broadcast TV Fees (Quickly & Easily)
December 21st, 2021 9:22 PM
Share
We're committed to finding, researching, and recommending the best products. We earn commissions from purchases you make using links in our articles. Learn more here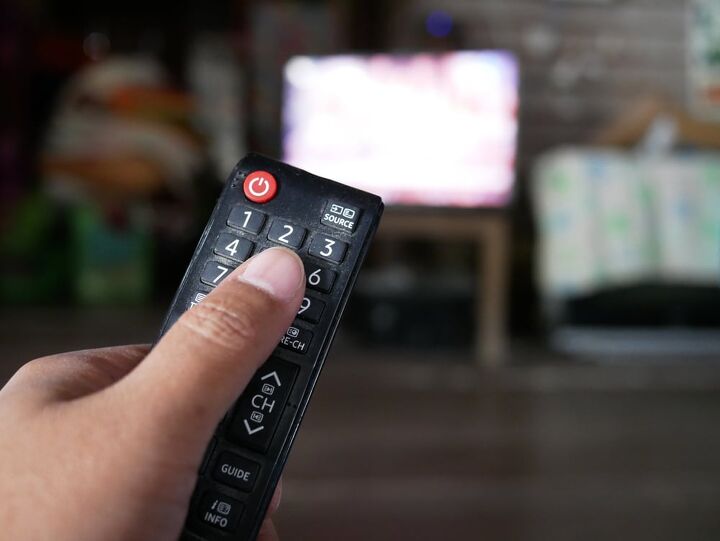 You can get all of your programming needs met online and pay a fraction of the price while still enjoying your favorite shows! How can you get rid of the pesky broadcast TV fee? Is it possible?
The most sure-fire way to eliminate the broadcast TV fee is by opting for an internet-only plan. You can still get access to live television by using a supplementary app (like Roku) and an HDTV antenna. This is a great option for those looking to avoid the $15 per month average broadcast TV fee.
Follow along to learn more about getting rid of the broadcast TV fee and alternatives to streaming every channel!
Do You Need a Smart Home System Installation or Service?
Get free, zero-commitment quotes from pro contractors near you.
What Does a Broadcast TV Fee Cover?
It's important to know what a broadcast TV fee covers before opting in or out of it.
The 'Broadcast TV Fee' is charged by your cable provider to you (the customer). They claim it's required to cover the costs they incur in order to provide area-specific broadcast stations to you.
It usually includes your local news channel, local sports channels, other local channels, and affiliates like FOX, CBS, NBC, and ABC.
The consensus is that you are usually responsible for paying for the fee to include these channels, regardless of if they're included in your particular package. It seems ridiculous, I know.
Networks are notorious for increasing the fees without warning and packaging them up under obscure names like "Miscellaneous News Fee."
How Much Does Broadcast TV Cost?
Generally speaking, broadcast TV costs about $15 per month. The cheapest providers offer it for $12 per month, while more expensive fees can exceed $20 per month.
What this really boils down to is who your service provider is and what their current offerings are once you sign up.
Remember, according to what was discussed above, these prices are always subject to change or include a surcharge on top of your normal monthly broadcast fee.
Broadcast TV Fees by Network Provider
Here's a more detailed list of each network provider and the monthly fees they typically charge for broadcast TV. Find your network below!
AT&T: $9/month + a 'Broadcast TV Surcharge' that varies
Cox: $16/month
DISH: $12/month
DirecTV: No broadcast TV fees
Optimum: $20.46/month
Spectrum: $16.45/month
Verizon Fios: No broadcast TV fees
Xfinity (Comcast): $14.75/month
If broadcast TV is something you absolutely must have, you may be able to switch to a provider that doesn't charge a monthly fee! Just beware of unidentifiable charges on your account- make sure the fee isn't listed under an obscure name.
Plans are always subject to change.
Can I Get Internet Without Broadcast TV?
The answer and the cost depend on the network provider.
Here are the providers we will be discussing:
AT&T
Cox
DISH
DirecTV
Optimum
Spectrum
Verizon Fios
Xfinity (a subsidiary of Comcast)
Network Provider #1: AT&T
AT&T offers 'AT&T Internet,' previously known as 'AT&T U-Verse.' They have a variety of internet-only plans without the hassle of bundling with broadcast TV!
Network Provider #2: Cox
Yes, you can get internet without broadcast TV at Cox. They offer Internet-only plans like:
Starter 25
Up to 25 Mbps of download speed
$29.99/month for 12 months
1-year term agreement
StraightUp Internet (Prepaid)
Up to 50 Mbps of download speed
$50/month
No term contract
There are more options like the ones above. It really just depends on what you're looking for!
Network Provider #3: DISH
DISH offers internet-only in the form of DSL, cable, fiber, or satellite internet.
Although, they do try to up-sell the benefits of both internet and cable services.
Network Provider #4: DirecTV
DirecTV doesn't offer any internet services, so, unfortunately, a sole internet plan is not available through them.
However, if you wish to bundle DirecTV cable and another provider's internet services, they allow you to do so.
Network Provider #5: Optimum
Presently, Optimum offers stand alone internet plans that range from $39.99 to $69.99 per month (depending on your requirements).
Their cheapest plan (the Optimum 300 plan) is $39.99 per month for 300 Mbps of download speed, making it a great value compared to competitors.
Network Provider #6: Spectrum
Spectrum offers a multitude of internet-only plans. They are:
Spectrum Internet: up to 200 Mbps of download speed
Spectrum Internet Ultra: up to 400 Mbps of download speed
Spectrum Internet Gig: up to 1 Gbps of download speed
They all start at $44.99/month and vary in cost by area (the website makes you input your address before spitting out a cost). Spectrum will even pay up to $500 to buy you out of your old plan!
Network Provider #7: Verizon Fios
Yes, Verizon Fios does offer stand alone internet packages.
Right now, their 'Fios Gigabit Connection' plan is going for $89.99/month. It includes up to 940/880 Mbps, the router rental is included, and they'll even throw in a $200 Verizon gift card.
However, always read the fine print- this price only applies to those who opt for autopay.
Related Guide: Does Huawei Work With Verizon?
Network Provider #8: Xfinity
Yes, Xfinity has probably the most comprehensive list of internet-only plans.
They offer 7 different packages. These range in price from $29.99 per month for 25 Mbps of download speed to $299.85 per month for 2,000/2,000 Mbps, using a Fiber connection type.
How to Get Rid of a Broadcast TV Fee
The only way to 100% guarantee that you won't be charged a broadcast TV fee is by going with an internet-only plan.
You can also talk to your service provider and explain that you don't want to include broadcast services or threaten to switch companies. DirecTV and Verizon Fios claim to not charge broadcast TV fees at all.
However, this doesn't ensure that you won't see a surcharge pop up on your cable bill when you least expect it. ALWAYS read the fine print- see if your cable plan is subject to change. When in doubt, cut the service off altogether.
It's unfortunate, but until providers are held accountable, you risk being taken advantage of if you aren't paying close attention.
Alternatives to Broadcast TV Plans
Luckily, in this day and age, there are plenty of alternatives to broadcast TV.
Apps like Netflix and Amazon Prime have a ton of movies and TV shows that you can stream for reasonable prices. Additionally, YouTube TV will allow you to watch live sports games and news channels at a fraction of broadcast TV prices.
If you like a particular network, shows like Below Deck or Vanderpump Rules are available on the Bravo App- but only for those with cable services. There's a way to get around that:
Hot Tip Alert: Not everyone may have this opportunity, but if you have parents or grandparents like mine- over their dead bodies would they turn away from cable and broadcast TV. No matter what, they will forever maintain a plan that includes this (fees or not).
With their permission, of course, you can use their login credentials to get access to all your favorite network apps. You can offer to chip a small amount (much smaller than you would be paying for your own plan) into their bill every month!
Usually, the amount of devices that can use one network login is upwards of 10. I haven't run into any problems with regards to getting kicked off yet!
---
Related Questions
Why is there a broadcast TV surcharge on my monthly bill?
An official statement from Spectrum says describes it best:"Federal law allows local U.S. broadcast television stations (i.e., affiliates of networks such as CBS, NBC, ABC, Fox, etc.) to negotiate with cable and satellite providers in order to obtain "consent" to carry their broadcast signals (Cable Television Consumer Protection and Competition Act of 1992).As a direct result of local broadcast or "network-affiliated" TV stations in recent years dramatically increasing the rates to Charter Communications to distribute their signals to our customers, we're forced to pass those charges on as a "Broadcast TV Surcharge." These local TV signals were historically made available to us at no cost or low cost. However, in recent years the prices demanded by local broadcast TV stations have necessitated that we pass these costs on to customers."Whether or not this extra fee is worth it? That's only up to you to decide. I think there are plenty of alternative options if you don't feel like incurring random fees.
How do I get broadcast TV on Roku?
Roku offers channels like "NewsON" and "Haystack News" to stream local news networks using your city and zip code. For the weather, look for "WeatherNation," "The Weather Network," and "The Weather Channel"- all available on Roku TV.To stream broadcast TV for free, all you have to do is attach an HDTV antenna to your Roku TV and follow the prompts to find your favorite channel!
Where can I find the broadcast TV guide?
To find the broadcast TV guide, simply turn on your television and click 'Guide' on the remote. This will give you an option to see what time your favorite shows are playing.Toggle up and down to see broadcast TV channels in particular (usually lower numbers).If you're using an HDTV antenna, usually, the guide will appear automatically.
Do You Need a Smart Home System Installation or Service?
Get free, zero-commitment quotes from pro contractors near you.
The Bottom Line
If you're looking for a way to save money on your monthly cable or internet bill, opting for an internet-only plan may be the answer.
With so many great options out there today, you can get rid of the broadcast TV fee with ease!
Overall, if you are considering cutting cable TV or don't need it at this point, but you still crave live television programming- go with a supplementary app like Roku and an HDTV antenna. It'll ensure that you can watch the broadcast TV you love without paying any more than is necessary.

Emily Carr
Emily is a copywriter with over five years of experience in crafting content for the home renovation and remodeling industry. She loves house projects, whether it be painting a room or tweaking small design elements to transform a space. Her favorite aesthetic is french modern because of its clean lines and airy feeling! When not writing, Emily loves to travel and check out architectural details all over the world.
More by Emily Carr
Published November 8th, 2021 11:11 AM