20 Views
How Much Does It Cost To Paint A Room? (2022 Average Costs)
October 28th, 2022 4:32 PM
Share
We're committed to finding, researching, and recommending the best products. We earn commissions from purchases you make using links in our articles. Learn more here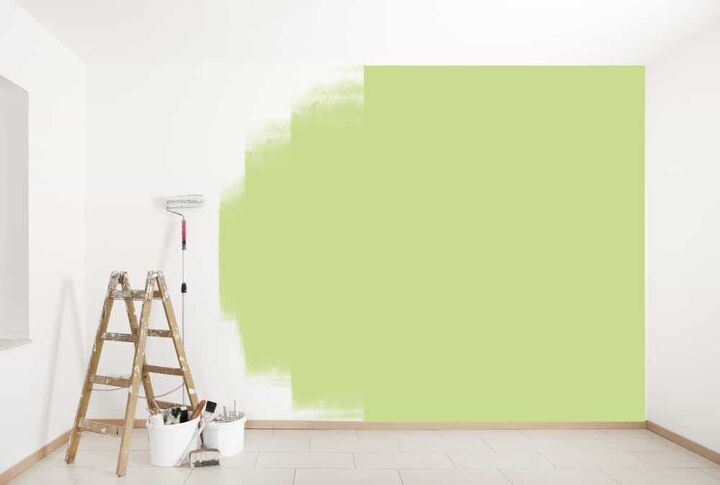 Before the weather gets too cold, you may want to finish any painting job you have on the to-do list. Now is also an excellent chance to change your house's vibe by altering the paint color. So how much does it cost to paint a room?
The average cost to paint a room is $1,890. You can expect to spend $3.50 per square foot, and it costs $650 to paint a 12 x 12 room. Contractors also charge you $15 for primer, $25 per gallon of paint, and at least $35 per hour for labor. However, the overall cost will depend on the type of paint and how much you need.
Knowing the painting cost for your interior and exterior doesn't have to be complicated. The next quote you receive makes a lot more sense once you know what factors go into the number.
Cost to Paint a Room — by Size
The most common way to estimate the cost of painting a room is by room size. According to the national average as of 2020, the cost to paint a room is as follows:
It costs $2 to $6 per square foot to paint a room. Most contractors charge an average rate of $3.50 per square foot. Most contractors will charge a flat rate if you have less than 120 square feet of flat surfaces.
| | |
| --- | --- |
| Room Size | Average Painting Cost |
| 12×12 | $400 to $900 |
| 10×12 | $200 to $600 |
| 10×10 | $300 to $750 |
Of course, size alone doesn't determine the quote your receive unless you are only working on flat walls with no trims, beams, or other conditions.
Cost to Paint a Room — by Function
Most experienced painters will quote by rooms or room functions instead of only based on sizes. The table below summarizes the general cost to paint a bedroom, a bathroom, a living room, a hallway, and a kitchen.
| | |
| --- | --- |
| Room Function | Average Painting Cost |
| Bedroom | $300 to $750 |
| Bathroom | $150 to $350 |
| Living Room or Hallway | $900 to $2,000 |
| Kitchen | $150 to $350 for the room, and an average of $1,000 to paint the cabinets |
How Much Does it Cost to Paint a Bedroom?
In general, it costs $370 to $750 to paint the walls of a standard 10 by 12 bedroom. On average, most homeowners pay $448 per bedroom.
There will be additional charges if you'd like the ceilings painted as well. As far as paint goes, have at least two gallons of paint. If you are using a lighter color, you will also need a can of primer for finishings.
If you need to remove a previous layer of paint, you will need to add paint removal costs. We will discuss all paint-removing and restoration costs in a separate section later.
What Does it Cost to Paint a Kitchen?
It costs $2.82 to $5.88 per square foot to paint a kitchen. Because there are cabinets and other fixtures, most kitchens only have half the wall surface compared to a room of the same size. Therefore, the overall cost of kitchen painting is much lower.
However, if you also need the cabinets painted, the total cost could quickly go up to $1,000. It is more efficient to purchase pre-painted cabinets and install them instead of painting them afterward.
How Much Does it Cost to Paint a Living Room?
For an average 330 square foot living room, be ready to pay $900 to $2000 for an entire paint job. Depending on the design style, your price may go beyond this range. However, the living room is the focus of your interior design. Therefore, it deserves more attention.
Also, if you have high ceilings in the living room, the painting cost will increase due to increased work difficulty. If you want to use multiple colors, that would also affect the total.
How Much Does it Cost to Paint a Bathroom?
Painting a bathroom is slightly different from painting the rest of your house. Due to the high-moisture condition, you will want to use a different type of paint. Typically, contractors recommend semi-gloss or high gloss paint with a matte finish. They are more durable to water and steam and are easier to clean.
Expect to pay a total of $150 to $350 for an average 70-square-foot bathroom. If you buy the paint yourself, you will be spending approximately $3.50 per gallon.
Cost to Paint a Single Wall
Most contractors have a minimum project requirement. If you only need to paint one wall, you might as well do it yourself. If you are curious, a single wall could cost as low as $100 to paint.
Most contractors only work on projects that cost $250 or higher. Talk with your contractor and see if you can bundle a small paint job with another project to meet their minimum requirements.
What is the Cost to Paint an Accent Wall?
Accent walls, however, are a different story. They can cost an additional 20% to 30% to paint because of the aesthetic and color differences. On the other hand, murals and other complicated wall art can cost $800 to $1,700.
Below are a few examples of how an accent wall adds more complexity to the room:
An accent wall behind a fireplace or a mounted TV in the living room adds more diversity to your interior decor.
Homeowners sometimes use an accent wall on the wall where the bed is.
An accent wall can complement or emphasize a piece of wall decor or furniture.
Adding an accent wall at the end of a narrow hallway can make it look longer and spacier.
How Much Does it Cost to Paint a Textured Wall?
Textured walls cost an additional 50% to paint. That's because textured walls add surface area, even though the square footage number will remain the same. You also use more paint for textured walls.
For a low-maintenance finish, most contractors recommend latex or oil-based paint for textured walls. Both types will create a satin or semi-gloss finish that builds more depth to your texture.
Material Cost: How Much Does Paint Cost?
How much does paint cost? This is an important question, especially if you plan to DIY your painting project.
In general, paint should cost you $20 to $100 per gallon. However, the following factors can affect the cost of paint:
Paint quality: Regular brand paint may only cost $20 to $30 per gallon, whereas name brand paint could go anywhere from $100 to $400 plus. Assuming you are doing double coating, the pricing difference created by brands alone could go near $1,000.
Color: Standard, popular colors cost much less than specialty colors, such as metallic paint.
Gloss vs. Matte: Gloss paint typically costs more. Expect to pay at least $2 more per gallon for gloss paint than standard matte colors. The glossier the paint, the higher the price is.
We'd often suggest you get your supplies for other projects to save on project costs. However, paint is a different story. Most professional painters can purchase paint and varnishes at a price 50% cheaper than what a homeowner pays.
How Much Do Primers Cost?
If you want to add a lighter color to a dark wall, a primer will be necessary for the colors to stay and pop. Primers usually cost $10 to $20 a can. They increase paint adhesion.
Labor Cost: How Much Do Painters Charge?
Interior painters charge $1 to $3 per square foot or $20 to $50 per hour. More complicated projects, such as murals and textured walls, may cost $70 to $100 per hour.
Most professional painters will provide a flat quote by project, covering labor and material. As mentioned earlier, painters have access to materials at a much lower rate than individual homeowners.
Most contractors have a minimum project requirement. Typically, they do not accept projects that cost less than $250.
Average Hours Needed
The labor or hours needed to complete an interior painting project may cover more than painting alone. Below is a breakdown of the activities involved in a painting project and the corresponding hours needed.
Painting Labor and Estimated Hours
| | |
| --- | --- |
| Task | Estimated Hours |
| Prepping and Masking | 0.5 to 2 hours per room |
| Moving furniture (out) | 1 to 2 hours |
| Ceilings and Trim painting | 1 to 2 hours each coat |
| Painting walls | 0.5 to 1 hour each coat |
| Painting windows | 0.5 hour each |
| Cleanup | 0.5 to 1 hour |
| Moving furniture (in) | 1 to 2 hours |
Therefore, an average painting project of one room would need 5 to 14 hours to complete. Once again, most contractors prefer to charge by project instead of by the hours. If you are unsure about the quote you receive, shop around and do some homework.
What Affects the Average Price to Paint a Room?
Besides the size and number of the rooms, a few other factors also affect the final quote you will receive. These aspects include:
Ceilings: If you want the ceilings painted, you will be paying additional surface and labor costs. The higher the ceilings, the more expensive it is to paint.
Sloped ceiling: Similar to roofing projects, sloped ceilings are more expensive to paint.
Accessibility: If there are hard-to-reach areas in your room, the additional time, tools, and labor needed will increase the price to paint that room.
Textured walls: Textured walls are more expensive to paint.
Type of paint and paint brand: Since contractors quote you with supplies included, the type of paint you want to use will significantly affect the total cost.
Coatings needed: The more layers you want, the pricier it gets.
Labor: If you can, move the furniture out and clean the room yourself before painting. That will save you on labor costs.
How Much Does it Cost to Paint a Room by Yourself?
Many homeowners choose to paint the interiors themselves. In this case, the estimated cost for the paint and equipment needed to paint one room is $200 to $300. Small space could be completed in a few hours, but projects requiring multiple coatings could take a few days.
Cost to Paint a Room by Yourself (tools)
| | |
| --- | --- |
| Tools | Price Range |
| Brushes | $3 to $20 each |
| Painter's Tape | $3 to $10 per roll |
| Cloth/Drop Cloth | $5 to $30 each. You can also use alternative containment materials. |
| Tray | $2 to $5 each |
| Rollers | $10 to $100 |
| Ladder | Rental begins at $24 for 4-hour or $34 per day |
| Painting Kits (Brushes, Roller Heads, Trays) | $10 to $20 each |
To paint a room by yourself, follow the steps below.
Find the color you want: Always test your color out before buying in bulk.
Purchase supplies: Besides the paint and primer, you will also need rollers, brushes, and trays. You can also opt for pre-packaged painting kits. You will also need a ladder to reach higher places.
Remove furniture and clean the walls.
Turn off all electricity in the room and remove outlet covers.
Outline with painter's tape to avoid drips.
Paint
Touch up, if needed.
How Much Does it Cost to Paint a House?
If you just bought a new home, are building a new house, or want to do an entire remodeling, painting the interior and exterior of your house altogether will be the most economical.
In general, it costs about $1,780 to paint the interiors and $2,825 to paint the exteriors of an average home. This does not include any specialty painting projects.
How Much Does It Cost To Paint Inside?
For an average 2200-square-foot home, the cost to paint the interiors varies from $4,000 to $11,000. To estimate the cost of interior painting, follow the below steps:
Add the wall length of each room to measure the perimeter of your project.
Calculate the total wall area by multiplying the length by the room's height.
Minus the windows and the doors for the actual painted area size.
Calculate the estimated cost using the average interior painting cost of $1 to $3 per square foot.
Calculate how much paint you may need.
Request a final estimate.
How Much Does It Cost To Paint Outside?
For traditional one-story homes with wood or vinyl exteriors, exterior paint jobs vary from $1,735 to $4,102. For brick and stucco homes, be ready to pay an additional $1 to $2 per square foot.
Be sure to include the garage, foundation, windows, and doors when calculating the square footage needed for painting.

Xiao Faria Da Cunha
With a deep passion for content and creative writing, Xiao Faria da Cunha finds a strong sense of accomplishment in creating quality home guides that resonate with homeowners. When not writing, you can find Xiao creating art masterpieces.
More by Xiao Faria Da Cunha
Published November 7th, 2020 1:41 PM