224 Views
Simple Tricks For Containing Kid Clutter
August 25th, 2023 3:13 PM
Share
We're committed to finding, researching, and recommending the best products. We earn commissions from purchases you make using links in our articles. Learn more here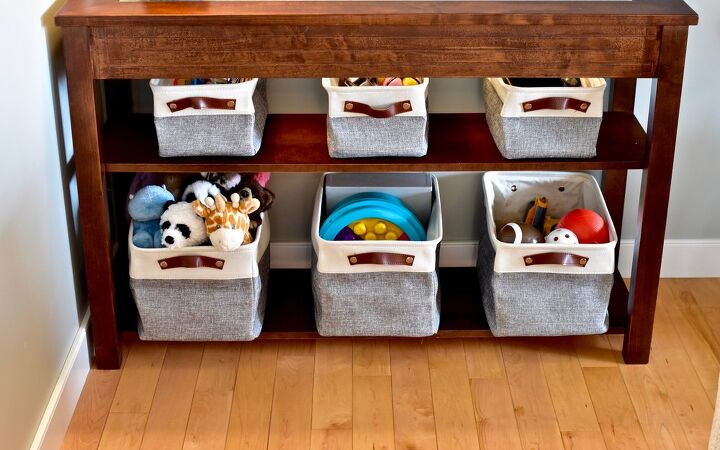 When you have kids, it's a safe bet you also have a lot of stuff. If blocks, dolls, Hot Wheels, LEGOs, stuffed animals, and random art supplies are taking over your space, fear not. There are ways to contain kid clutter and maintain a more adult vibe in your home without sacrificing fun and play time.
Use sophisticated furniture pieces to store and hide toys and books. Larger containers make it easier for kids to pick up and put away things quickly. Keep toy storage within reach of children so they can access and store their belongings without help. Portable storage solutions, like caddies, are great for things like crafting, art, and Play-Doh.
Don't worry, you're not destined to drown in toys and kid clutter. It's all about getting clever with storage and providing your kids with an easy way to tidy up their space.
Six Easy Tips For Hiding Kid Clutter
Who wouldn't want a stylish, sophisticated home 24/7? But when you have kids, this becomes even more challenging to pull off. It's nearly impossible to hide all the stuff that comes along with the little dears. Nearly.
But if you get clever with your storage solutions, you can find amazing, stylish furniture pieces that are perfect for stowing away kid clutter. It's also important to be conscious of where you keep things, so it's easy for kids to take control of their own belongings. Before you call in a professional organizer, try these tips for containing kid clutter.
1. Create An Art Station In A Computer Armoire
Do your kids love to craft, paint, color, and create masterpieces? Art supplies can take over a room quickly. But creating an art station is a way to set boundaries and keep things neat. It's also the perfect way to make everything accessible (and hidden) at the same time.
Find a computer armoire that fits your home's style and the design of the room where all the creativity takes place. Stock the shelves with paper, markers, paints, clay, craft supplies, and everything else that makes your kids' imaginations soar.
Choose one with a slide-out tray that typically holds the computer keyboard but instead becomes a work station for creating. Or look for one with a drop-down desk surface (a secretary desk-style armoire). To maximize the space, use shelves or stacking organizers to properly hold all the odds and ends.
On the inside of the doors, install cork boards or magnet boards for kids to display their artwork. Or use magnetic bins to hold even more supplies. The possibilities are endless. And when art time's over, everything hides away in a stylish adult furniture piece.
2. Use Stylish Cubby Furniture For Toys
Most of the time, living rooms and family rooms serve double-duty as playrooms. Unless you're lucky enough to have a separate room strictly for the kids' toys, you probably have to share your adult space with baby dolls, monster trucks, and board games.
A stylish cube organizer is a great way to hide away kids' toys and keep them organized. Plus, the larger, open bins are perfect for making cleanup easy for kids, since they simply toss in items. You can find these organizers in various sizes and styles online and at home stores.
Therefore, find the style and size that fits well in your space and will be the most functional for your needs. Each bin or basket stores a different toy category, making it a breeze for kids to find what they're looking for (and put it away after). For example, one bin for dolls, one for vehicles, another for books, and so on.
3. Use Grab-And-Go Storage Solutions
What if you don't have the room for a designated piece of furniture to stow children's toys or art supplies? Portable storage is excellent for small spaces; it can go anywhere your kids want to use it.
For example, if your kids typically paint or work with Play-Doh in the kitchen but there is no space there for a computer armoire or cabinet to use as a dedicated art station, you know your kids won't want to drag a bunch of individual supplies from down the hallway to the kitchen every time they want to draw or sculpt. (Plus, this method makes it harder to encourage kids to put away their stuff when they're finished.)
So, get storage caddies and make on-the-go art stations. One caddy could be for Play-Doh, another for painting, another for coloring books or jewelry-making. Base your kits on what your kids love to do. Then, store the caddies in the hall closet, or an armoire in another room, or wherever else makes sense.
When it's time to craft, your kids simply choose the caddy for the activity they want to do and bring the whole thing to the kitchen table. After they finish, they load everything into the caddy and make one trip to put everything back in its place. You can do a similar thing for small toys in portable bins or baskets.
4. A Storage Ottoman Is Great For Larger Kid Items
Caddies for art supplies and bins for smaller toys are great, but what about the oversized toys that inevitably surface? You know the ones — the giant tow truck, the plastic sword, or the set of mini golf clubs.
A storage ottoman is great for this kind of stuff. It's like the adult version of a toy chest. Lots of people use them in family rooms and living rooms to tuck away blankets, but you're going to use yours to hide toys. Ottomans or storage benches are also great for becoming a costume trunk.
These pieces come in tons of colors, styles, materials, and sizes, so you're sure to find the perfect match for your design. Make sure to get one with a removable top or safety pressure hinges, so nothing slams down on little heads or fingers.
5. Keep Kids' Stuff Within Their Reach
Think about items you have that you keep tucked away on high shelves. It's likely the things you don't use very often, since getting them down is a pain. If you kept your everyday dishes on the topmost shelf of your cabinets, how likely would you be to put them away as soon as you washed them?
Well, the same concept applies to your kids' toys and belongings. If you expect your children to pick up their stuff and actually put it away, don't keep their things on the top shelf of the closet. When your children are toddlers, their toys should be in bins and containers that are low to the ground.
As your children grow, you can adjust your storage to grow with them. Remember, one of the primary rules of maintaining a clutter-free, tidy home is things have to be as easy to put away as they are to leave out.
6. You Can't Keep Everything
Don't underestimate the power of the one-in-one-out rule. If you don't want to drown in clutter, then you need to stop adding to the chaos. Talk with your children about maintaining a manageable amount of belongings.
If they get something new, encourage them to choose something they can donate. Regularly go through things with your kids and discuss what you can bring to a local shelter or to kids in need. It's a great lesson, and it gives your kids more room to play, grow, and create.
Try These Clever Disguises For Kid Clutter
Kids' storage doesn't all have to come in primary colors or covered in unicorns and fire trucks. Those solutions are great for themed rooms or a dedicated playroom, but you don't really want them in your shared living or entertaining spaces.
Instead, choose sophisticated furniture pieces that work with your home's style and design and provide storage. Items like storage ottomans, computer armoires, and cube organizers are great for hiding away games, stuffed animals, costumes, books, and other children's toys.
Choosing sizes and styles that make it easy for your kids to access and put away their things is essential if you want to maintain a clutter-free existence. If your space doesn't allow for adding dedicated furniture pieces, embrace caddies. Grab-and-go organizers are a great way to contain clutter and make it easy to move items from room to room as needed.
Of course, the other part of keeping kid clutter under control is to regularly go through items with your children. Decide what needs to go, and involve your kids in the process. Less stuff means more room to play and create, and that's what it's all about.
Related Guides:

Stacy Randall
Stacy Randall is a wife, mother, and freelance writer from NOLA that has always had a love for DIY projects, home organization, and making spaces beautiful. Together with her husband, she has been spending the last several years lovingly renovating her grandparent's former home, making it their own and learning a lot about life along the way.
More by Stacy Randall
Published August 25th, 2023 3:13 PM